Bullpen excels in Dodgers' Game 2 victory
Hatcher, Jansen shut down Mets to close out win, even NLDS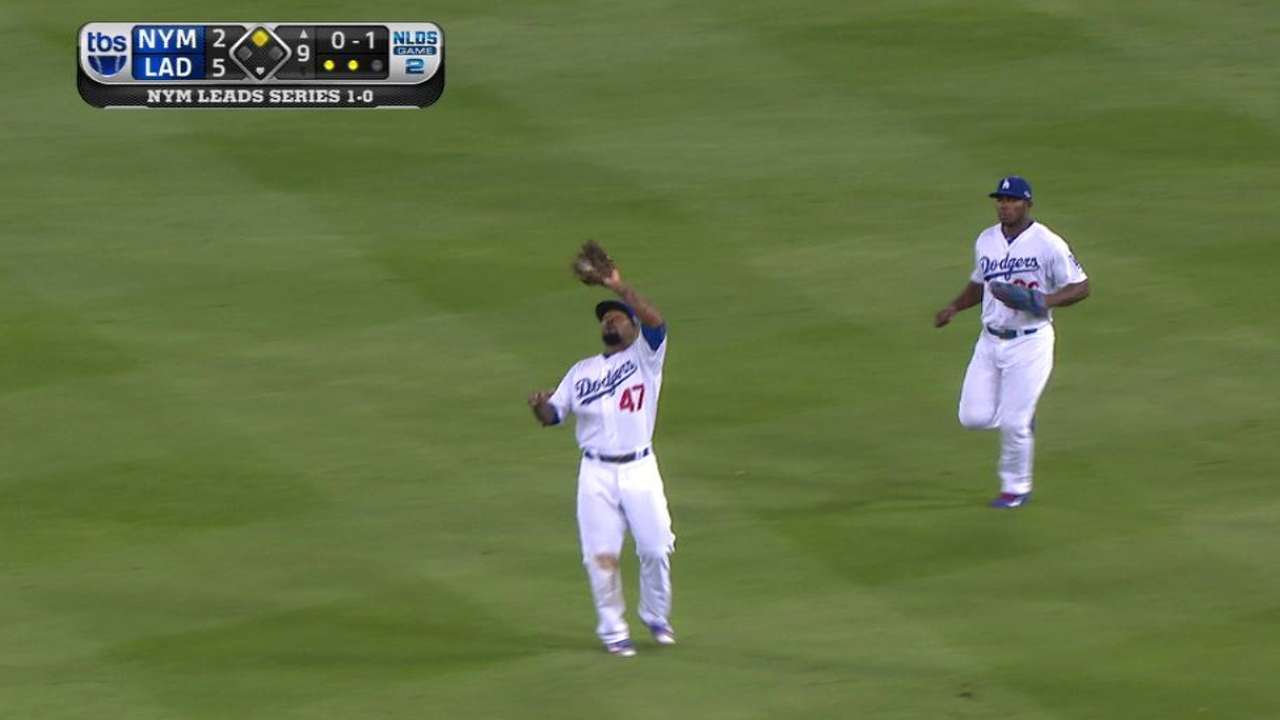 LOS ANGELES -- The discontent disappeared from Chavez Ravine on Saturday night, replaced by near-euphoria among the pro-Dodgers crowd. All it took to ensure the difference was a shutdown effort by Los Angeles' bullpen.
After the Dodgers vaulted ahead with their four-run seventh inning, relievers Chris Hatcher and Kenley Jansen blanked the New York Mets in the eighth and ninth innings, respectively, to seal Los Angeles' 5-2 victory in Game 2 that tied the National League Division Series at one game apiece.
One night earlier, boos cascaded upon Dodgers reliever Pedro Baez, who yielded David Wright's two-run single in the seventh inning that propelled the Mets to their 3-1 triumph. There would be no such recurrence this time, as Hatcher struck out two and Jansen survived a one-out, four-pitch walk to Curtis Granderson by coaxing harmless popups from Wright and Daniel Murphy.
• Shop for Dodgers postseason gear
Hatcher faced a challenge as the seventh-inning collision at second base involving Los Angeles' Chase Utley and Mets shortstop Ruben Tejada forced him to interrupt his warmup. New York's three pitching changes in the seventh further prolonged Hatcher's preparation.
"I really didn't have much fastball command," said Hatcher, who contributed a perfect ninth inning in Game 1. "I don't know if the delay had anything to do with it. But as a reliever, you just have to battle through."
Hatcher surged toward the conclusion of the regular season, making 12 scoreless appearances in his last 13 outings. But he downplayed any correlation between that finish and his strong start to the postseason.
"My job is to get three outs," he said.
Jansen needed to pitch, having remained competitively idle since Oct. 3. He tried to stay sharp since then by throwing twice in the bullpen and pitching live batting practice Wednesday. Despite the relative inactivity, Jansen said he had no trouble finding a groove against the Mets.
"By that time, you've got your adrenaline, you're more amped up and you're more focused," he said.
Jansen's effectiveness resulted in his fourth career postseason save in as many opportunities. He recorded his eighth scoreless postseason outing in nine tries.
Chris Haft is a reporter for MLB.com. This story was not subject to the approval of Major League Baseball or its clubs.