Dodgers bats erupt after Syndergaard departs
Gonzalez, Turner knock key RBI doubles against Mets' bullpen in win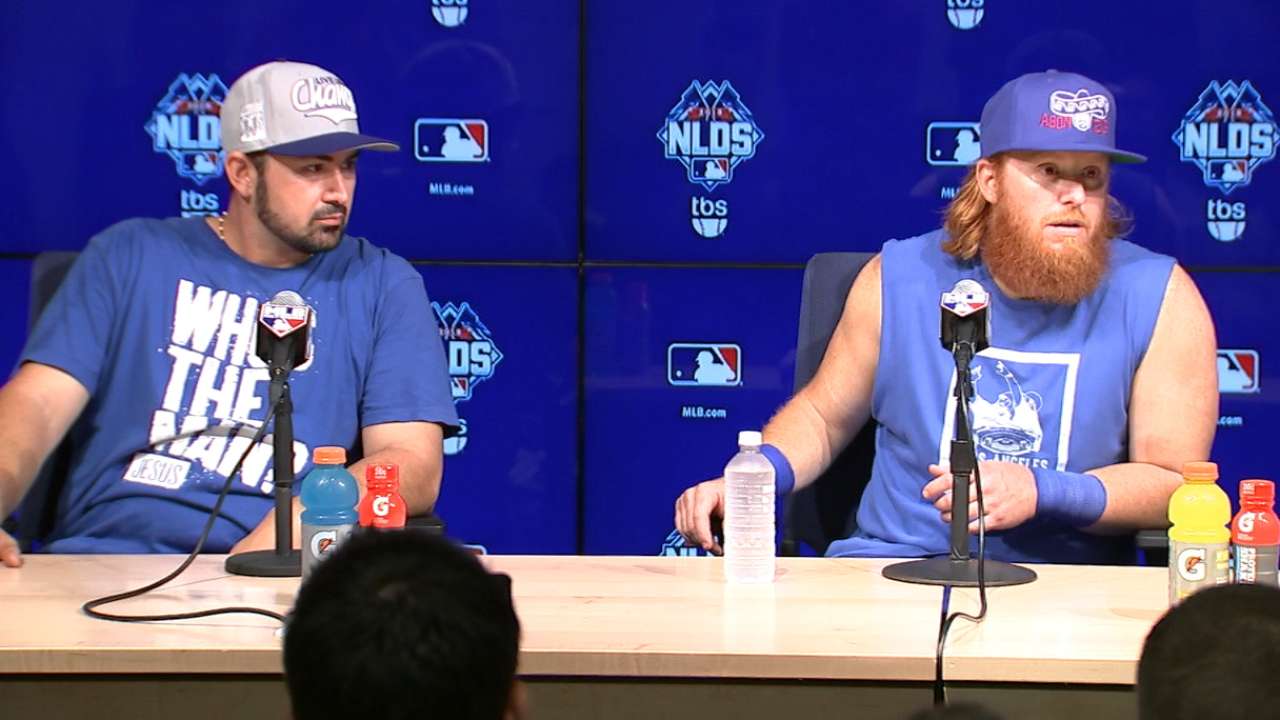 LOS ANGELES -- For the second straight night in the best-of-five National League Division Series against the Mets, the Dodgers found themselves handcuffed by a hard-throwing starter.
Once Noah Syndergaard left Saturday's game, however, the Dodgers were able to string together run-scoring doubles from Adrian Gonzalez and Justin Turner off the Mets' bullpen in a four-run seventh inning as the Dodgers tied the series, 1-1, with a 5-2 win.
The Dodgers were able to chase Syndergaard from the game in the seventh after he had thrown 115 pitches and allowed runners on the corners with just one out in the inning. The Mets brought in 42-year-old Bartolo Colon in relief and he induced a ground ball from Howie Kendrick, only for Chase Utley to break up a potential double play by taking out Mets shortstop Ruben Tejada with a hard slide at second base.
After Corey Seager flew out, Gonzalez roped a double into the right-field corner to give the Dodgers their first lead of the series. After striking out in his first three at-bats, and in six of his first seven at-bats of the series, a reporter asked Gonzalez about his "kind of" tough at-bats earlier in the game.
"Kind of? Don't sugar coat it," Gonzalez said. "For me, thank God, I can just focus on every at-bat at hand, I don't think back to my previous at-bats. I was just focused on getting fastball middle, and he threw me three fastballs for strikes. And just luckily I was able to put it in play."
Turner brought Gonzalez around to score on a double of his own and he's hitting .500 with a 1.375 OPS in two games this series against his former team.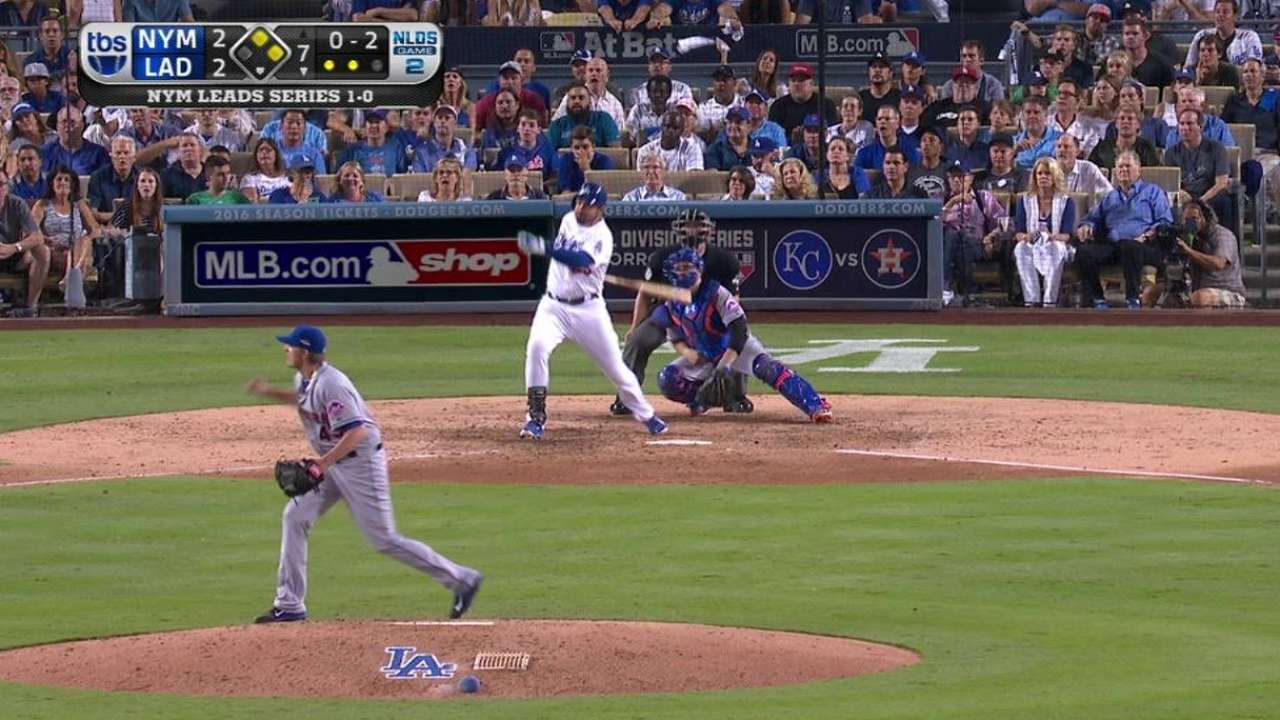 For New York, Syndergaard burst out of the gates with nearly unhittable velocity, consistently hovering between 100 and 101 miles per hour on his fastball in the first two innings. The velocity on his fastball dipped to 97 and 99 mph for the rest of the game, but the Dodgers were able to inflate Syndergaard's pitch count and get him out after 6 1/3 innings.
"Obviously, their guy was throwing the ball really well early in the game," Dodgers manager Don Mattingly said. "I thought we did a pretty good job, again. Early on it was just like it was dynamite, and we were able to get some better swings as the game went on a little bit. He uses more off-speed as the game goes."
Gonzalez has three of the Dodgers six RBIs in the series and will need to continue to be a run-producer for Los Angeles as the series shifts to New York for Game 3.
"I would think from both teams he'd be the first guy everyone would want up in an RBI situation, including their team and our team," Zack Greinke said. "He's just the best at it. I think he got an RBI yesterday too. His one hit was RBI. So he's just that type of hitter."
Steve Bourbon is an associate reporter for MLB.com. This story was not subject to the approval of Major League Baseball or its clubs.