Greinke rebounds from HRs in 2nd to get 'W'
Dodgers righty goes seven frames as LA evens series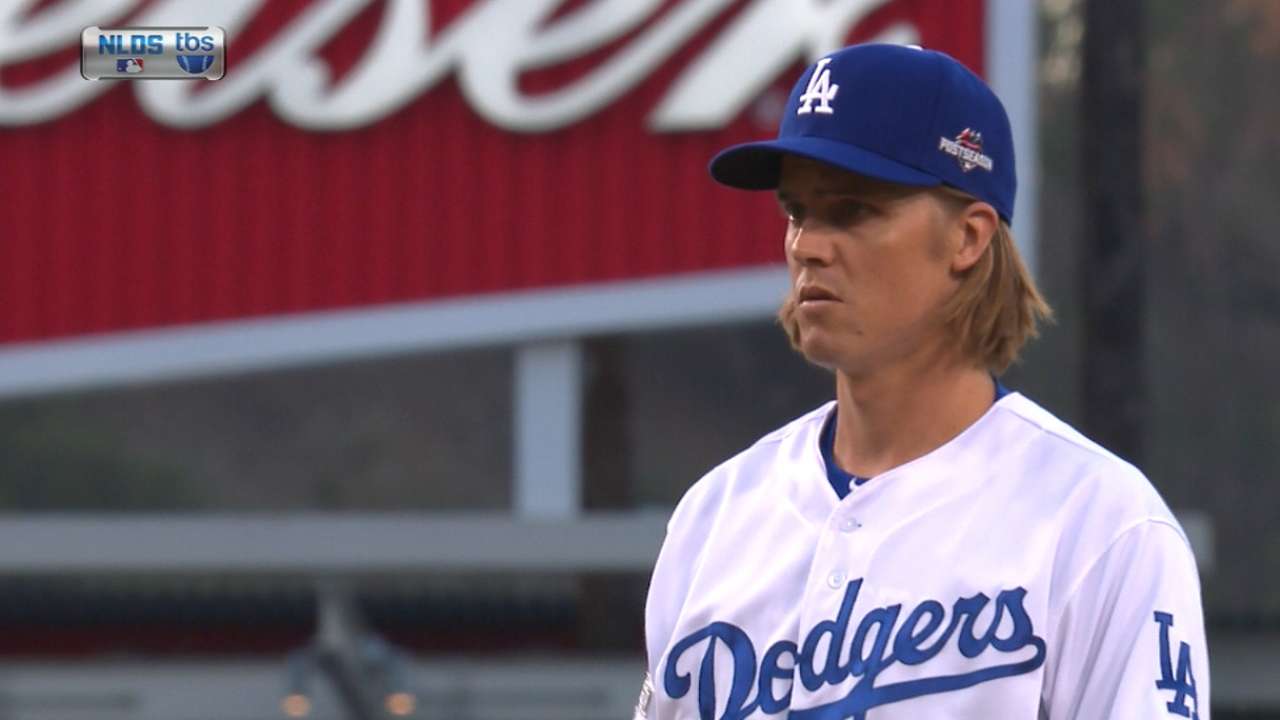 LOS ANGELES -- It might have been Zack Greinke's final game with Dodgers, but caught up in an emotional win he said that thought hadn't really crossed his mind. Should Greinke not get another postseason start, and then exercise the out in his contract next month, the Dodgers will miss starts like this.
He went seven innings, allowing solo home runs to Yoenis Cespedes and Michael Conforto but giving the Dodgers a chance to rally for a dramatic 5-2 win over the Mets on Saturday night at Dodger Stadium to even the National League Division Series at one game apiece.
• Shop for Dodgers postseason gear
"I mean, when you're out there you're not thinking about those things," Greinke said of the contract decision that looms. "I mean, maybe in a regular-season game when your team's not going to make the playoffs, you might think that. But a playoff game you're just trying to win the game and not thinking about other things like that."
The game -- which turned on a play at second base that left Mets shortstop Ruben Tejada with a broken right fibula and a Dodgers rally extended by a call overturned through replay -- added to Greinke's calling card as a Dodger.
• Tejada injured on Utley's slide at second base
Since coming to the club three years ago Greinke had gone 24-7 following a team loss, and here he was again, asked to keep them from falling into a seemingly insurmountable 0-2 sinkhole after Clayton Kershaw was beaten in Game 1.
Greinke spotted the Mets a two-run lead in the second inning. The pitch Cespedes took the other way was four inches outside. The one Conforto hit "was probably the biggest mistake of the game for me," Greinke said.
"He was as good as everyone says he is," Conforto said. "I think he does a great job of missing barrels and getting guys to chase some stuff. I think we put together some good at-bats against him."
Greinke said he knew he wasn't defeated by two runs, even though the Dodgers' offense had been sputtering.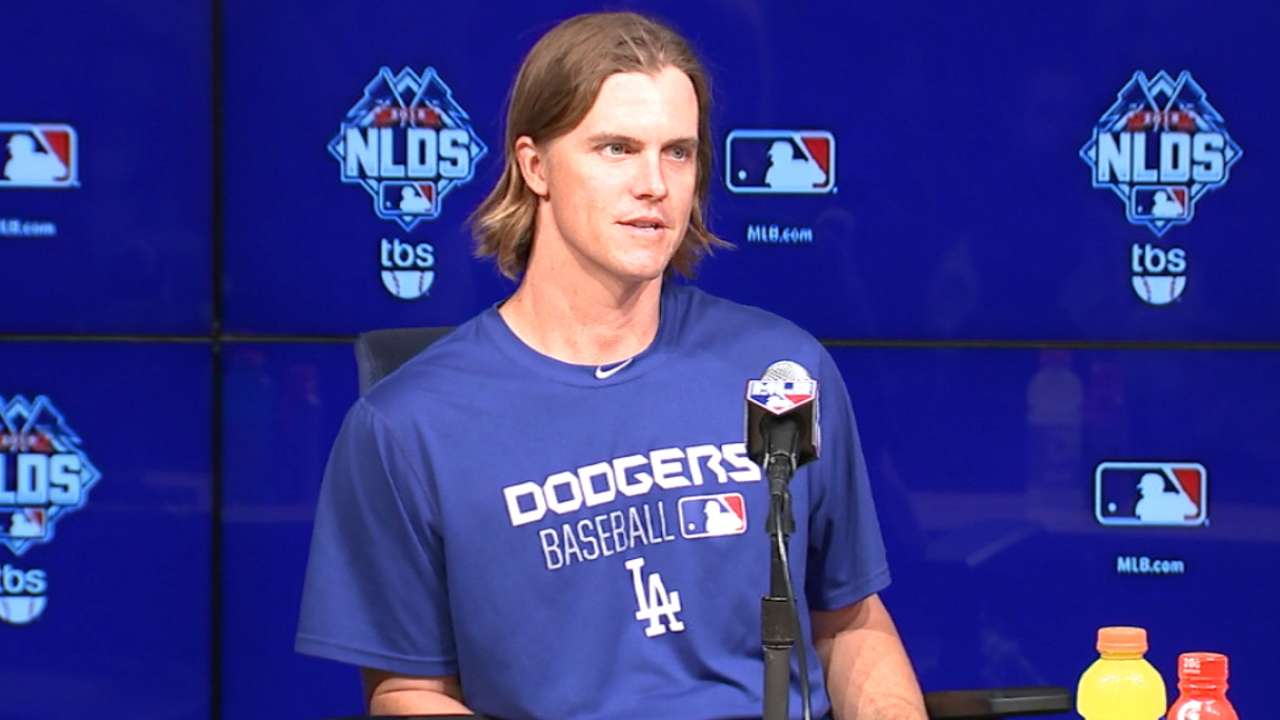 "It was kind of like I -- I mean, I knew I could keep them there," he said. "I didn't know if I would, but I was like just keep them there. The way things were going, it was like maybe it's too late. Two runs could be too late. But I think we've played a great game all the way around. It just, it was a really good game and we came back."
"With Zack on the mound, we felt really good about it, and he did a great job keeping us in the game, giving us a chance to win," said teammate Justin Turner.
Greinke hung in there as his opponent, Mets starter Noah Syndergaard, opened the game hurling triple-digit pellets. But the theme of this series is to get into the bullpens, and Greinke was able to finish seven innings while Syndergaard was not -- the Dodgers chasing him in a four-run seventh inning.
Kiké Hernandez, who replaced Joc Pederson in center field, got the rally started with a walk and stolen base, and Adrian Gonzalez's two-run double off Bartolo Colon was the decisive blow. Manager Don Mattingly said it was "huge" that Greinke overcame a high early-game pitch count so he could get to set-up man Chris Hatcher with a lead, although unlike Game 1 Mattingly had Hatcher warming up while trailing by a run. Hatcher followed his perfect inning on Friday night with another in the eighth, and Kenley Jansen pitched the ninth for the save.
Greinke, who struck out eight, is now 3-2 in the postseason, 2-1 with the Dodgers.
Ken Gurnick is a reporter for MLB.com. This story was not subject to the approval of Major League Baseball or its clubs.