Mets-Dodgers NLDS Game 2: DYK?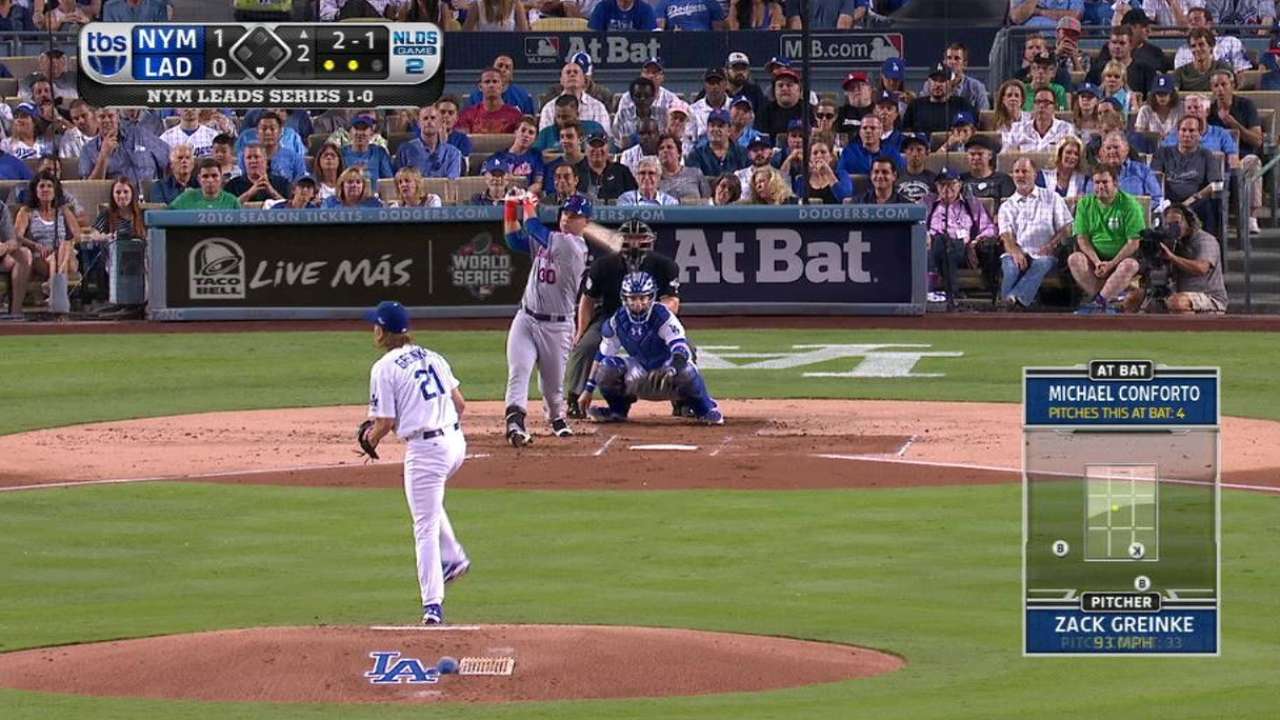 The Dodgers evened the best-of-five National League Division Series at one game apiece by taking Saturday's high-impact, controversial Game 2 by a 5-2 score. After Zack Greinke and Noah Syndergaard dueled for much of the night, Los Angeles jumped ahead with a four-run seventh inning.
Controversial slide aside, Game 2 provided some great facts and tidbits to munch on while you wait for Monday's Game 3 at Citi Field.
• At 22 years, 223 days old, Michael Conforto became the youngest player to homer in a postseason game at Dodger Stadium with his solo shot in the second.
• Conforto also became the second-youngest Mets player to ever homer in the postseason. Wayne Garrett was 21 years, 307 days old when he homered on Oct. 6, 1969.
• Greinke allowed two homers for just the third time all season. It was the first time he did it at Dodger Stadium since Aug. 23, 2014. That game was also against the Mets.
• It was the first time Greinke allowed two homers in an inning since April 6, 2014. Conforto and Yoenis Cespedes went deep against Greinke in the second to put the Mets up 2-0 early.
• Conforto became the second Mets player to homer in his first postseason at bat. Edgardo Alfonzo did it against Randy Johnson in the 1999 NLDS.
• Justin Turner's RBI double in the seventh raised his slugging percentage to .875 against his former team in this NLDS. Turner was non-tendered by the Mets in 2013 after three seasons with New York.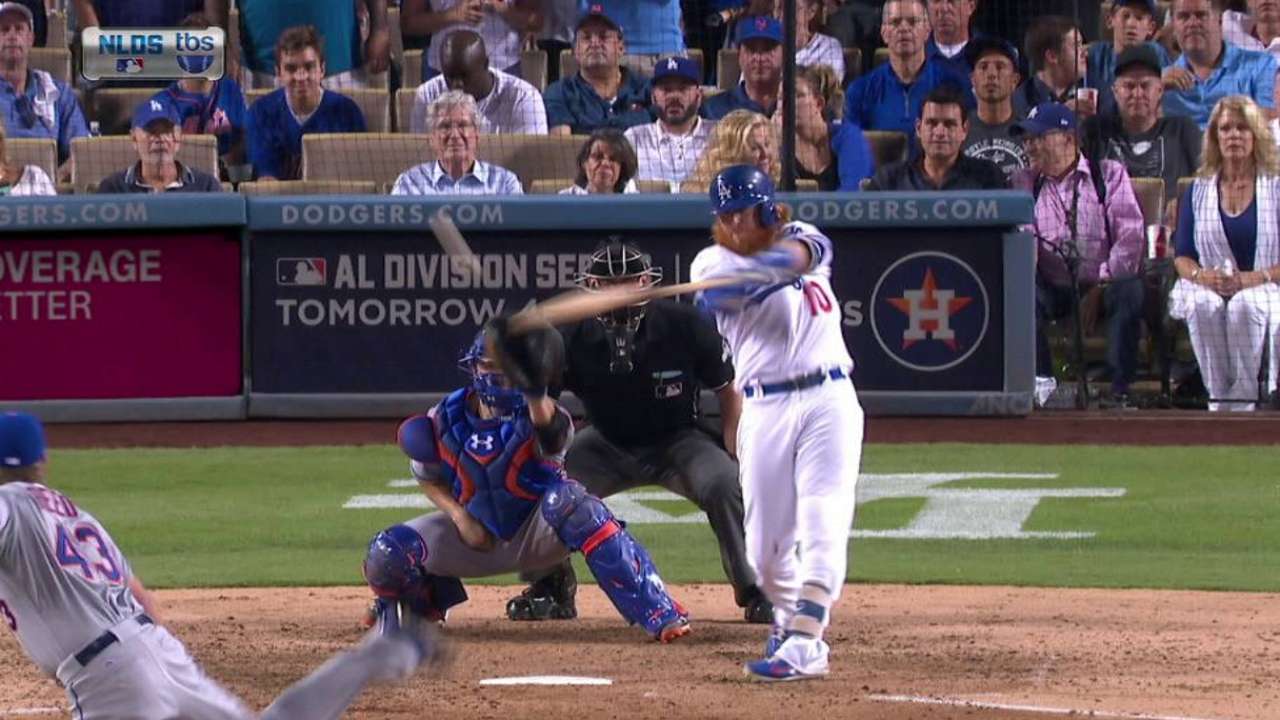 • Dodgers catcher Yasmani Grandal went 0-for-4 with two strikeouts after sitting out Game 1 of this NLDS, prolonging a significant slump. Grandal is now 4-for-his-last 88.
• Chase Utley singled in the seventh inning before converging with Ruben Tejada in what became the most controversial play of the postseason to this point. With that hit, Utley improved his career average as a pinch-hitter to .319 (23-for-72), with five homers, 23 RBIs and a .583 slugging percentage.
• Syndergaard threw 16 pitches at 100 mph hour or more. He threw six in the first inning, seven in the second, three in the third and none afterward.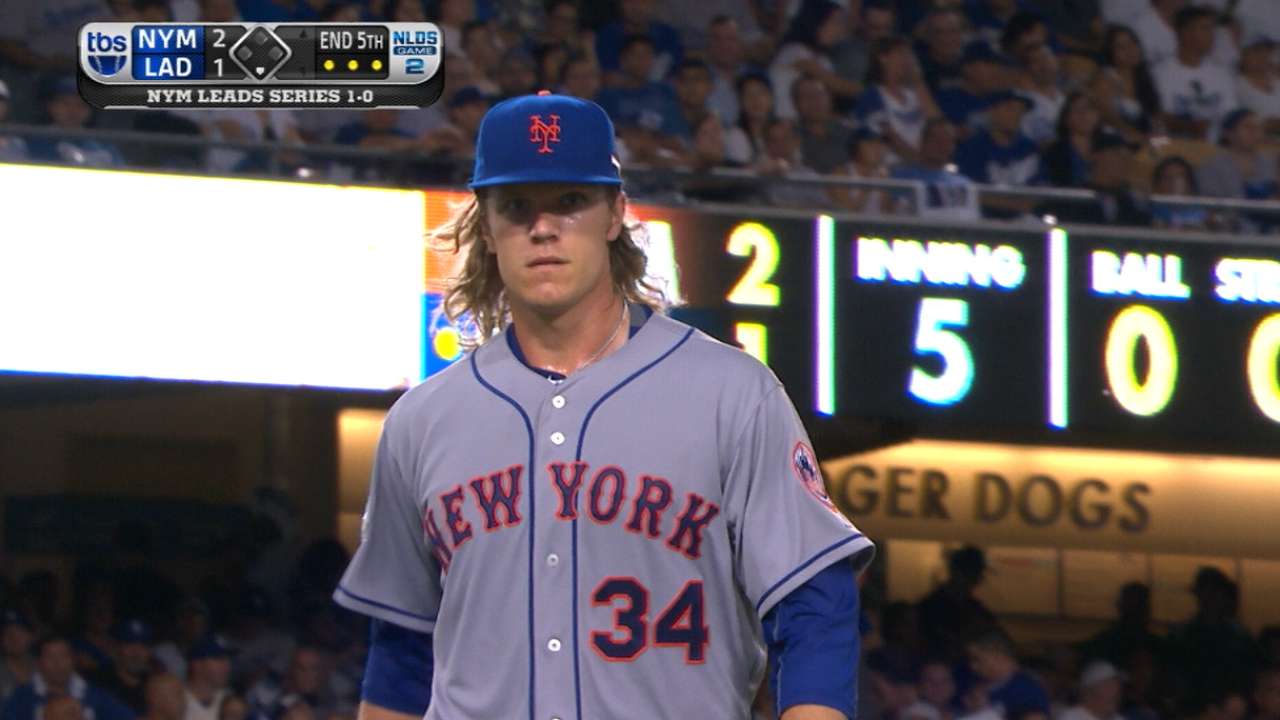 • Syndergaard struck out nine batters in his postseason debut. Jacob deGrom struck out 13 in his postseason debut during Game 1. The 2010 Giants are the only team to ever feature multiple pitchers with 10 or more strikeouts in their postseason debuts. Matt Harvey starts in Game 3 for New York.
• The Mets and Dodgers combined for 50 strikeouts over the first two games of this NLDS, the MLB record for combined strikeouts over the first two games of a postseason series.
Joe Trezza is an associate reporter for MLB.com. This story was not subject to the approval of Major League Baseball or its clubs.