Long road leads to Harvey's postseason debut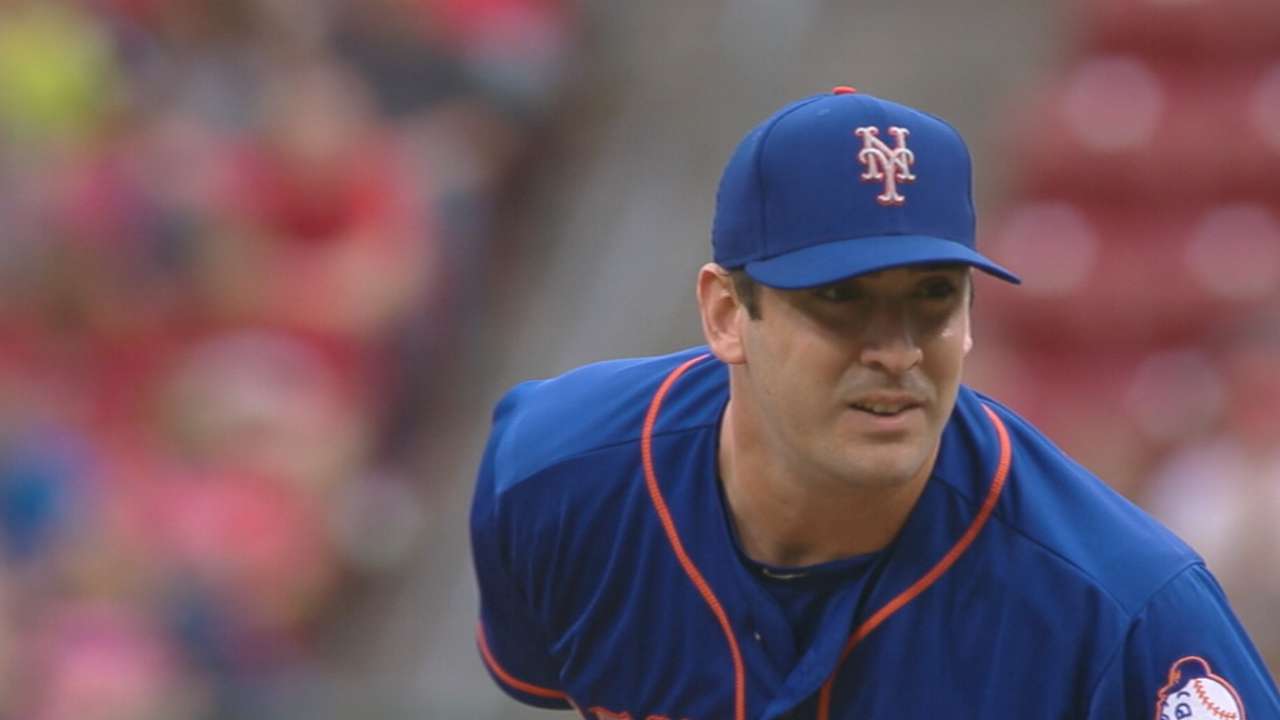 New York -- In many ways, Matt Harvey's start Monday in Game 3 of the National League Division Series feels like a culmination. This is what Mets manager Terry Collins promised he was saving Harvey for when he pulled the righty after seven innings on May 13, after six innings on Aug. 28 and after five on Sept. 20. Harvey was working on shutouts each time. Each game, the Mets lost.
This is what Harvey promised he was saving himself for. This is also the promise he relented, then promised again, with caveats, of course.
• Shop for Mets postseason gear
This is what his agent, Scott Boras, promised would come with danger and peril, even a full two years removed from Tommy John surgery.
This is Harvey's postseason debut.
It comes at the end of a two-year saga -- between player, agent, team and public -- that's sparked debate and drastically changed the narrative surrounding one of New York's most popular players. Harvey will oppose Brett Anderson on Monday in the Mets' first home playoff game since 2006. Game 3 will be played at 8:30 p.m. ET on TBS.
This is how he got here:
June 30, 2013
Collins first publicly speculates about the possibility of curtailing Harvey's workload. At this point Harvey is a 24-year-old phenomenon, 7-1 with a 2.00 ERA and a few weeks from starting the All-Star Game at Citi Field.
Aug. 26, 2013
Baseball's most exciting young pitcher falls victim to the sport's elbow epidemic. After posting a 2.27 ERA in 178 1/3 innings, Harvey's first full season is cut short when he is diagnosed with a tear in his ulnar collateral ligament.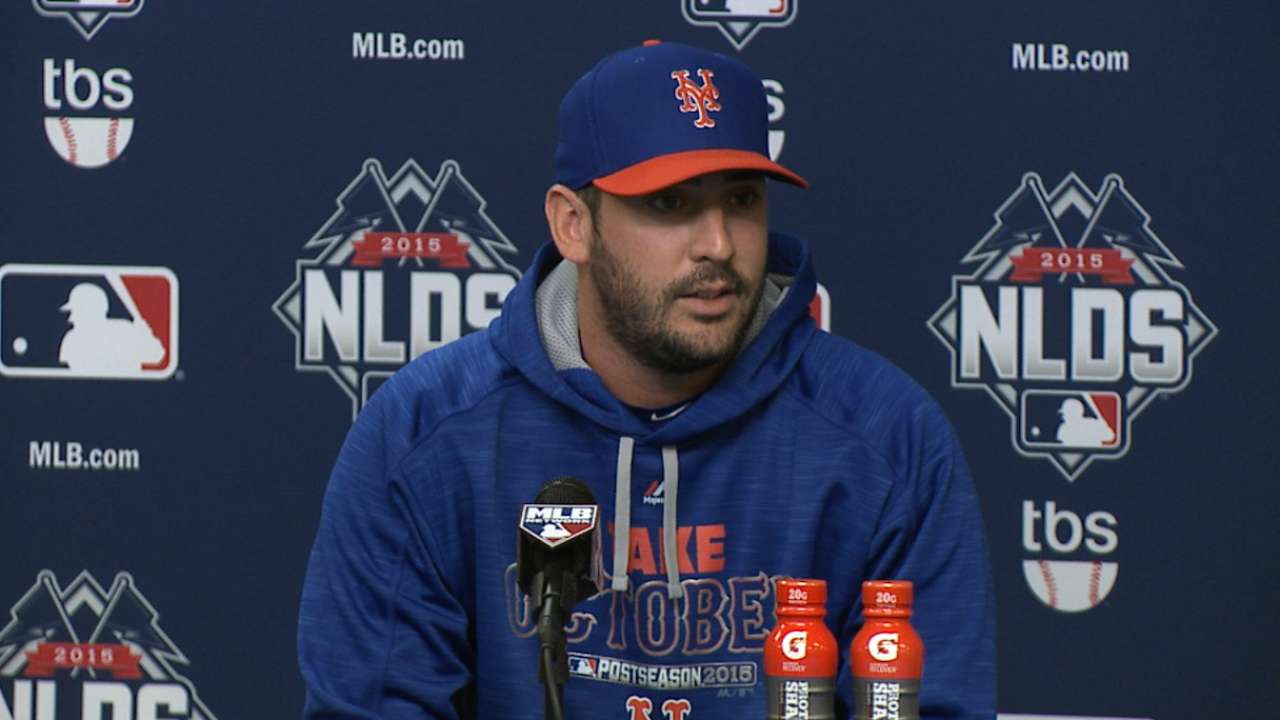 Sept. 17, 2013
Stepping away from the wishes of his team and Boras, Harvey says he will attempt to rehab his arm before deciding to have surgery. Boras eventually convinces him to undergo the procedure, which Dr. James Andrews doesn't complete until ...
Oct. 22, 2013
Almost two months after he is diagnosed, Harvey has the surgery and resolves to miss the entire 2014 season, but to return in 2015, almost 18 months removed from surgery.
March 2014
A recovering Harvey causes a Spring Training stir when he disagrees with Mets protocol that requires him to rehab in Florida. Harvey would rather rehab in New York, he says, to be closer to his teammates. "Seven months in St. Lucie is a long time," he told reporters.
April-May 2015
Harvey returns 18 months after surgery and goes 5-1 with a 1.98 ERA in his first eight starts back. The Mets enjoy an early 11-game win streak and a share of the National League East lead after 40 games.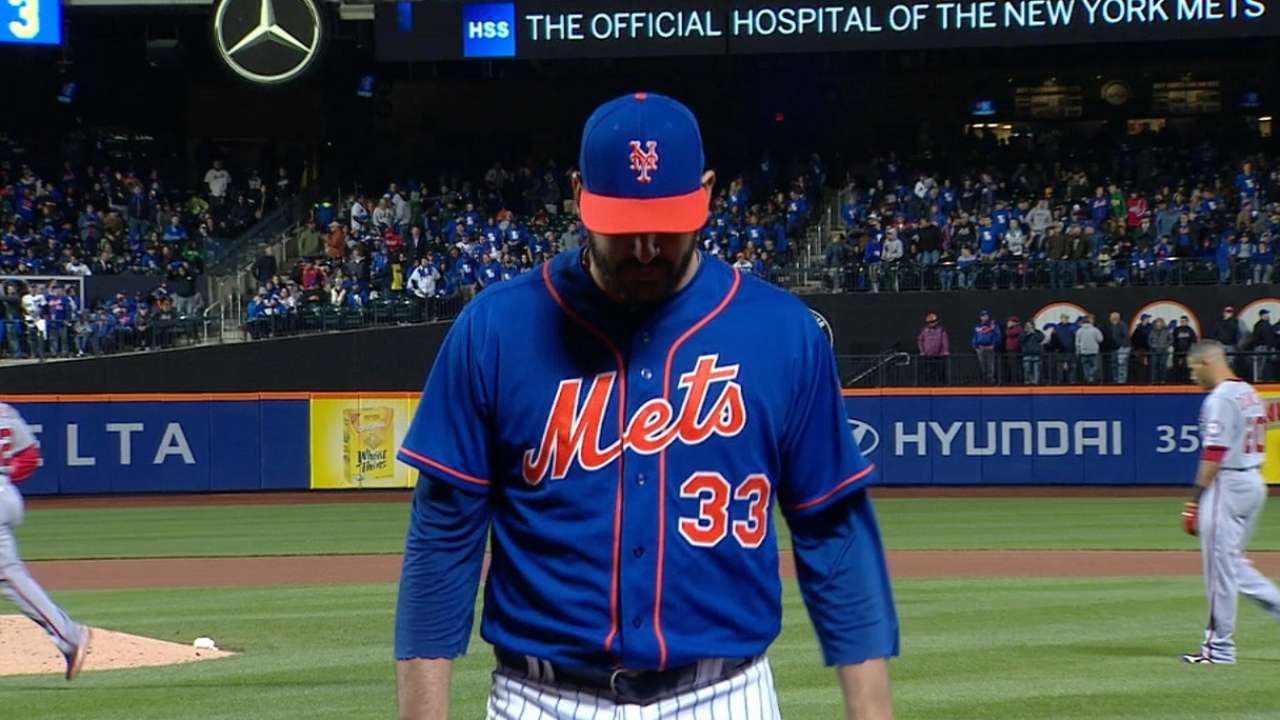 May 23-June 10, 2015
Harvey allows 20 runs over his next four starts, including seven on June 10 against the Giants, a night after the Mets were no-hit. Collins defends his player and tells the media Harvey is experiencing a "Tommy John hangover."
May 27, 2015
With the conservation of Harvey and the emergence of Jacob deGrom, Noah Syndergaard and Steven Matz on their minds, the Mets institute a six-man rotation upon Dillon Gee's return from the disabled list. New York's main concern here is Harvey, the only one of its young starters coming off recent surgery.
June 21, 2015
Harvey throws a season-high 115 pitches in a 1-0 loss to Atlanta. It's his 50th career start and the 25th in which he allowed one or no runs. Due to pitch limitations, faulty bullpen efforts and little offense, Harvey collected just 19 wins in that span.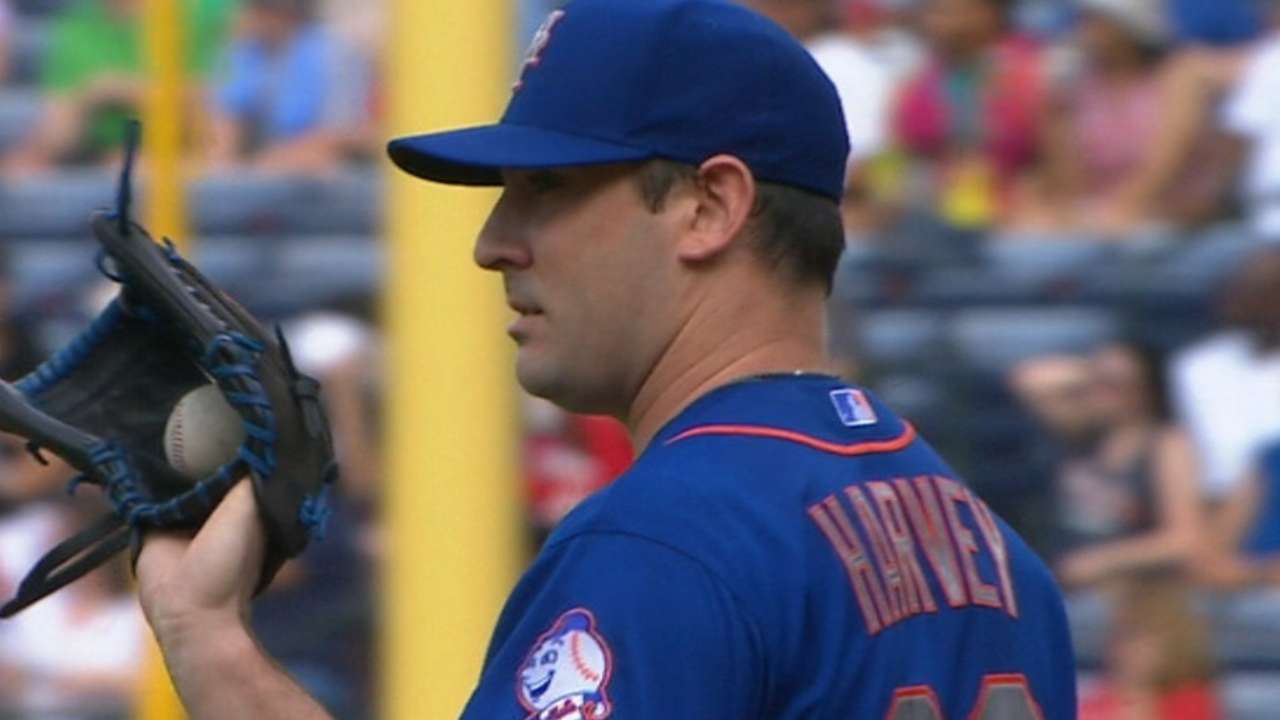 July 4, 2015
After initially pledging his commitment to the six-man rotation, Harvey blames a poor start against Los Angeles to recent shifts in his routine.
Aug. 23, 2015
With Harvey's innings total at 154, the Mets skip his turn in the rotation. Rookie Logan Verrett goes eight innings against Colorado and New York maintains its five-game lead on Washington.
Sept. 4, 2015
With New York's most pivotal series looming, Boras tells CBSSports.com's Jon Heyman that doctors placed a hard 180-innings cap on Harvey's workload. Harvey is at 166 1/3 innings, putting his postseason availability in doubt.
Sept. 5, 2015
Speaking to reporters, Harvey does nothing to extinguish the controversy surrounding his availability. He says he always considered 180 innings his limit and won't answer questions about the playoffs.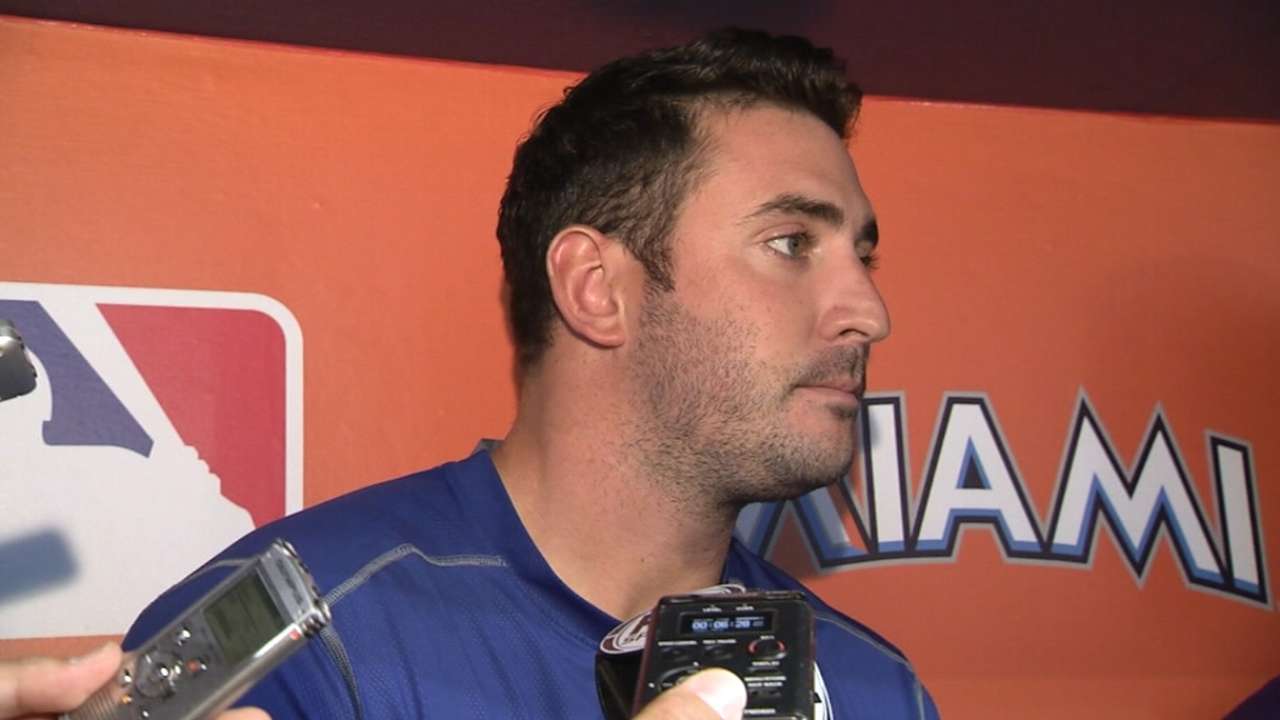 Sept. 6, 2015
After being labeled as selfish by fans and media, Harvey takes to The Players' Tribune, declaring: "I Will Pitch In the Playoffs."
Sept. 8, 2015
Harvey struggles in the most scrutinized start of his career, allowing seven runs to the Nationals. New York comes back to win the game and sweep the series, all but clinching the NL East in the process and temporarily pushing the Harvey drama to the back-burner.
Sept. 20, 2015
After he is skipped in the rotation again, Harvey returns to the mound on a tight innings limit against the Yankees in a nationally televised game and is removed after 77 pitches and five shutout innings. The bullpen gets hit hard and the Mets lose, 11-2, prompting Collins to call the night "a perfect storm." Harvey deflects questions in a truncated postgame media session, repeatedly saying only that he wants to pitch.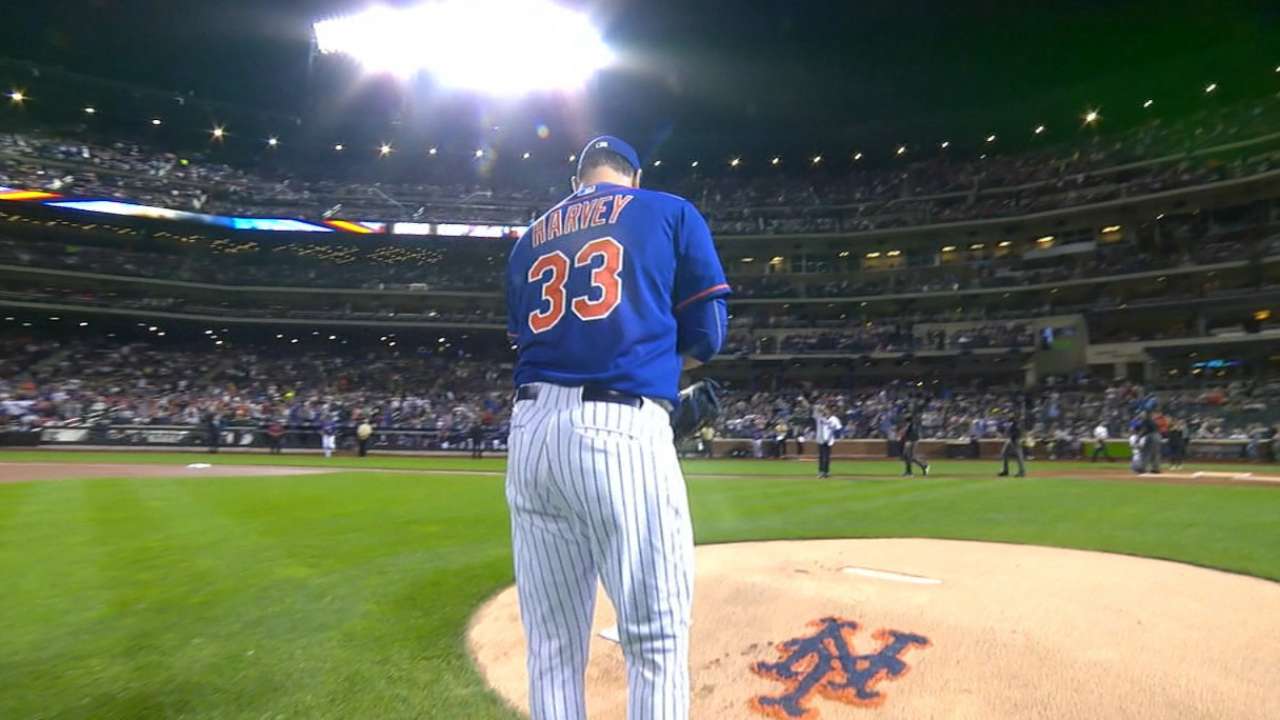 Sept. 21, 2015
A day later, Alderson reveals that Andrews didn't set the 180-innings limit, absolving Harvey and Andrews of blame. Later, Collins vents his frustration with the situation.
"Taking Matt out after five innings last night -- was I disturbed? ... I was disturbed," Collins said. "But I did it. For the good of Matt, hopefully, and for the good of the organization. So that there's not an injury, he is OK and he will come back. If it keeps us from winning the pennant, I'm not going to be very happy about it. But it is what it is and you have to adapt to it."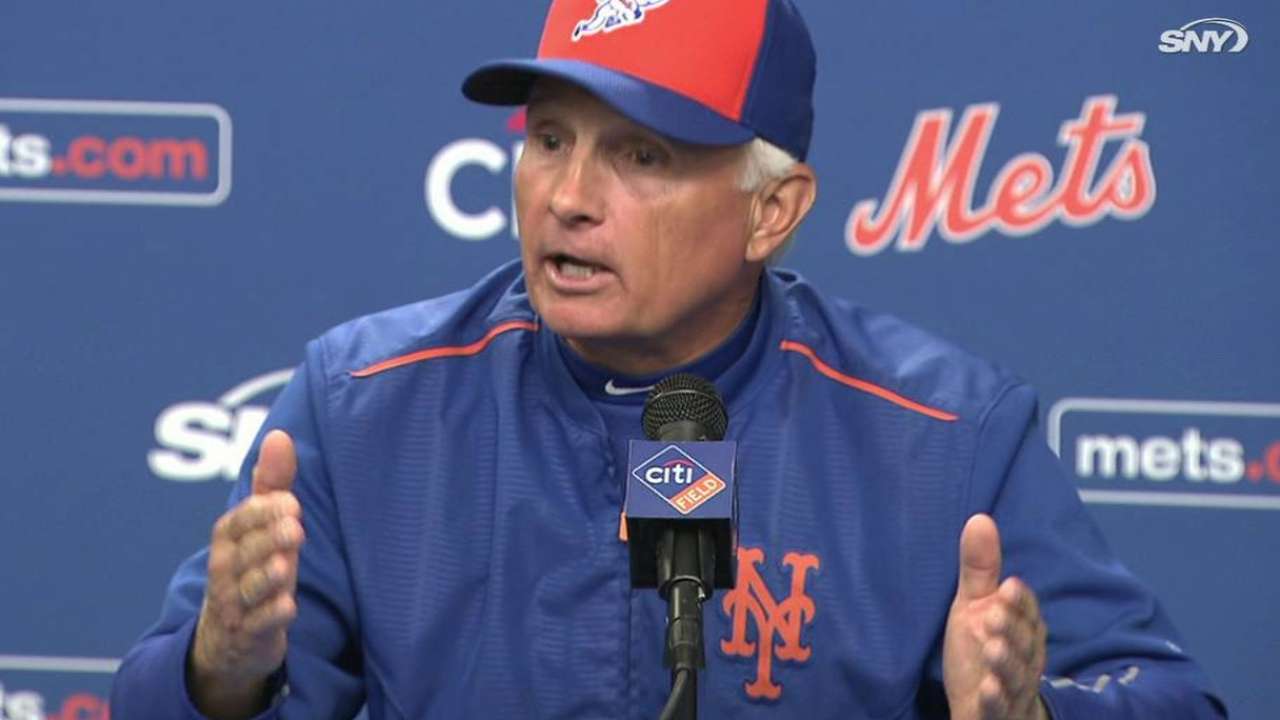 Sept. 26, 2015
Harvey tells Collins he wants to pitch without restrictions in his penultimate regular-season start at Cincinnati. He goes 6 2/3 innings and earns the win in New York's division-clinching victory over the Reds.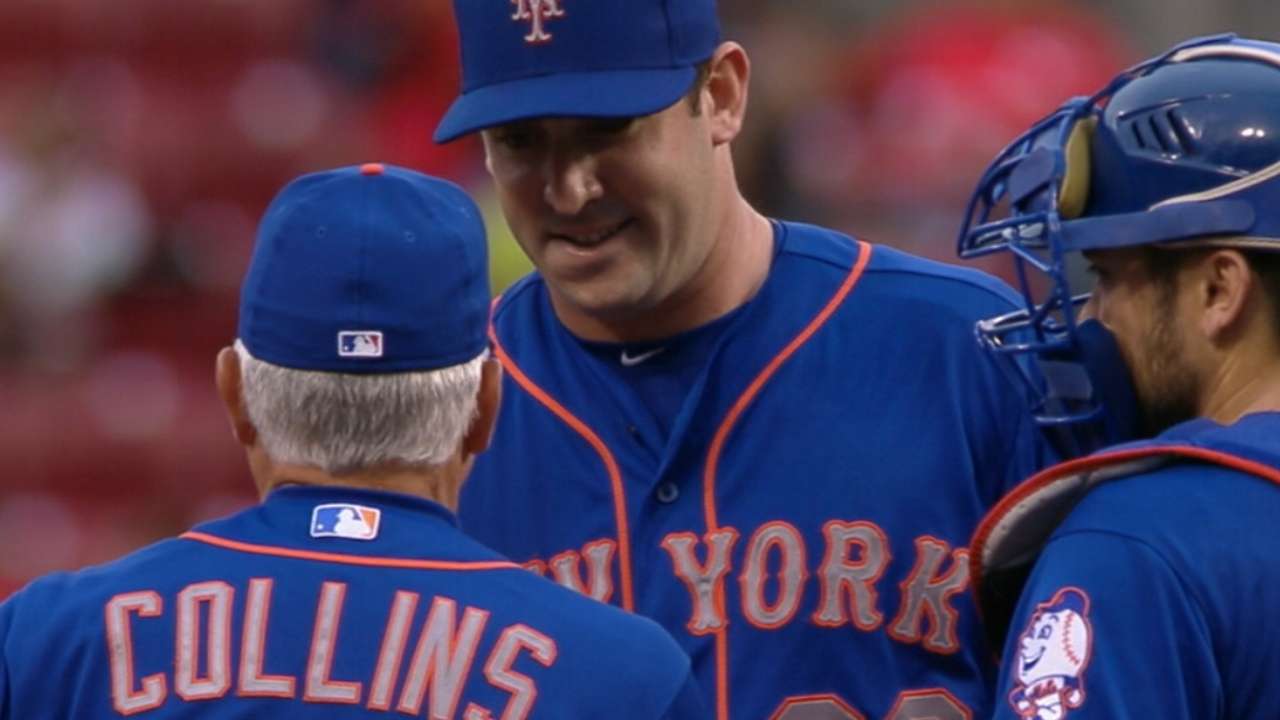 Oct. 6, 2015
Two days after the Mets set their NLDS rotation, slotting Harvey for Game 3, the righty misses a mandatory pre-series workout at Citi Field. He arrives late, citing traffic, and apologizes in a brief media session. Collins fines Harvey, and public discourse falls once again out of his favor.
Joe Trezza is an associate reporter for MLB.com. This story was not subject to the approval of Major League Baseball or its clubs.