Oct. 10 Adrian Gonzalez, Justin Turner postgame interview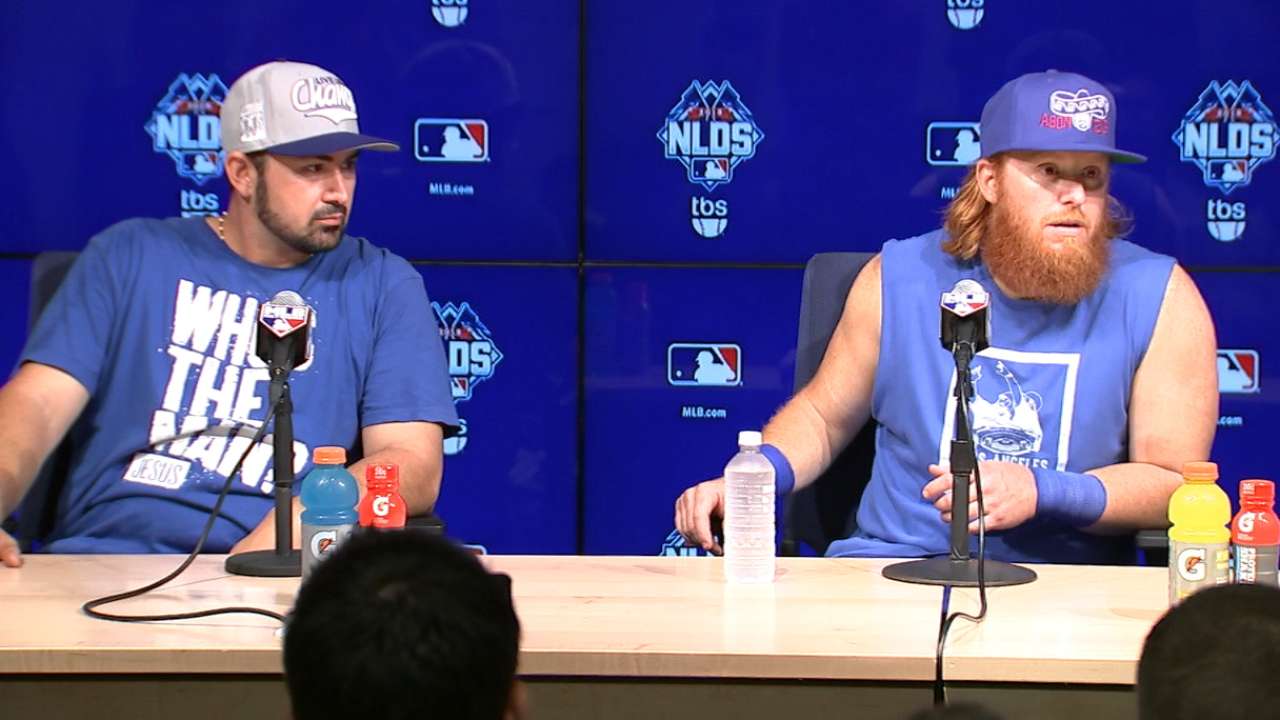 Q. For both of you, Chase's slide there, how big of a momentum shifter do you feel that play was?
ADRIAN GONZALEZ: As soon as the ball was hit I knew he was going to go in to break up the double-play. I think every single guy on the field on both sides, both dugouts would have done the same thing. It was huge. Got the game tied, and after the replay, gave us a rally.

JUSTIN TURNER: Yeah, I think everyone knows how hard Chase plays the game and did what everyone would do going hard to break up the double-play. Unfortunately the ball put Ruben in kind of a bad position to be there. We don't want to see anyone get hurt, but hopefully, I know it's a fracture, but he's a good friend of mine. I hope it's not too bad and doesn't effect anything with his career.

Q. Justin, is it more gratifying to beat a team like the Mets who gave up on you a couple years ago?
JUSTIN TURNER: It's gratifying to win a game in a Division Series and put ourselves in a good position going to New York. That was a must-win for us if we go down 0 will have 2 there, our backs are really against the wall. So doesn't matter who the other team is. We want to win.

Q. You saw Chase on the opposite side quite a bit in the National League East. When you are playing against him, what is your opinion of somebody who plays as aggressively as he did against you guys?
JUSTIN TURNER: There's definitely guys in the league that you're aware of, especially when you're playing in the middle, that you know they're going to come in hard every single time. And you've got to be able to try to protect yourself. He's a guy that plays balls to the wall and goes in hard. He's old school, and Jayson Werth is another guy to comes to mind that goes in hard every time. If you're not protecting yourself or you're not in a good position when they come in hard like that, you have a chance of getting hurt.

Q. Adrian, obviously the first three at-bats kind of tough?
ADRIAN GONZALEZ: Kind of (laughing)? Don't sugar coat it.

Q. How did you collect yourself there in that situation in the 7th inning?
ADRIAN GONZALEZ: No, for me, thank God I can just focus on every at-bat at hand, I don't think back to my previous at-bats. I was just focused on getting fastball middle, and he threw me three fastballs for strikes. And just luckily I was able to put it in play, thank God, and got it over Duda's head and gave us the runs and gave JT a chance to come up with another big hit.

Q. Was there an adjustment you made before that at-bat or maybe was the biggest adjustment the guy not throwing the hundred on the mound?
JUSTIN TURNER: The biggest adjustment was the guy not throwing 90 mile an hour changeups. Yeah, Syndergaard today, the only mistake he made was the first pitch changeup my third at-bat, and I was taking, because I had chased two pitches my previous two at-bats. That was the only pitch he gave me at the plate. Everything else is either in the black or off speed looked like a strike and fell off the table.

Q. Given that you guys went down yesterday, you lost yesterday and you had Greinke going today. How much of a must-win did this feel like?
JUSTIN TURNER: Like I said, the last thing I want to do is have our backs against the wall and being 0-2 going into New York. So this was definitely a must-win. And we felt good about it. With Zack on the mound, we felt really good about it, and he did a great job keeping us in the game, giving us a chance to win, and really the pitch to Cespedes wasn't even a bad pitch. It was about four inches off the plate. It's just an unbelievable job of hitting he did. I think the one to Conforto he was trying to get in, and didn't get it in as much as he wanted to, so really for him, one bad pitch tonight, and he pitched well enough to deserve to win, and we had a good 7th inning and got it for him.

Q. Adrian, what kind of game do you guys suspect in New York Monday considering that Terry Collins told us that that is a very mad team in the locker room.
ADRIAN GONZALEZ: It is what?

Q. A pretty mad team across the hallway?
ADRIAN GONZALEZ: Mad because they lost? Just another close game like the first two games. They're going to be tight. They're going to be great starting pitching performances just like yesterday. The team with more key hits is going to win.