Statcast tracks great NLDS plays by rookies
Russell's defense, homers by Wong, Grichuk, Conforto are Game 2 highlights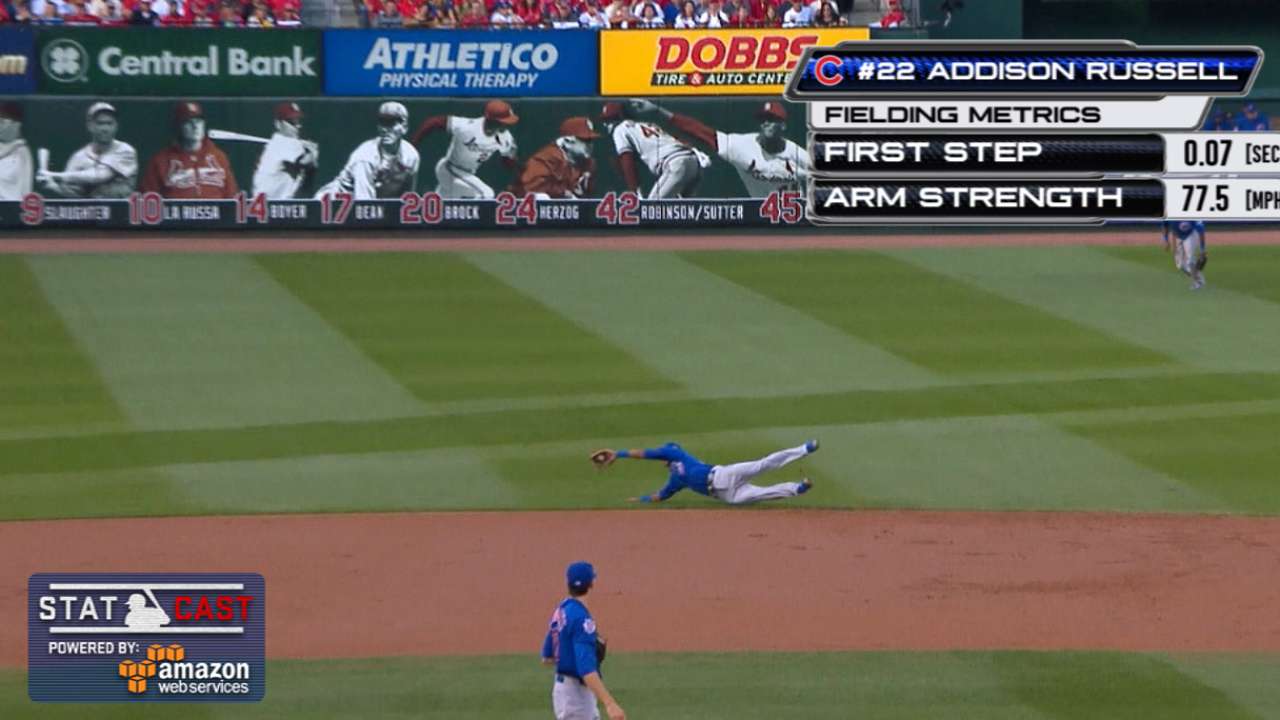 It's been a good season for rookies across the Major Leagues, and that has continued into the postseason.
On a day when the Cubs beat the Cardinals, 6-3, and the Dodgers beat the Mets, 5-2, to tie up their respective National League Division Series at 1-1, Statcast™ tracked impressive plays from a few of those rookies. Chicago's Addison Russell sparkled at shortstop, while St. Louis' Randal Grichuk and New York's Michael Conforto both struck impressive blows with the bat.
Here is a look at Statcast™'s best from Saturday's postseason action.
Russell's diving play
After the Cubs took a 5-1 lead with a five-run top of the second, Russell helped Kyle Hendricks keep the Cardinals off the board in the bottom of the frame. When Jhonny Peralta led off with a rocket to the left side of the infield, it looked as if St. Louis would get a runner aboard, but Russell took his first step to his right almost instantaneously (0.07 seconds), quickly covered 11.5 feet and snared the one-hopper with a full-extension dive. He then hopped to his feet on the outfield grass and made the 100-foot throw to first at 77.5 mph, in plenty of time for the out. Hendricks went on to retire the side in order.
• Shop for Cubs postseason gear
Cardinals go back to back
All of St. Louis' offense came on a trio of solo homers, including back-to-back shots off Hendricks with two outs in the fifth inning. Kolten Wong got things started by connecting on a changeup at 105.9 mph and driving it a projected 412 feet to the back of the right-field bullpen. It was Wong's fourth-longest homer of the season, and his second-fastest exit velocity on a homer.
• Shop for Cardinals postseason gear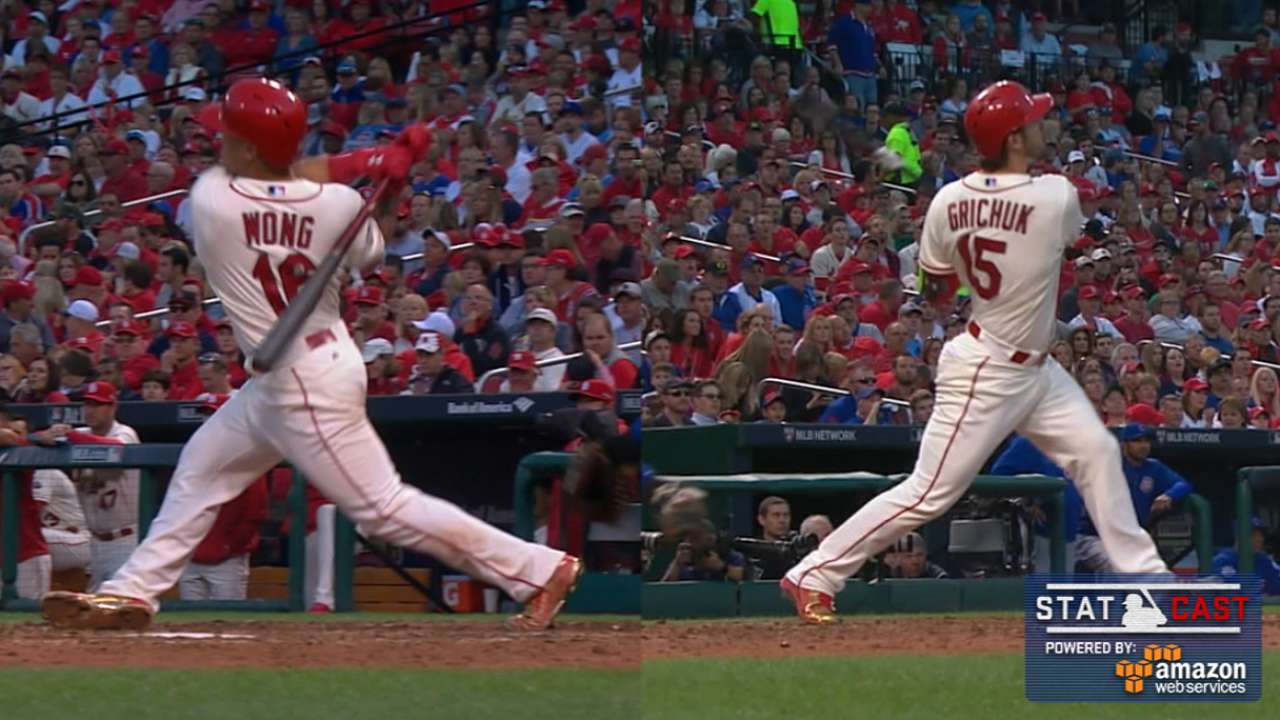 Three pitches later, Grichuk jumped all over a hanging curve at 109.5 mph, his seventh-fastest exit velocity on any ball this season. The result was a majestic blast that peaked at 124 feet, Grichuk's second-highest homer of the year. It soared a personal-best 444 feet, over the left-field bullpen and almost to the Busch Stadium concourse.
Conforto leaves yard in a flash
Two outs after Yoenis Cespedes' leadoff home run provided the Mets with a 1-0 second-inning lead, Conforto stepped in against Zack Greinke. On a 2-1 count, Conforto got a 92.7-mph fastball over the middle and ripped it at a blistering 113.5 mph off the right-field foul pole.
• Shop for Mets postseason gear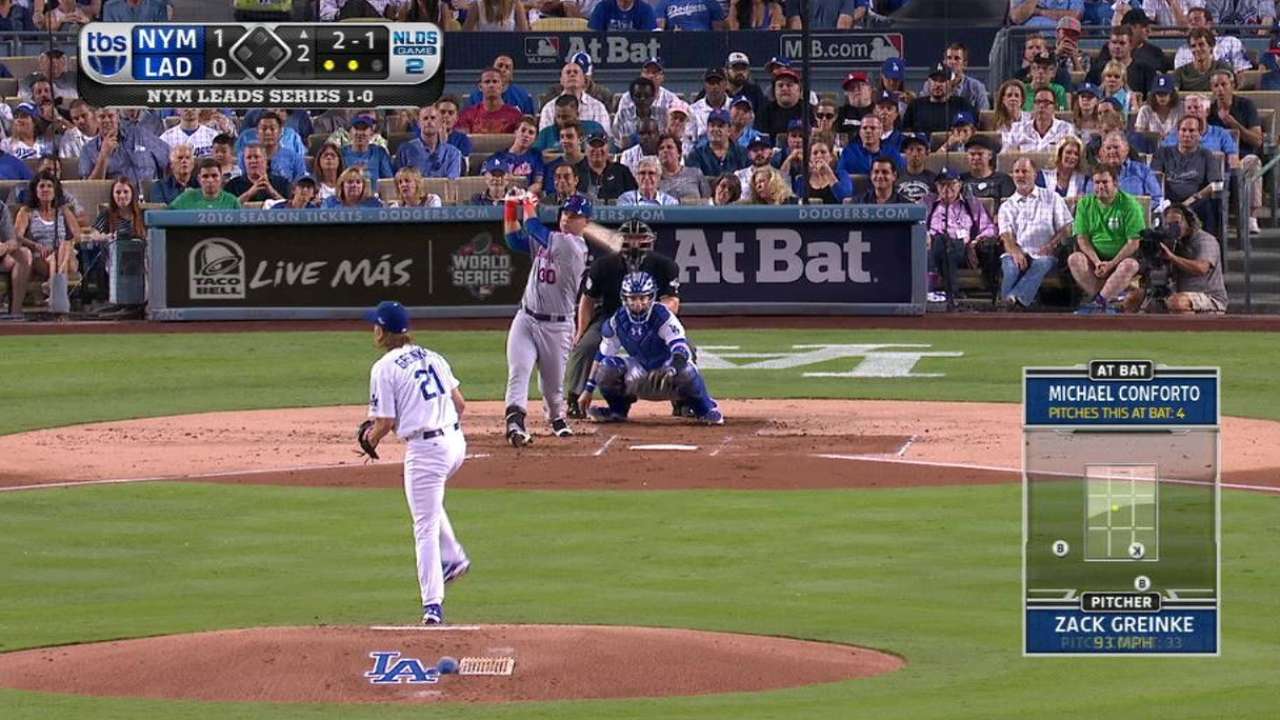 That was the third-fastest exit velocity recorded by a Mets hitter on a homer this season, behind only Lucas Duda (114.1 mph on Sept. 26) and Conforto himself (115.0 mph on Sept. 15). The screaming line drive traveled a projected distance of just 346 feet but also peaked a mere 42 feet off the ground and stayed in the air for barely more than 3 seconds.
Andrew Simon is a reporter for MLB.com. Follow him on Twitter @AndrewSimonMLB. This story was not subject to the approval of Major League Baseball or its clubs.