Oct. 10 Don Mattingly postgame interview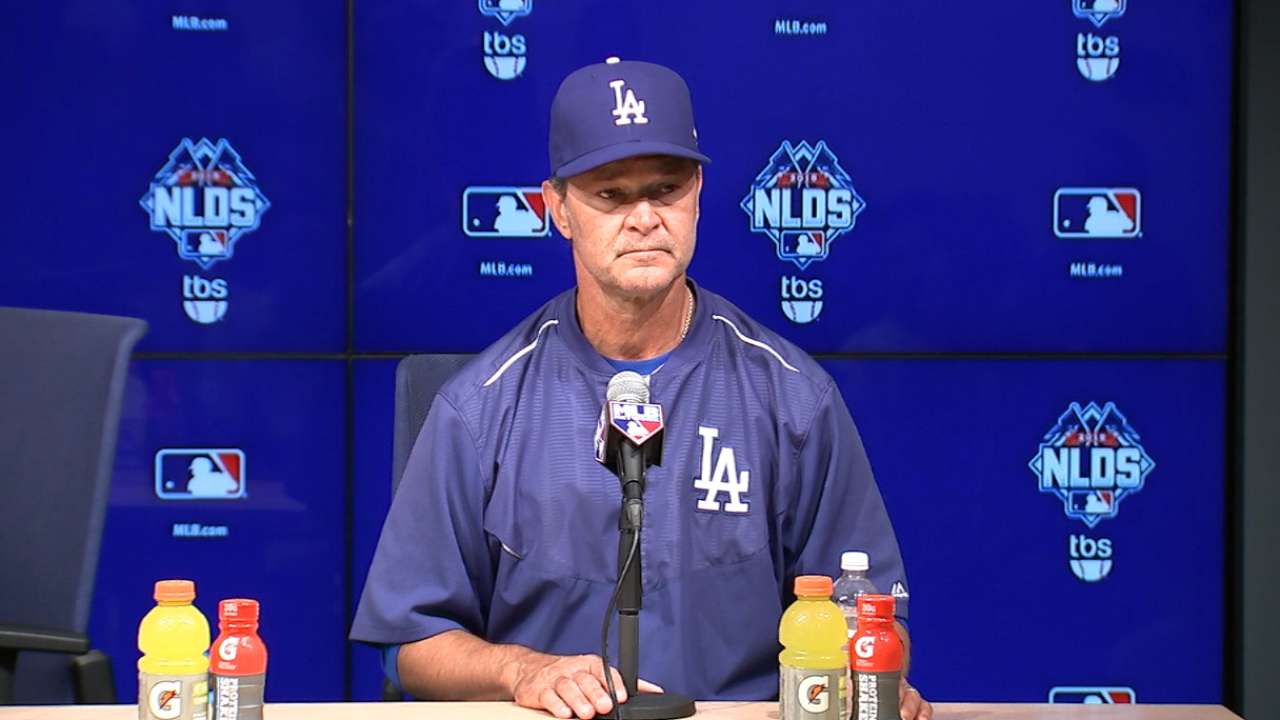 Q. We've seen the neighborhood play come up a couple times this year. Were you surprised that that play in the 7th inning went to review?
DON MATTINGLY: Not really. Once I was able to go out and talk to them, I said that's not neighborhood, right and they said not neighborhood, so I knew at that point we could challenge that.

Q. That was Chris that told you that?
DON MATTINGLY: Or Gary. They were all three there. So Gary, Chris, and Wolfy.

Q. I'll ask you the same question Terry just got asked. Clean slide or not and why?
DON MATTINGLY: Well, I don't know if I need to get into if it's clean or anything else. I felt like chase was sliding hard, trying to win. I've seen the replay. The one thing I probably know a hundred percent sure that I know Chase is not trying to hurt anybody. He's just playing the game the way he plays it. He plays it hard, he's aggressive, and I think that's the way he plays it.

Q. Is Chase okay physically? It looks like he actually got hit on the head on that?
DON MATTINGLY: I think so.

Q. Whether it was clean or dirty, they lost their shortstop. Do you expect some kind of retribution from them in Game 3?
DON MATTINGLY: Well, starting with you don't want to see anybody lose a player. Obviously, we're in the playoffs and both teams want to win. You want to feel like you want to win because you're the better team. So you want toes guys to be a hundred percent, you want our guys to be a hundred percent and to be in that kind of competition. I don't think we can -- this is not the time of year you get involved with all that or worry about all that. So I don't really. I just think we go play, be ready to play, and just deal with whatever.

Q. After that slide and after Syndergaard came out, you guys strung together some big hits. What kind of changed for you guys after being shut down for so long?
DON MATTINGLY: Well, I mean, obviously their guy was throwing the ball really well early in the game. I thought we did a pretty good job, again. Early on it was just like it was dynamite, and we were able to get some better swings as the game went on a little bit. He uses more off speed as the game goes. Then at that point your game plan has to be to get him up a little bit. So I thought we did a pretty good job of hanging with him and kind of running his pitch count to a certain point. Then you get in their pen. It's like everybody, you're trying to get guys like that out of the game, but you still have to deal with the other guys.

Q. With Greinke, obviously the first few couple innings, the pitch count got up pretty high. How big was it for you guys that he was able to go through 7?
DON MATTINGLY: I thought it was big. We were in pretty good position after 6 right there. We were in a spot I could have used luis. I think it was either Duda, I think it's Duda there and then Conforto, or it was either Murphy, Cespedes. He doesn't hit lefties as good. So I've got a lefty there too, Luis. So either way.

But Zack felt good, and that was the thing. I think he still felt strong. He felt like he could execute, and at that point there is really nobody that we have that we're going to bring in that's going to be better than that.

Q. Two things, how often have you seen a starting pitcher come out throwing 100, 101 miles an hour? When that goes down to 97, 98, does that somehow seem palatable as opposed to a typical 97, 98?
DON MATTINGLY: I think it's more back in the neighborhood that you see a lot. Guys 100, 101, whatever we see it, it's kind of out of his hand. He's jacked up. He probably hasn't pitched in a while. We see the numbers as you're getting ready and you're scouting and things like that. I don't know where you go from there.

Q. Do you know if Chase was contested for concussion during the break?
DON MATTINGLY: I don't know. I don't know.