Cubs tap into Soler power during Game 2 win
Young outfielder hits two-run home run to cap five-run second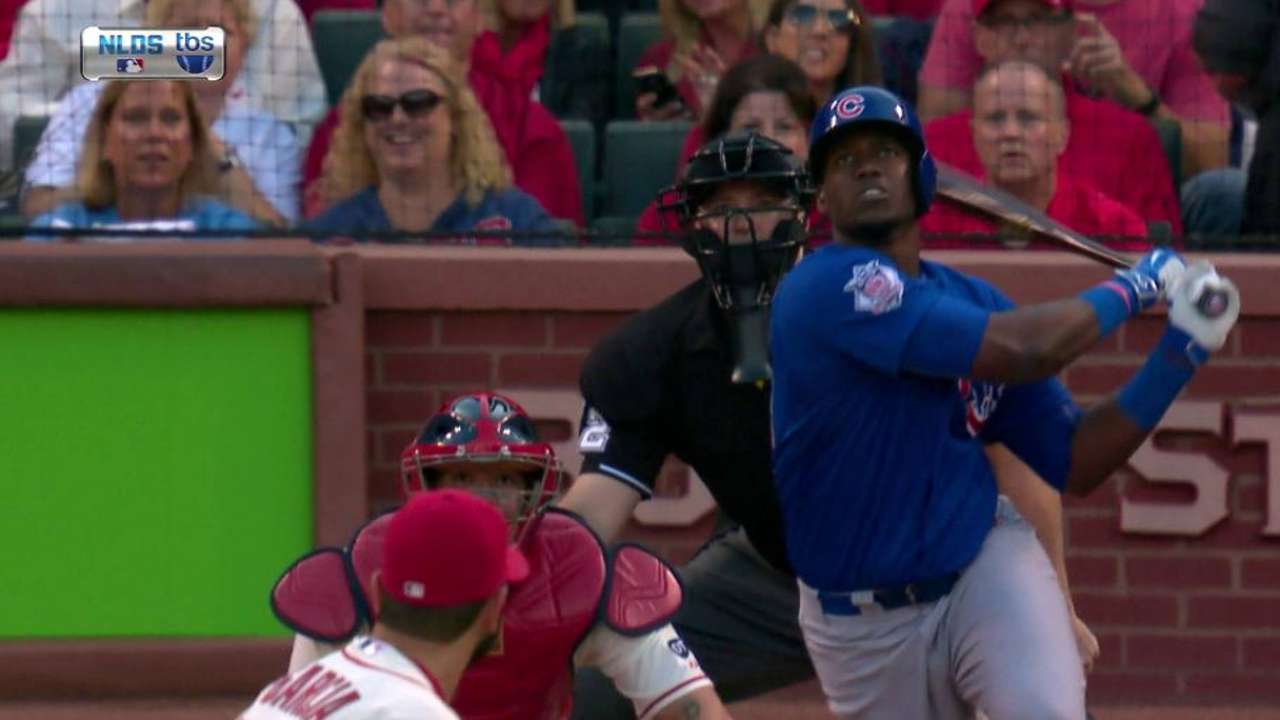 ST. LOUIS -- Give Manny Ramirez an assist with helping Jorge Soler get on track.
A hitting consultant with the Cubs, Ramirez talked to Soler about staying in the zone and working good counts. On Friday, in Game 1 of the National League Division Series against the Cardinals, Soler was called on to pinch-hit in the ninth and drew a walk. That paid off on Saturday when Soler doubled in the first and smacked a two-run homer in the second to help spark the Cubs to a 6-3 victory in Game 2 and even the best-of-five series at 1-1.
Teammate Anthony Rizzo wasn't surprised to see Soler deliver.
"No, especially after that at-bat in the ninth last night," Rizzo said. "That was a great at-bat. That's what [Soler] is all about. He's been calm all year. Nothing is going to get to him at this stage."
Soler, 23, may be calm, but as he rounded first base after launching a 2-2 pitch from Jaime Garcia into the grass beyond the wall in straightaway center, he punched his right arm in the air in celebration.
"I was very, very happy," Soler said.
"He's an unbelievable hitter," Cubs pitcher Kyle Hendricks said of Soler. "That's why he was in there today. He made his presence known right away. Got the double then the bomb. Big game for him and we needed it."
Soler's season has been interrupted by injuries, and he's missed time because of a sprained left ankle and a strained left oblique. The latter kept him sidelined from Aug. 24-Sept. 17.
"I just focus on how to prepare myself and how to get ready for each and every game in case I get the opportunity to play," Soler said. "When I saw my name in the lineup today, I was ready."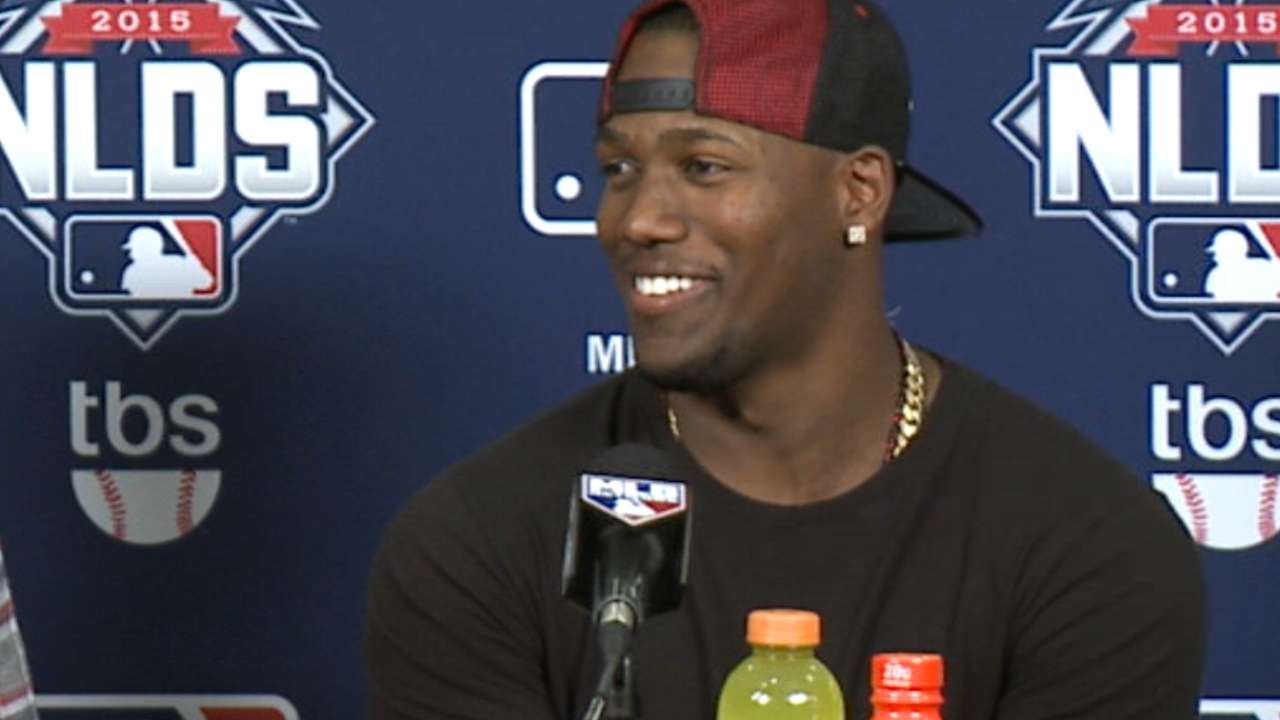 In Game 1, rookie Kyle Schwarber and Chris Coghlan started in the outfield against right-hander John Lackey. On Saturday, Cubs manager Joe Maddon inserted the right-handed-hitting Soler and Austin Jackson against the lefty Garcia. The moves worked.
"I just think you're seeing a more engaged player right now," Maddon said of Soler. "That's the best way I can describe it. The coaching staff has done a wonderful job with him, especially Manny. I know Manny is in his ear all the time. That's Manny Ramirez. ... I can definitely see a difference in the method that [Soler] is going about playing the game, and it's beautiful to watch.
"I was most impressed with him running first to third on that base hit [in the ninth Friday]," Maddon said. "That's what I liked, and that kind of indicated to me that he was ready to go."
Soler's homer capped a five-run second inning in which the Cubs scored two runs on sacrifice bunts and another on an infield single. The five runs marked the most productive postseason inning for the Cubs since they scored six in the first inning of Game 2 of the 1989 NL Championship Series against the Giants.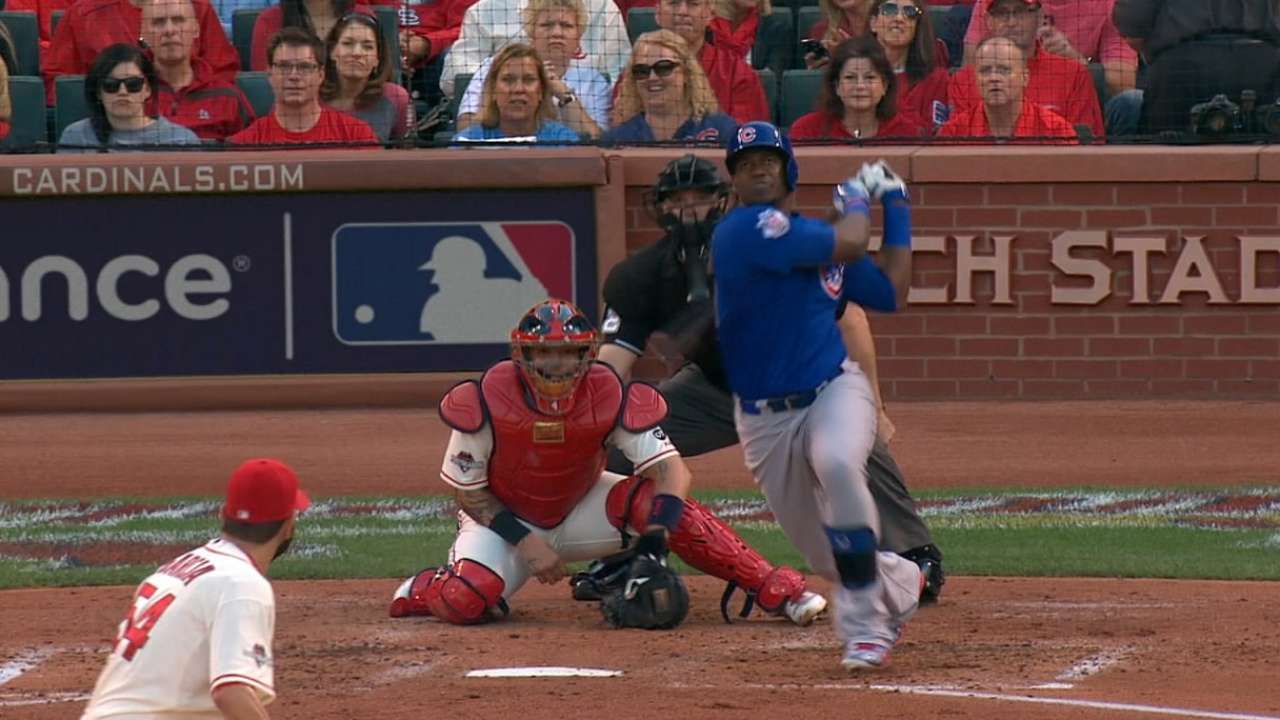 Who will start Monday (4:30 p.m. or 6 ET on TBS) in Game 3 against Cardinals right-hander Michael Wacha? Maddon won't reveal that, but he has some nice choices.
"[Soler] is always calm, he's always collected," Hendricks said. "You can tell he's confident in himself and what he's going to do. It's special to see, but all of our young hitters have that. That's why we've had a lot of success."
Carrie Muskat is a reporter for MLB.com. She writes a blog, Muskat Ramblings. You can follow her on Twitter @CarrieMuskat and listen to her podcast. This story was not subject to the approval of Major League Baseball or its clubs.