MLB.com Columnist
Phil Rogers
Young Cubs, Maddon create good vibrations
Soler, small ball help key Game 2 win to even NLDS with Cards
ST. LOUIS -- Way back in Spring Training, in those carefree days under the Arizona sun, Joe Maddon first uttered the line that resonated around Busch Stadium early Saturday.
Sitting aboard his now-famous RV, the "Cousin Eddie," Maddon was asked by a reporter about taking over a franchise that had been cursed. He didn't snap at the question or even roll his eyes. He said he understood how 106 years of losing could create an aura of negativity, but said he personally was unaffected.
"I don't vibrate at that frequency,'' Maddon said.
Neither, it seems, does his team. It is now loaded with enough talented young players to ward off superstitions.
Well, Maddon does have his lucky socks, but that's a story for another day.
The one that matters now is that his team was not shaken by being shut out by the storied Cardinals in the National Leage Division Series opener, firing back with a 6-3 victory fueled by Jorge Soler and a bunch of bunts and well-placed choppers channeled from Maddon's talks with the late Don Zimmer during his remarkable nine-year run with the Rays.
So this meeting of the two Midwest rivals moves to Wrigley Field tied 1-1, and thanks to Game 3 starter Jake Arrieta, it's advantage Cubs.
"I feel like [this] was a must-win game for us today, going back to Chicago 1-1 instead of down 2 [to nothing],'' said lefty reliever Travis Wood, the winning pitcher. "It kind of felt like the momentum swung back into our favor, and Jake taking the mound [Monday], we're going to roll into it and try to keep it rolling.''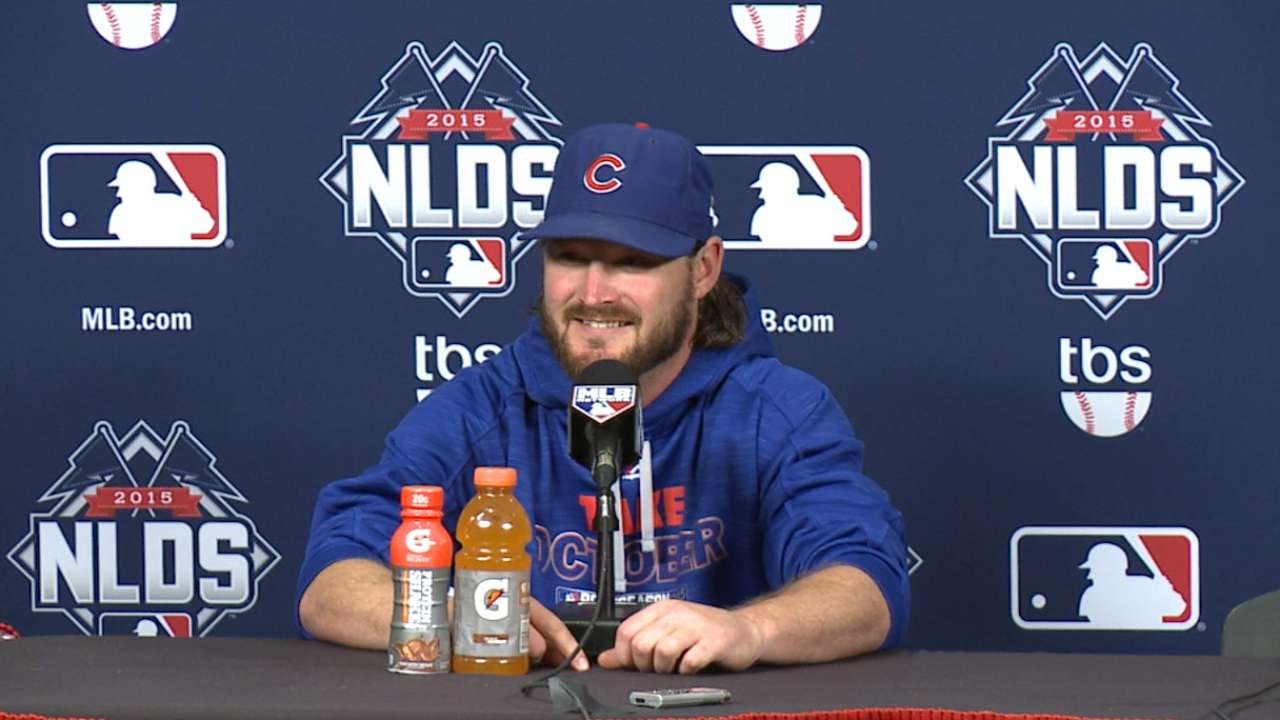 Arrieta has not only thrown 31 consecutive scoreless innings over his last four starts, including those nine to eliminate the Pirates in the NL Wild Card Game presented by Budweiser, but the Cubs have won his last 14 starts. They last lost with him on the mound on July 25, when Cole Hamels, still with the Phillies, threw a no-hitter. So the Cubs should sleep well the next couple of nights, not that they're ever uptight.
After John Lackey and two relievers held the Cubs to three hits in Friday's 4-0 Cardinals victory, Maddon made batting practice optional for his players.
Exactly zero of them went into the cage that sat unused on the Busch Stadium infield. Even Wood, a pitcher who loves to hit, stayed away.
"That's kind of been our thing all year,'' Wood said. "If you want to go out and hit, get your work in, other than that, get ready for the ballgame. It's kind of been working for us.''
While Wood said he viewed this as a "must-win'' game, there was very little sense before the game that the Cubs' season was hanging in the balance, even when it probably was. Maddon was asked in his pregame interview about fans back in Chicago who thought "same old Cubs'' after the Cardinals steamrolled to the Game 1 victory.
"The fans should always worry,'' Maddon said. "It's always the prerogative of a fan to worry. I absolutely believe in that. That's what bar rooms are for. That's what little forums are for online in this 21st century stuff. The fans should always worry … go ahead and worry as much as you'd like. From our perspective, we have to just go out and play the game like we always do. I'm here to tell you, man, I just can't live that way.''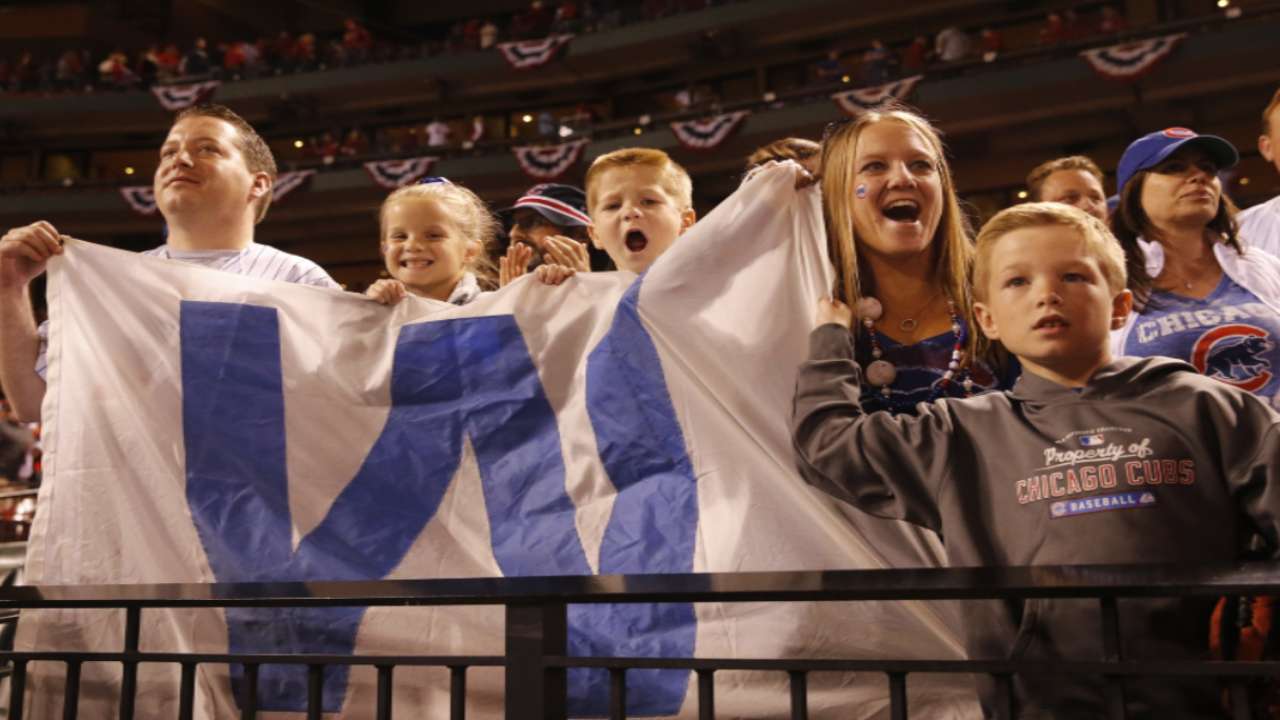 Maddon was thrilled when he was told afterward that he had never used the verb "win'' in his speech to players before the Wild Card Game in Pittsburgh.
"If you take care of the seconds, the minutes, the hours in a day take care of themselves,'' Maddon said. "So for our fans back home, please go ahead and be worried, that's OK, but understand that from our perspective in the clubhouse, we're more worried about the process than the outcome.''
It helps to have one of the biggest stables of young hitting talent in Major League history. Maddon started three rookies -- Kris Bryant, Kyle Schwarber and Addison Russell -- in the first two postseason games, and in the third he substituted a fourth into the lineup for Schwarber.
All 23-year-old Cuban Jorge Soler did was rip a first-inning double into the left-field corner and drive a two-run homer to center in the second off Cardinal starter Jaime Garcia, who worked even though he was battling a stomach virus. Garcia's throwing error on a safety squeeze by Cubs starter Kyle Hendricks began a five-run second inning that included a successful squeeze by Russell and ended with Soler's homer.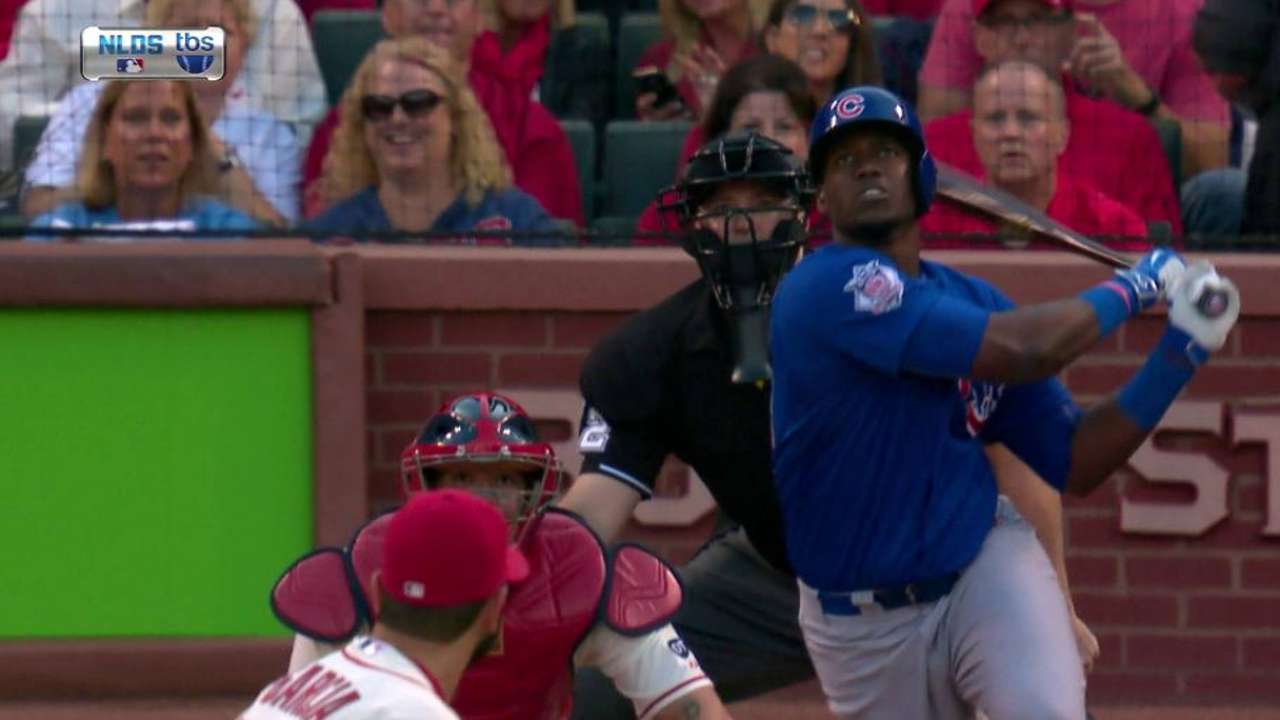 Soler, who was in the Opening Day lineup, has largely been squeezed out of the outfield by the emergence of Schwarber and the acquisition of Austin Jackson. But with hitting consultant Manny Ramirez in his ear, he has stayed ready to help.
This is a power hitter who veteran outfielder Darnell McDonald was calling "King James'' in Spring Training three years ago because he was such a talented kid, like LeBron James. It's taken Soler longer to develop into a force than most expected, in part because of injuries, but the Cardinals haven't gotten him out in five plate appearances (2-for-2 with three walks).
Like the Cubs' other kids, Soler says his relative inexperience is a non-issue.
"I don't think about it,'' he said, with bench coach Dave Martinez translating. "I just go up there and try to play the game like I've always played. I have a lot of respect for what we do. I just want to help us win.''
Maddon admits there are times he marvels at the large collection of young hitters on his roster but said he never has to deal with rookie issues.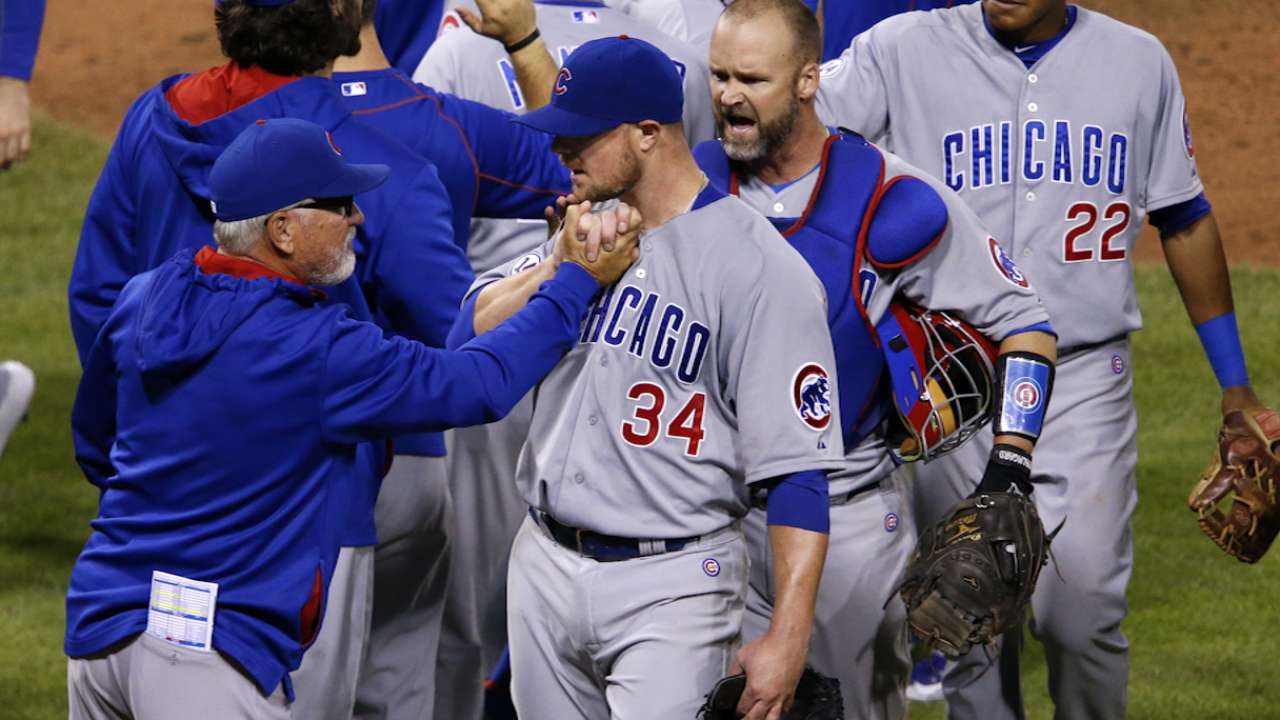 "When I talk to them, I see a little bit of inexperience, but I don't see youth in a sense,'' Maddon said. "When you talk to them in the dugout, they're present tense, they're lucid. They look you right in the eye. They're not overwhelmed by anything, and that's what sets them apart.''
They're relaxed too. That's one of many things their manager concerns himself about, even if he acts like he doesn't have a care in the world. It's easy when you're picking up good vibrations.
Phil Rogers is a columnist for MLB.com. This story was not subject to the approval of Major League Baseball or its clubs.