Dodgers storm ahead to tie NLDS at 1
LOS ANGELES -- The Dodgers tied their best-of-five National League Division Series against the Mets Saturday night with a 5-2 comeback win after a four-run rally in the seventh inning, keyed by a hard slide from Chase Utley that sent Mets shortstop Ruben Tejada to the hospital with a fractured right fibula.
Adrian Gonzalez's two-run double on an 0-2 pitch with two outs highlighted the comeback and came two batters after Howie Kendrick's fielder's-choice grounder that resulted in the tying run scoring on an overturned call after Utley's slide upended Tejada.
• Tejada fractures fibula on Utley's hard slide
"Broke my shortstop's leg, that's all I know," Mets manager Terry Collins said when asked about the play. "It's over. It's done. Not much we can do about it except come out in a couple days and get after it."
The rally turned around a game that had seen Mets starter Noah Syndergaard outduel Zack Greinke of the Dodgers as an encore to Jacob deGrom's 3-1 victory over Clayton Kershaw in Game 1 on Friday night.
• Thor features 100-mph heat in postseason debut
Greinke, credited with the win, pitched six excellent innings out of seven, but allowed solo home runs to Yoenis Cespedes and Michael Conforto in the second inning. Cespedes took an outside fastball the opposite way, and two outs later Conforto hit a laser off the right-field foul pole. Greinke struck out eight with no walks. Dodgers closer Kenley Jansen pitched the ninth inning for the save.
• Bullpen excels in Dodgers' Game 2 win
"We knew it was going to be a tough series," Mets third baseman David Wright said. "It would have been nice to take two here, but any time you can go 1-1 against Kershaw and Greinke in their house, I guess we'll take it. We wanted to get greedy and take the second game heading back to New York with a 2-0 lead, but it will be a pivotal Game 3. It's going to be a fun series."
• Greinke rebounds after homers to get win
• Shop for postseason gear: Dodgers | Mets
Syndergaard, lighting up the radar gun in triple digits 15 times in the first three innings, allowed a fourth-inning run on back-to-back doubles by Dodgers third baseman and former Met Justin Turner and right fielder Andre Ethier. Syndergaard was charged with the tying run in the seventh inning after a one-out walk to Kiké Hernandez, who stole second and went to third on Utley's pinch-hit single.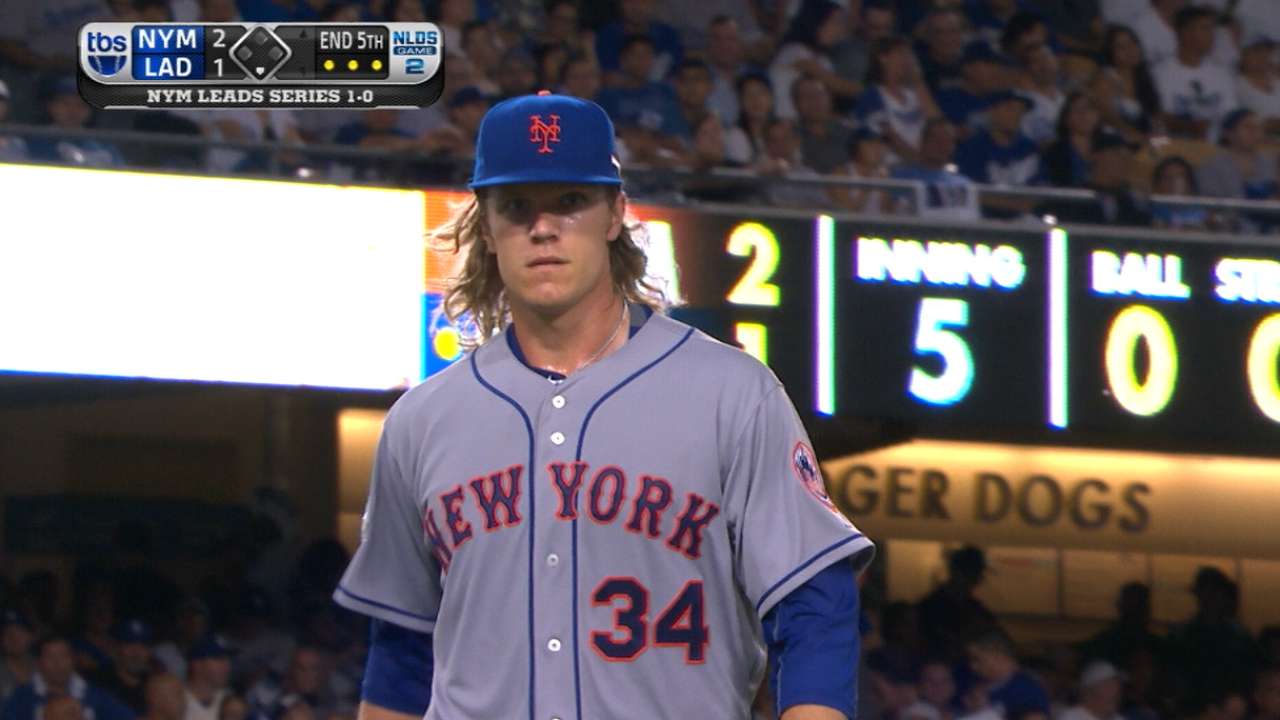 Kendrick greeted reliever Bartolo Colon with a grounder that second baseman Daniel Murphy gloved behind the bag, flipping off-balance toward second base. Tejada reached for the ball and the bag and spun with the intention of throwing to first base for a double-play. Utley's slide flipped Tejada and umpire Chris Guccione called Utley out, but the call was overturned after review.
"Any time you have an opportunity to try break up a double play, you should do your best to do that," Utley said. "Again, it was one of those awkward, awkward plays."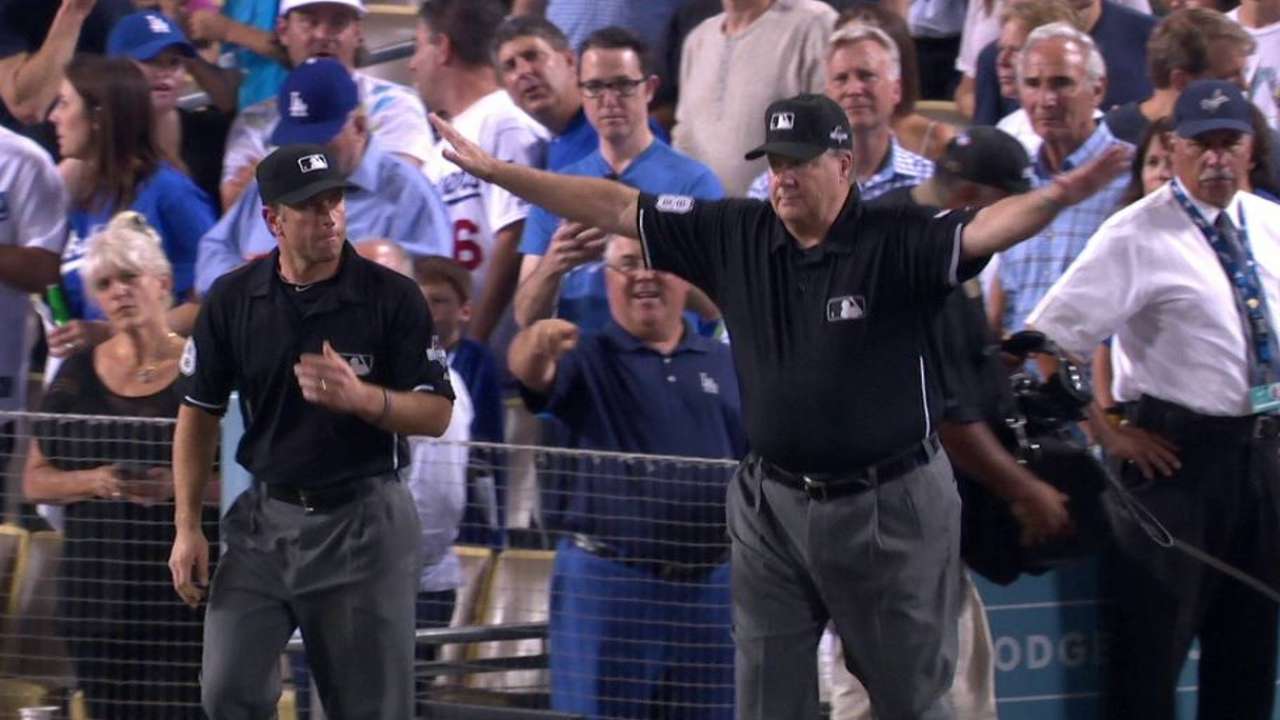 Gonzalez's double off reliever Addison Reed scored Utley and Kendrick. Turner doubled again to score Gonzalez with an insurance run.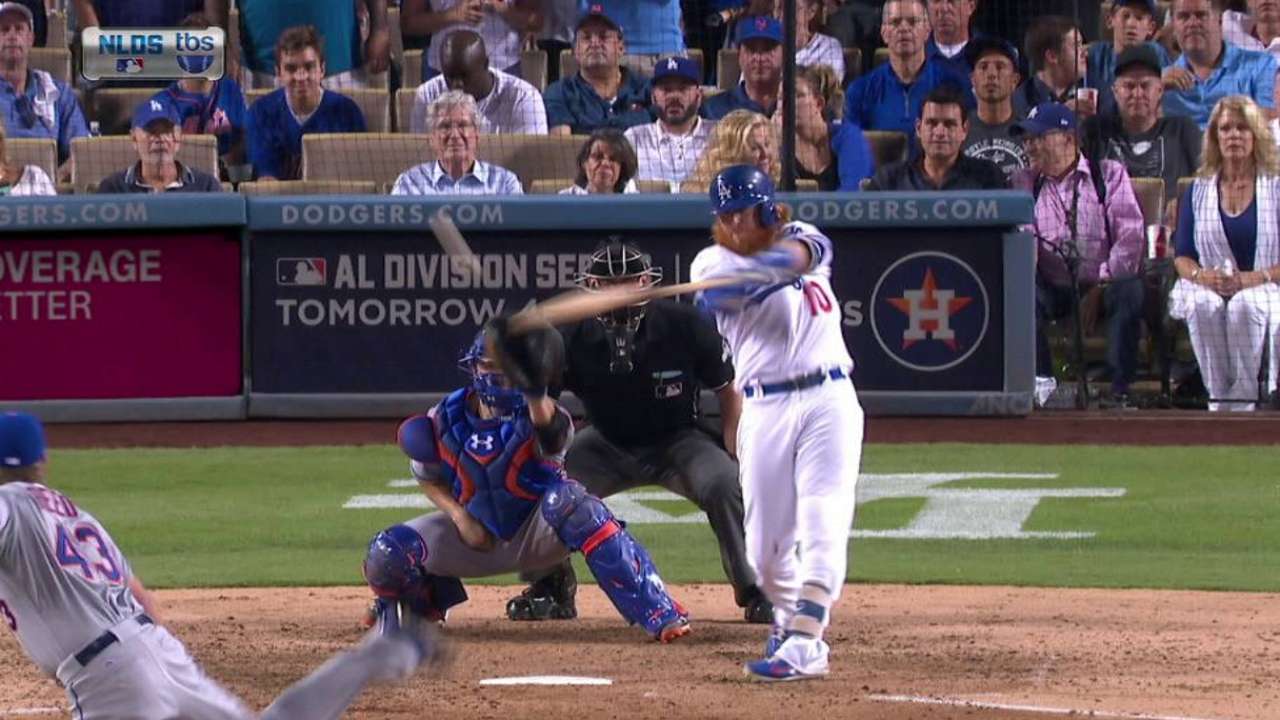 MOMENTS THAT MATTERED
Utley slides hard: Moments after Collins turned to Colon with one out and runners on the corners. Kendrick grounded a potential double-play ball back up the middle, where Mets second baseman Murphy fielded it and flipped to Tejada. But as Tejada attempted to corral the toss and pivot, Utley half-slid, half-tumbled into him, injuring Tejada while breaking up the double play. The tying run scored, though that was hardly the end of it. As Tejada was being carted off the field, umpires reviewed the play and awarded Utley second base. A replay review showed that Tejada did not make contact with the second base bag as he attempted to turn the double play.The Dodgers parlayed that call into a four-run inning, taking a 5-2 lead.
• Utley: No intent to injure Tejada on slide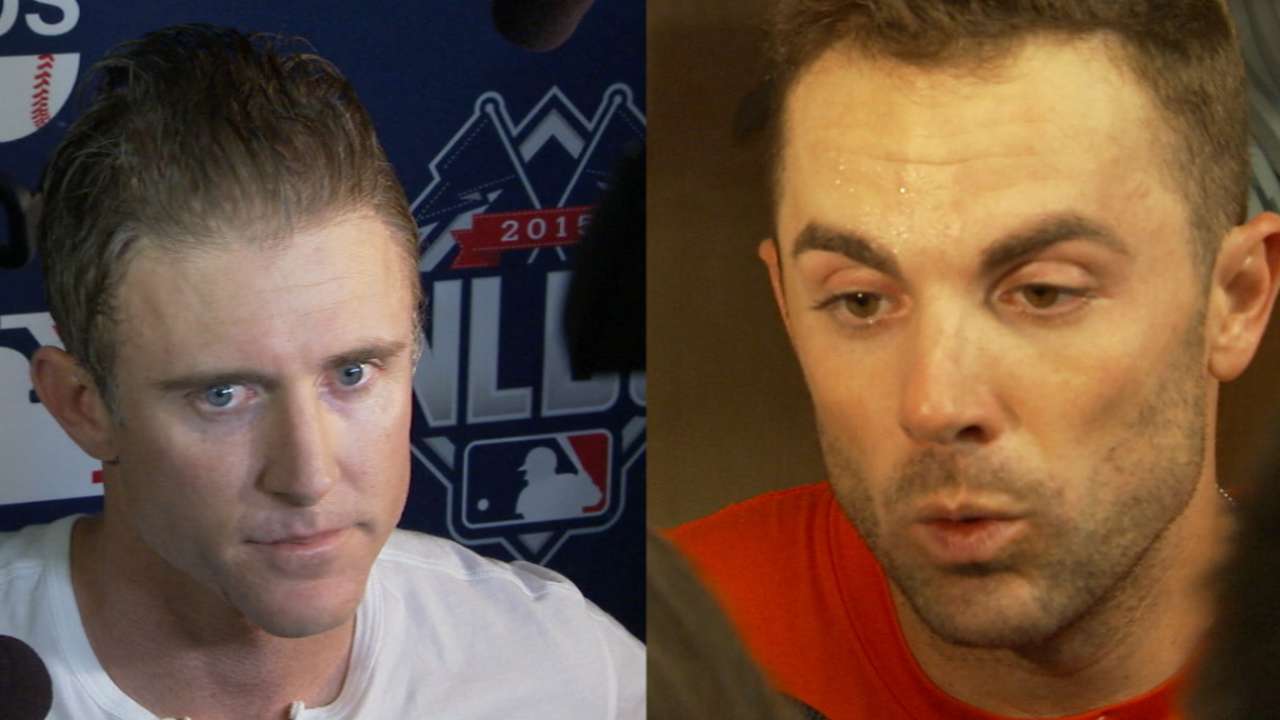 New guys go deep: Considering how completely New York's season changed when Conforto and Cespedes arrived during an eight-day span in late July, it was appropriate that both homered in the second inning to give the Mets an early lead. First it was Cespedes, who hit the first opposite-field shot of the season off Greinke -- not counting Mike Trout's leadoff homer in the All-Star Game. Three batters later, Conforto followed with a line drive that Statcast™ measured at 114 mph off the bat, the hardest-hit home run from anyone this postseason.
• Cespedes, Conforto go deep off Greinke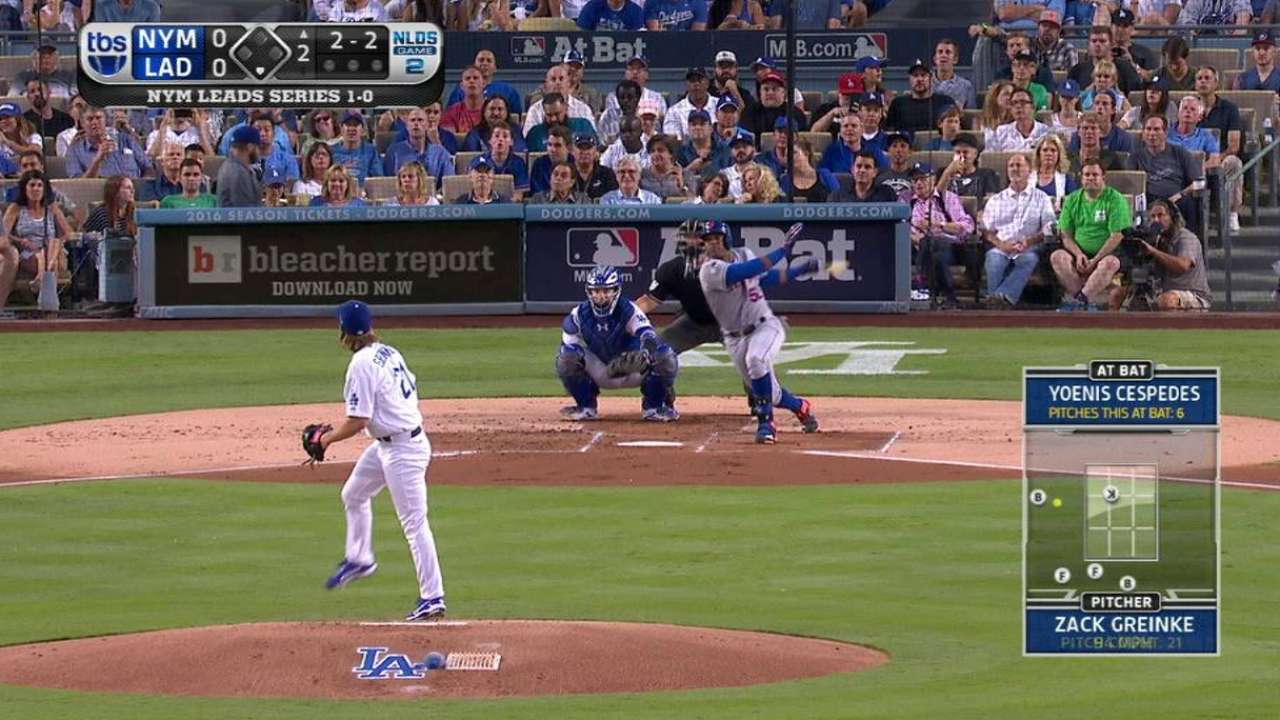 Seager snag: Greinke's second inning could have been even worse. Immediately following Cespedes' home run, and two batters before Conforto's, shortstop Corey Seager raced out toward left field and, with his back to home plate, made a cradling catch of Lucas Duda's pop fly.
• Seager dazzles with over-the-shoulder grab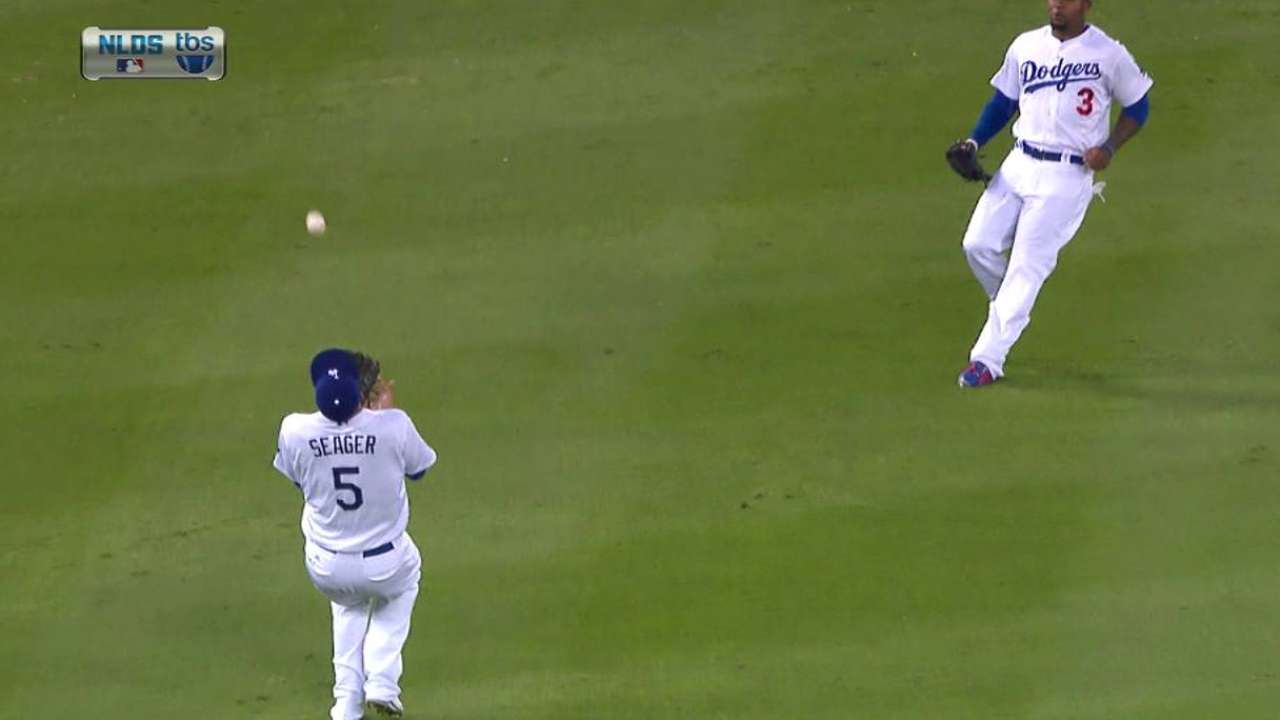 Stealing a run: Hernandez, who didn't start Game 1, replaced Joc Pederson for Game 2 and singled, walked twice, stole second base to get into scoring position and tied the game scoring on the much-discussed play at second base.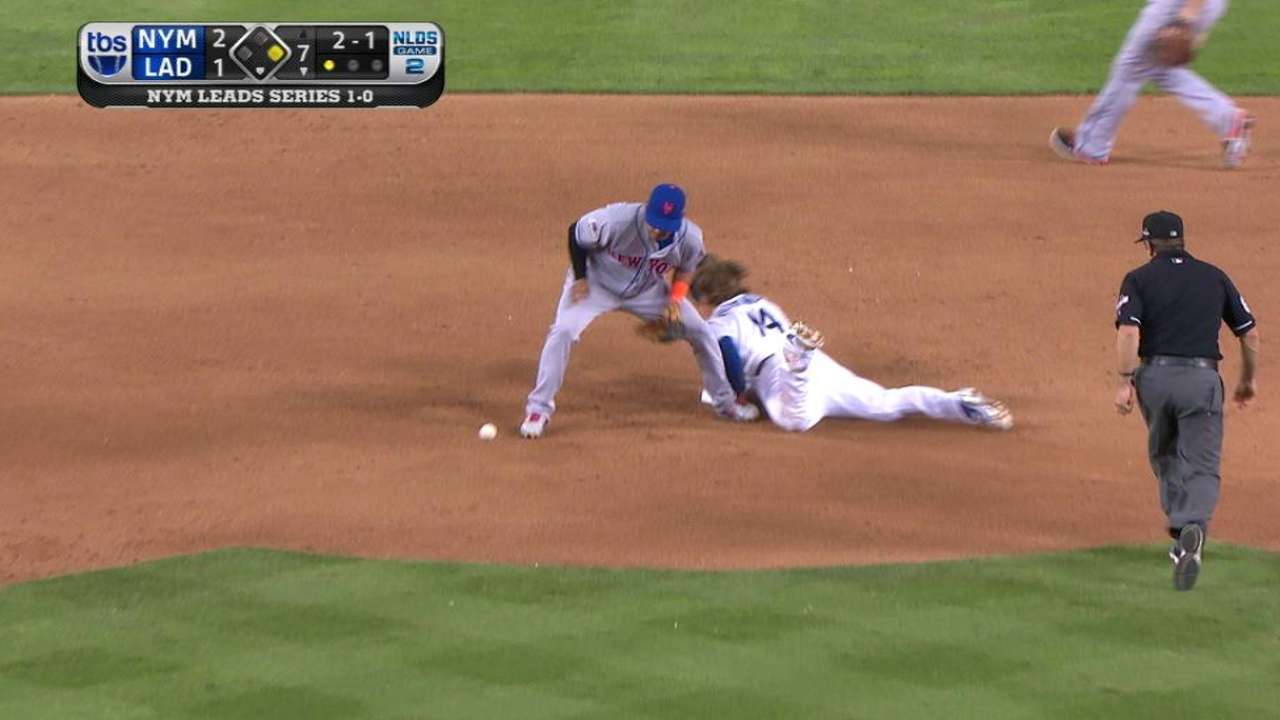 "Davey [Lopes, first-base coach] was getting pretty mad at me," Hernandez said. "Davey was like, 'You gotta go, you gotta go.' And I think I'm pretty slow, so I just closed my eyes and started running. And I just beat it out. Syndergaard, he was focused on Chase and he was slow to the plate, so it just gave me a little advantage there."
QUOTABLE
"As I say, it was a hard slide. I thought it was, looking at it a number of times, I thought it was a little late. So that's what I'm digesting right now." -- Joe Torre, MLB's chief baseball officer, on Utley's slide.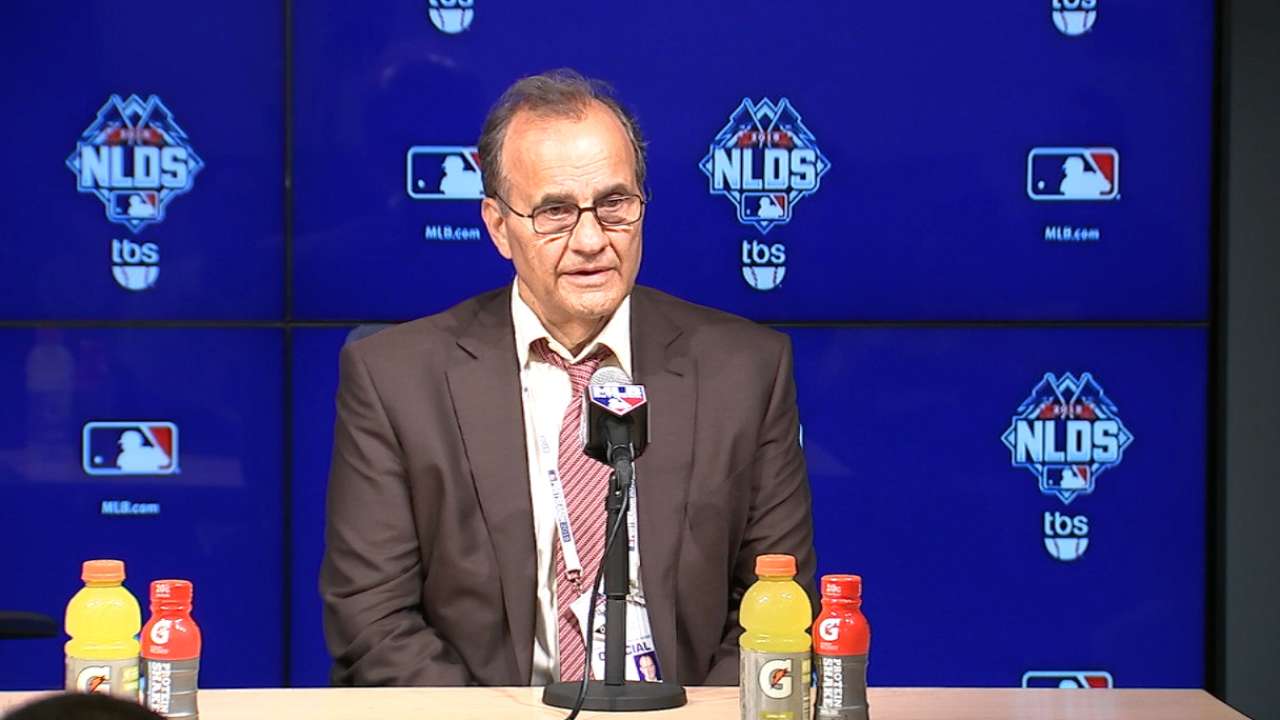 • NLDS heads to Queens filled with emotion
WHAT'S NEXT
Dodgers: Brett Anderson starts Game 3 with a chance to give the Dodgers a lead in the series. In the only postseason start of his career, Anderson threw a two-hitter for six scoreless innings with Oakland to beat Detroit in 2012. The game will air at 8:30 p.m. ET on TBS.
Mets: Following a cross-country flight and an off-day on Sunday, Matt Harvey will make his first career postseason start in Monday's NLDS Game 3. Because this will be Harvey's only appearance in the series, the Mets do not expect to limit him in any way during it.
Anthony DiComo and Ken Gurnick are reporters for MLB.com. This story was not subject to the approval of Major League Baseball or its clubs.