Hendricks hurt by HRs, but strong in between
Cubs' Game 2 starter settles in nicely after leadoff homer before exiting after consecutive shots in fifth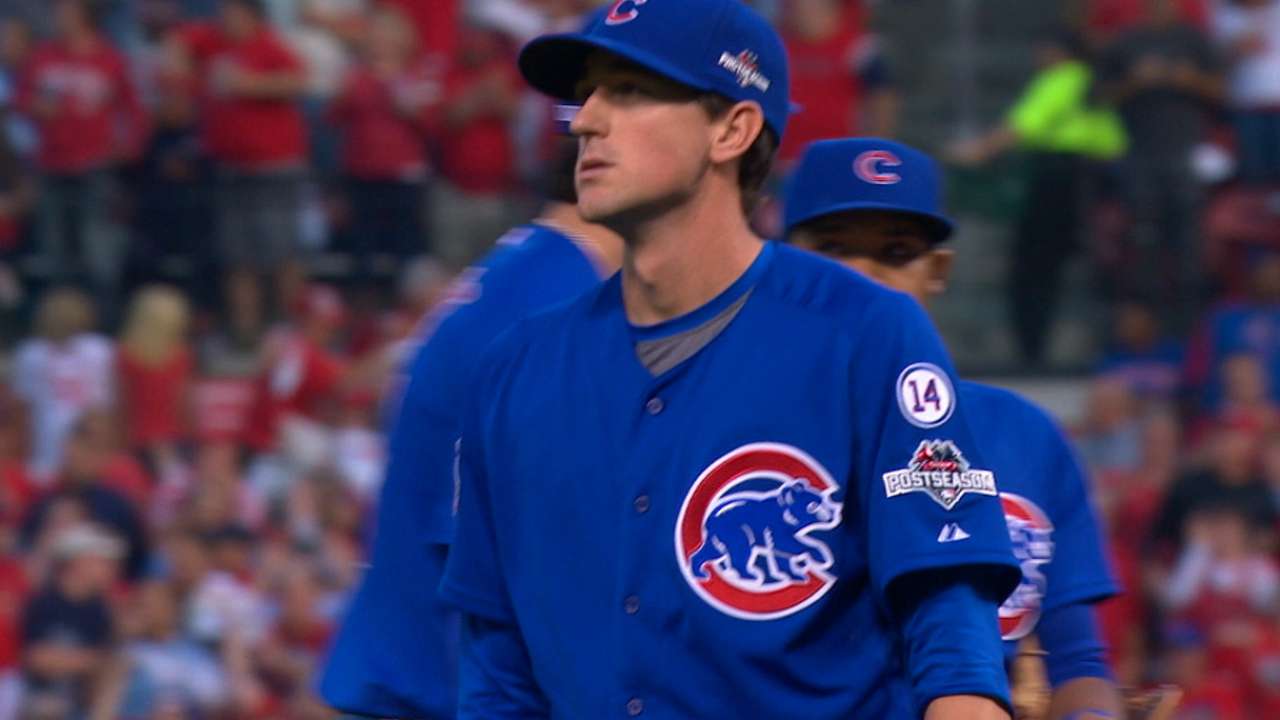 ST. LOUIS -- Serving up a leadoff home run was not how Kyle Hendricks drew up his first postseason game, but the Cubs' right-hander collected himself.
"That's not how you want to start," Hendricks said of Matt Carpenter's homer off a 1-2 pitch which gave the Cardinals a one-run lead before the Cubs pulled away for a 6-3 victory in Game 2 of the National League Division Series at Busch Stadium on Saturday.
"It was a bad pitch, and I recognized that," Hendricks said. "It was a sinker up. I got ahead of him, I got two strikes, so at least I was going after guys. Once that went out, I just had to take a deep breath and say, 'Get the ball back down, everything's fine.' In this game, solo home runs won't kill you."
Before Saturday's game, Cubs manager Joe Maddon said it was critical for Hendricks to keep the ball down in the zone.
"If you see a lot of balls in the air, it's not a good day for him," Maddon said prior to the game. "But if you're seeing his fastball and him getting ahead of hitters, he's going to have a nice afternoon."
Hendricks did have a fine outing. After Carpenter's homer, the right-hander retired 14 of the next 15 batters he faced before Kolten Wong and pinch-hitter Randal Grichuk smacked back-to-back homers with two outs in the fifth. The latter two homers pulled St. Louis within, 6-3, and that was it.
• Shop for Cubs postseason gear
Hendricks is the first pitcher to give up three homers in a postseason game since Anibal Sanchez did so against the A's in Game 3 of the 2013 American League Division Series. Carlos Zambrano was the last Cubs pitcher to do so, serving up homers to the Marlins' Juan Encarnacion, Miguel Cabrera and Ivan Rodriguez in Game 1 of the 2003 NL Championship Series.
Hendricks talks between innings with catcher Miguel Montero, pitching coach Chris Bosio, and catching coach Mike Borzello, going over strategy, possible pinch-hitters and sequences.
• DYK: Hendricks enters record books in Game 2
"You have an in-game dialogue because you have to make adjustments," Hendricks said. "That's how I've felt in my last few games. I got back in that groove and felt good. In the fifth, I got maybe too aggressive with that lead and I was trying to go right at them. I didn't want to walk anybody."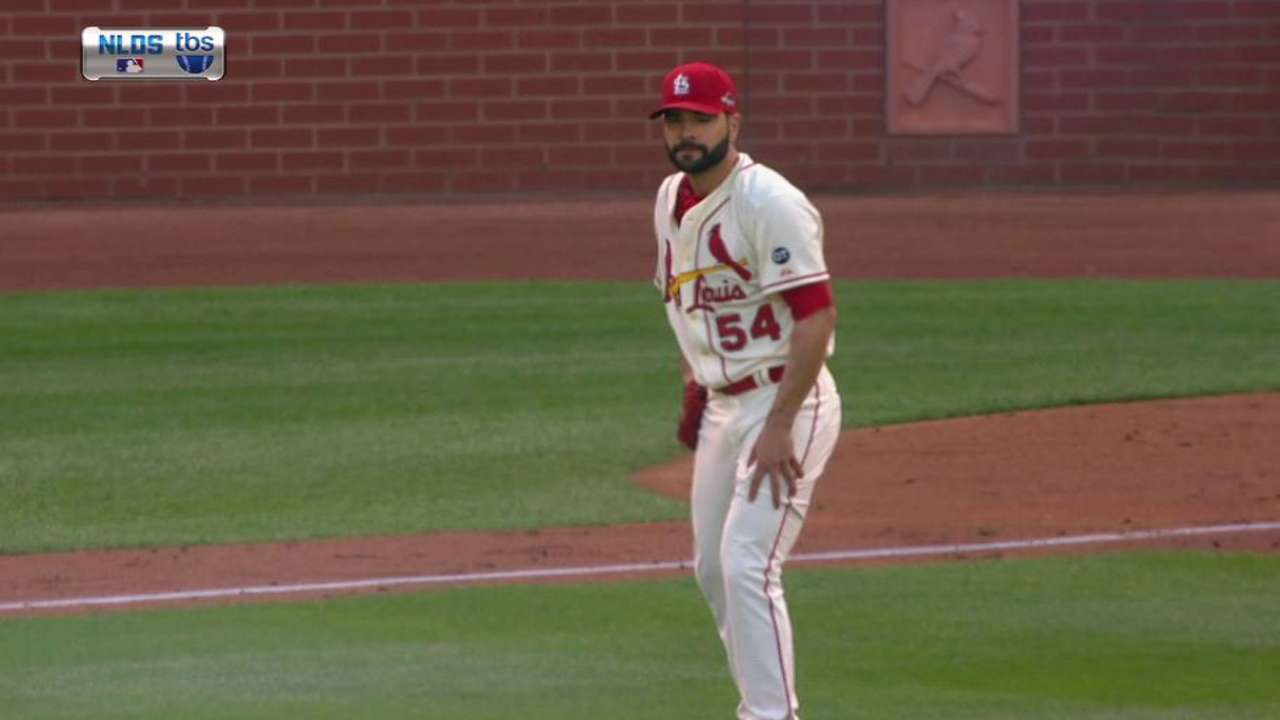 He didn't, so mission accomplished. It helped when the Cubs scored five runs in the second, including one on Hendricks' sacrifice and two on Jorge Soler's home run.
• Spirit of 'Zim': Cubs use small ball in 5-run 2nd
"[The second inning] happened so quick," Hendricks said. "In the end, Soler hitting that ball out was the capper on it. Getting five [runs], that felt really good. 'Miggy' and I knew that getting five, that means you have to go out and put up a zero right away. That was probably the biggest zero for me of the game."
Carrie Muskat is a reporter for MLB.com. She writes a blog, Muskat Ramblings. You can follow her on Twitter @CarrieMuskat and listen to her podcast. This story was not subject to the approval of Major League Baseball or its clubs.