After solid season, Anderson set for Game 3
'It's another start,' says lefty, who plans to stick to usual routine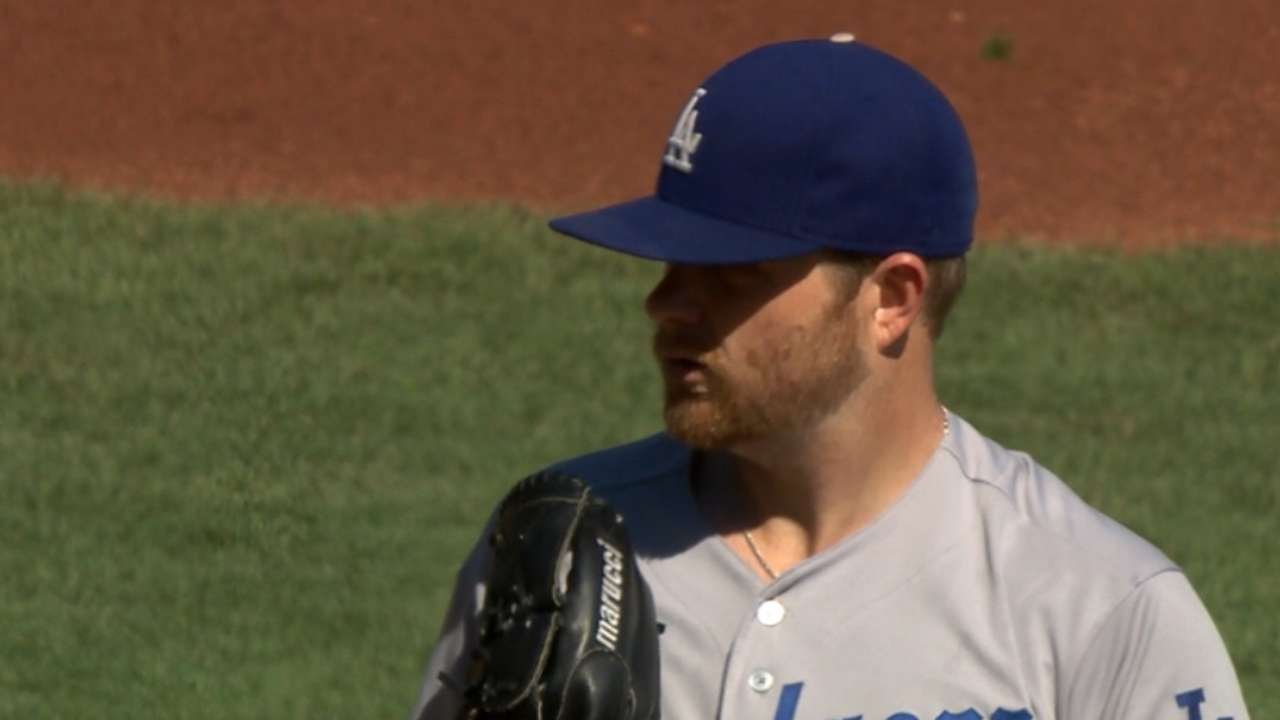 LOS ANGELES -- Brett Anderson is neither Clayton Kershaw nor Zack Greinke. However, Anderson has done a nice job this year of being himself.
Anderson, the Los Angeles Dodgers left-hander who's scheduled to start Monday's Game 3 of the National League Division Series against Matt Harvey and the New York Mets, is a quintessential ground-ball pitcher. That was reflected this season in the 23 double plays he coaxed, representing the NL's fifth-highest total.
• Tale of the tape: Anderson vs. Harvey
Game 3 will be played Monday at 8:30 p.m. ET on TBS.
• Shop for Dodgers postseason gear
Circumstances threatened to wreak havoc on Los Angeles' starting rotation this season, as injuries sidelined the likes of Hyun-Jin Ryu and Brandon McCarthy. Anderson provided stability, making 31 starts while finishing 10-9 with a 3.69 ERA. This was Anderson's best full season since his rookie year of 2009, when he posted an 11-11 mark with a 4.06 ERA for Oakland.
Avoiding injuries was essential to Anderson's success. Between this season and his rookie campaign, he endured three bouts of elbow problems before undergoing Tommy John surgery, needed more surgery for a herniated disk in his back, injured his side, broke bones in his pitching hand and right foot and spent time on the disabled list with a bad ankle.
Anderson, 27, thrived more frequently on the road (7-4, 3.07 ERA in 15 starts) than at Dodger Stadium (3-5, 4.29 ERA in 16 starts). Interestingly, he never has faced the Mets in his 123-game Major League career. This will be his third postseason appearance and second start.
Just as Anderson sticks with his pitching style, he plans on adhering to his usual pregame preparation, which is partly fueled by caffeine.
"It's another start," Anderson said Sunday during a media gathering at Citi Field. "I mean, obviously it's a little more ramifications and more people and a hostile environment, but no, I'm still going to -- if I woke up and didn't have anything, I'd be kind of boring. So I need to listen to my heavy metal and kind of rage out for a little bit and get some caffeine and Red Bull in me. Once you get out there and start warming up, the playoff adrenaline kind of ramps up. But you try to treat it just like another start. But once you feel the adrenaline and feel the crowd, it'll kind of kick in and it'll be fun."
Also owing due to Anderson's style, he doesn't anticipate feeling interfered with if the umpiring crew issues pregame warnings about throwing inside. It has been speculated that the Mets might issue a "purpose pitch" as a reprisal for the fractured fibula shortstop Ruben Tejada sustained in his second-base collision with Los Angeles' Chase Utley.
"I don't think it would be very impactful because, you know, it's not like Clayton [Kershaw] where I pitch in, pitch in, pitch in constantly," Anderson said. "More of stay in the bottom zone, get ground balls and try to keep them off balance. But yeah, we'll wait and see what happens when we get there."
Anderson was suitably impressed watching Mets center fielder Yoenis Cespedes rocket a Game 2 home run off Greinke on a pitch most hitters couldn't reach. "Four inches off the plate," Anderson said. Although Cespedes was an Oakland teammate of his in 2012-13, Anderson admitted that this didn't give him deeper insight into how to pitch to the slugger.
"It gave me an appreciation of how talented and what type of player he is, and obviously it's shown since he's come over here," Anderson said. "But I'm going to pitch to my strengths, and if I can stay away from his strengths ... hopefully they match up well."
Chris Haft is a reporter for MLB.com. This story was not subject to the approval of Major League Baseball or its clubs.