DYK: Hendricks enters record books in Game 2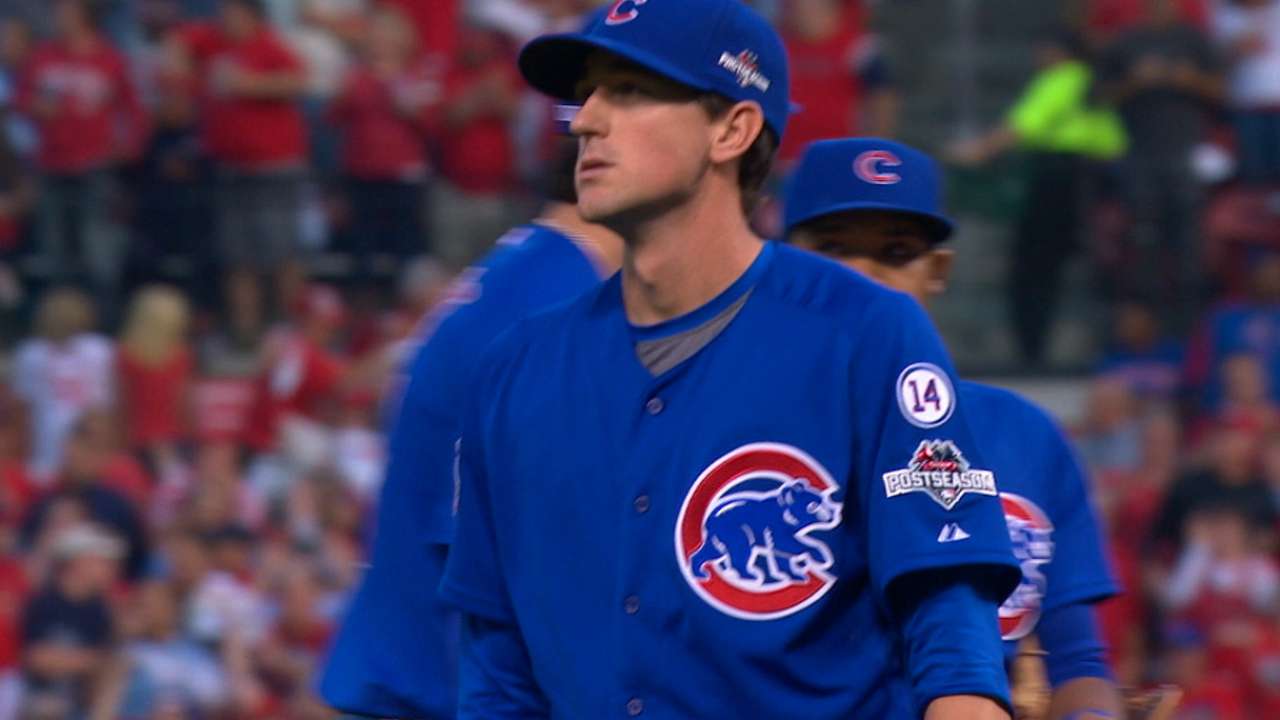 The Cubs earned a 6-3 victory over the Cardinals on Saturday at Busch Stadium, evening the National League Series at 1-1 heading into Monday's Game 3 in Chicago.
The Cubs snapped a seven-game losing streak in the Division Series, after getting swept in their previous two appearances, in 2007 and '08. Their last victory in this round came in 2003, when they beat the Braves in a decisive Game 5 in Atlanta to advance to the NL Championship Series against the Marlins.
Here are some other notable facts and figures from Saturday's game.
• Cubs right-hander Kyle Hendricks became the first pitcher to start a postseason game batting eighth. The only other pitcher to start in a lineup spot higher than ninth was Babe Ruth, who hit sixth for the Red Sox in Game 4 of the 1918 World Series against the Cubs. Ruth smacked a two-run triple that day, pitched eight-plus innings for the win and finished up in left field.
• With his run-scoring bunt in the second, Hendricks became the ninth Cubs pitcher to pick up a postseason RBI, and the first since Kerry Wood homered in Game 7 of the 2003 NLCS. Hendricks came into Saturday batting .071 (6-for-84) in his career, with only two RBIs.
• With Addison Russell following Hendricks by converting another squeeze play, the Cubs became only the second team to drive in multiple runs with bunts in the same postseason game. They joined the 1972 Reds, who accomplished the feat in Game 4 of the NLCS against the Pirates, though not in the same inning.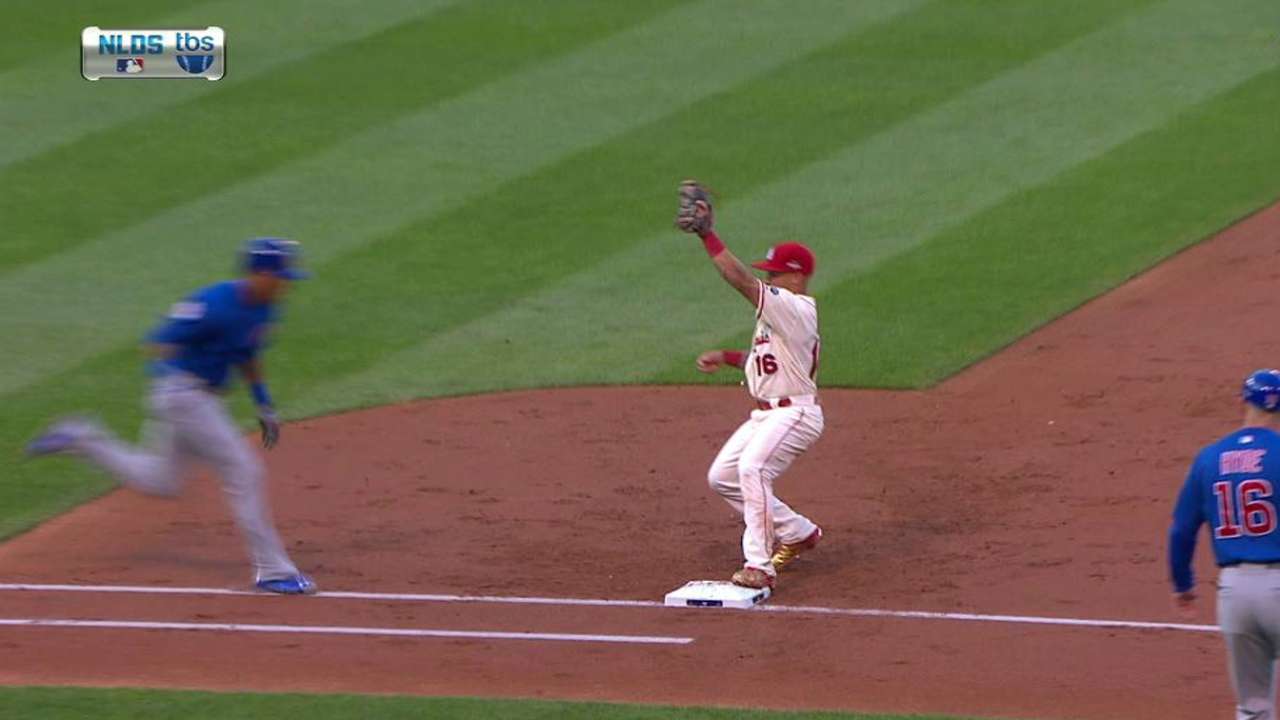 • Austin Jackson, whose steal of third set up Hendricks' squeeze bunt, is only 5-for-9 trying to swipe third in his regular-season career.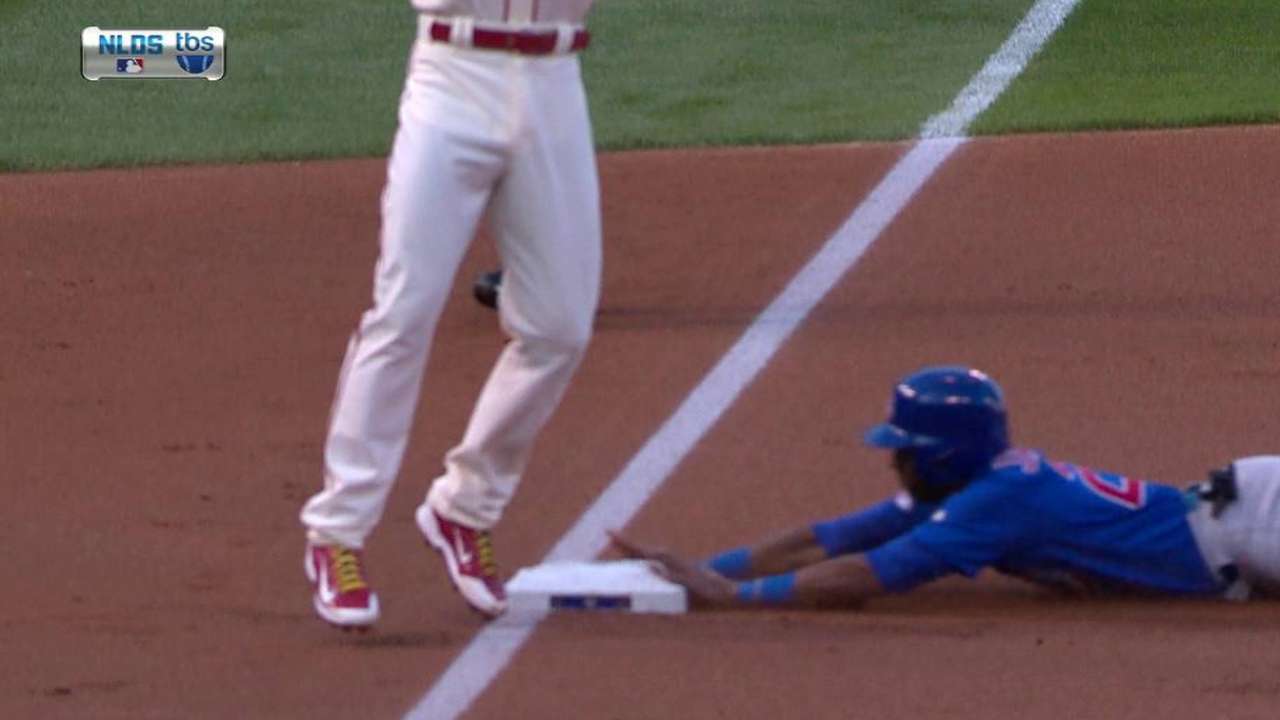 • The last time the Cubs scored that many runs in one inning came in 1989, when they plated six in the first inning of Game 2 against the Giants in the NLCS, according to ESPN.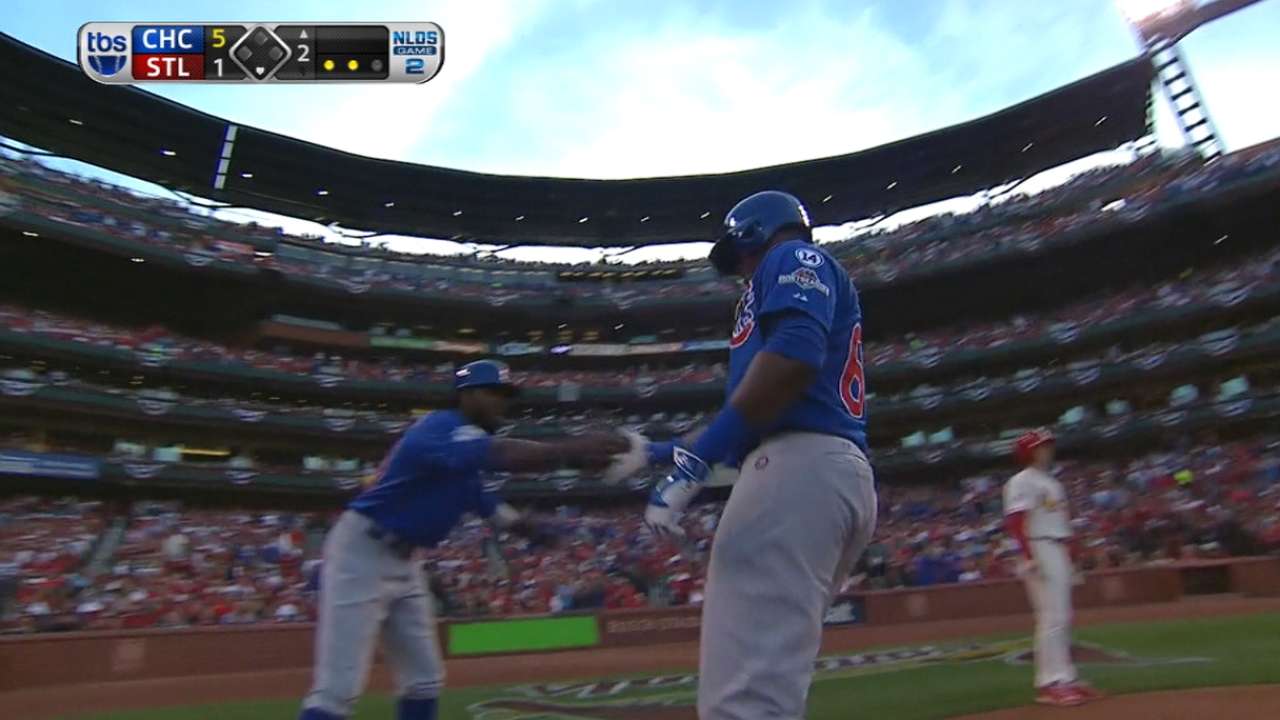 • Jorge Soler, who doubled and homered in his first two at-bats, is the first Cubs player to notch multiple extra-base hits in his first career postseason start. Stephen Piscotty pulled off the same feat for the Cardinals in Game 1. For Soler, who went 2-for-2 with two walks, this was his fourth career game reaching base safely at least four times, and first since May 15.
• Matt Carpenter became the third Cardinals player to hit a leadoff homer in the postseason, joining Lou Brock (1968 World Series) and Fernando Vina (2000 NLDS). Carpenter now has five homers and nine RBIs over his past 11 playoff games. All have come out of the top spot in the order. Only six players in history have produced more postseason leadoff homers over their careers.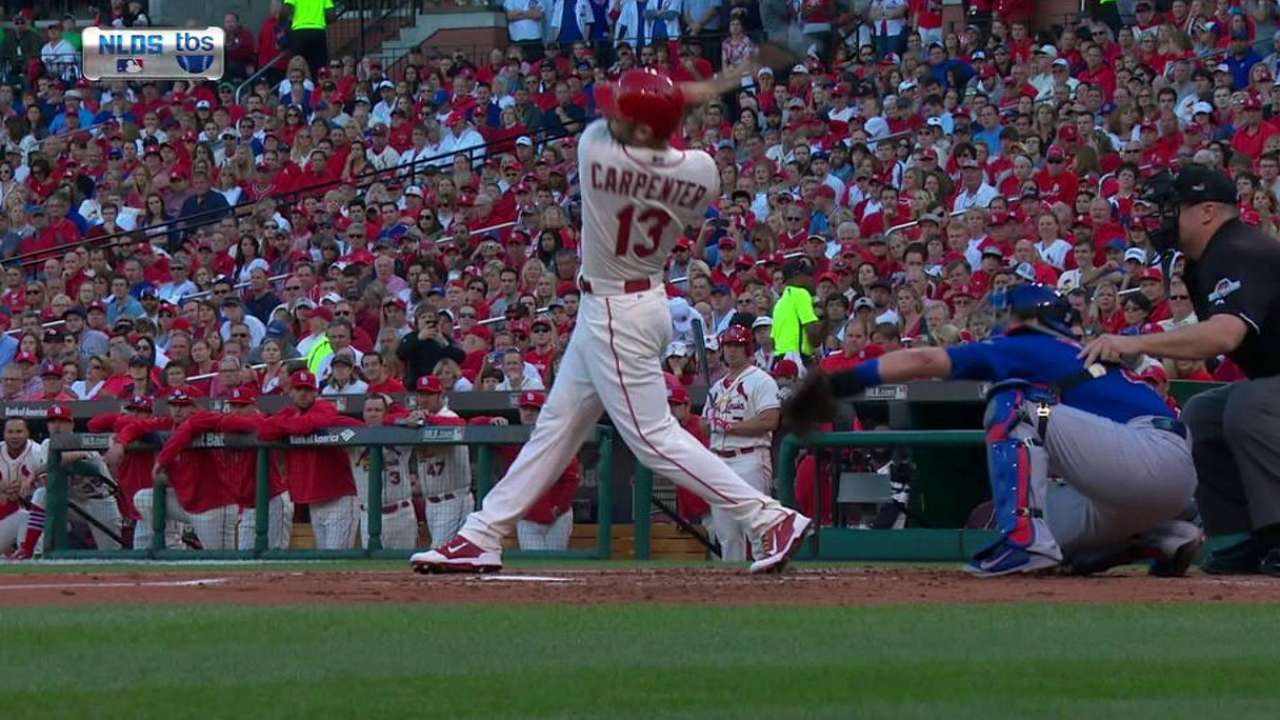 • Although none of them were officially earned, Cardinals starter Jaime Garcia allowed five runs in the second as the Cubs took a 5-1 lead. In 20 starts this season, Garcia had allowed more than four runs only once, surrendering six on Sept. 10 at Cincinnati.
• Garcia, pulled after the second inning, has pitched less than five innings in five of his seven career postseason starts. He has lasted three innings or less in three straight outings, dating back to Game 6 of the 2011 World Series.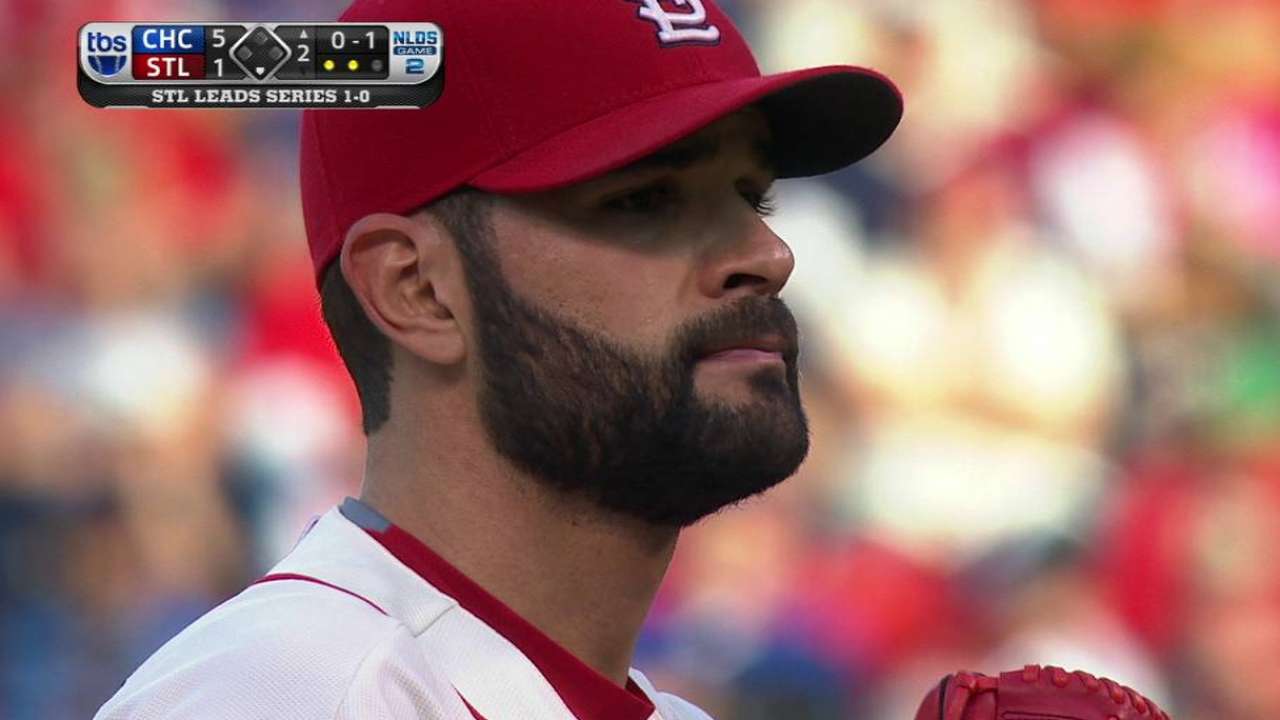 • For Lance Lynn, who relieved Garcia, it was his first time working out of the bullpen since Game 6 of the 2013 World Series.
• Before he entered with one out in the top of the seventh, Adam Wainwright's last 12 postseason appearances had been starts. His previous time out of the bullpen in the playoffs was when he closed out the 2006 World Series against the Tigers.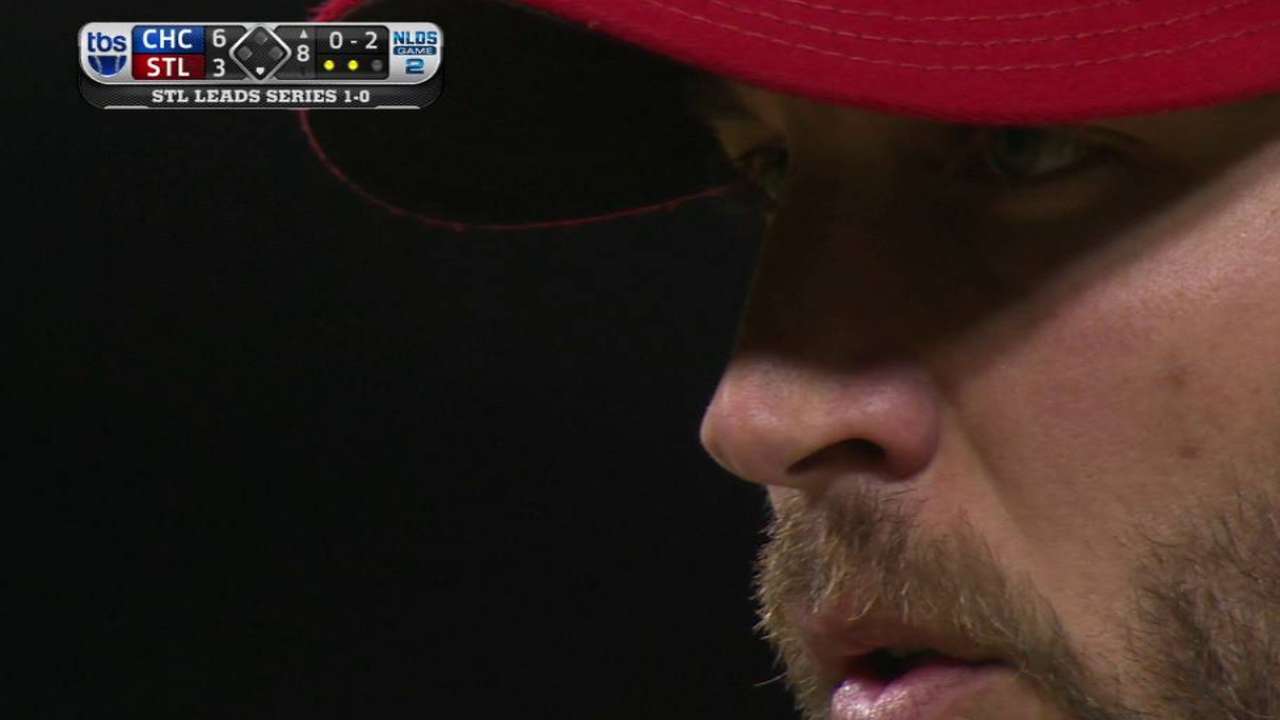 • Kolten Wong's solo homer in the fifth was his ninth postseason hit since the beginning of last year's NLDS, and all nine of those hits have gone for extra bases: four doubles, one triple and four homers. That streak ties a Major League record held by Miguel Cabrera and Jayson Werth.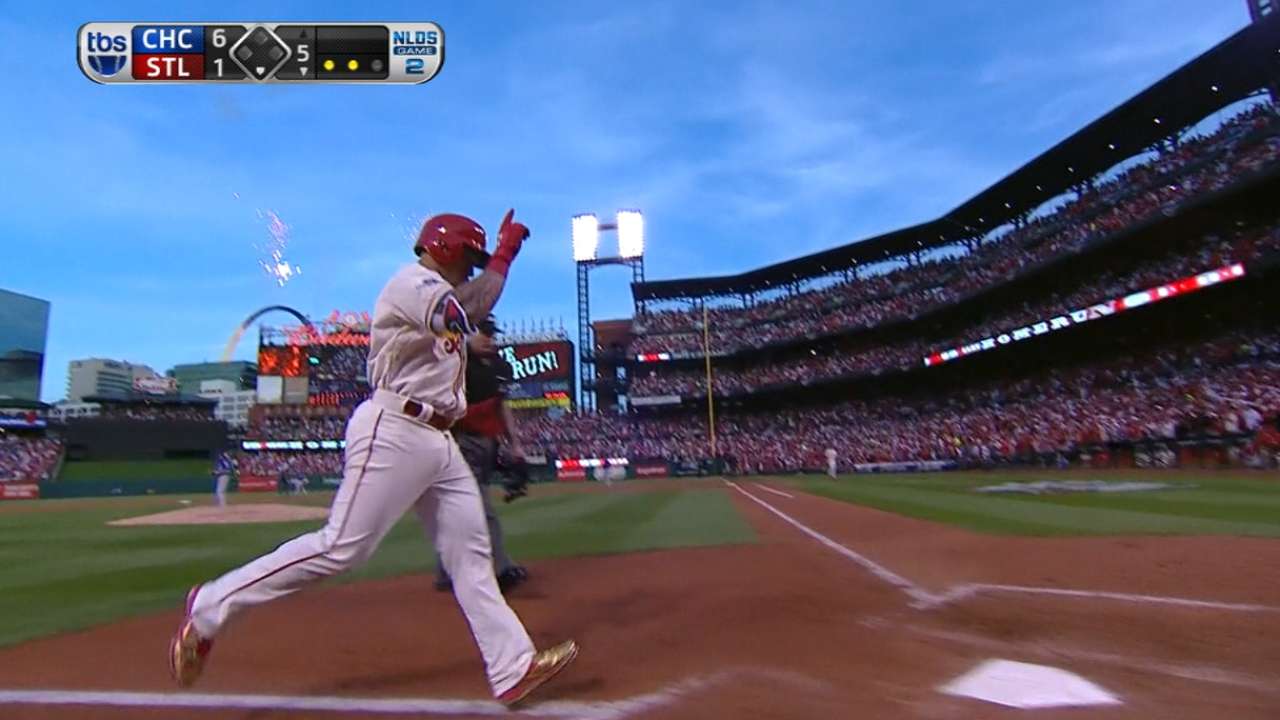 • Hendricks had not allowed a homer to a right-handed batter since June 24 until Randal Grichuk followed Wong with a solo blast to left field. In between, he made 18 starts. Overall, Hendricks served up three homers for only the second time in his career. He also did it on Sept. 17 at Pittsburgh, in his fourth-to-last outing of the regular season.
Andrew Simon is a reporter for MLB.com. Follow him on Twitter @AndrewSimonMLB. This story was not subject to the approval of Major League Baseball or its clubs.