Garcia disappointed after Game 2 start derailed
Cards starter cites illness, mental errors in 5-run, 2-frame outing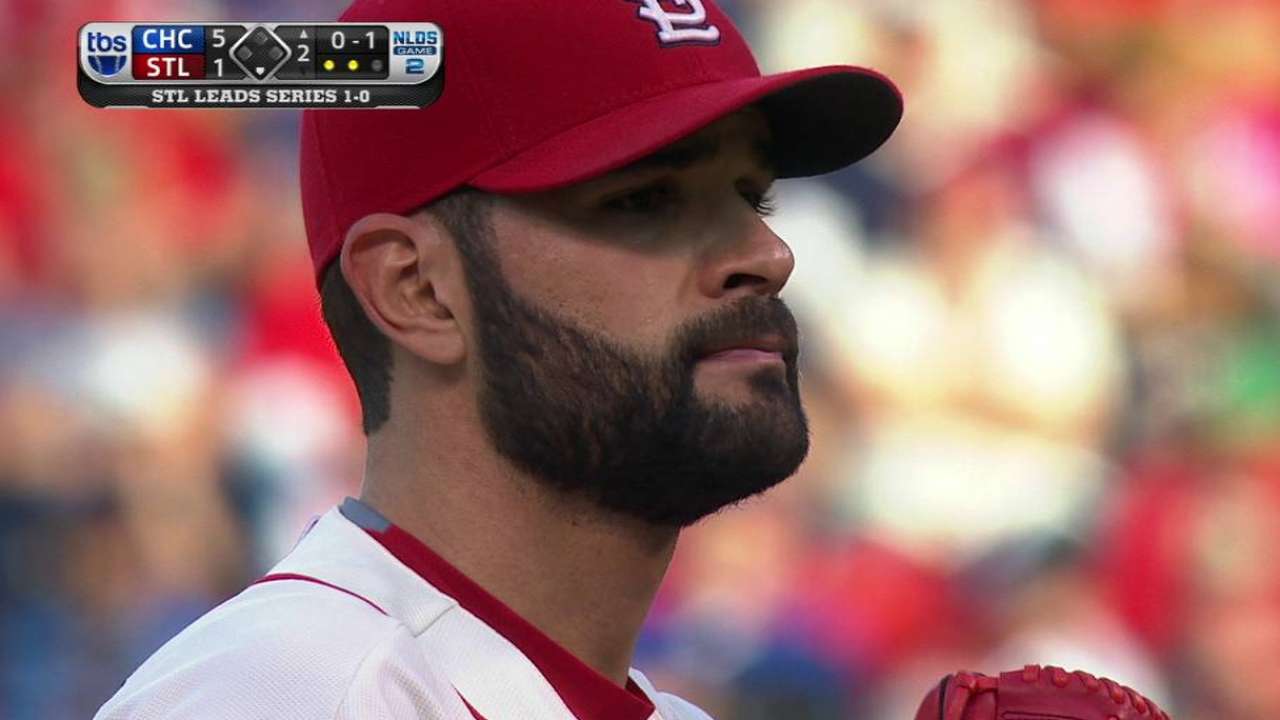 ST. LOUIS -- About one hour before he was set to throw the first pitch of his first postseason start in three seasons, Cardinals Game 2 starter Jaime Garcia hesitantly walked into his manager's office.
He hadn't felt well for three days, he informed Mike Matheny. Hadn't been sleeping soundly either. He explained the ailment -- the latest in his long history of them -- as a stomach virus, but asked for the ball anyways. Matheny gave it to him, only to watch Garcia unravel in a five-run second inning that prompted his early exit and left the Cardinals with a 6-3 loss on Saturday and home split in this best-of-five National League Division Series.
• Shop Cardinals postseason gear
"I'm very disappointed in myself right now, especially because of how hard I worked this year and the last couple years to get to this position," Garcia said. "My main goal was to get to the postseason and help this team win games out there. Next time I take the mound, I'm definitely going to be better."
How much the illness actually affected Garcia was debatable, as he wavered back and forth between dismissing it as a reason for his latest postseason struggle and acknowledging that it may have affected his focus.
Whatever the external factors, Garcia's night hinged largely on a lapse he had in the field.
After navigating around a one-out double to throw a scoreless first inning, Garcia induced what could have been a second-inning, double-play ground ball had second baseman Kolten Wong been able to make a clean throw to first. As it was, Garcia had a runner on first, one out and the bottom third of the order to deal with.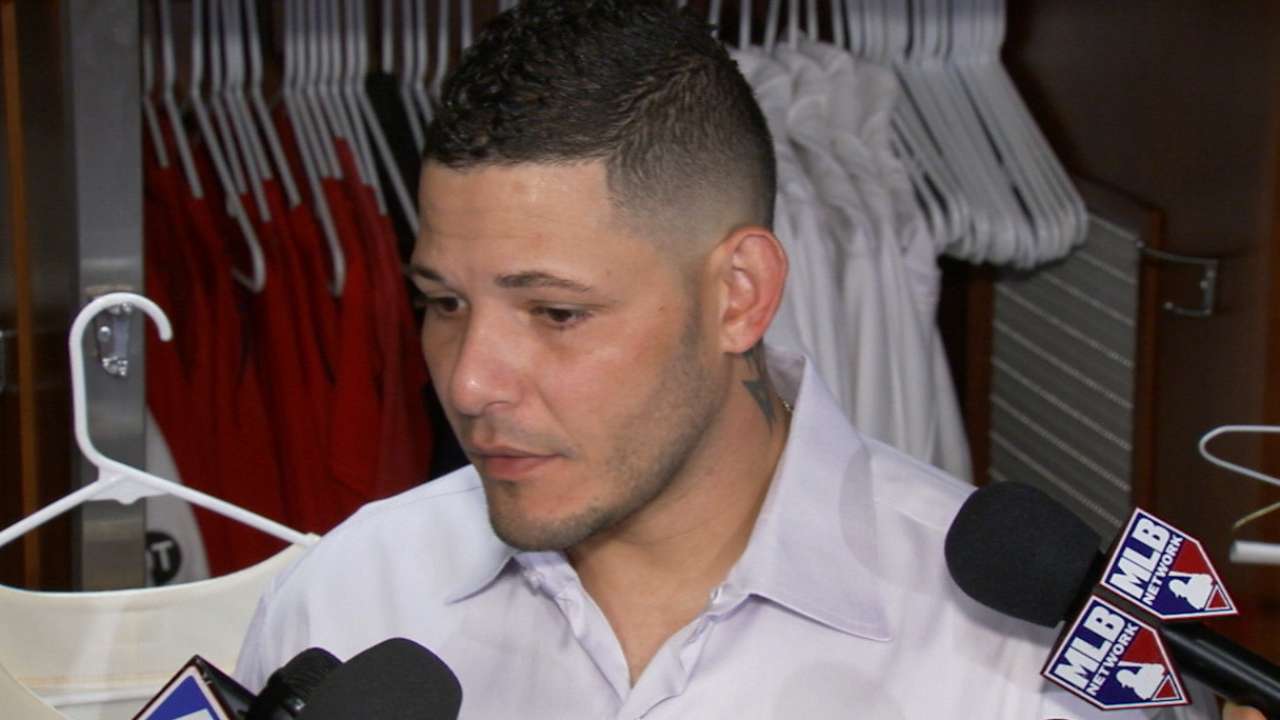 It wouldn't go well.
He paid no attention to Austin Jackson, who swiped third easily. A walk to Miguel Montero followed, prompting the Cubs to call for the safety squeeze with starter Kyle Hendricks batting. He bunted hard to Garcia, who, inexplicably, looked everywhere but home before making an errant throw into right field. Jackson scored to tie the game, while the other two baserunners advanced an extra 90 feet. All the while, catcher Yadier Molina had been yelling for Garcia to throw to him.
"It was a mental mistake from my side," Garcia later explained. "Initially, since it was a hard bunt, I thought to go for the double play. But that should never happen. In that situation right there, you should go home and get that out."
Another bunt led to another run, before a single and a Jorge Soler home run sunk the Cardinals into a four-run hole. Garcia's final out of the second would be his last of the night. Matheny confirmed afterward that his pulling of Garcia was unrelated to any medical issue.
"Things happened pretty quickly, and then the two-run homer was the cap on it," Matheny said. "He was coming out anyhow."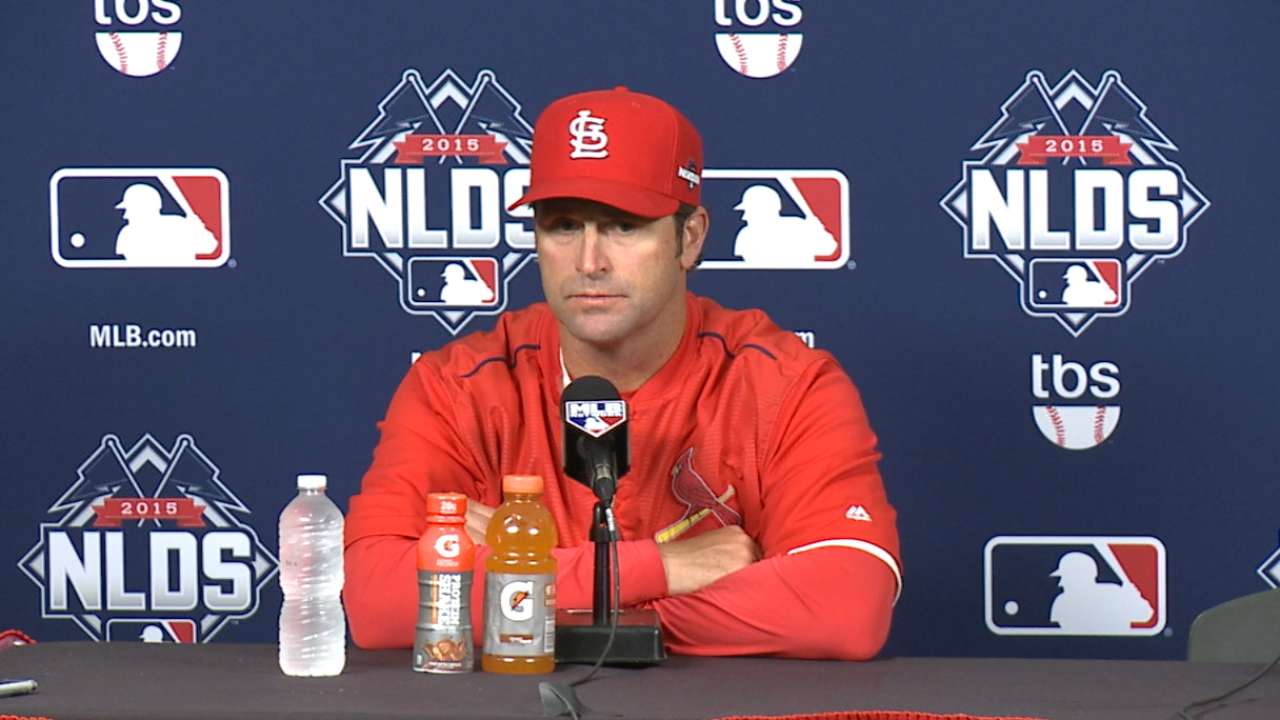 Just a day earlier, Garcia had expressed how grateful he was to return to the postseason stage. He had watched the Cardinals' last 38 playoff games from the bench, as arm injuries in 2013 and '14 precluded him from participating. But despite a rejuvenating season in which he allowed more than four runs in just one of his 20 starts, Garcia had another subpar performance in October.
It ended at the same point his last one had, as Garcia, after throwing two innings against Washington in Game 2 of the 2012 NLDS, informed the Cardinals he had been feeling shoulder pain for several days. He didn't throw another pitch that year. He's yet to win a playoff game in seven chances and has finished five innings in only two of his seven starts.
If the Cardinals advance past the Cubs, they'll have to determine whether to give Garcia another.
"I've been dreaming and I've been so excited about having an opportunity to do what I did today," Garcia said. "But sometimes stuff happens. What are you going to do? I said how I felt, but at the same time, I was going to take the mound and compete. I worked so hard all year for that situation. Unfortunately, it didn't go my way."
Jenifer Langosch is a reporter for MLB.com. Read her blog, By Gosh, It's Langosch, follow her on Twitter @LangoschMLB, like her Facebook page Jenifer Langosch for Cardinals.com and listen to her podcast. This story was not subject to the approval of Major League Baseball or its clubs.