Cubs' bullpen up to task when called on early
Wood, Cahill combine for 3 1/3 scoreless innings in NLDS Game 2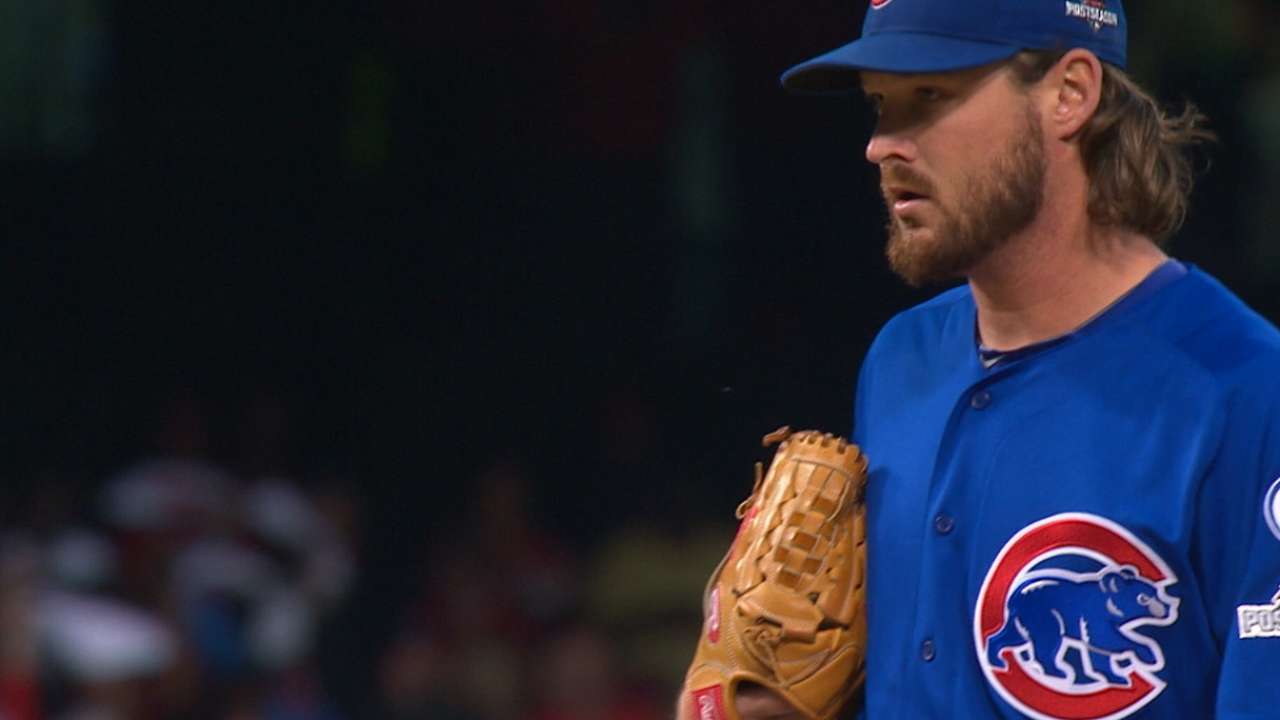 ST. LOUIS -- Five months ago, Travis Wood was struggling in the Cubs' starting rotation. Trevor Cahill was pitching in relief for the Braves, the second of four organizations he has been with this year.
On Saturday night, they became the bullpen bridge to closer Hector Rondon in a critical postseason game. The two relievers, both former starters, combined to throw 3 1/3 scoreless innings and strike out four as the Cubs evened the National League Division Series with a 6-3 win over the Cardinals in Game 2 at Busch Stadium.
"Oh, man, our bullpen is very underrated, I think," said starter Kyle Hendricks, who exited Saturday's game after 4 2/3 innings. "We have a lot of unbelievable quality arms coming out of there."
• Shop for Cubs postseason gear
But Wood and Cahill might not be the first names that come to mind when thinking about the Cubs' bullpen. Rondon saved 30 games this season. Pedro Strop had a strong season in a setup role.
Wood and Cahill are both All-Stars, Wood in 2013 with the Cubs and Cahill back in '10 with the A's. But Wood was bumped from the Cubs' rotation after seeing his ERA climb to 5.59 in his first seven starts.
Two days after that, the 28-year-old lefty picked up his first career save and has turned into manager Joe Maddon's Swiss Army knife out of the bullpen. He made spot starts, pitched in the middle innings and finished up games, putting together a 2.83 ERA from May 16 through the end of the regular season.
Wood once again proved his value Saturday. After Hendricks served up back-to-back homers in the fifth, Wood came in and retired six straight batters. He gave up one single, struck out two and didn't allow a run in 2 1/3 innings.
"I was fortunate enough to come in and be able to get us 2 1/3, and then Cahill came in and did outstanding, and Ronnie closed the door," Wood said. "You can't ask for much more."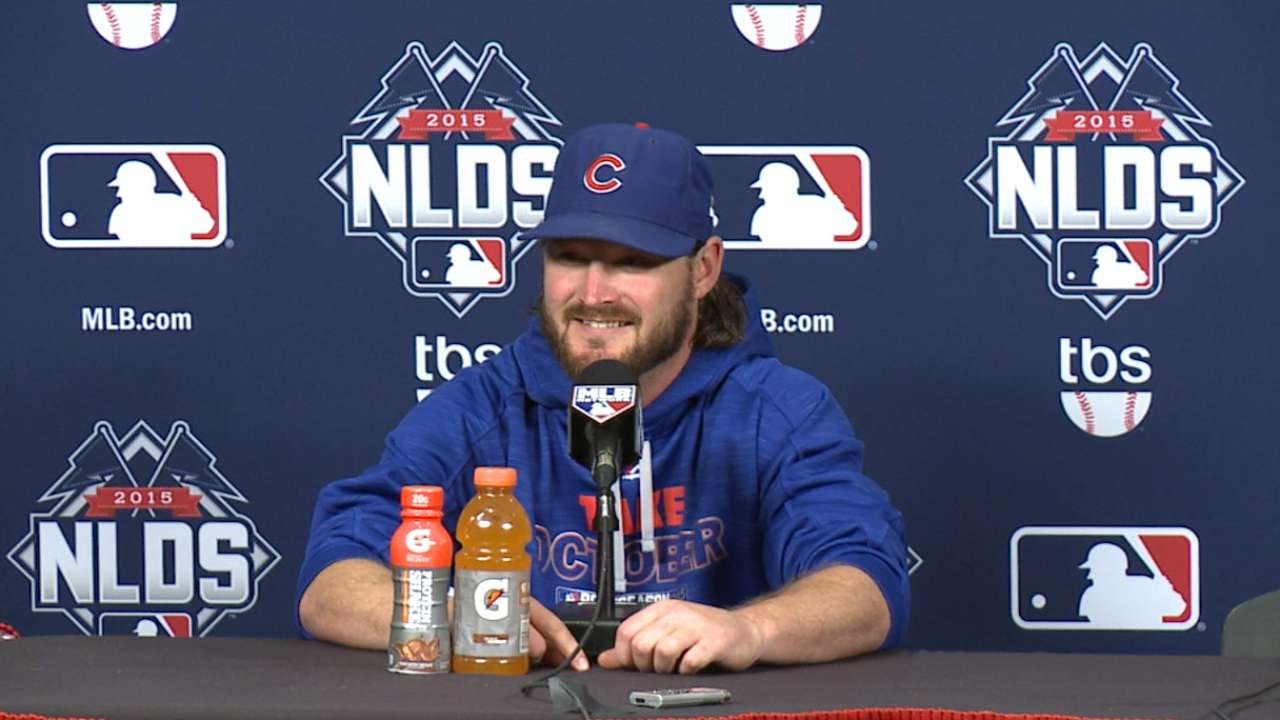 Nor could the Cubs have asked for much more from Cahill. After being traded from the D-backs to the Braves in April, he signed with the Dodgers and eventually opted out of his deal in August. A week later, he signed with the Cubs and joined Triple-A Iowa.
The 27-year-old right-hander made 11 appearances for the Cubs in September and posted a 2.12 ERA, striking out 22 batters in 17 innings. Working with catcher Miguel Montero, a former teammate in Arizona, Cahill rediscovered his changeup and started throwing strikes on a more consistent basis.
"I didn't know what my role would be coming up here. All you can do is pitch your best on any given day," Cahill said. "That's what I've been doing. Fortunately I was able to make it on the roster and help the team win any way I can."
Maddon called on him to pitch the eighth Saturday, and Cahill responded by striking out two in a perfect inning.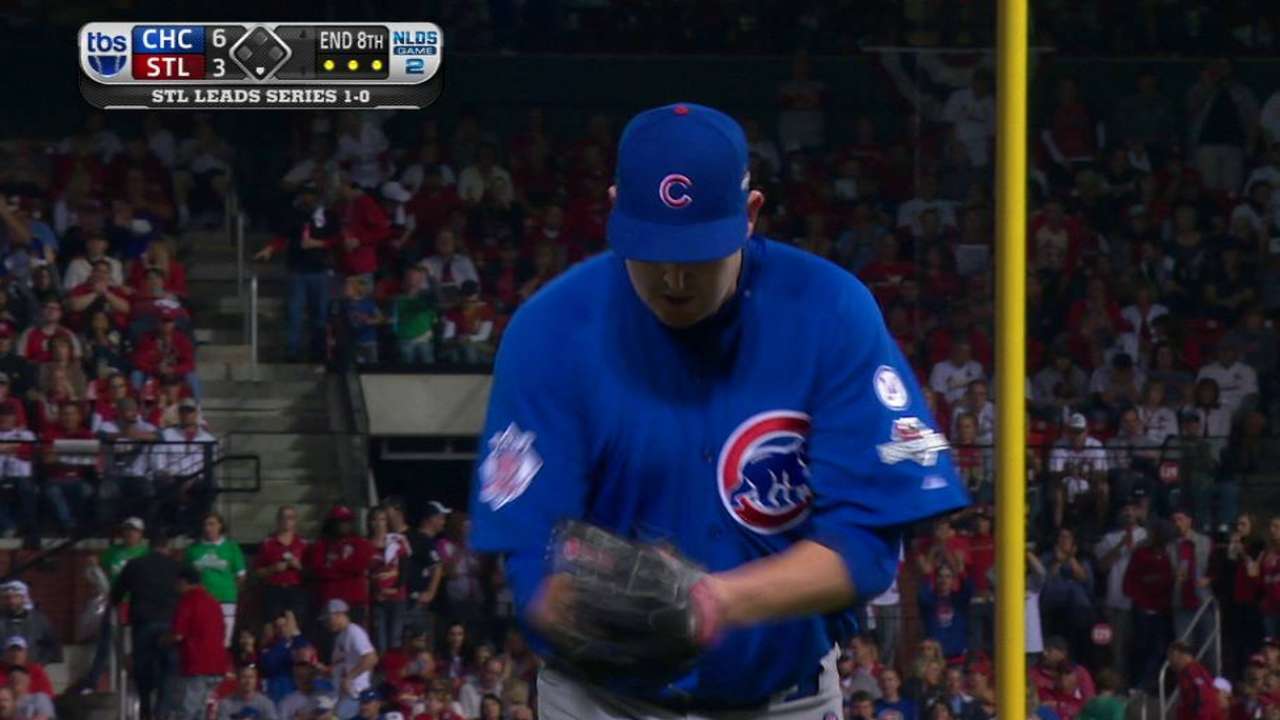 That set up Rondon to pick up the save in a scoreless ninth inning. Now well-known as a closer with 59 saves over the last two years, the 27-year-old righty was once plucked from obscurity as well.
The Cubs selected Rondon from the Indians in the 2012 Rule 5 Draft. His career had been slowed by injuries, but since then, Rondon -- like Wood and Cahill -- has made the most of his opportunity.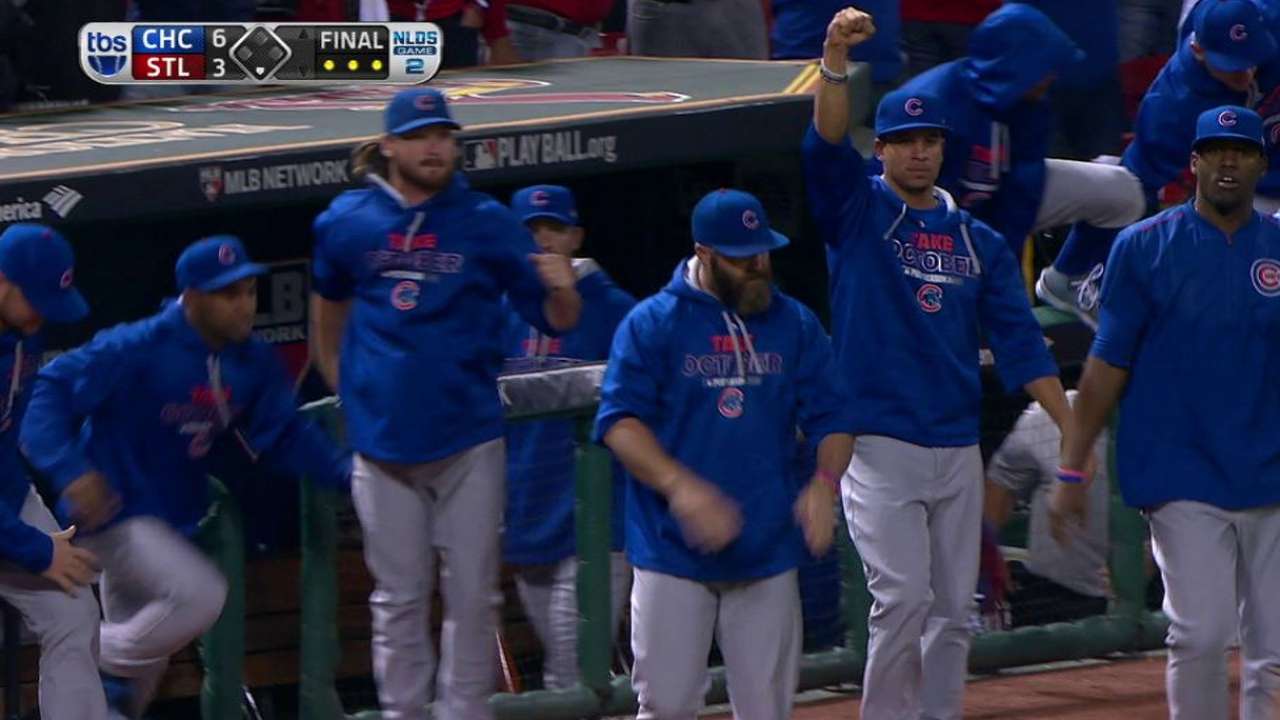 "I feel it's something special for me, for all the hard work I've been doing, all the surgeries I've had in my career," he said. "I'm enjoying the moment right now. I'm really happy right now."
Adam Berry is a reporter for MLB.com. Follow him on Twitter at @adamdberry. This story was not subject to the approval of Major League Baseball or its clubs.