Cards' power surge not enough to prevent series split
Carpenter, Wong, Grichuk go deep in Saturday's loss to Cubs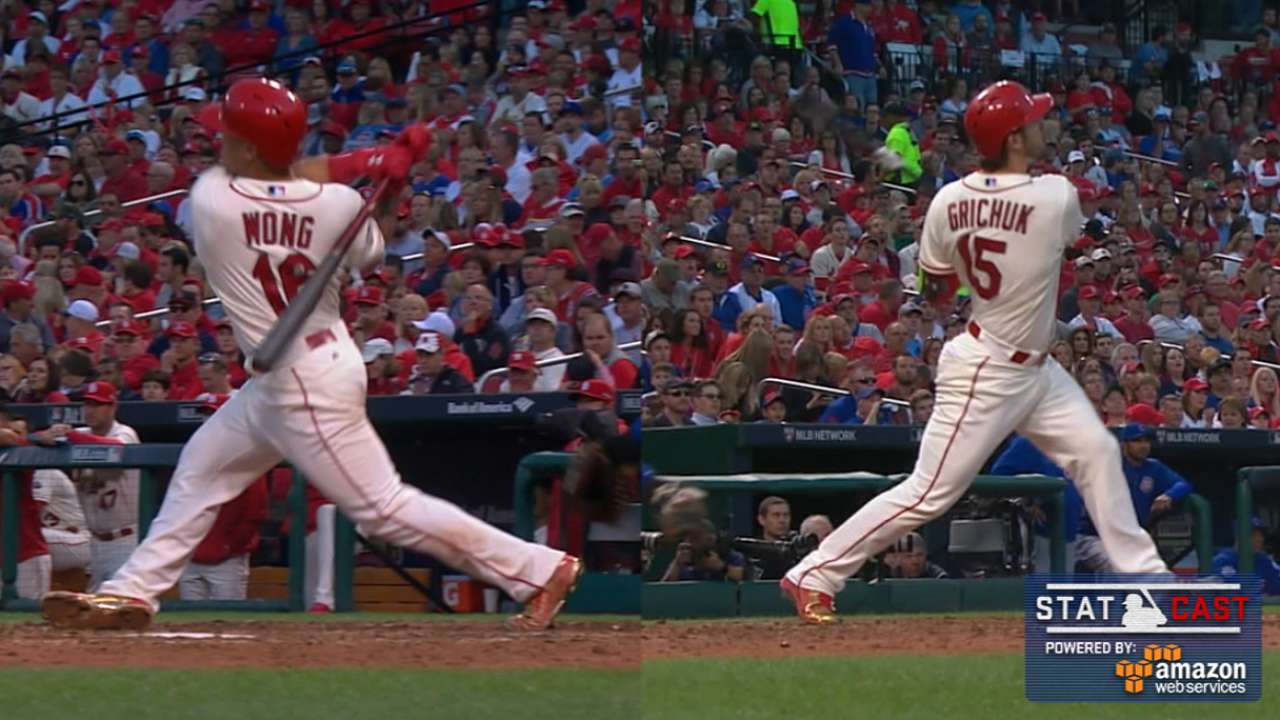 ST. LOUIS -- The Cardinals didn't have the best record in baseball this season because they were mashers at the plate. In fact, they ranked 25th in the Majors with 137 homers.
Suddenly, there's been a postseason power surge. Through two games of the National League Division Series against the Cubs, St. Louis has five homers -- including three on Saturday during a 6-3 loss that left the series split at 1-1.
Six of the Cardinals' seven runs in the series have come on home runs.
"Baseball is a funny game. Anything is possible, that's for sure," said Randal Grichuk, who hit a pinch-hit homer in the fifth inning.
Following eighth-inning homers in Game 1 by Tommy Pham and Stephen Piscotty in Friday's 4-0 win, the Cardinals picked up where they left off in Game 2. In the bottom of the first against Kyle Hendricks, leadoff batter Matt Carpenter went deep for a home run and quick Cardinals lead.
Carpenter hit a 1-2 pitch from Hendricks to straightaway center field, where it landed on the grassy hill beyond the fence. According to Statcast™, it had an exit velocity of 103 mph and was projected to travel 412 feet.
"He set the tone pretty early with that leadoff home run," Grichuk said. "Unfortunately, they put up a five-spot there in the second and kind of shut us down for a little while."
The Cubs got to Cardinals starter Jaime Garcia in a big way in the second inning as the lefty unraveled. Of the five unearned runs, two scored on squeeze bunts, plus an RBI single by Dexter Fowler and a two-run homer by Jorge Soler that made it a 5-1 deficit.
It was a 6-1 game and Hendricks was cruising as he retired 14 of 15 with six strikeouts. That included back-to-back strikeouts to begin the fifth inning. The Cardinals responded with back-to-back homers by Kolten Wong and Grichuk that narrowed the deficit to three runs and gave St. Louis life. It also knocked Hendricks out the game.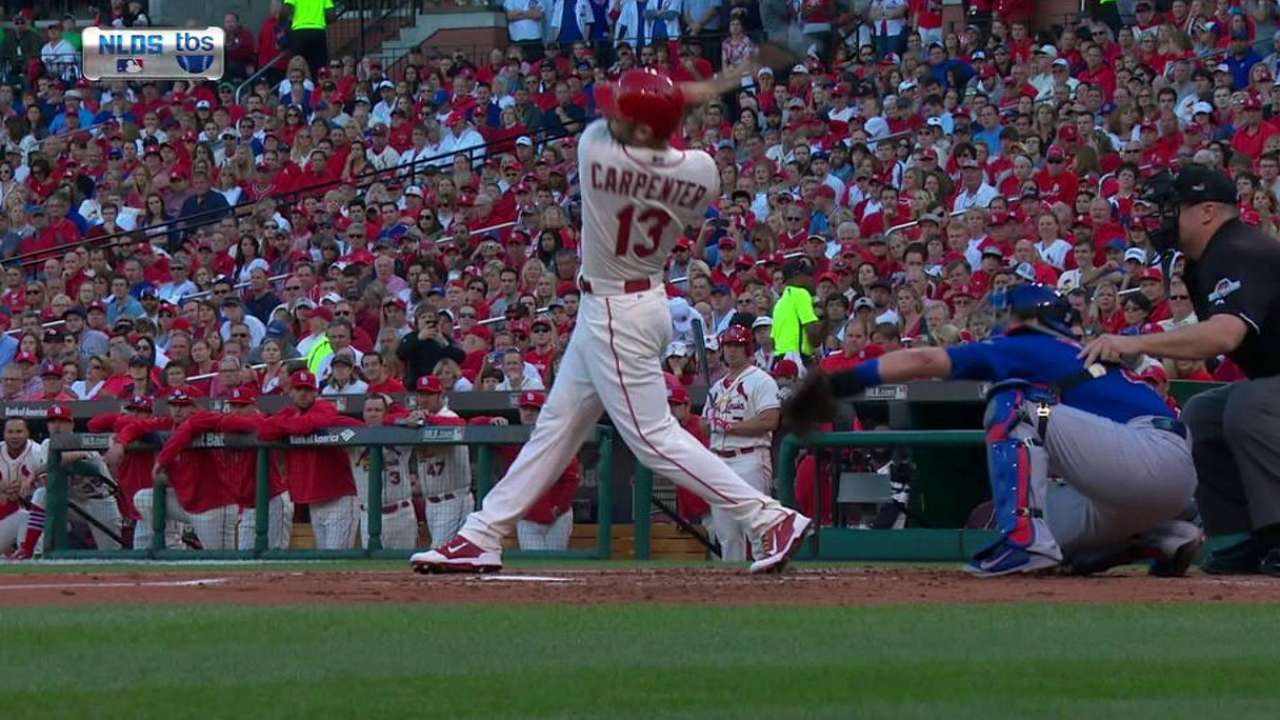 "Getting a run there, I think, kind of shook him a little bit," said Wong, who cleared the fence on the first pitch. "Then Grichuk coming up behind me and doing what he did was good for us. We just couldn't capitalize on top of it."
Wong's drive to right field left the bat at 106 mph and traveled 412 feet, according to Statcast™. Grichuk, who jumped all over a 1-1 Hendricks pitch for a booming homer to left field had an exit velocity of 109 mph and traveled 444 feet.
Plenty of notable facts came from Saturday's Cardinals homers:
• Carpenter's homer was the third leadoff home run in the postseason in franchise history and the first since Fernando Vina did it in Game 3 of the 2000 NL Division Series at Atlanta. Lou Brock was the first to do it for the franchise, in Game 4 of the 1968 World Series against the Tigers.
• Wong has nine consecutive hits that have gone for extra bases in the postseason -- tying a Major League record held by Miguel Cabrera and Jayson Werth.
"I don't know what's going on," Wong said. "I'll tell you what -- I love playing in the playoffs, that's for sure."
• The first back-to-back homers were the first in the postseason for the Cardinals since Albert Pujols and Scott Rolen did it against the Astros in Game 2 of the 2004 NL Championship Series.
• The last time St. Louis hit three or homers in a postseason game was in the 2014 NLCS Game 2 against the Giants, when Carpenter, Matt Adams, the late Oscar Taveras and Wong all went deep.
• Grichuk, still considered a rookie, now has the distinction of hitting rookie postseason homers in each of the past two years.
Mark Sheldon is a reporter for MLB.com. Read his blog, Mark My Word, follow him on Twitter @m_sheldon and Facebook and listen to his podcast. This story was not subject to the approval of Major League Baseball or its clubs.