Spirit of 'Zim': Cubs use small ball in 5-run 2nd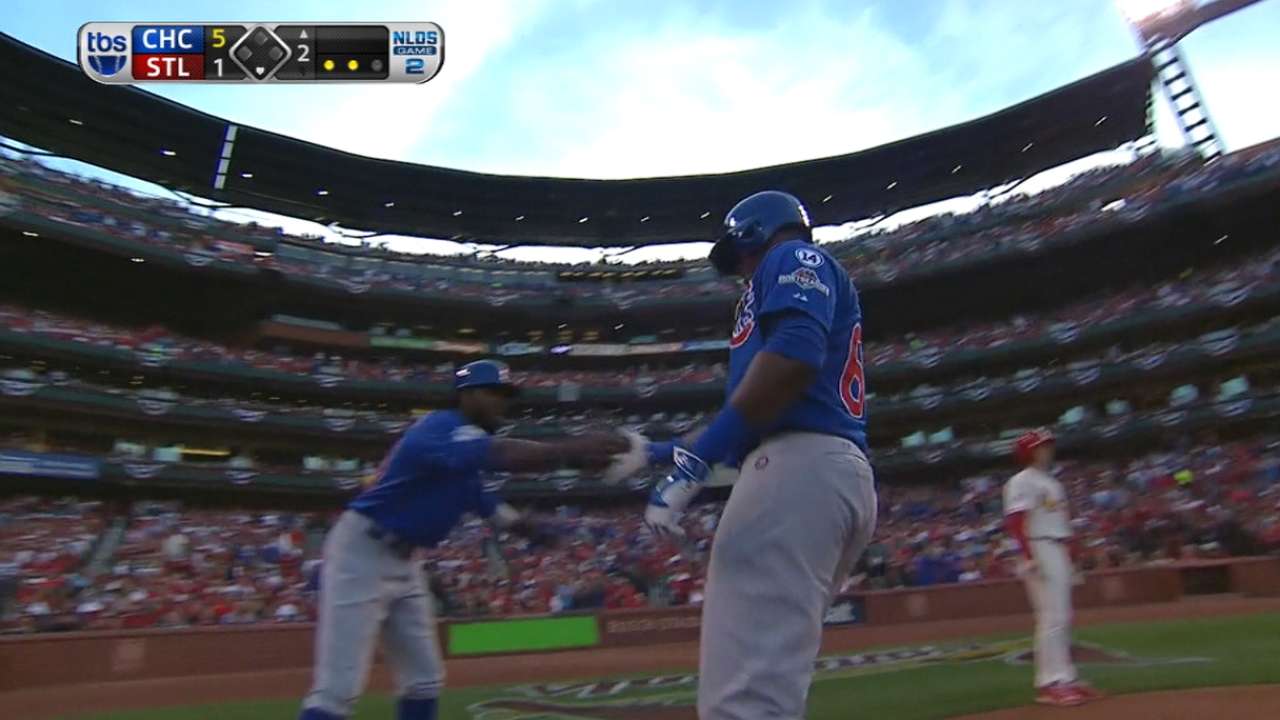 ST. LOUIS -- During his first Spring Training as the manager in Tampa Bay, Joe Maddon sought out Don Zimmer with a few questions. Then, and throughout his time as a special advisor with the Rays, Zimmer would preach the value of the safety squeeze play. Whenever his team pulls it off, Maddon immediately thinks of Zimmer.
Maddon had two occasions Saturday to fondly remember Zimmer's advice, as a pair of squeeze bunts sparked the Cubs' second-inning, small-ball attack in their 6-3 win over the Cardinals in Game 2 of the National League Division Series.
"If we catch anyone off guard with our manager, that's a shame on them, right?" first baseman Anthony Rizzo said. "We'll do anything at any time."
On Saturday at Busch Stadium, that meant rallying behind three balls that didn't make it out of the infield, evening up the best-of-five NLDS at one game apiece as they prepare to head back to Wrigley Field for Game 3 on Monday.
It was a surprising strategy for a lineup loaded with power hitters, but the Cubs executed their game plan and benefitted from two Cardinals errors as they took an early 5-1 lead.
"There were just some mistakes," Cardinals lefty Jaime Garcia said. "They're going to happen in the game, but unfortunately, they happened in a spot that was huge for us."
Second baseman Starlin Castro led off the inning with a ground-ball single to center off Garcia. Castro was forced out at second base on a grounder by Austin Jackson, but Cards second baseman Kolten Wong made an errant throw to first, allowing Jackson to reach second base.
• Cut4: The Cubs scored three runs without hitting the ball out of the infield
Wong said he simply couldn't get the ball out of his glove. In retrospect, he said, he shouldn't have even tried to make the throw. With a good lead and a good read on Garcia, Jackson promptly stole third base before Garcia walked catcher Miguel Montero.
"Things started speeding up on all of us," Wong said. "We just weren't able to slow it down at the right time."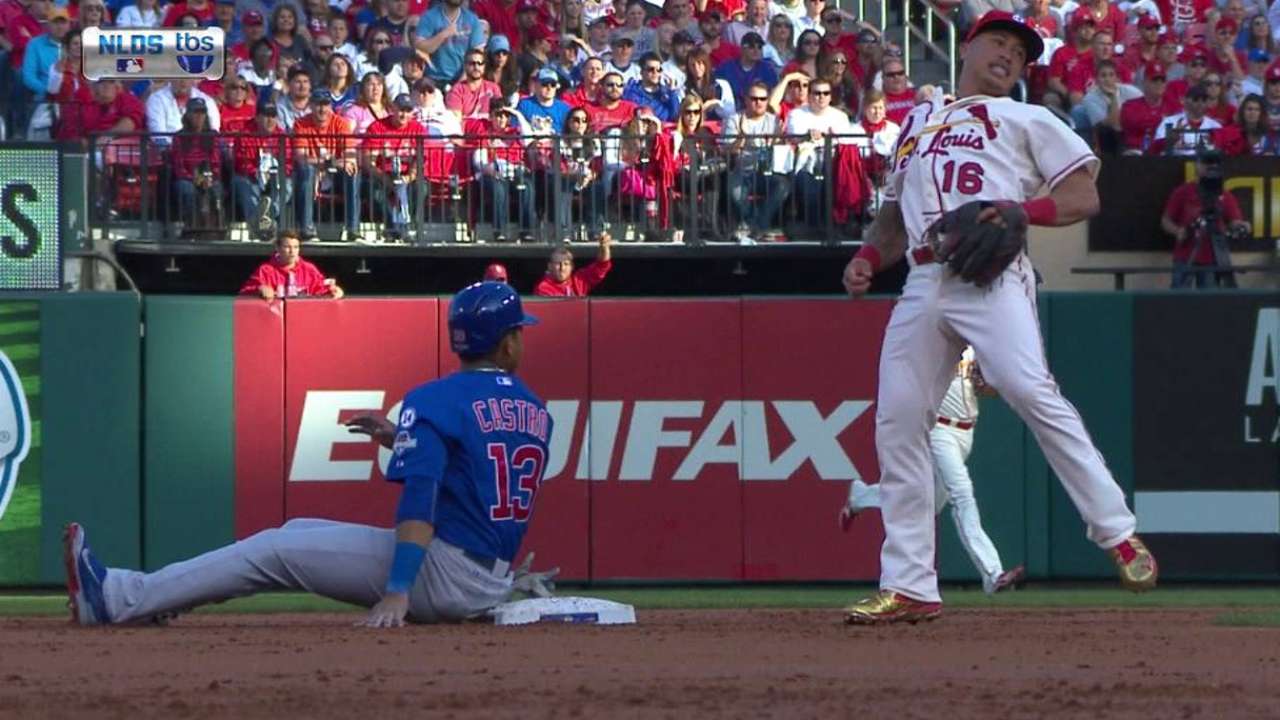 Up came right-hander Kyle Hendricks, batting eighth. The Cubs' pitchers have worked all season on their bunting. They did bunting drills at Miller Park the last weekend of the regular season. They've worked on it in Busch Stadium's batting cages.
"We've worked on it a little extra of late," Hendricks said, "just because in the postseason, it's the small things that win ballgames."
After taking one pitch, Hendricks dropped a bunt back toward the mound. Garcia's first instinct was to throw to second base to start a double play. He froze when he heard catcher Yadier Molina call for the ball and eventually uncorked a wild throw that sailed wide of Wong, covering first base.
"In that situation right there, you should go home and get that out," Garcia said.
Jackson scored easily, Montero advanced to third and Hendricks cruised into second base. Once again, the Cubs called for a squeeze bunt, and Addison Russell delivered with a sacrifice that scored Montero.
"It was there, and we took advantage of it," Maddon said. "Whenever you have a chance to score, you have to take advantage of that opportunity, and we did."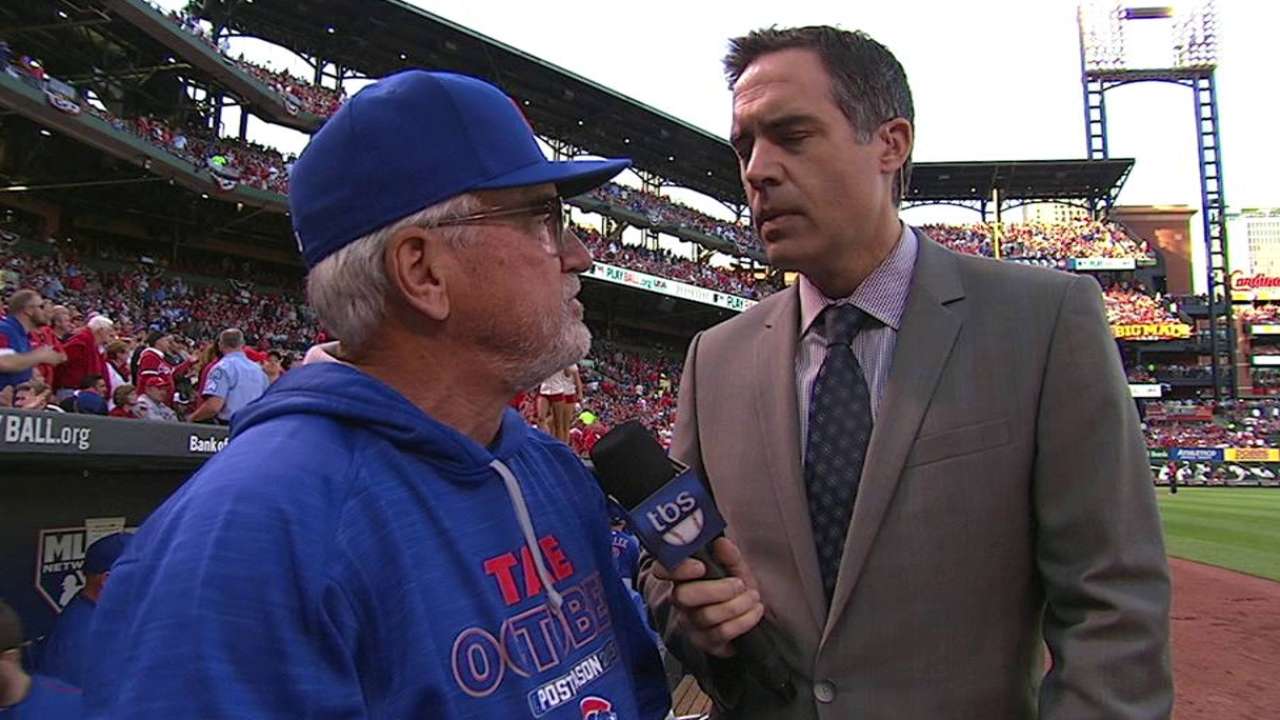 Leadoff man Dexter Fowler broke up the bunting, hitting a chopper to Cardinals shortstop Jhonny Peralta. But Peralta didn't even have a chance to challenge the speedy Fowler, who reached safely on an RBI infield single.
Just like that, the Cubs had taken a 3-1 lead by putting three balls in play -- without one of them leaving the infield. Jorge Soler quickly changed that pattern, crushing a two-run homer to dead center field.
But it was the Cubs' small ball that paved the way for their big inning.
"Even if the other team knows you may be doing it, if you do it properly, you could still do it. But everything has to be aligned properly," Maddon said. "I mean, this is all Don Zimmer stuff out here. This is all Zim."
Adam Berry is a reporter for MLB.com. Follow him on Twitter at @adamdberry. This story was not subject to the approval of Major League Baseball or its clubs.