Can Wacha rekindle postseason magic in Game 3?
Brilliant during 2013 Series run while struggling in '14, All-Star coming off rough month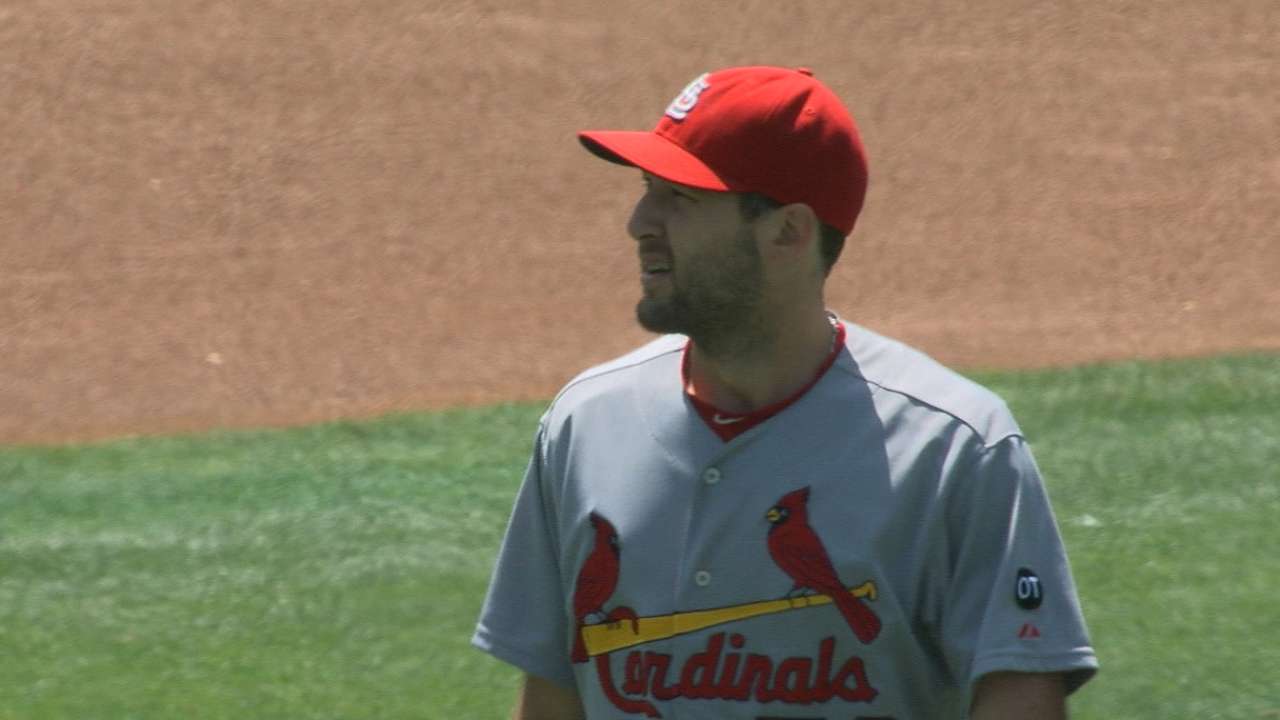 ST. LOUIS -- Scheduled to pitch the biggest game of the Cardinals' season -- so far -- Michael Wacha wasn't shrinking Sunday, on the eve of his duel with Cubs ace Jake Arrieta in Game 3 of the National League Division Series at Wrigley Field.
"The excitement is unreal, I'm just so excited to get out there and compete with this team and hopefully get that win for us," Wacha said.
• Shop for Cardinals postseason gear
Pitching for the Cardinals in the postseason, the 24-year-old Wacha has already experienced the extremes of brilliance and the aches that come with failure. Pitching in the regular season of 2015, Wacha was strong through most of the year before hitting a rough patch in September.
With all of that in the equation, which Wacha will the Cardinals get when he starts Game 3, which will be at 6 p.m. ET on TBS.
The outing gained added importance after the Cubs took a 6-3 win in Saturday's Game 2 to gain a split. The stakes are even higher with Arrieta set to oppose Wacha. When the Division Series is tied at 1-1, the winner of Game 3 has won 25 of 32 series.
"I think his highs far outweigh his lows," Cardinals pitcher Adam Wainwright said. "He was one of the biggest pieces of getting us to the World Series in 2013, and last year he had ... a bad moment there at the end of the Giants series [in the NL Championship Series]. But he hadn't pitched in a while, and he was doing his very best. He's got great stuff.
"We have tremendous confidence in Michael, and we're glad to see him out there competing on our side. Glad he's on our team."
As a rookie in 2013, with only 15 regular-season games in the big leagues, Wacha stepped up in the postseason. He likely helped save his team's season in his first-ever playoff game. In the NLDS against the Pirates with his team trailing, 2-1, in the series, Wacha carried a no-hitter into the eighth as the Cardinals took a 2-1 victory and advanced after Game 5.
Wacha's 13 2/3 scoreless innings in two starts against the Dodgers in the NLCS helped St. Louis reach the World Series and got him an NLCS MVP Award. He was the winner against the Red Sox in Game 2 of the World Series, but he was roughed up for the loss in the decisive Game 6 that gave Boston the title.
In 2014, Wacha was limited to 19 starts because of a right shoulder stress reaction. He was available of the bullpen in the NLCS, but he was part of a disastrous moment. In the bottom of the ninth inning in Game 5, he put two batters on before he allowed a three-run walk-off homer to Travis Ishikawa that advanced San Francisco to the World Series.
"It definitely hung around with me for a while, but there's definitely times where you've just got to tell yourself it's over with," Wacha said. "There's nothing you can do about it now, and use that as motivation to hopefully never have that feeling again."
St. Louis dealt with injuries throughout 2015, but the Wacha was healthy and a big part of the rotation. In a season that earned him his first NL All-Star selection, he was 17-7 with a 3.38 ERA in 30 starts and 181 1/3 innings. He walked 58 and struck out 153.
When Wacha had run support, he knew what to do with it. He led NL pitchers with a 5.96 run support average and was 16-0 when he received three runs or more of support, while St. Louis was 17-1 in those games.
After an August in which he had a 1.13 ERA, trouble finally found Wacha in the season's final month. He posted a 7.88 ERA in five starts while lasting five innings or fewer in four of them. His last outing, on Sept. 30 vs. the Pirates, saw him give up six earned runs over four innings.
"You're going to have ups and downs every season, and this is still a young pitcher," Cardinals manager Mike Matheny said. "And we saw some times where it just looked like something was out of sync. We also saw a couple of starts where he looked really good. He'd make a couple of innings in a row that were right. He had the downhill plane; he had the good changeup. He had the breaking ball working, and then he would have one inning that might hurt him. But it was usually controlling the strike zone, and you could attribute it to a lot of things. There is just a demand on a long season. He has been around a little while, but maybe not as long as what most people think.
"I remember him coming up early on in '13 and being really special late in the year, and they just expect that to automatically translate in the next year, and that's not necessarily the case," Matheny added. "There is a lot going on. The league is learning you; you're trying to figure out how to stay ahead of them. You're always fighting health issues, which Michael has done, but overall we like what he's been able to do all season, and when he's on, we put him up against anybody."
On Monday, it won't be just anybody on the mound for the Cubs. But Wacha knows he can't worry about what his opposing starter is doing.
"I'm obviously going up against Arrieta, a great pitcher, but you just have to worry about your own game," Wacha said. "You can't worry about who's on the other side, and go out there and continue making pitch after pitch. Hopefully I guess that's just what you have to do."
Mark Sheldon is a reporter for MLB.com. Read his blog, Mark My Word, follow him on Twitter @m_sheldon and Facebook and listen to his podcast. This story was not subject to the approval of Major League Baseball or its clubs.