Hamilton, Fielder are Rangers' sleeping giants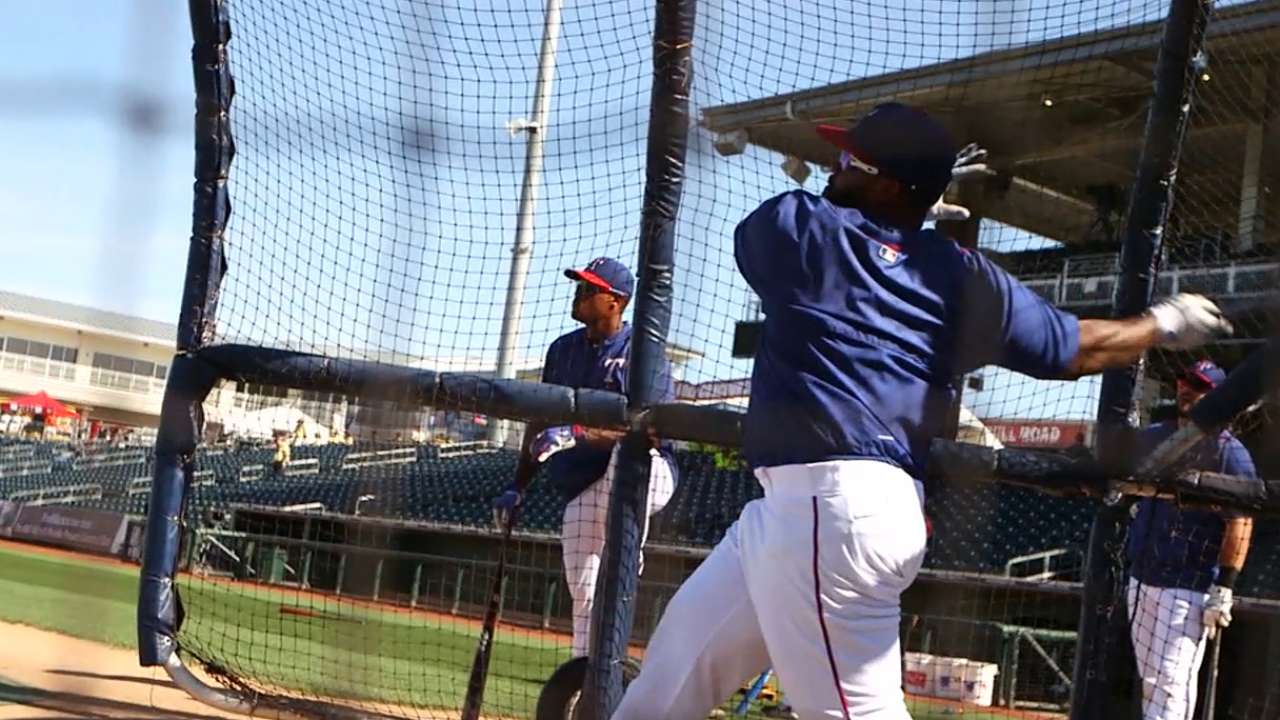 ARLINGTON -- The stories look familiar, and the quotes bring back memories, reminders of when Josh Hamilton was a postseason monster.
"Teams don't want to pitch to him at all," former Texas Rangers president Nolan Ryan said during the 2010 World Series, after Hamilton hammered Yankees pitching for three homers in the American League Championship Series. "The scouts are telling everybody, 'Don't let Josh Hamilton beat you, and don't pitch to Josh Hamilton.'"
•
Shop for official Rangers postseason gear
"All we want Josh to do is be the presence that he is," then-Rangers manager Ron Washington said the night Hamilton hit his 10th-inning home run against the Cardinals in Game 6 of the 2011 World Series, nearly powering the Rangers to their first championship.
The night after that homer, Hamilton singled in his first at-bat in Game 7. He hasn't reached base in 30 postseason at-bats since, including his going 0-for-10 with four strikeouts against the Blue Jays in this year's best-of-five AL Division Series heading into Game 3 tonight at Globe Life Park (8 p.m. ET, FOX Sports 1/Sportsnet).
It's a long way off the record 0-for-42 streak that Mariners catcher Dan Wilson compiled from 1995-2000. However, Seattle never counted on Wilson for offense, despite a couple of solid seasons. Hamilton, batting sixth, is no longer a focal point of the Texas lineup, but he's important enough that he returned to the lineup in late September after recurring knee problems. He also played 23 innings on the turf at Rogers Centre.
"I'm sure it took its toll," said Rangers manager Jeff Banister, who noted Hamilton took batting practice and moved around well in Saturday's workout. "I'm encouraged where he's at. This is a body of a guy that when it's right, it's really good, but it's also at the stage of his career that it can feel affects. But I didn't see any of that today during the workout."
It's also a testament to October streakiness.
"It's either you're on or you're not in the playoffs," Hamilton said after Game 2, a 6-4 win in 14 innings that put the Rangers up 2-0. "You've got two games, a day off, and a couple more games. It's kind of spread out."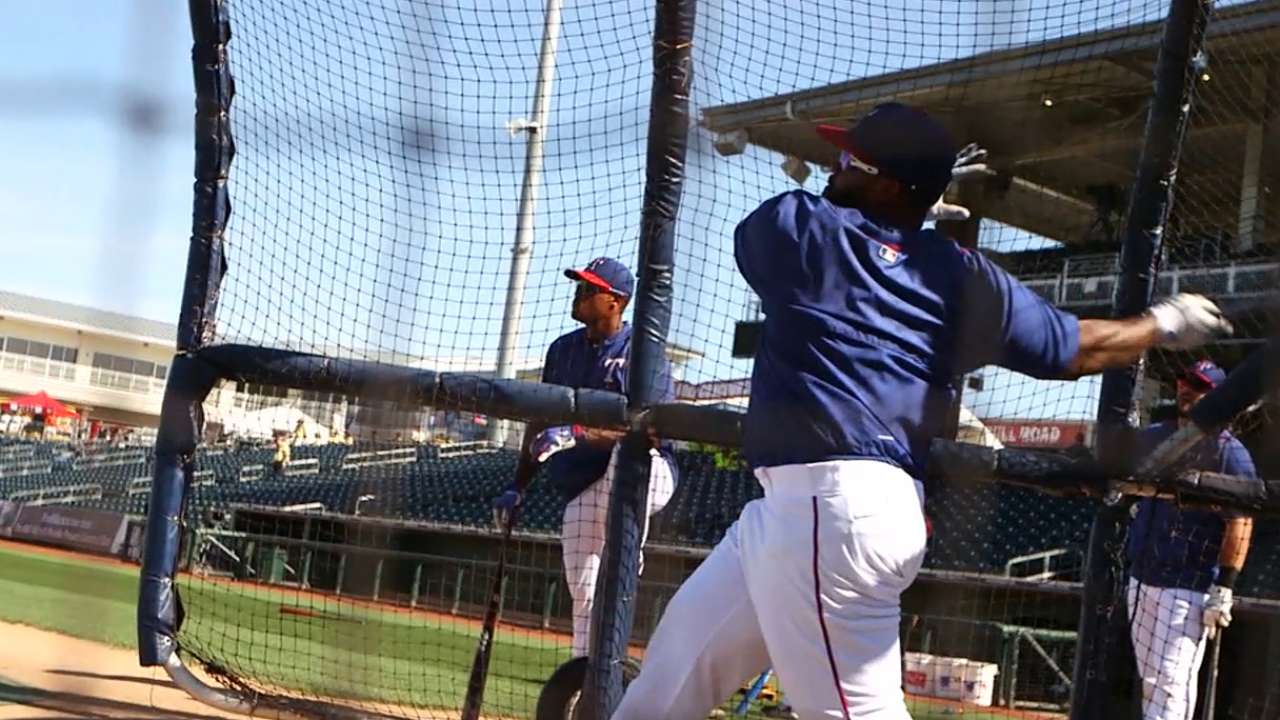 He's also not alone in his October struggles. Prince Fielder is 1-for-8 with a walk and two strikeouts in the ALDS. Added with previous Octobers in Detroit, he hasn't driven in a run in his last 20 postseason games since an RBI single in the opener of the 2012 ALCS against the Yankees, tied for the fifth-longest streak in postseason history.
Fielder is 0-for-14 with runners in scoring position in that stretch, including 0-for-2 this postseason.
"There's always some pressure. There's supposed to be," Fielder said. "But you just want everybody to do their part to help you win. I think that's what good teams do, one through nine, even the guys off the bench if you have to fill in for somebody. Everybody does their part. That's what winning teams do."
The offense that has helped build the Rangers' 2-0 ALDS lead has largely come from hitters other than Fielder and Hamilton. Seven of Texas' 11 runs this series have been scored by the bottom two hitters in the order, including five runs from Rougned Odor, and leadoff man Delino DeShields has two RBI singles.
"Look, I'm sure we have a group of hitters in our lineup that other ballclubs would say, 'Hey, let's make the other guys beat us,'" Banister said. "You hear it all the time and it sounds like a cliché, making other players beat you. And that's when you see other players step up and find a way. We've talked about it all year long, being able to construct a lineup that when you put innings together and you have different runs in the lineup, you can do different things to plate runs."
If Hamilton or Fielder finds his stroke, the Rangers become scarier. But as Fielder points out, if they heat up in losses, it becomes footnote material. With the postseason, it's an end-result business. In his 20 postseason games without an RBI, his teams are 10-10.
"It's not about individual success. It's about getting the job done," Fielder said. "I'm sure everybody would love to have the greatest postseason of all time, but if you're going home in three, what does it matter? When you win, everybody's awesome."
Still, as opponents adjust to Odor and DeShields, the at-bats from Hamilton, Fielder and others could become key again very soon.
"We're scoring runs," Banister said. "And, yeah, I believe there's still more in the tank."
Jason Beck is a reporter for MLB.com. Read Beck's Blog, follow him on Twitter @beckjason and listen to his podcast. This story was not subject to the approval of Major League Baseball or its clubs.