'Worry' has no place in Maddon's procedure
Hendricks second pitcher to bat anywhere other than ninth in postseason history; Game 4 starter TBD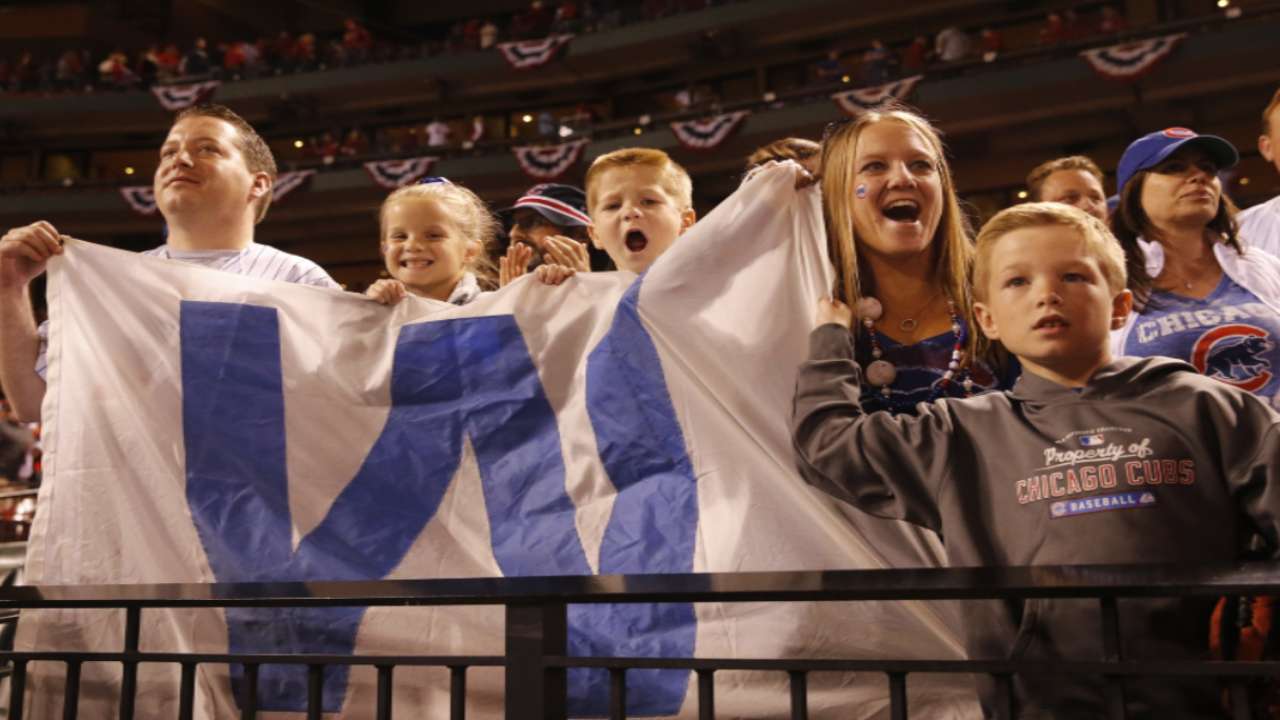 ST. LOUIS -- Only eight teams out of 71 in Major League history have come back to win a postseason series after losing the first two games, which made Saturday's Game 2 of the National League Division Series against the Cardinals critical and perhaps gave fans in Chicago reason to panic.
"They should always worry," Cubs manager Joe Maddon said Saturday. "It's always the prerogative of a fan to worry, I absolutely believe in that. That's what bar rooms are for."
But Maddon wasn't worried, and for good reason. The Cubs stormed back for a 6-3 victory and evened the NLDS, 1-1, sending it to Chicago for Game 3 on Monday, with Jake Arrieta on the mound (6 p.m. ET on TBS if both the Royals-Astros and Jays-Rangers series are still being played. If one of those series is over, then Cardinals-Cubs will play at 4:30 ET TBS).
"From our perspective, we have to just go out and play the game like we always do," Maddon said before the win. "I'm here to tell you, man, I just can't live that way. The line I've used is, I don't vibrate at that frequency."
Maddon prefers to have his team focus on the process.
"I've not even mentioned winning one time to these guys during this whole time," he said. "So, for our fans back home, please go ahead and be worried, that's OK. But understand from our perspective in the clubhouse, we're more worried about the process than the outcome."
• Shop for Cubs postseason gear
Extra bases
• Cubs Game 2 starter Kyle Hendricks, who batted eighth, is the second pitcher in MLB history to bat any position other than ninth in a postseason game. Babe Ruth batted sixth in the 1918 World Series against the Cubs. Hendricks went 4 2/3 innings, allowing a trio of solo home runs among four hits while striking out seven.
• Maddon said the Cubs have not discussed whether to bring back lefty Jon Lester on short rest for Game 4 on Tuesday or go with right-hander Jason Hammel. Lester gave up three runs on five hits over 7 1/3 innings in the Cubs' 4-0 loss in Game 1 on Friday.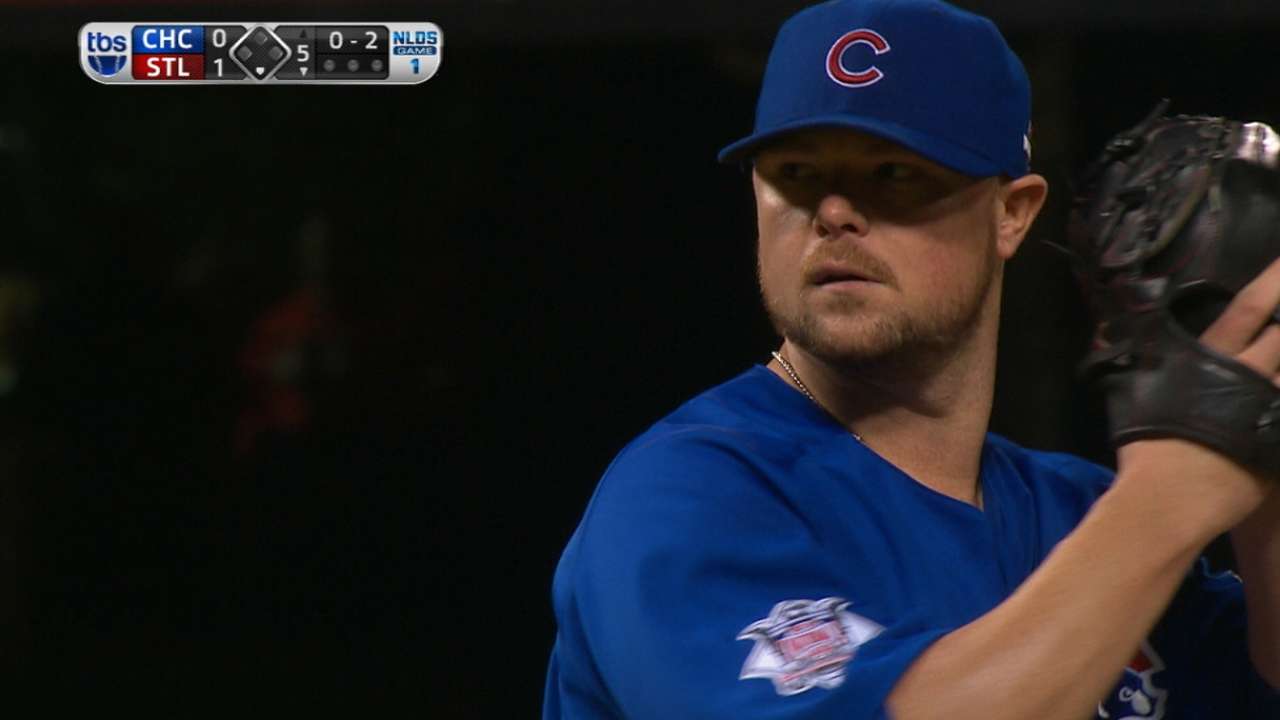 • Maddon said he tried to use Pedro Strop in a situation Friday in which there wasn't as much pressure in hopes of getting the right-hander back on track. But the right-hander hung a slider to the Cardinals' Stephen Piscotty, who hit a two-run homer.
"It was a prime opportunity to get him back out there and get settled in," Maddon said. "He's one of our best relievers, and I still believe he's one of the best in the National League. He made a bad pitch and he gets three outs relatively easily. He makes one bad pitch and pays for it. I really believe this guy is that good, and we'll just try to figure it out moving forward. He hung a slider and Piscotty didn't miss it."
• Center fielder Dexter Fowler will be a free agent after this season. Has he thought about whether he will stay with the Cubs?
"I don't," said Fowler, who went 2-for-5 with an RBI and a run scored Saturday. "I believe God has a process and, you know, at the end of the day, if this is where I need to be, this is where I need to be. I'm taking it day by day, and right now, just focused on winning."
• Batting practice was optional on Saturday as it was on Friday, and none of the Cubs chose to hit on the field prior to Game 2. Maddon has said several times that he feels BP is "archaic."
• Reliever Jason Motte's wife, Caitlin, is running in Sunday's Chicago Marathon.
Carrie Muskat is a reporter for MLB.com. She writes a blog, Muskat Ramblings. You can follow her on Twitter @CarrieMuskat and listen to her podcast. This story was not subject to the approval of Major League Baseball or its clubs.