Lowrie awaiting chance to contribute
Decision to stay with Valbuena keeps infielder on bench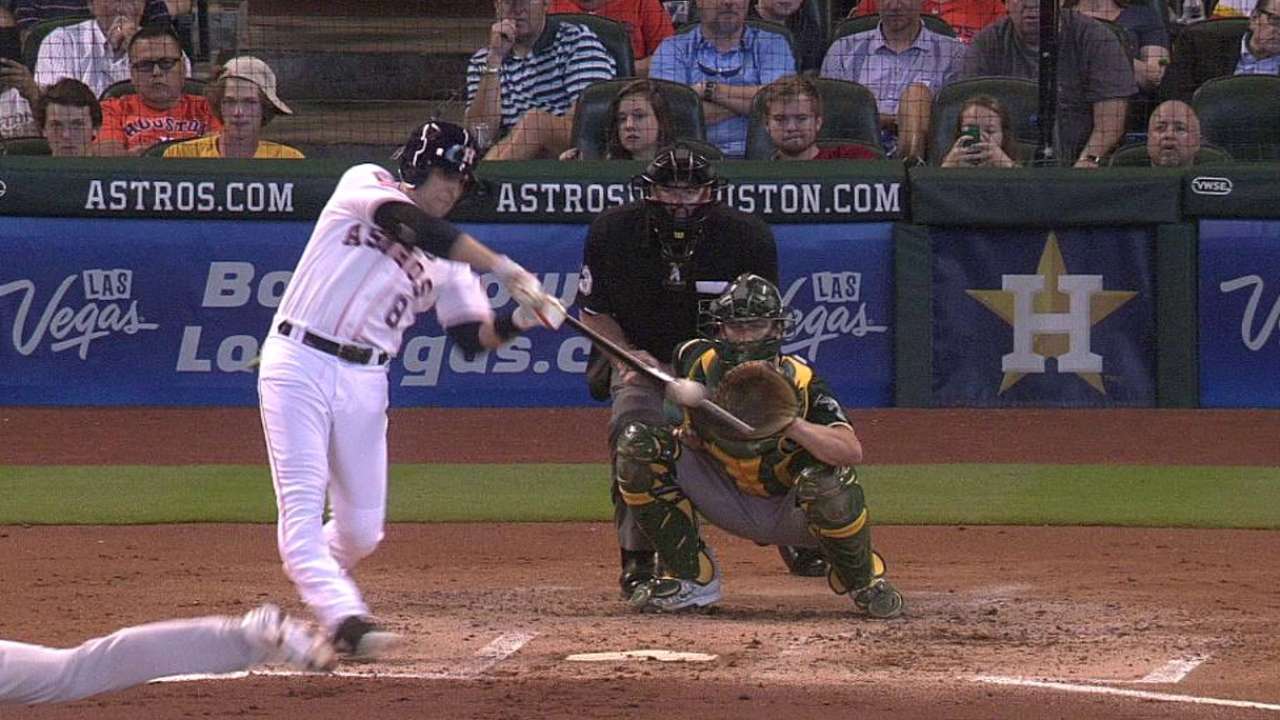 HOUSTON -- Riding Luis Valbuena's hot hand at third base to begin the American League Division Series has meant a change of roles for Astros infielder Jed Lowrie.
It has not, however, changed the way in which the veteran -- one of the few Astros with playoff experience before this season -- approaches preparations for games he's not sure he'll ever enter.
Lowrie has been dinged by numerous injuries all season, the most time-consuming a torn ligament in his right thumb in late April that kept him on the disabled list for 82 days. He took a pitch off his left shin in Houston's 5-3 loss to the Rangers on Sept. 14 that sidelined him for two games and, more recently, sustained a quad injury against the Mariners on Sept. 29.
The setbacks have stifled any sort of consistency Lowrie envisioned once his thumb healed, though he isn't interested in looking back as the Astros attempt to take control of a tied best-of-five Divsion Series entering Game 3 today (4 p.m. ET on MLB Network).
• Shop for Astros postseason gear
"It really doesn't matter at this point. We can talk about that after the year, but I'm too focused on my preparation and what I can do to help this team right now," Lowrie said. "Continue to prepare the way I know how to prepare. I think that's what made this team great all year, we've had guys prepare to help this team win and that can't change in the playoffs."
Astros manager A.J. Hinch maintains Lowrie, one of the Astros' prized winter acquisitions, is healthy and available, but Valbuena's play has necessitated he man the hot corner to begin the playoffs.
Valbuena, who's defense remains stout in the Astros' shift-happy scheme, has a hit in seven of his last nine games and raised his batting average 10 points in the last five regular-season games to enter the postseason at .224.
Lowrie, however, has had a dramatic flair of late. His pinch-hit, three-run home run on Sept. 13 capped perhaps the Astros' most valuable win of the season when they rallied from a three-run deficit with two outs in the ninth inning to defeat the Angels.
That's not lost on Hinch, who hasn't dismissed Lowrie as a possible starter in Games 3 and 4.
"I have had to ride the hot hand. I think everybody in the clubhouse knows that some of the things that how we balanced out playing time for 162 may not apply in a playoff push," Hinch said. "But Jed's going to come up big in a big at-bat at some point. He still may get a start. I told him yesterday that it doesn't mean that he's never going to start another game, he very well may start tomorrow or Monday here at home. ... But our guys are all ready and their roles have shifted just a little bit and certainly the momentum of how guys are playing plays into that."
Chandler Rome is an associate reporter for MLB.com. This story was not subject to the approval of Major League Baseball or its clubs.