McCullers to unleash animal in Game 4
Rookie aims to feed off increased intensity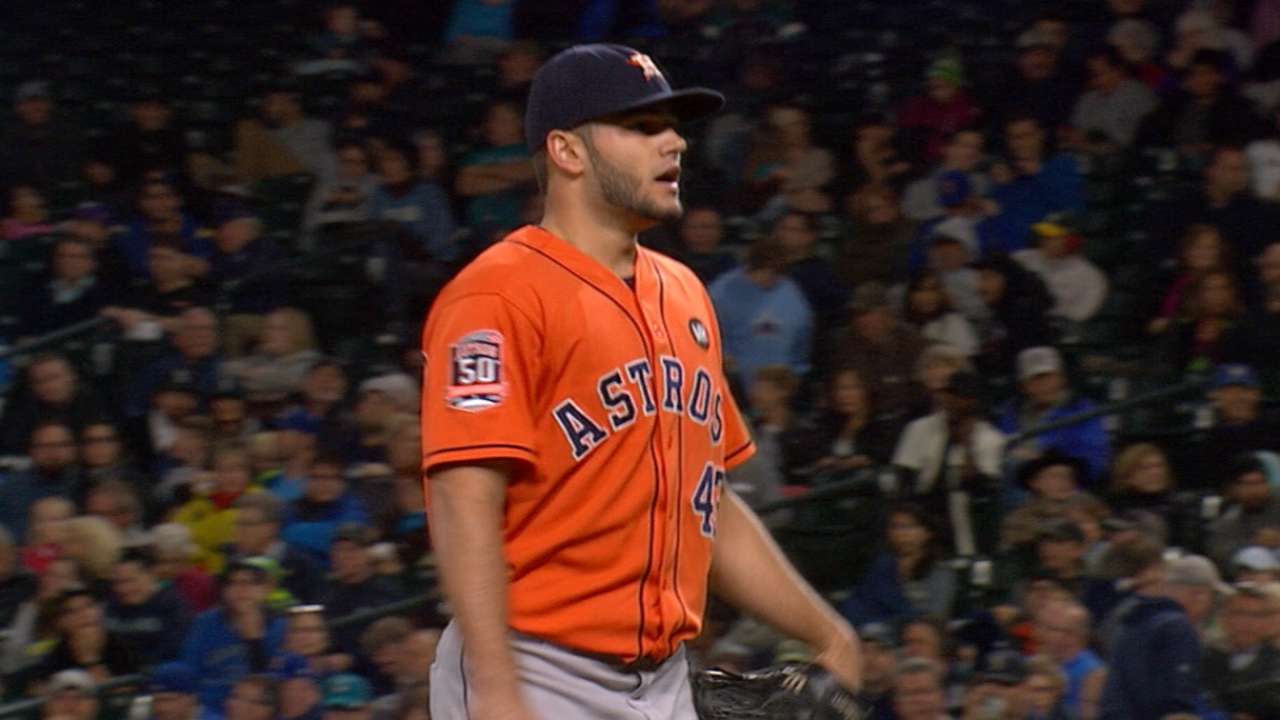 HOUSTON -- An animal lives inside Lance McCullers when he pitches, one that's roared often. Take the rookie's fourth career start, when he struck out Chris Davis -- representing the tying run -- to close out a complete-game four-hitter against the Orioles.
It's also been untamed, like when McCullers yelled and glared toward Angels slugger David Freese after striking him out to end his Sept. 23 outing. McCullers said the veteran Angels club was chirping in his direction all game.
Astros manager A.J. Hinch, whose club will take on the Royals in Game 3 of the American League Division Series today 4 p.m. ET on MLB Network, has met the animal -- on its good days and bad.
"I have a lot of trust and faith that his stuff is as good as anybody we have and he'll be able to execute that, provided that he can control the little animal inside of him," Hinch said of McCullers' latest assignment -- starting Monday in Game 4 of the ALDS. "He represents a lot of what's right about what we're doing because he's young, he's energetic, he's going to be competitive and he'll be ready."
• Shop for Astros postseason gear
There's no debate on the readiness. McCullers, who has pitched in high school state championship games in Tampa and in the 2014 California League championship series while with the Lancaster JetHawks, understands big games, though he obviously admits Monday's assignment is much larger than any of those prior pressure starts.
McCullers, who was last on the mound in the final regular-season game at Arizona when the Astros clinched a playoff berth, hasn't allowed more than three earned runs since Aug. 3 -- when he lasted just one-third of an inning in a disastrous outing against the Rangers and was optioned to Double-A Corpus Christi.
It was adversity Hinch said McCullers overcame valiantly.
"He's a young one, but at this juncture of the season and what he's endured throughout the year, the big games he's pitched in, the number of innings he's piled, I mean, he's not a rookie any more," Hinch said.
Hinch wasn't coy. McCullers' nerves will be rampant on Monday, probably, Hinch said, more than his Major League debut on May 18 when McCullers tossed 4 2/3 innings of three-hit ball.
And, as always, the animal will be there. Monday will be time to control it.
"All that energy, all that outward energy is great, it keeps me pumped up and keeps the guys pumped up," McCullers said. "But I want to keep it to the left side of the field -- our dugout for our guys -- not directed to anyone else."
Chandler Rome is an associate reporter for MLB.com. This story was not subject to the approval of Major League Baseball or its clubs.