Playoff-tested Holland set for potential clincher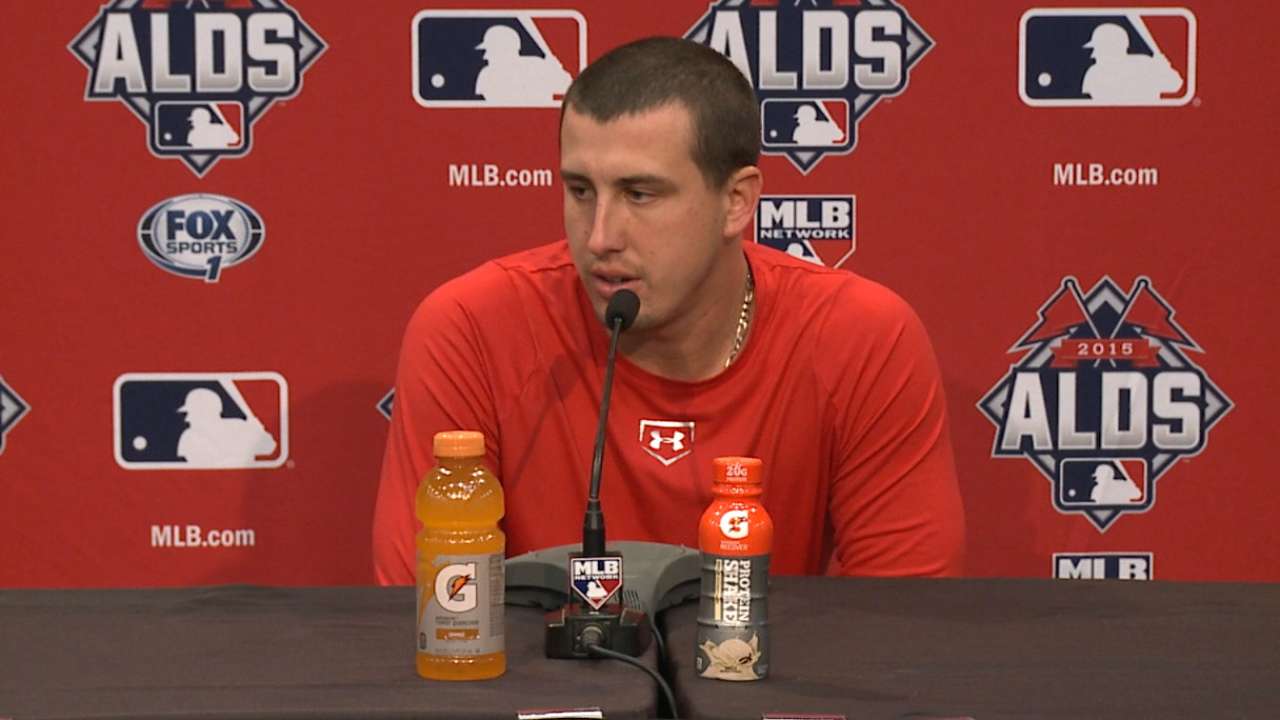 ARLINGTON -- The Rangers can close out the American League Division Series with one win at home on Monday afternoon. They'll be calling on left-hander Derek Holland to pitch them to a champagne party.
And they like their chances of getting wet.
• Shop for Rangers postseason gear
Holland will take on the Blue Jays in Game 4 (4 p.m. ET, FOX Sports 1/Sportsnet), with the Rangers up two games to one in the best-of-five ALDS.
Holland, who missed four months of the season after injuring his shoulder in the club's home opener in April, was no sure thing to get the ball for this start, not with Colby Lewis -- who led Texas with 17 wins this season -- also on the staff.
But while Lewis allowed 11 runs in 8 2/3 innings in his previous two starts, Holland, who had a rough stretch earlier in September, won his last start of the regular season, beating the Angels while allowing three runs in 6 1/3 innings. Holland also has a slightly better ground-ball percentage than Lewis. Holland is at 42.4 percent while Lewis' rate is 34.8 -- not insignificant against a power-packed Toronto lineup in a hitter-friendly ballpark.
"Derek has been a key pitcher for us," Rangers manager Jeff Banister said. "We felt like Derek is ready for this stage, for this game. It's nothing that he hasn't done before. He's been here before, he's been in these type of games, and has shown up very well in the past.
"We expect Derek to come out and throw a quality baseball game for us. ... We'll show up ready to play. Derek will show up ready to pitch. We'll be ready to play the game of baseball tomorrow."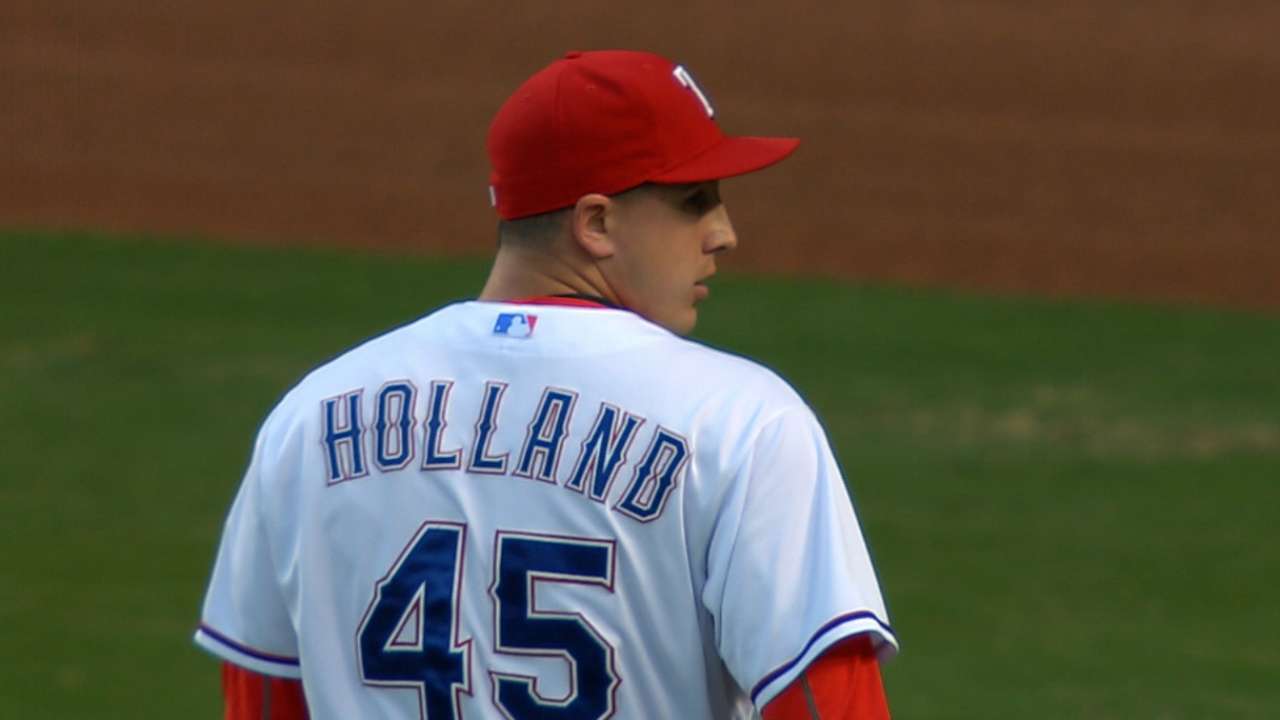 The confidence in Holland comes from a postseason resume that is impressive, and it will be needed against a potent Blue Jays lineup that is stacked with right-handed sluggers such as Josh Donaldson, Jose Bautista, Edwin Encarnacion and Troy Tulowitzki.
Holland is only 28 years old, but he's already made 13 playoff appearances. He's 3-0 with a 3.79 ERA overall in those games, including a brilliant start -- and a win -- against the St. Louis Cardinals in Game 4 of the 2011 World Series. In that game, he tossed 8 1/3 shutout innings, allowing two hits and striking out seven.
He said he'll lean on that experience and what he's learned from watching the other Rangers pitchers work the first three games against Toronto's stacked lineup.
"No matter what the situation is, I can pitch in the big games as well," Holland said.
"I pitched in Game 4 of the World Series. I just have to prepare myself for now. Toronto is a good ballclub, a really good offense. I have to do my job to really mix it up for them, make it a little bit harder, kind of move forward from there."
For a guy who was expected to be such huge part of his team's success all year but became a late arrival on the scene, Monday's start gives Holland the opportunity to show that he's right on time.
"I'm always going to be excited to be out there any time," Holland said. "No matter what, these are big games from here on out. You saw Toronto's not giving up. They're still out there playing with a lot of heart and trying to keep this thing alive.
"I've got to go out there and do my job."
Doug Miller is a reporter for MLB.com. Follow him on Twitter @DougMillerMLB. T.R. Sullivan is a reporter for MLB.com. Read his blog, Postcards from Elysian Fields, follow him on Twitter @Sullivan_Ranger and listen to his podcast. This story was not subject to the approval of Major League Baseball or its clubs.