Change is in the air as Pirates look to 2016
Club will be reshaped due to retirements, uncertain contract status of vets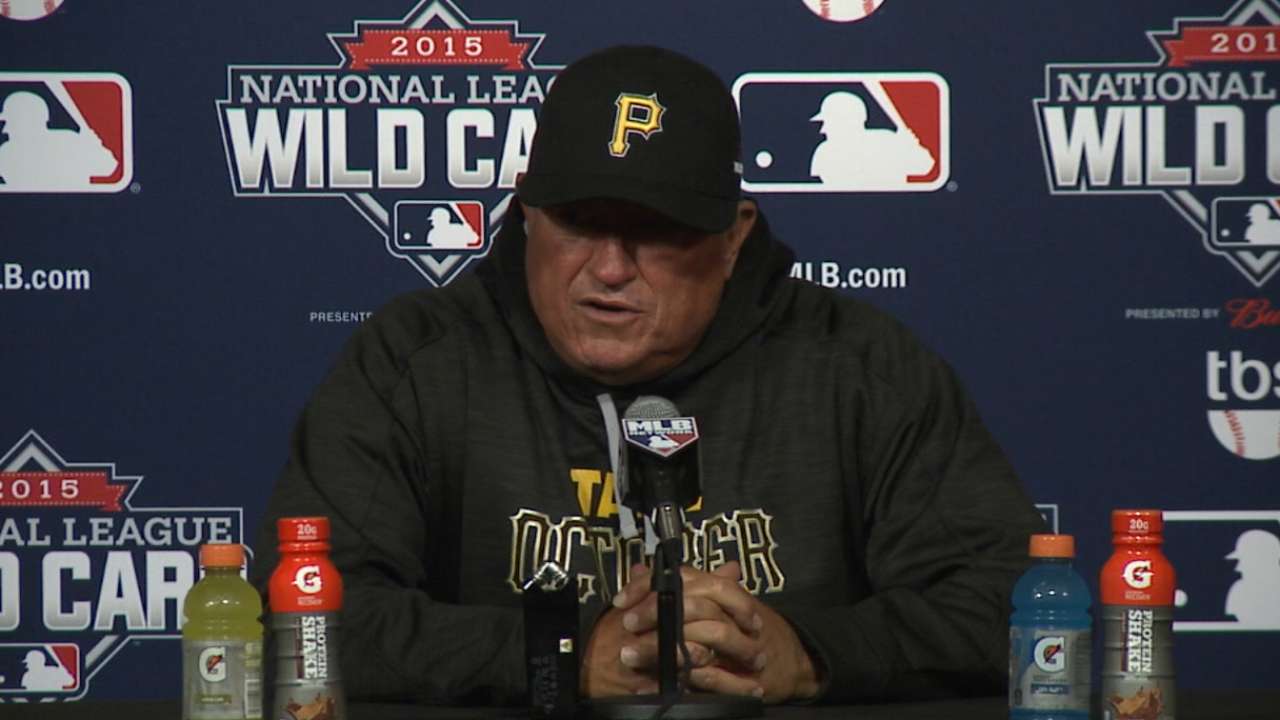 PITTSBURGH -- A lot of hugging went on in PNC Park's home clubhouse after the Oct. 7 National League Wild Card Game presented by Budweiser became a play-out game for the Pirates. It usually does following the last of (by actual count, including exhibitions) 194 games.
This was a bit different, a bit less ephemeral. Many of those guys were aware they would never again wear the same uniforms -- not Pittsburgh's, anyway. Change is always inevitable, and often comes in small ripples. The Bucs could be at the tidal wave stage.
• Season-long issues sank Pirates' ship
It has to do with personnel decisions, particularly around the infield and in the starting rotation. General manager Neal Huntington long ago knew he'd have one big spot to fill, since A.J. Burnett returned for only one farewell season. The Pittsburgh GM didn't expect J.A. Happ's brilliance, or Jeff Locke's and Charlie Morton's continuing inconsistencies, to compound the puzzle.
It also has a lot do with the numbers, two different sets: 20 players whose fates are shadowed by either free agency or arbitration; and projected salaries, which will help craft the Bucs' offseason agenda. Official listings of free agents, incidentally, will include a trio heading into retirement -- Burnett, Aramis Ramirez and, possibly, Joe Blanton -- because that's how the paperwork goes.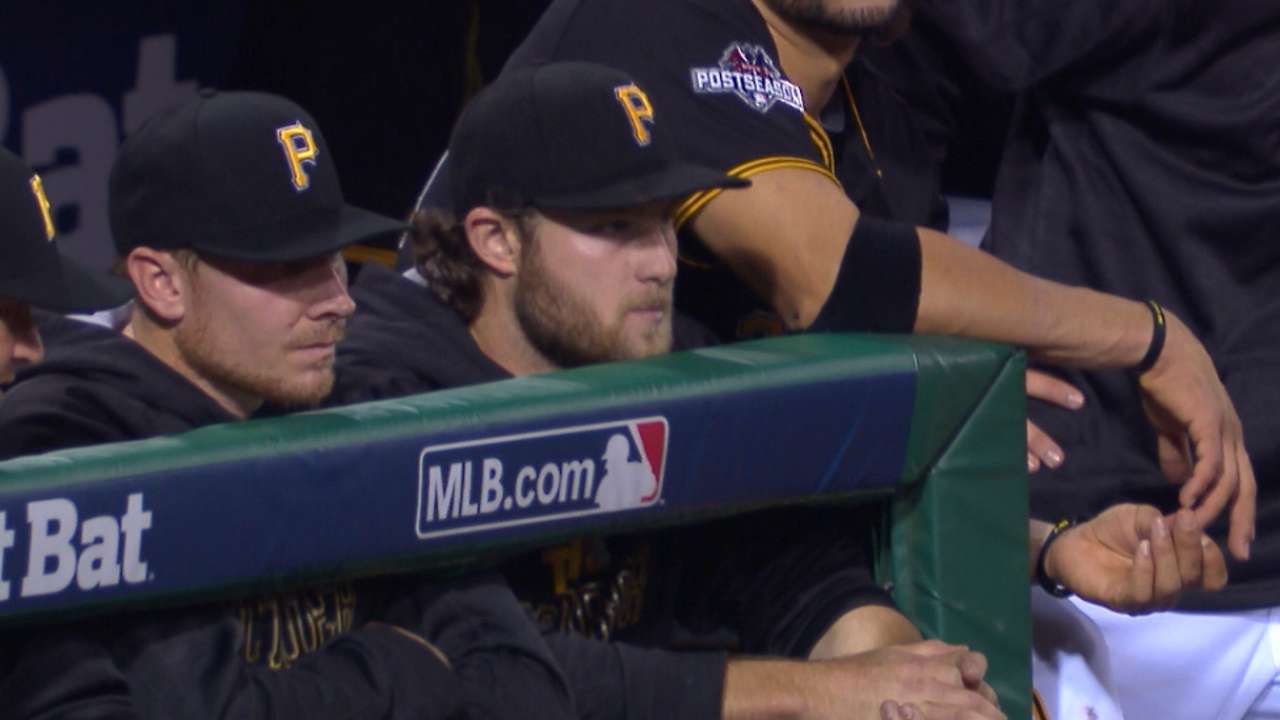 Unquestionably, the club's payroll will top $100 million in 2016 for the first time. However, projected salaries for arbitration-eligibles and six players already under contract total $75.5 million. So Huntington will still have to ration the pie.
There will also be one significant in-house negotiation. Every year, Huntington has sought to lock-up a long-term core player. In 2012, it was Andrew McCutchen, and he was followed by Starling Marte ('14) and Josh Harrison (this past April). Gregory Polanco will be next.
Arbitration-eligible: 1B Pedro Alvarez, C Francisco Cervelli, RHP Jared Hughes, LHP Locke, 1B Travis Ishikawa, RHP Mark Melancon, SS Jordy Mercer, C Chris Stewart, 2B Neil Walker and LHP Tony Watson.
Free agents: LHP Antonio Bastardo, RHP Blanton, RHP Burnett, RHP Vance Worley, LHP Happ, 1B Corey Hart, 3B Ramirez, INF/OF Sean Rodriguez, OF Travis Snider and RHP Joakim Soria
Rotation: Put down Gerrit Cole and Francisco Liriano in indelible ink, then pick up the pencil. In the best-case scenario, the rest of the rotation is filled out by Bucs No. 1 prospect Tyler Glasnow, No. 4 prospect Jameson Taillon and Happ. By Opening Day 2016, it will have been two years since Taillon underwent Tommy John surgery, but he hasn't pitched competitively since 2013. Happ's $6.7 million salary in '15 will spike with his spectacular stretch performance, and the question is whether it will remain in the Bucs' price range. Huntington and manager Clint Hurdle may be ready to move beyond the second-half fades of Morton and Locke (combined second-half production: 6-13, 5.18 ERA).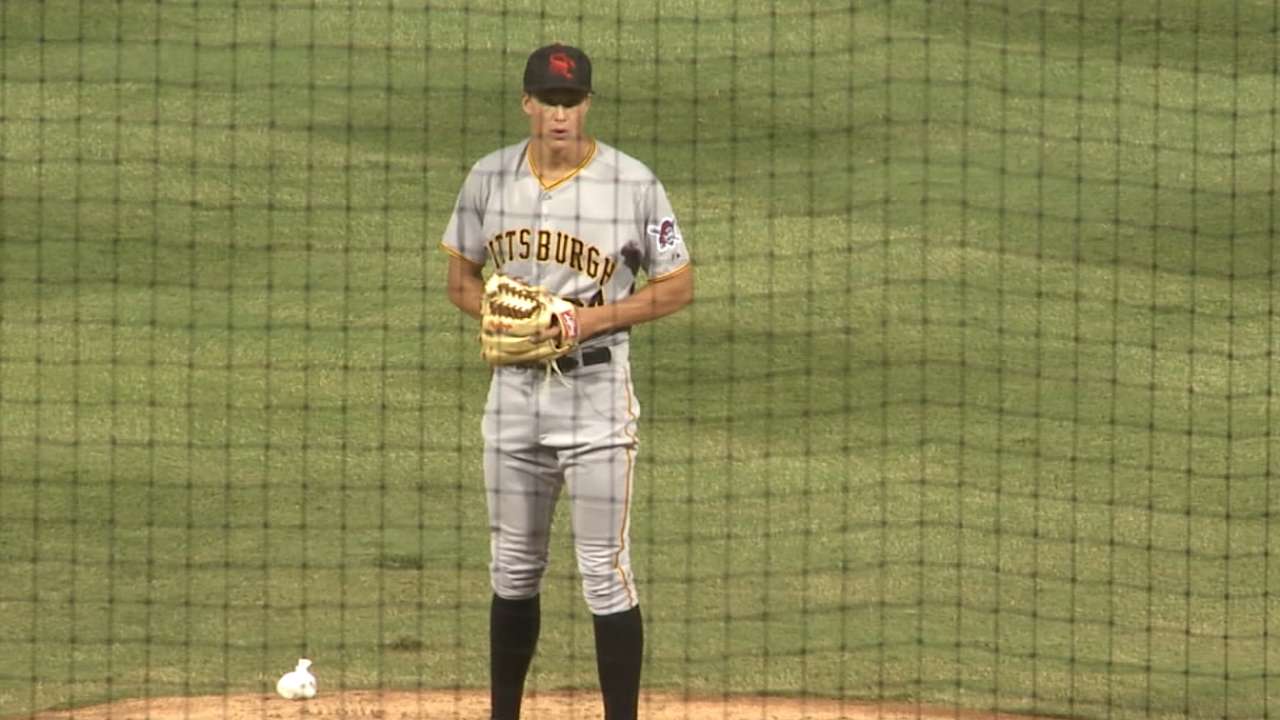 Bullpen: The Bucs could easily retain what was the Majors' top crew in 2015, including Soria and Bastardo, whose salaries totaled a modest $10 million. Yet this could be an unexpected challenge, because the core -- Melancon, Watson, Hughes -- never faltered for a second straight season, but Huntington and Hurdle have a track record of turning over relievers. "Better to move too early than too late," has been their mantra. Much has to do with whether they believe Arquimedes Caminero is ready for a bigger role. Jorge Rondon, claimed on waivers from the Orioles after the conclusion of the regular season, will enter the early mix.
Catcher: Cervelli is locked in after confirming what everyone had said about him for years: "If he could just stay healthy, he'd open your eyes." But No. 14 prospect Elias Diaz's waiting-room tenure may be over, and unless they decide to carry three catchers, Stewart could be dealt.
First base: No. 3 prospect Josh Bell's bat is ready, but the converted outfielder hasn't yet taken to first base any better than Alvarez so, again, adoption to the position will be a top Spring Training project. The 2011 second-round Draft pick is a superior athlete, and there are fewer doubts that he will "get it" than there were with Alvarez. There is no one else on the board to take over at first, so it's either Bell or a trade acquisition.
Second base: This is the $11 million question -- which is the generally projected salary for Walker in his fourth year of arbitration. This is an excruciating business decision involving the popular hometown "kid," only exacerbated by the uncertainty about the timeline for Jung Ho Kang's recovery from his left-knee injury. The only way Kang's status isn't a factor here is if the Pirates feel No. 5 prospect Alen Hanson, whose erratic shortstop glove made a successful switch to second at Triple-A Indianapolis, is ready to handle the position, at least in the short term.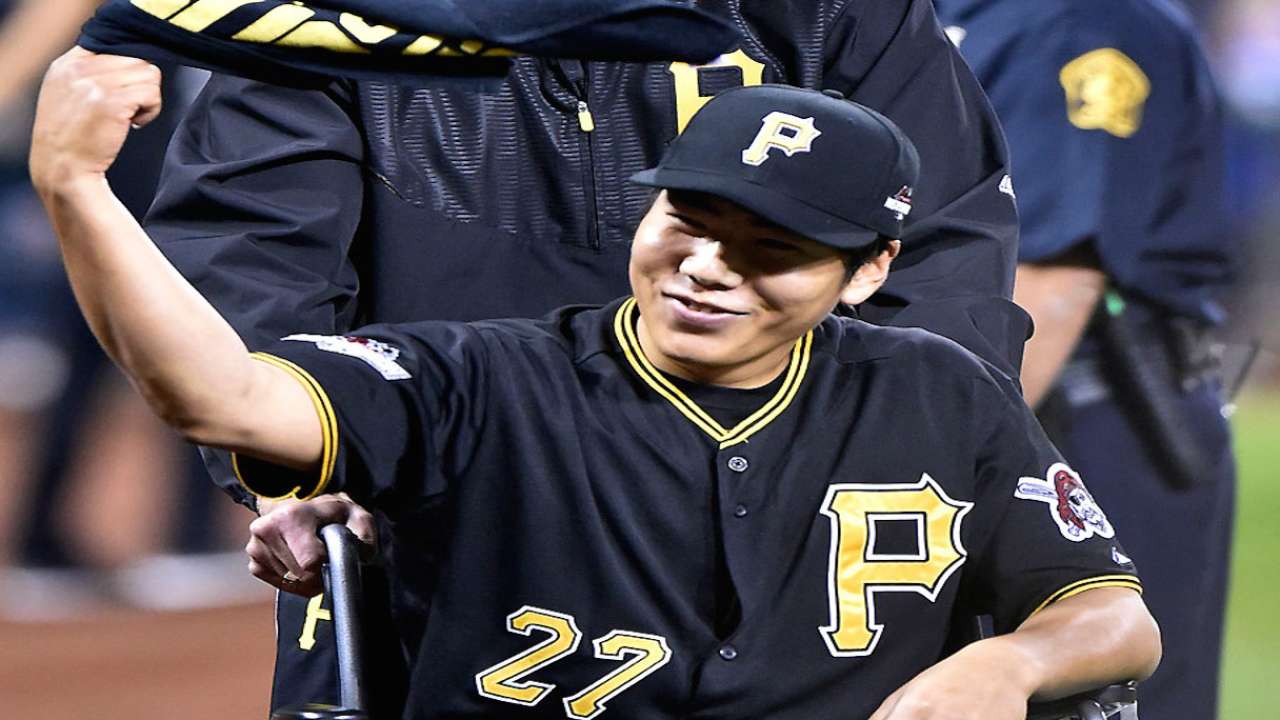 Shortstop: The Mercer-Kang duel turned out to be overblown, since Kang proved to be a natural third baseman. Mercer did seem affected by the lack of regular play while he shared the position. Once he again became the everyday guy, his play took off in all aspects. Pedro Florimon did not play a big role, but he is an ideal backup, so don't be shocked if he is back.
Third base: Despite the 2015 shuffle -- three players shared the starts almost equally -- third base is actually in very good hands. Having Harrison as Kang's place-holder is quite a luxury.
Outfield: The Dream Outfield, with an occasional rude awakening. Marte and McCutchen are both finalists for NL Gold Glove Awards but, along with Polanco, combined to make 12 errors and were also prone to occasional bad judgment. The talented trio also had 36 assists -- by far the league high -- and can run down balls like nobody's business. They also combined to steal 71 bases. Yeah, they'll be all right.
Tom Singer is a reporter for MLB.com and writes an MLBlog Change for a Nickel. He can also be found on Twitter @Tom_Singer and on his podcast. This story was not subject to the approval of Major League Baseball or its clubs.