deGrom stamps spot among game's top pitchers
Mets righty outduels Kershaw, ties Seaver's franchise playoff record with 13 K's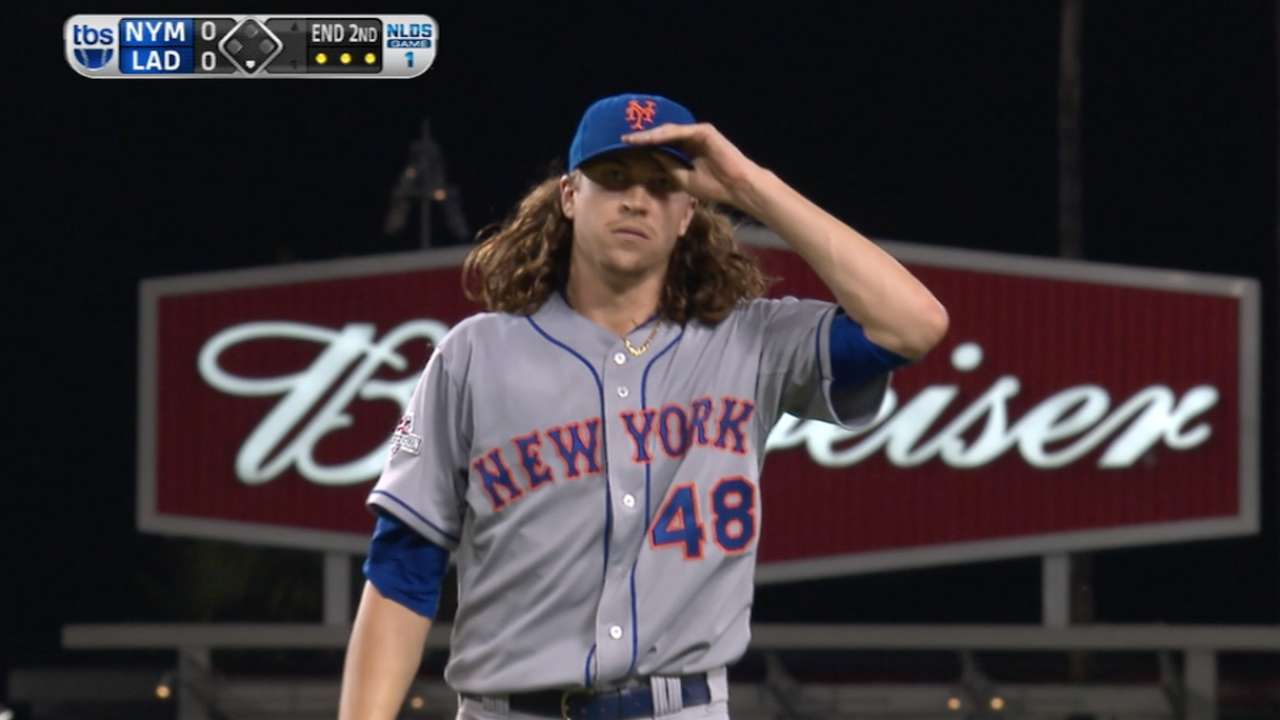 LOS ANGELES -- Things might have been different this time a year ago, Jacob deGrom admitted, after he stopped giggling in his postgame news conference. deGrom might have felt more tightly-wound, just a tick less sure of himself. Maybe he would have won regardless, but probably not like this.
In out-pitching Clayton Kershaw, upending the Dodgers and inverting home-field advantage during the Mets' 3-1 win Friday in Game 1 of the National League Division Series, deGrom did not merely justify his place on a list of the game's top pitchers. He cemented it, stamped it, left no shred of doubt. For seven innings, deGrom dominated, plastering zeros on the scoreboard and matching Tom Seaver's franchise record for strikeouts in a postseason game.
• Shop for Mets postseason gear
"He had a special night," Mets outfielder Michael Cuddyer said. "He could do whatever he wanted to."
And with style points, and with aplomb, topping his better-known opponent's every move. After Kershaw struck out a pair in the first inning, deGrom whiffed three. When Kershaw repeated the trick an inning later, deGrom did the same. After Kershaw cracked for a run in the fourth, deGrom wriggled out of trouble to maintain the lead.
By the fifth, manager Terry Collins suspected something special was in the works, watching from the dugout as deGrom set down the final 11 batters he faced. Five of those came via strikeout, giving deGrom 13 to match Seaver's record from Game 1 of the 1973 NL Championship Series. deGrom and Kershaw combined for the second-most whiffs by opposing starters in postseason history, coming within one of Kevin Brown and Randy Johnson in Game 1 of the NLDS in 1998.
"I think before the game I was pretty nervous sitting in the locker room," said deGrom, who allowed just five hits and no unintentional walks in his first career postseason game, throwing a season-high 121 pitches that may preclude him from coming back on short rest in a potential Game 4. "But once I got out there warming up, I kind of settled down. I think it really went away after the first pitch I threw."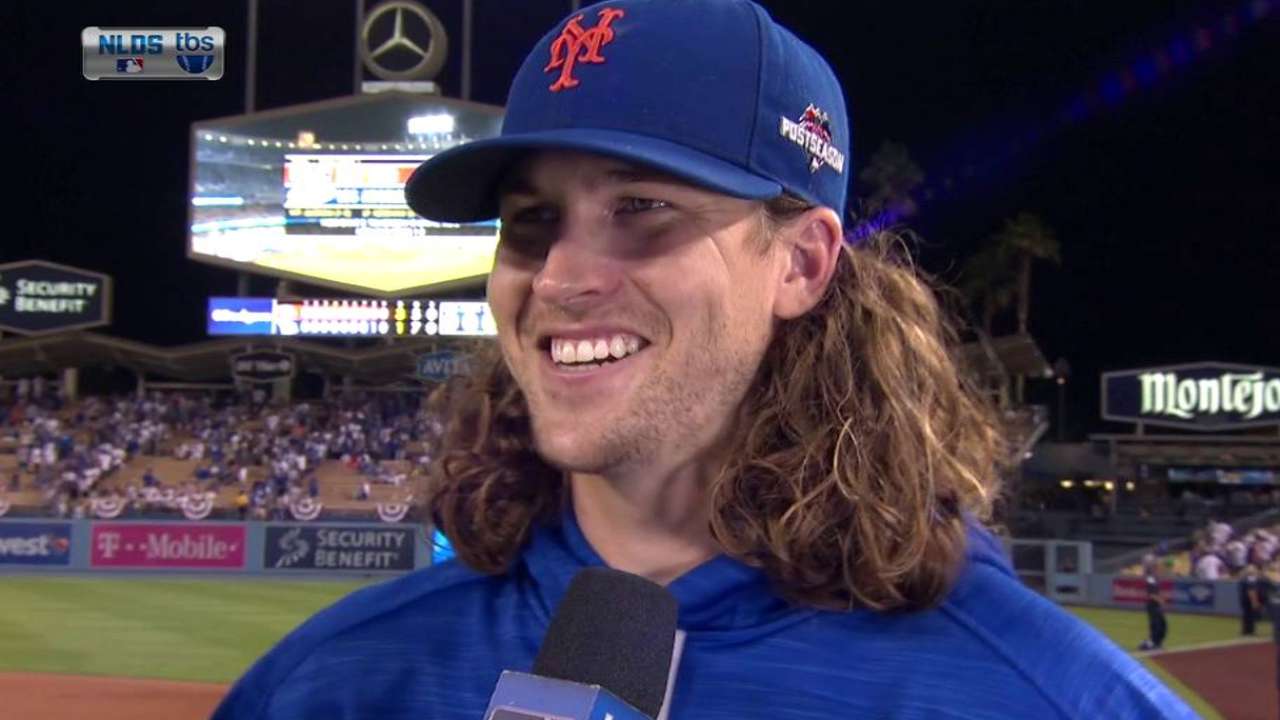 By game's end, deGrom was loose as can be, laughing uncontrollably during his postgame news conference after using a lever to lower teammate Daniel Murphy's chair to the floor.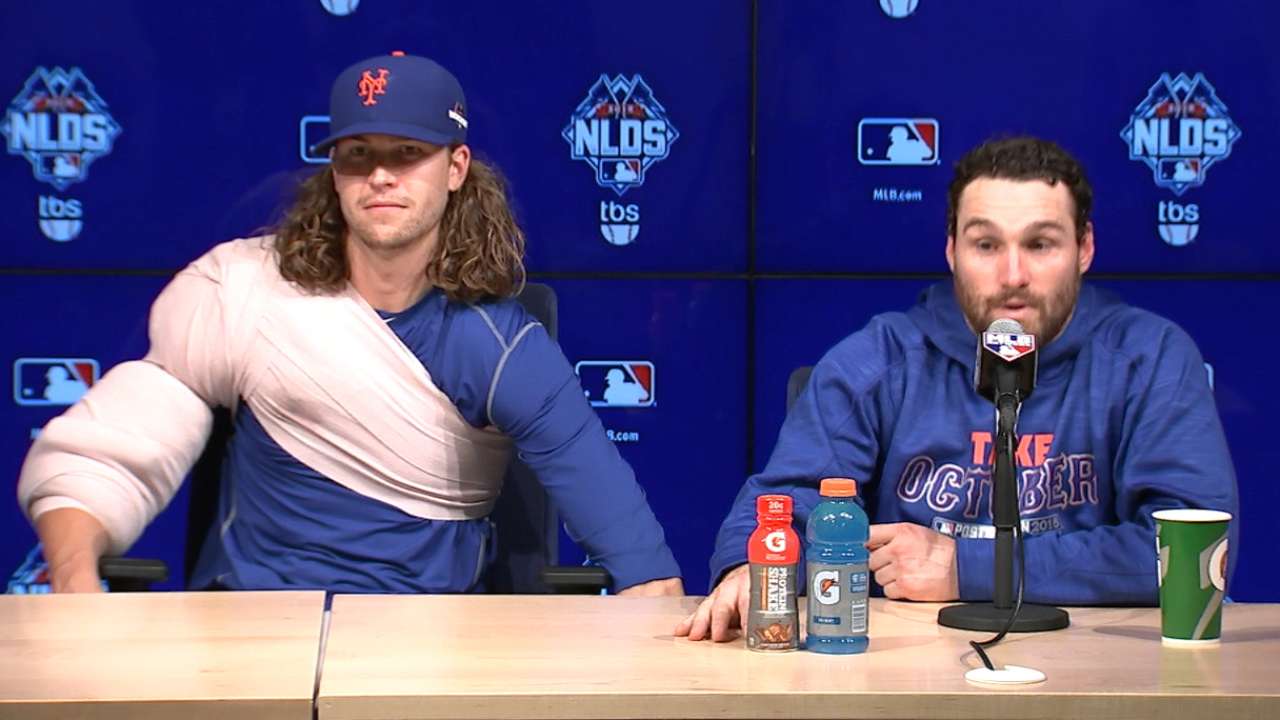 Though Dodgers manager Don Mattingly classified deGrom's outing as "just a lot of velocity," the NL's reigning Rookie of the Year relied increasingly on his offspeed pitches late in the night. Four of deGrom's final nine strikeouts came on changeups, another three on breaking balls.
"It's hard to stay one-dimensional against their lineup," catcher Travis d'Arnaud said. "We had to mix it in, mix it out, mix it up, mix it down, mix in all his offspeed pitches."
In doing so, deGrom etched his name on the short list of top Mets postseason performances. Before the game, Collins admitted that in a perfect world, the Mets would have loved to have started Matt Harvey in Game 1. Brash and bombastic, he fits the Hollywood-approved mold of an ace. But given Harvey's innings restrictions, the Mets never had to make that decision. Collins told deGrom with weeks left in the season that he would be the Game 1 starter.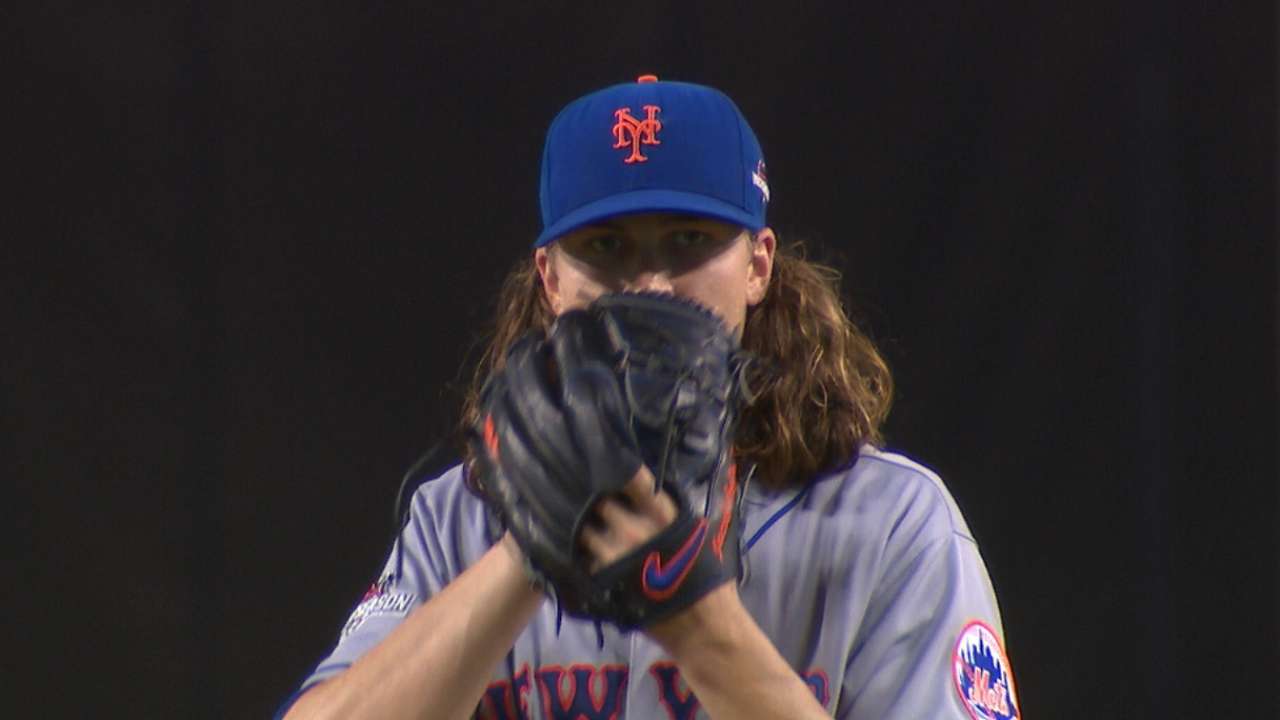 His stats justified it: For much of the year, deGrom ranked right alongside Kershaw and Dodgers Game 2 starter Zack Greinke in the NL Cy Young Award race. Appearing in his first All-Star Game in July, deGrom imprinted himself into the national consciousness with a dominant, triple-strikeout performance. That his second half was duller than his first served only to float him back into relative anonymity; heading into October, Dodger Stadium was abuzz with talk of Kershaw and Greinke, not deGrom and Mets Game 2 starter Noah Syndergaard.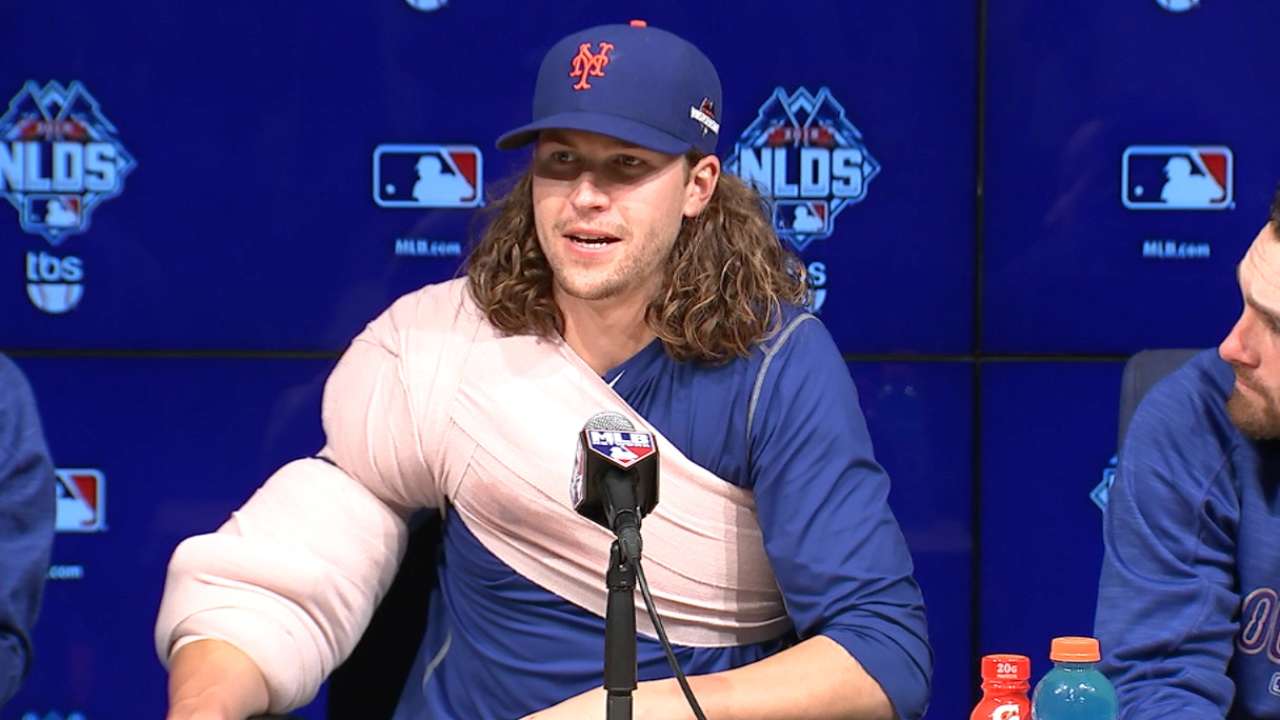 But no longer. Not now, with deGrom registering an October performance more eye-popping than anything on Kershaw's resume.
"The moment's not too big for him," Cuddyer said. "He doesn't get caught up in storylines. He doesn't get caught up in who he's facing. He knows his job is out there on the mound."
Anthony DiComo is a reporter for MLB.com. Follow him on Twitter @AnthonyDiComo and Facebook, and listen to his podcast. This story was not subject to the approval of Major League Baseball or its clubs.