Dodgers make deGrom work, but can't cash in
Despite deep counts, Los Angeles batters stymied by Mets starter in Game 1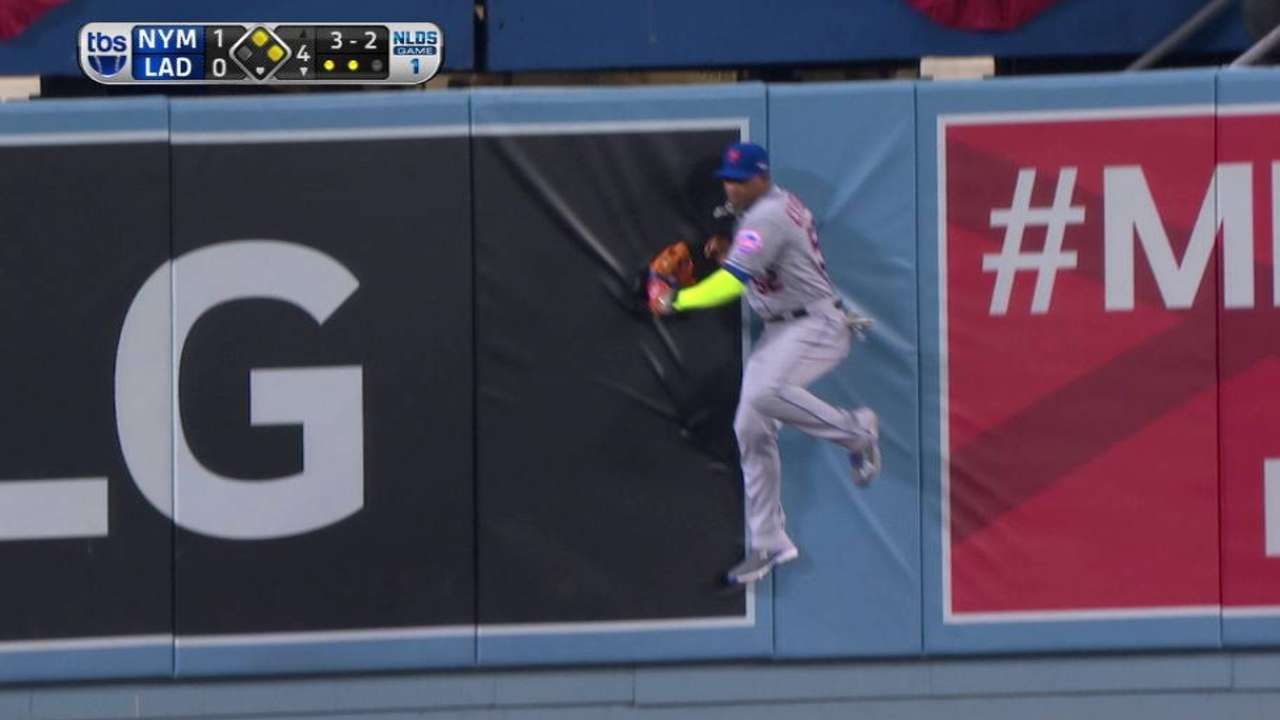 LOS ANGELES -- The Los Angeles Dodgers' struggles to hit with men on base in Friday's opener of their National League Division Series against the New York Mets guaranteed that a low-scoring game, which was widely anticipated, would indeed occur.
That might be an unfair assessment of New York's 3-1 victory, given the overpowering excellence of Mets starter Jacob deGrom. But the outcome might have been different had the Dodgers, who outhit New York, 7-5, converted just one of their several early scoring opportunities.
The Dodgers went 1-for-8 with runners in scoring position, including 0-for-6 off deGrom. Yet they actually executed their intended strategy against the mop-haired right-hander by frequently working deep counts. deGrom threw 45 pitches in the first two innings, a dangerously high rate. However, instead of forcing deGrom to weaken by throwing ball four or something hittable, the Dodgers set themselves up for strikeouts, enabling deGrom to reach his historic total of 13.
"We got to deep counts," Dodgers first baseman Adrian Gonzalez said. "But we weren't able to do much after that."
• Shop for Dodgers postseason gear
Said Dodgers manager Don Mattingly, "I thought we did a pretty good job with him of not chasing the changeup or the breaking ball down, but with that you end up chasing some elevated fastballs, and I think he beat us with that a little bit."
deGrom treated the Dodgers' initial scoring bid as if it were a minor nuisance. Justin Turner lined a second-inning leadoff double off left fielder Michael Cuddyer's glove. deGrom responded by striking out Andre Ethier and A.J. Ellis. Then, after intentionally walking Joc Pederson, deGrom fanned Clayton Kershaw.
Turner's liner appeared catchable, leaving the impression that the Dodgers squandered a gift opportunity. But, as Ellis said, "You've an ace [deGrom] out there on the mound making big pitches. You can't take it for granted just because you catch a break."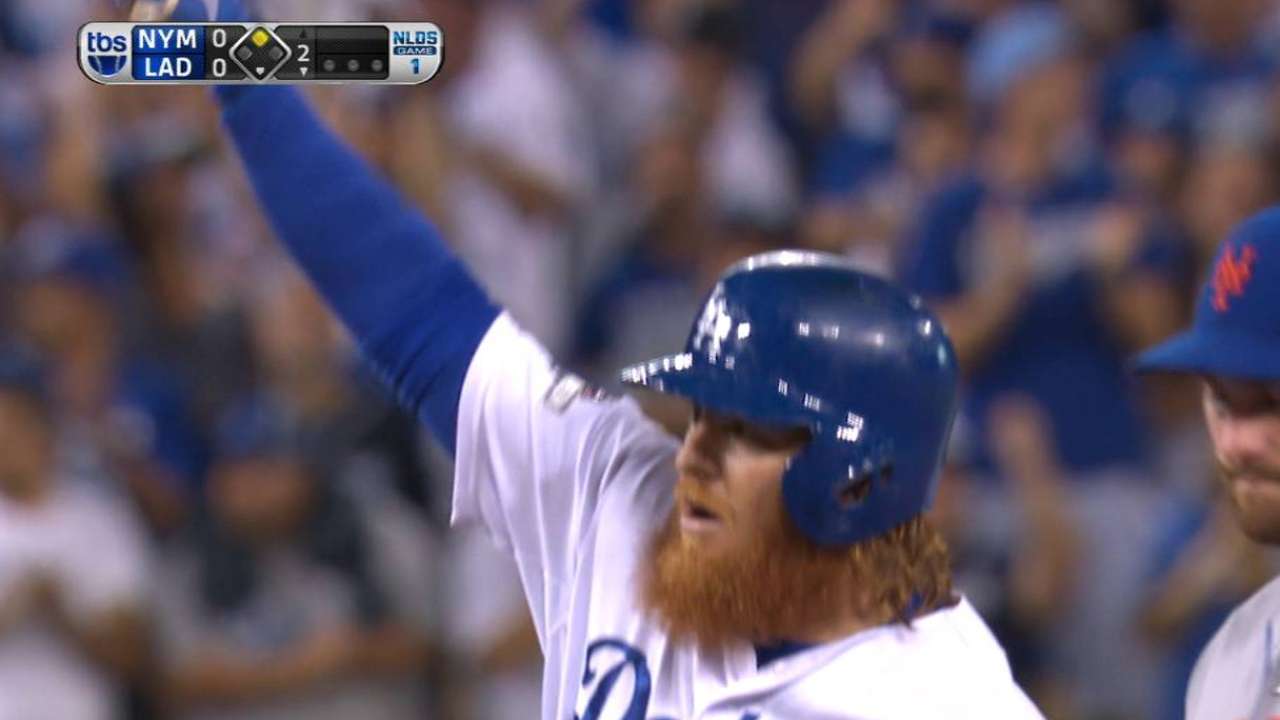 The Dodgers continued to pressure deGrom. Corey Seager bounced an opposite-field, ground-rule double to left with two outs in the third inning before deGrom struck out Gonzalez on a 3-2 pitch. Turner singled to begin the fourth and, one out later, so did Ellis, who matched a franchise record by lengthening his postseason hitting streak to 11 games. deGrom had a narrow escape as Kershaw ended the inning by hoisting another full-count delivery to the left-center-field warning track. There, Yoenis Cespedes hauled in the ball, which was one of Los Angeles' most promising-looking drives of the evening.
"[Cespedes] was playing really shallow, so I thought I might have a chance there," Kershaw said. "But he made it look pretty easy. He went back on it really well. I didn't think it was going to go out, but I thought I might have gotten the double."
Chris Haft is a reporter for MLB.com. This story was not subject to the approval of Major League Baseball or its clubs.