Collins opts for reliable Familia for 4-out save
Mets closer comes through in first postseason appearance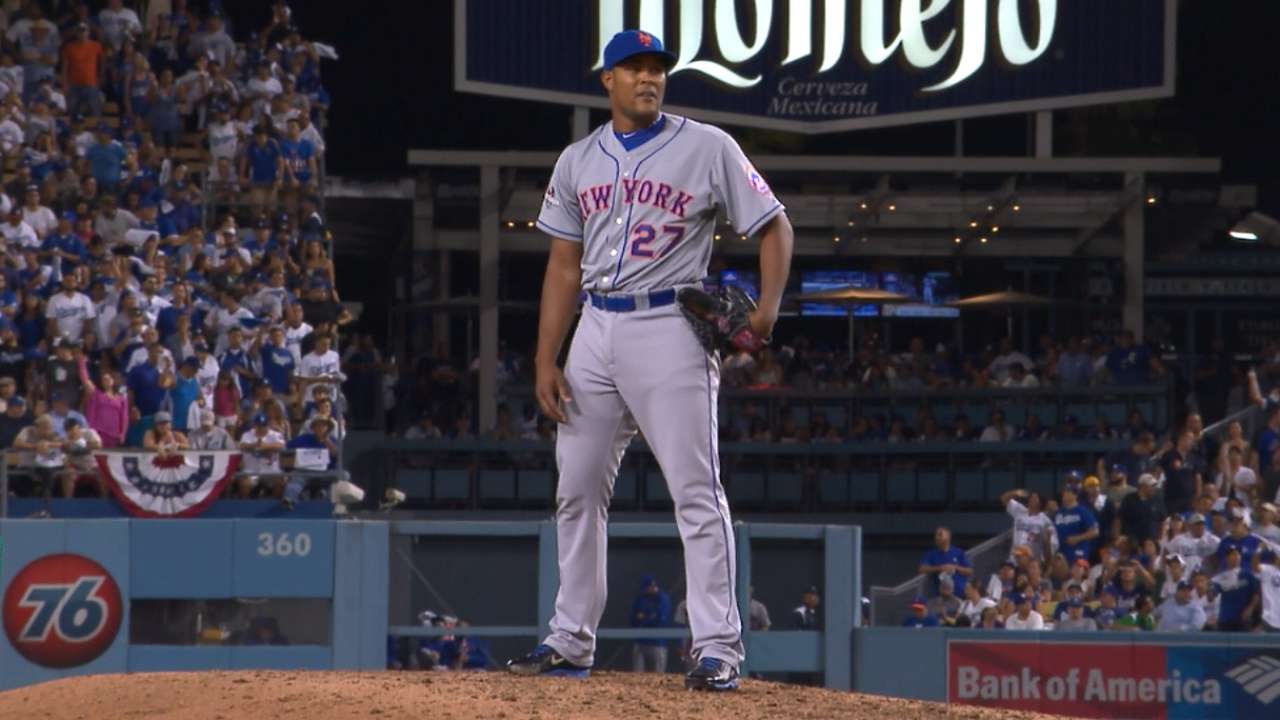 LOS ANGELES -- After watching Jacob deGrom deliver a gem and David Wright provide some comfort with the latest of his clutch hits, Mets manager Terry Collins had no desire to see it all go to waste Friday night at Dodger Stadium.
Thus, with two outs in the eighth inning, he quickly popped out of the first-base dugout and signaled for his dependable closer Jeurys Familia, who notched the final four outs of the Mets' 3-1 win over the Dodgers in Game 1 of the National League Division Series.
• Shop for Mets postseason gear
"You always want to win Game 1, especially in a short series," Mets left fielder Michael Cuddyer said. "Game 1 is important. We won it. It's over. Now we've got to look forward to tomorrow."
Once Adrian Gonzalez cut the Dodgers' deficit to two runs with a two-out single in the eighth inning, Collins lifted Tyler Clippard in favor of Familia, who retired each of the four batters he faced to become the first Mets reliever to notch at least a four-out save in the postseason since Jesse Orosco retired the last six batters in Game 7 of the 1986 World Series.
Familia notched this first career postseason save just a couple hours before the clock struck midnight and he turned 26. This early birthday present was not necessarily a new experience for the first-year closer, who worked more than one inning while notching five of his 43 saves this season.
"We have been able to depend on him all season," Mets catcher Travis d'Arnaud said. "You've always got a good feeling when he is out there on the mound."
Mark Bowman is a reporter for MLB.com. This story was not subject to the approval of Major League Baseball or its clubs.