No support sends Kershaw to hard-luck loss
Lefty fans 11, charged with three runs as postseason losing skid extends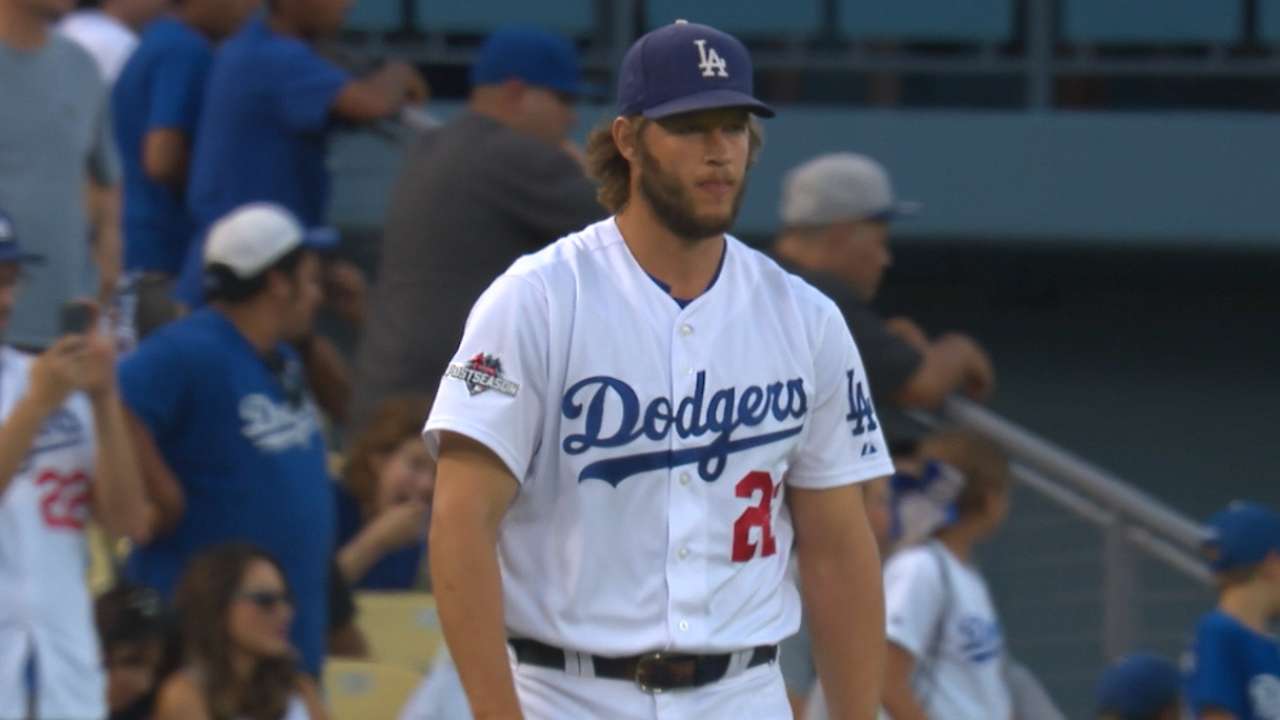 LOS ANGELES -- When Clayton Kershaw is asked after Game 1 of a postseason series about coming back to pitch Game 4 on short rest, it's been a bad night for the Dodgers.
Kershaw struck out 11, had all of his pitches working and still was answering questions after another October loss Friday night, 3-1 to the Mets, in the opener of the National League Division Series at Dodger Stadium.
His teammates didn't score during his 6 2/3 innings, striking out 13 times against flame-throwing Jacob deGrom and leaving Kershaw no margin for mistake. He allowed a solo home run to Daniel Murphy in the fourth inning, walked the bases loaded in the seventh to force his departure and watched two of those runners score on David Wright's two-run single off Pedro Baez.
"I got outpitched, basically that's the moral of the story," said Kershaw. "Jacob pitched an amazing game. We battled him, got his pitch count up there, but he outpitched me, plain and simple."
• deGrom-Kershaw duel exceeds hype
All four hits Kershaw allowed were to left-handed hitters.
"Lefties had a good approach," he said. "I felt a little more comfortable against righties tonight. I don't face that many lefties usually. Basically, tip your cap to them, that's the best thing to do."
• Shop for Dodgers postseason gear
So Kershaw is 1-6 in the postseason with a club-record five-game postseason losing streak, even if he pitched well enough in this game to win with some run support. But a Dodgers lineup that included rookies Corey Seager batting third and Joc Pederson (1-for-7 combined) couldn't solve deGrom, even when left fielder Michael Cuddyer got lost on a pair of catchable fly balls that went for doubles.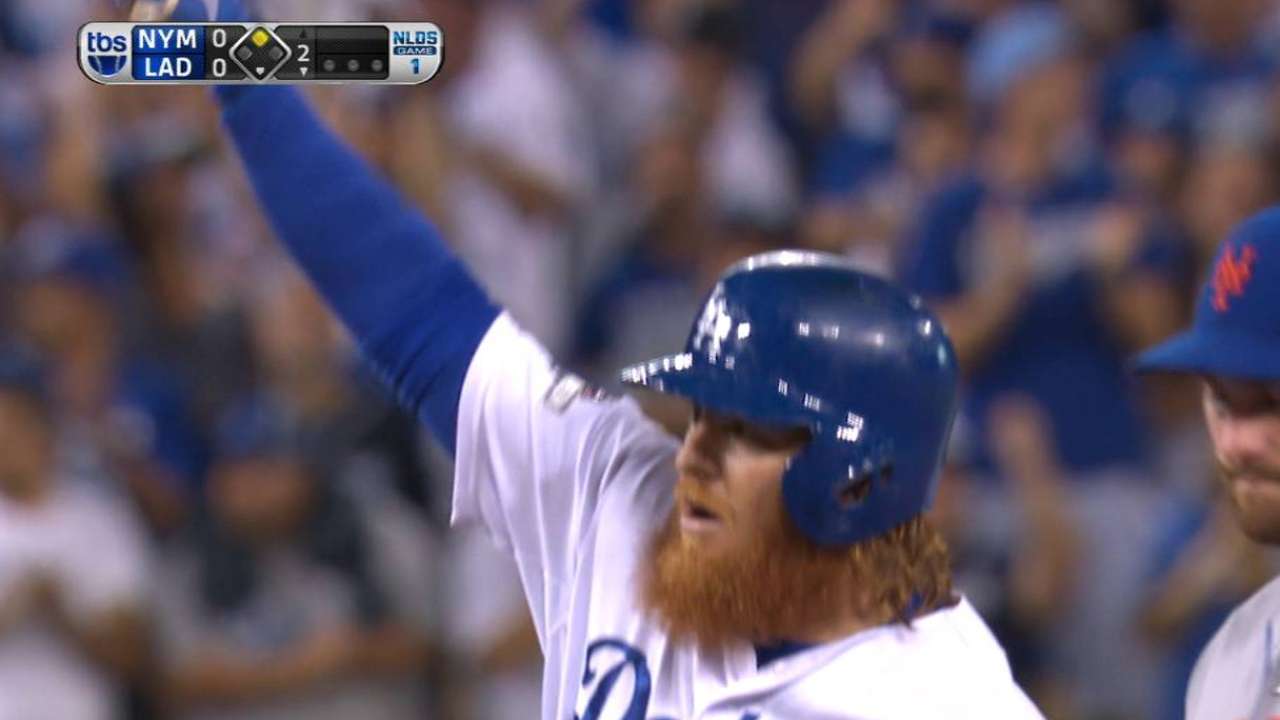 "We'll find out," Kershaw said when asked if he could return on short rest after throwing 113 pitches. "Hopefully, we'll push to four or five games, absolutely."
Kershaw returned on short rest in the 2013 NLDS after throwing 124 pitches and in the 2014 NLDS after throwing 110 pitches.
"We've been in this spot before," said catcher A.J. Ellis. "Zack [Greinke, Saturday night's starter] came back and tied things up last year. All we can do is focus on that and get to New York even."
The seventh inning for Kershaw proved decisive, as it did twice last year in the postseason against the Cardinals. This time he walked Lucas Duda leading off, Ruben Tejada with one out and Curtis Granderson with two outs to bring up Wright.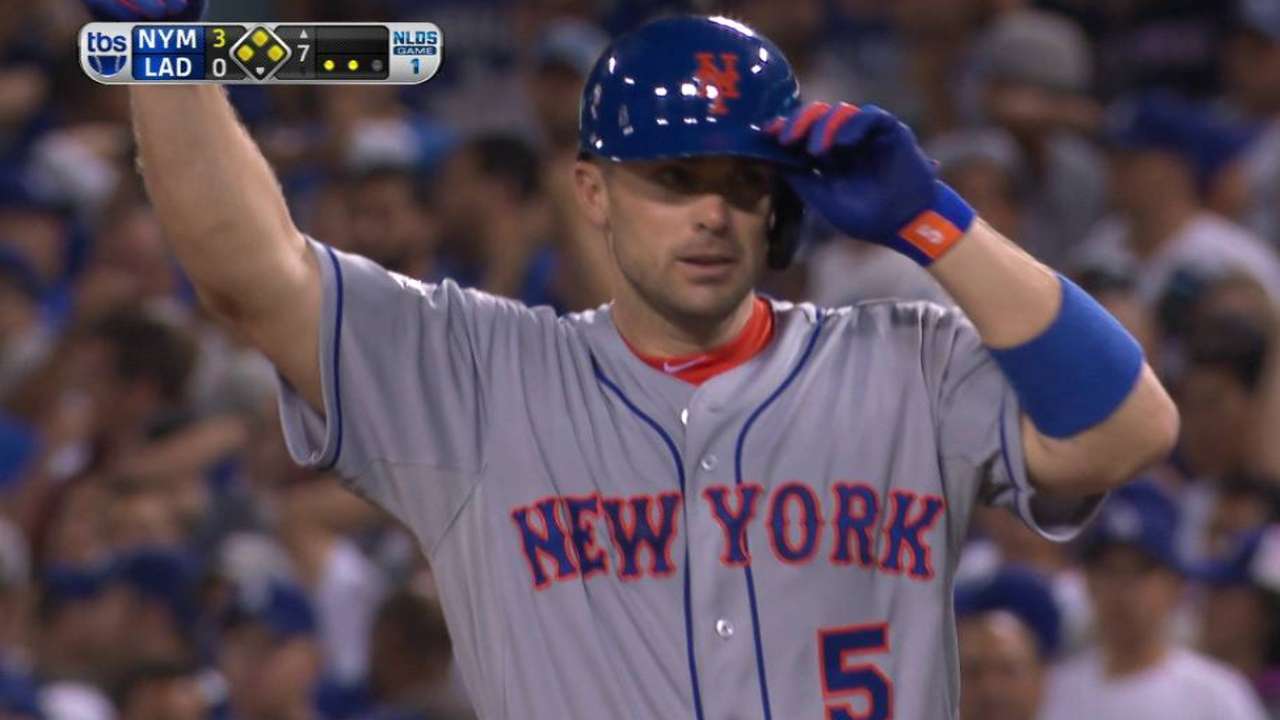 "They put good at-bats up that inning," said Ellis. "Duda did a good job making him bring the ball up, laying off some tough pitches. Tejada had a good at-bat after being down, 0-1, and we didn't put him away, so give him credit. Granderson makes you throw the ball over the plate. He did a really good job laying off a tough 3-2 pitch. That inning steamrolled and Wright cashed it in. That was the separator."
Mattingly defended turning over a one-run game to a Baez vs. Wright matchup because of Baez's triple-digit velocity. They had never faced each other previously and Baez had allowed only 15 of 40 inherited runners to score this year.
Wright had a 12-pitch walk and two strikeouts against Kershaw, who said he couldn't argue being lifted after issuing the three walks.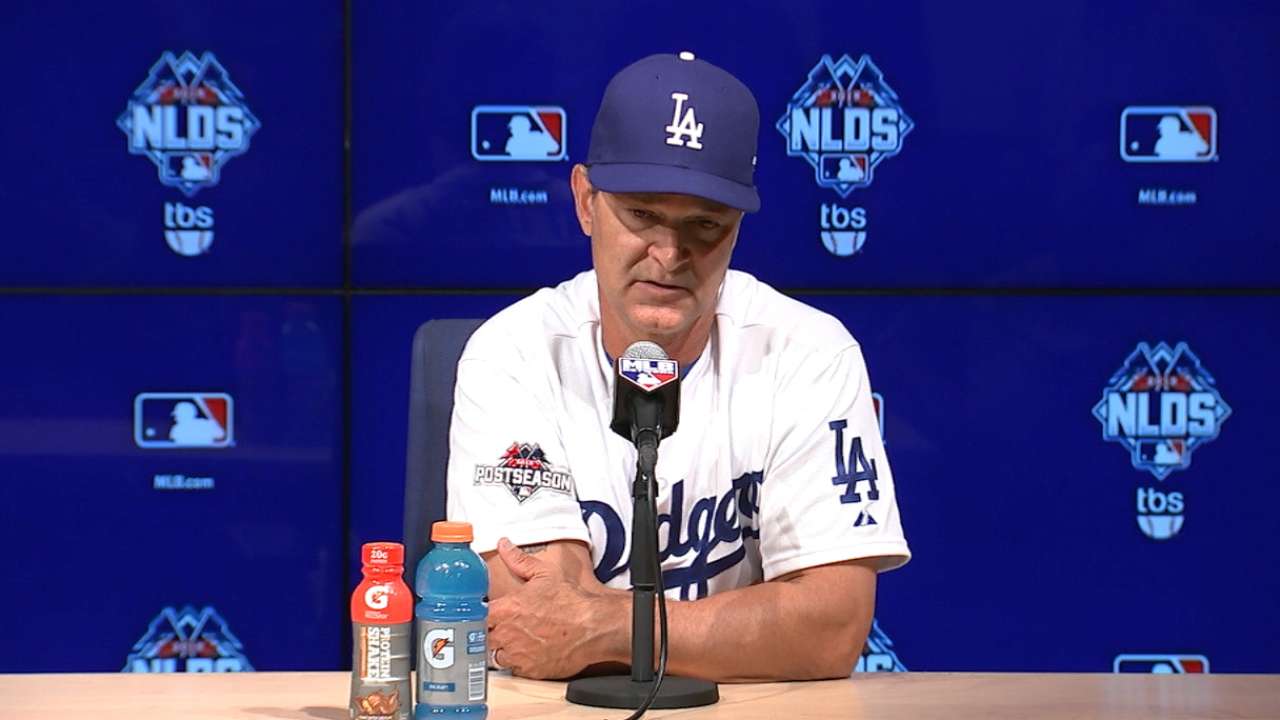 "Going into that inning we kind of looked at what his pitch count was, and kind of thought through Granderson, if we got back to Wright, the fourth time through, David pumps on lefties pretty good," said Mattingly. "Felt like that was going to be a spot if we got to that point, thought we were going to make a move there."
Wright, who worked Kershaw for a 12-pitch walk in the first inning, jumped ahead in the count, 2-0, before lining a 99 mph 3-2 pitch to center field.
"Baez did a good job driving that ball in there," said Ellis. "We were kind of in a box there. He got back in the count to make it 3-2, but David stayed through the ball up the middle. I like that Petey was aggressive."
Ken Gurnick is a reporter for MLB.com. This story was not subject to the approval of Major League Baseball or its clubs.