Cards cool Cubs, Mets deFeat LA; Game 2's at 5:30, 9 ET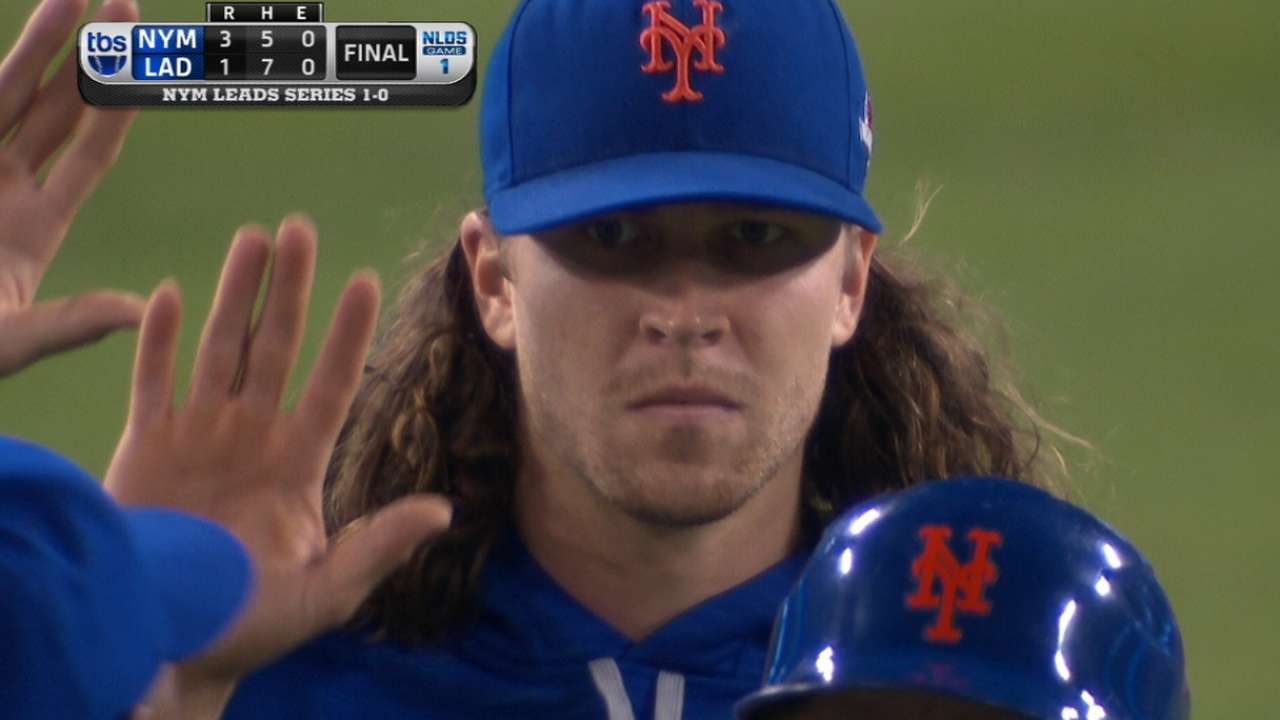 It took four days, but a road team finally lost a postseason game, and that was just one of the many compelling storylines on Friday, an intense day of Division Series action that featured all eight remaining playoff teams.
For the first time since 1906, road teams won the first five games of the postseason, and that fifth straight road victory belonged to the Rangers, who began the day with a 6-4 win in a 14-inning marathon against the Blue Jays at Rogers Centre. Texas now returns to Arlington needing just one win to advance to the American League Championship Series for the first time since 2011.
"We have put ourselves in a perfect position, but we have to stay on top of them," Rangers reliever Shawn Tolleson said. "We can't let up. There is no time for that."
The Royals became the first home team to win, narrowly beating the Astros at Kauffman Stadium to even the series at 1-1. Kansas City overcame an early 3-0 deficit, steadily pushing runs across for an eventual 5-4 victory.
And those two ALDS games served as the perfect appetizer for a Friday night of National League Division Series drama that saw two epic matchups decided in the late innings, with Game 2 of both NL series on tap for later today on TBS.
In St. Louis, one of the longest rivalries in sports was on display as the Cardinals and Cubs met for the first time ever in the playoffs. John Lackey outdueled former Red Sox teammate Jon Lester, pitching 7 1/3 scoreless innings. Lackey didn't allow a hit until the sixth as the Cardinals shut out Chicago 4-0.
The full day of playoff baseball concluded with yet another road team on top. The Mets beat Clayton Kershaw and the Dodgers in the NLDS opener, 3-1. Both Kershaw and New York's Jacob deGrom reached double-digit strikeout totals, making it the first game in Major League postseason history in which each starter fanned at least 11 batters.
Whatever your weekend plans may be, don't stray far from a TV, because today promises another day of thrilling playoff drama. Here's a look at what's on the docket:
Cubs at Cardinals, Game 2, 5:30 p.m. ET (TBS)
Kyle Hendricks (8-7, 3.95 ERA) vs. Jaime Garcia (10-6, 2.43 ERA)
The Cubs will take another crack at solving the Cardinals' pitching, this time with southpaw Garcia on the mound for St. Louis. Garcia has been tough at Busch Stadium this year, posting a 1.70 ERA in 10 home starts compared with a 3.25 mark in 10 road tilts. For Chicago, Hendricks gets the start. He ended the regular season on a high note, tossing 12 consecutive shutout innings. Hendricks has a 3.97 ERA in four career starts against St. Louis.
With Friday's victory, history is now on the Cardinals' side. The winner of Game 1 in the Division Series round has advanced 58 of 70 times.
"It's a race, it's not a sprint," Cubs rookie Kyle Schwarber said. "The Pittsburgh [Wild Card Game] was a sprint. This is a nice little jog that we need to pace ourselves. If we go out there and win the next game, we put ourselves in a pretty good situation and go back home to our crowd. We're not too worried. We are frustrated that we lost, but it happens."
Mets at Dodgers, Game 2, 9 p.m. ET (TBS)
Noah Syndergaard (9-7, 3.24 ERA) vs. Zack Greinke (19-3, 1.66 ERA)
The Mets will try to continue to road team trend and go up 2-0 on the Dodgers at Chavez Ravine. They'll have to do so against yet another formidable Los Angeles starter in Greinke. A Cy Young candidate, Greinke has been at the top of his game all year, winning a career-best 19 games and posting a 1.66 ERA. New York will counter with rookie hurler Syndergaard, who will be making his postseason debut. Syndergaard faced the Dodgers once this season, and he limited them to just one run in six innings.
"This is a game that's all about confidence," Mets manager Terry Collins said. "It's all about believing in yourself and knowing that even if things aren't good that you can still succeed. ... This is a good start for a team that hadn't been in the postseason for a long time."
Chad Thornburg is a reporter for MLB.com. This story was not subject to the approval of Major League Baseball or its clubs.