Mets overcome Cuddyer's adventures in left
Veteran misplays pair of fly balls, goes hitless
LOS ANGELES -- Heading into the National League Division Series, with the Mets facing a slew of Dodgers left-handed pitchers, Michael Conforto looked like he might start only one game, Game 2 against Zack Greinke.
After New York's 3-1 win in Game 1 at Dodger Stadium on Friday, the door might have cracked open for the rookie left fielder, a left-handed hitter who normally only starts against righties, to get a look at additional playing time.
Against Dodgers left-handed ace Clayton Kershaw, veteran Michael Cuddyer, a righty bat, got the start over Conforto in left field. But the 36-year-old's shaky defense put two Dodgers baserunners into scoring position in the early innings, although neither scored thanks to starter Jacob deGrom's stellar performance.
• Shop for Mets postseason gear
Cuddyer misjudged a line drive over his head from former Met Justin Turner in the second inning, freezing as Turner's hit left the bat. He couldn't recover in time, and the ball glanced off his glove for what was scored a double. An inning later, Cuddyer couldn't chase down Corey Seager's fly ball into the left-field corner, which bounced over the fence for a ground-rule double.
"The ball was flying the first couple of innings, and I misread both of them," Cuddyer said. "But fortunately for me, fortunately for our team, Jake was dominant. He didn't let it affect him and he went out there and took care of me."
The Mets removed Cuddyer for defensive purposes in the seventh inning, after they took a 3-0 lead on David Wright's two-out, bases-loaded single. Juan Lagares entered the game in center field, with Yoenis Cespedes shifting to left.
At the plate, Cuddyer went 0-for-3 with a strikeout against Kershaw and left a pair of runners on base. He also hit only .179 in 18 games since Sept. 1.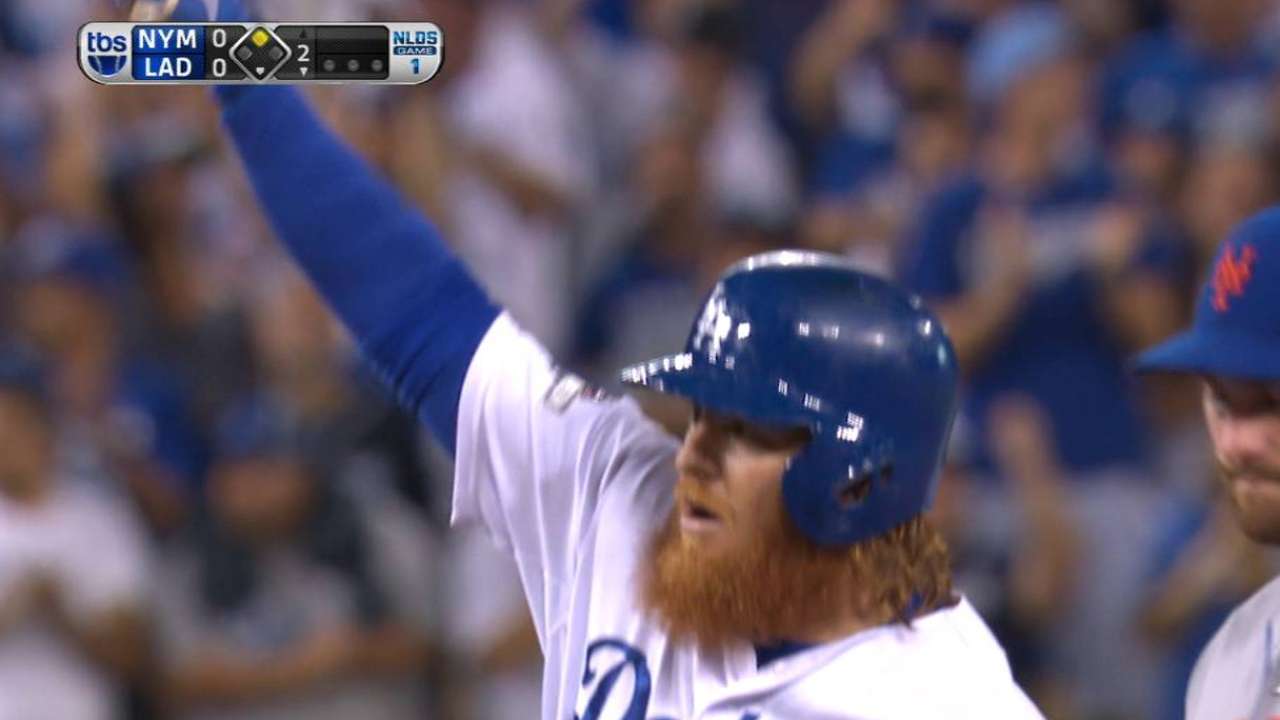 Conforto hit .270 with nine home runs and 26 RBIs in 174 at-bats after being called up in late July. He went 3-for-14 against left-handed pitching; his only start was in his big league debut on July 24 against the Dodgers, when Cuddyer went on the disabled list.
Before Friday's NLDS opener, Mets manager Terry Collins reiterated that he expects the 22-year-old Conforto to be an everyday player in the future.
"This kid's going to be an everyday, outstanding-hitting outfielder with power," Collins said, adding that he wants to get Conforto into the Mets' postseason games whenever the opportunity arises.
It's possible, now, especially if Conforto plays well in Game 2 on Saturday, that he might get in more than was initially expected.
David Adler is an associate reporter for MLB.com. This story was not subject to the approval of Major League Baseball or its clubs.