MLB.com Columnist
Lyle Spencer
deGrom-Kershaw duel exceeds hype
Each starter records double-digit strikeouts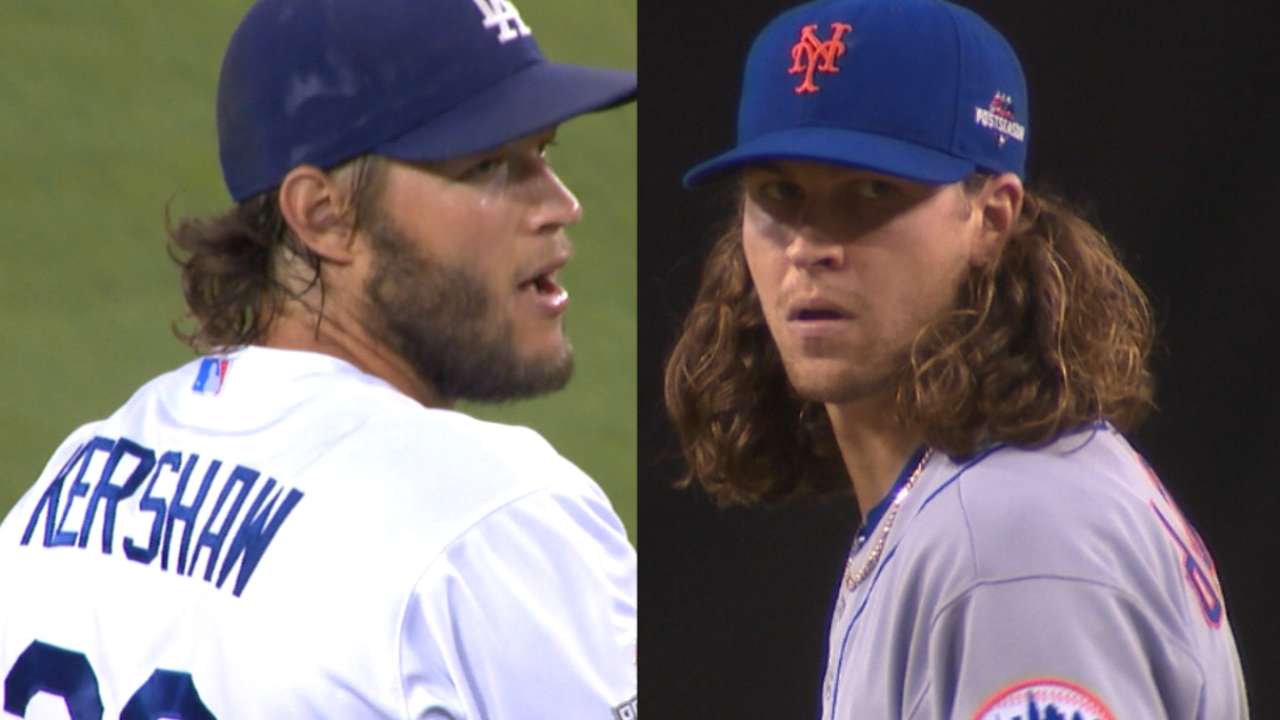 LOS ANGELES -- With Sandy Koufax in attendance, Clayton Kershaw and Jacob deGrom delivered a performance on Friday night worthy of the Brooklyn native and greatest living Dodger.
Kershaw was dominant with 11 strikeouts across 6 2/3 innings, but deGrom -- pick No. 272 overall by the Mets in the ninth round of the 2010 Draft -- was better. Stetson University grads should be proud of their fellow alum, deGrom.
The Mets' slender right-hander with the overpowering fastball tied Tom Seaver's postseason franchise record with 13 strikeouts in a 3-1 victory in Game 1 of the National League Division Series. It will be in Zack Greinke's hands to get the Dodgers even tonight when he faces Noah Syndergaard at 9:30 ET/6:30 PT on TBS
• Shop for postseason gear: Mets | Dodgers
A capacity crowd numbering 54,428 watched Kershaw and deGrom stage an old-fashioned gunslinger's duel through six innings, each racking up 11 punchouts -- a first in postseason history. Two whiffs in the seventh brought deGrom to 13.
Daniel Murphy's fourth-inning home run into the Mets' bullpen was the only run before Kershaw lost precise command of his high-octane stuff in the seventh.
Three walks -- the third, to Curtis Granderson, inches off the plate -- ended Kershaw's night with two down. In came flamethrower Pedro Baez to face David Wright, who slammed a fastball to center for a single and two runs, charged to the great lefty.
"I got outpitched," Kershaw said, flatly. "That's the moral of the story. Jake pitched an amazing game. We battled and got deep in some counts, got his pitch count up there, but he outpitched me. Plain and simple."
The difference was control -- and damage control. While deGrom's only walk was intentional, Kershaw issued four passes. Two of the recipients, Lucas Duda and Ruben Tejada in the seventh, found their way home.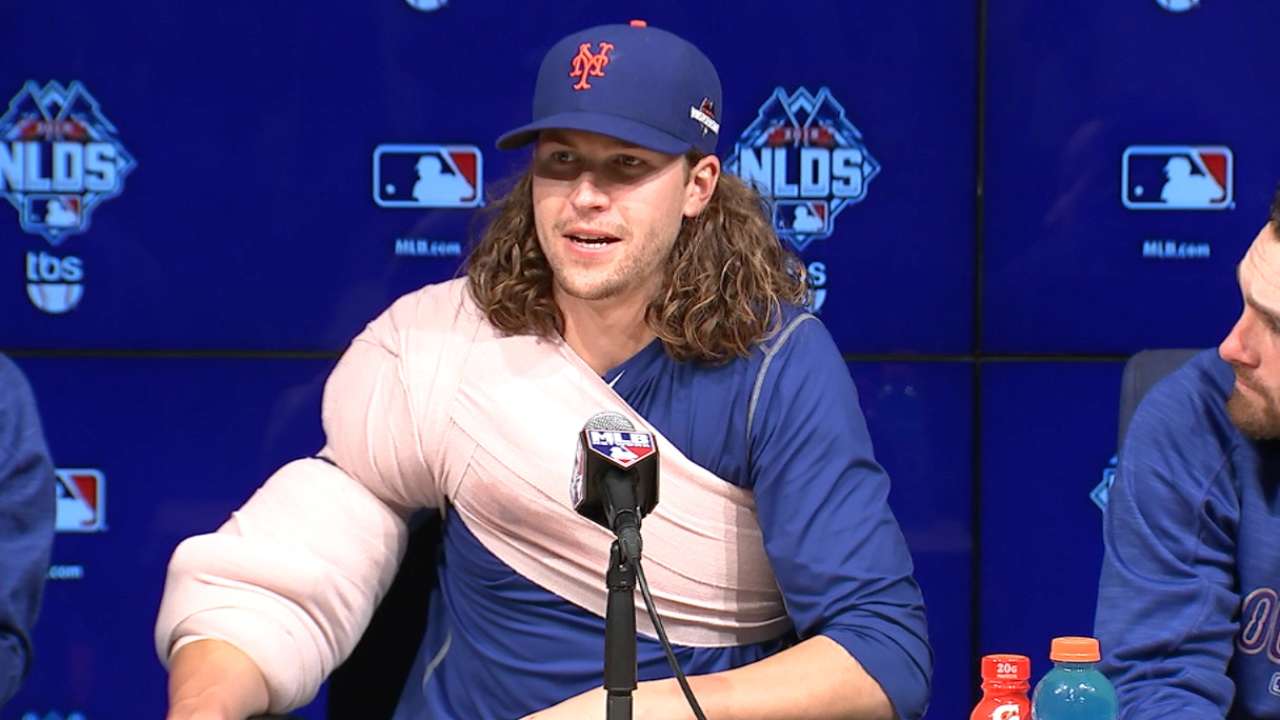 The Cardinals in past Octobers have made Kershaw look very mortal. He's 1-6 in postseason play and at times has lost his way. But this wasn't one of those times.
He left with two outs and a one-run deficit in the seventh. For six innings, apart from the one fastball Murphy lifted, he was vintage Kershaw.
"Nobody stood up and cheered," Mets manager Terry Collins said when asked about his team's reaction to Kershaw's departure and Baez's entry. "But it's nice to see him walk off the field. There were a lot of great cheers when David got the hit up the middle."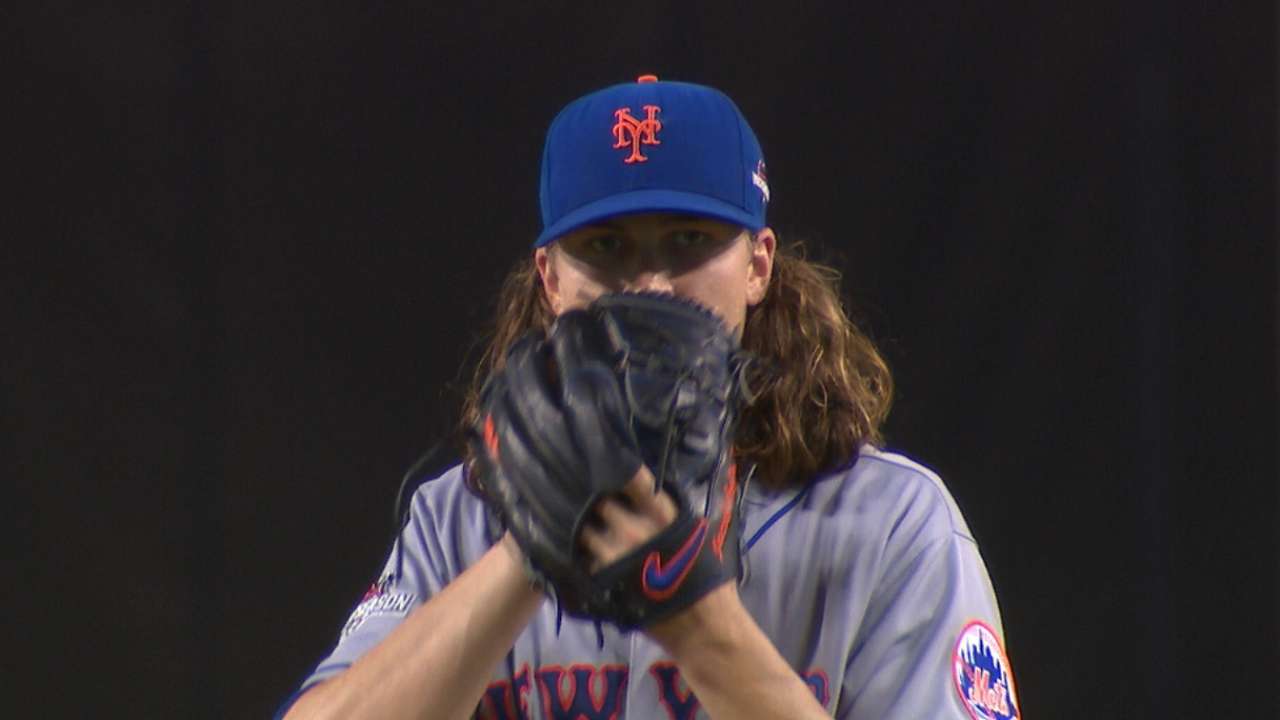 Collins, who doesn't hide his admiration of Kershaw, is watching his guy, deGrom, evolve into that kind of elite pitcher. This was his biggest step yet in the process.
"It's all about believing in yourself," Collins said, "and knowing that even if things aren't good that you can still succeed. To have him go out there against Clayton tonight and win the game is a huge lift for us. This was a big start for a team that hasn't been in the postseason for a long time."
Downplaying the showdown, deGrom said he "tried not to get caught up in it too much." His focus, he added, was on mixing his pitches and getting ahead in counts. Mission accomplished.
Having stolen home-field advantage, the Mets know they can win the series by taking care of business at Citi Field in Games 3 and 4, if it is required, on Monday and Tuesday.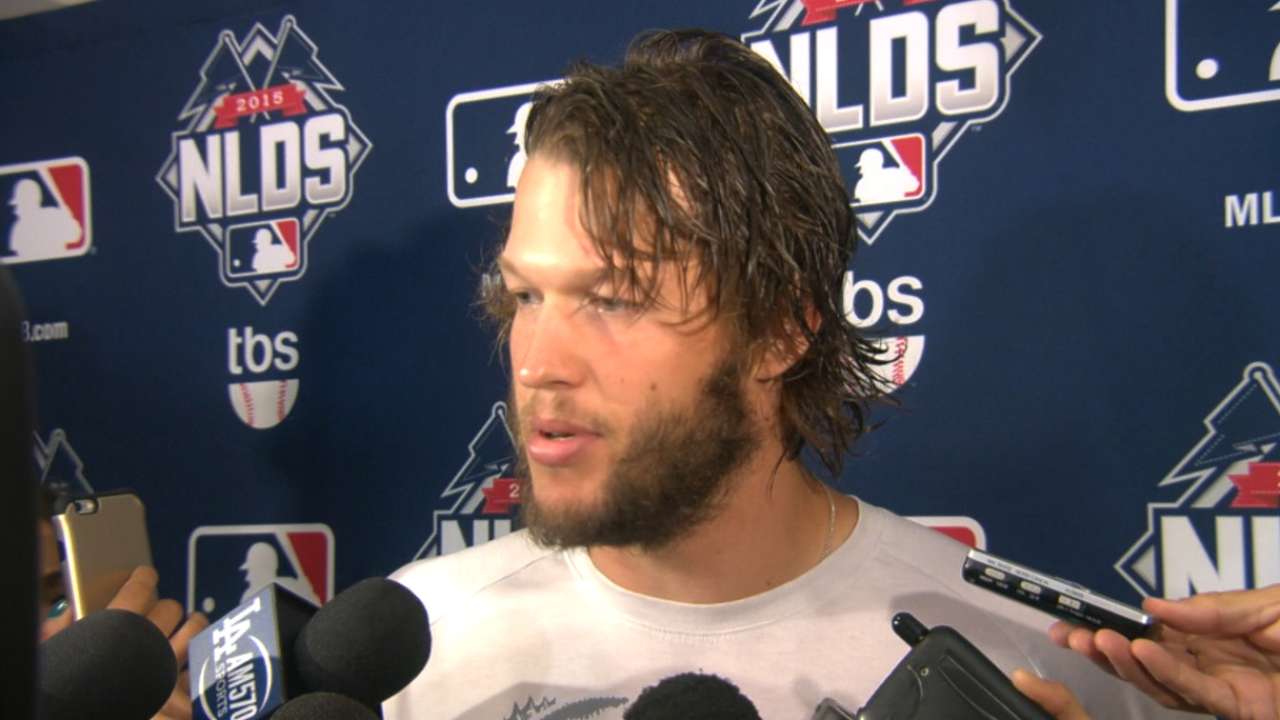 This edge should allow Collins' troupe to play with freedom engaging Greinke as the Dodgers face Syndergaard, a rocket-launcher in the mold of deGrom.
deGrom's 121 pitches were more than Collins would have liked, but deGrom maintained his 96-98 mph fastball throughout.
"He had an electric fastball, for sure," said Dodgers catcher A.J. Ellis, who extended his postseason hitting streak to a franchise-record-tying 11 games with a single. "The adrenaline was definitely flowing. We got some guys out there [on base], and deGrom was phenomenal."
The Dodgers left runners in scoring position in the second, third and fourth innings.
After Justin Turner's leadoff double fooled left fielder Michael Cuddyer for a leadoff double in the second, deGrom struck out Andre Ethier, Ellis and Kershaw. In the third, rookie Corey Seager lofted a ground-rule double to left, but deGrom snuffed Adrian Gonzalez, the Dodgers' most dangerous hitter, on strikes.
Following singles by Turner and Ellis in the fourth, Kershaw launched a two-out drive to the track in center. Yoenis Cespedes ran it down full-tilt, his spikes making contact with the wall Bo Jackson style.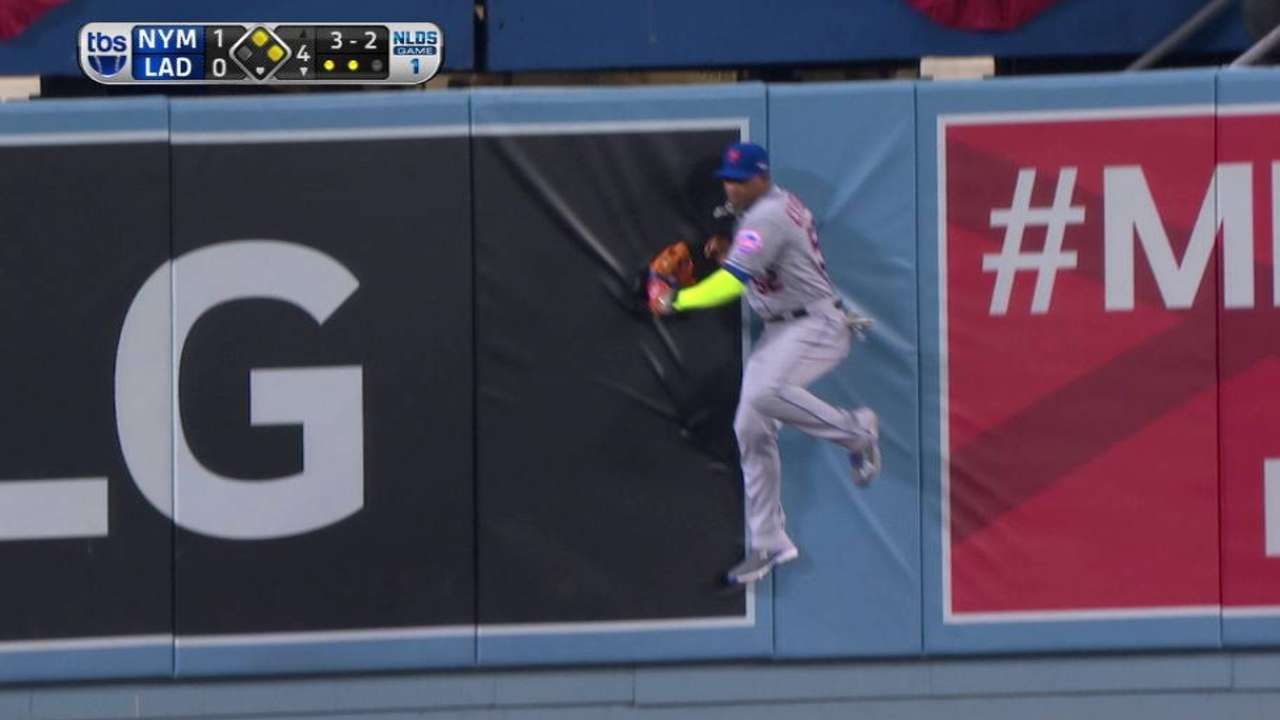 Heaving a sigh of relief, deGrom retired the last nine batters he faced, striking out five. He ended his night unleashing third strikes past rookie Joc Pederson and pinch-hitter Chase Utley.
It was the kind of act Koufax, looking about half his 79 years old on the field before the game, used to perform this time of year with regularity. Kershaw's search for that October magic -- and good fortune -- continues.
Lyle Spencer is a national reporter and columnist for MLB.com. Follow him on Twitter @LyleMSpencer. This story was not subject to the approval of Major League Baseball or its clubs.