Statcast tracks speed of Rangers' youngsters
Work on bases by Odor, DeShields sparks Texas' Game 2 victory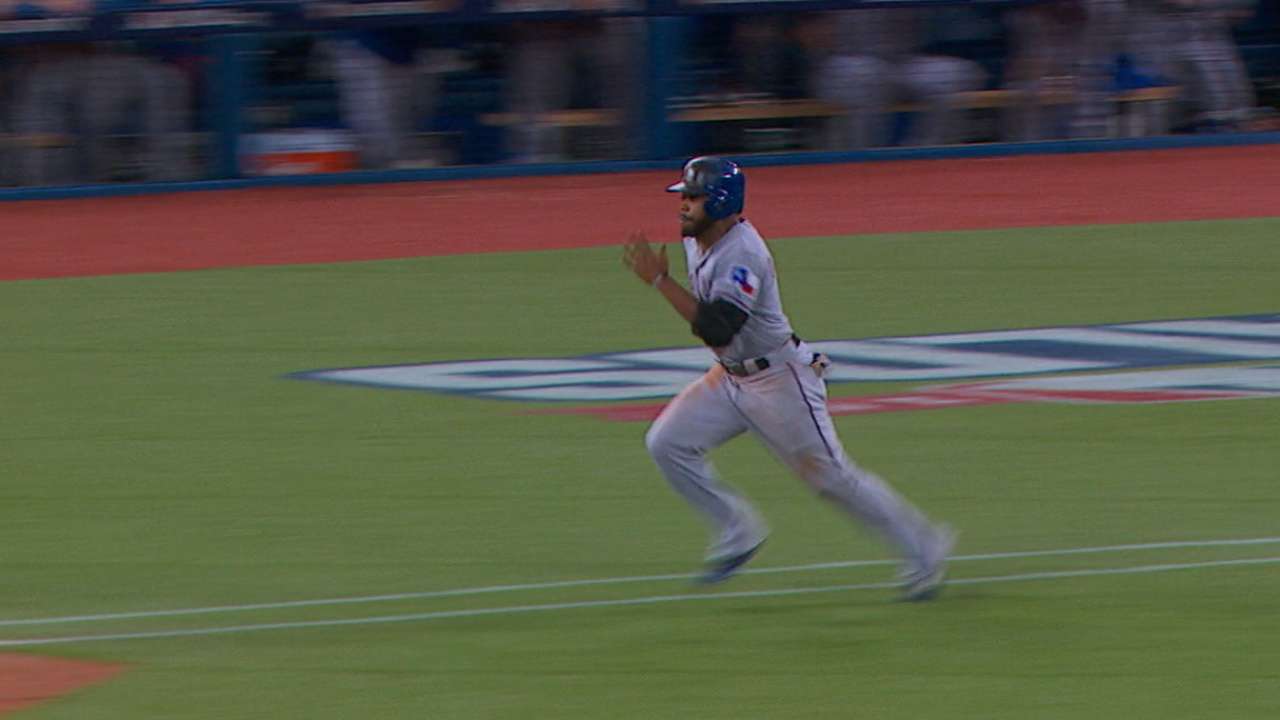 Friday's four postseason games featured everything from extra-inning drama to record-setting performances.
Within those contests, some teams leaned heavily on speed to emerge victorious, while others turned to the long ball. Either way, Statcast™ tracked a number of key plays from Friday's League Division Series, starting with two Rangers teammates once again tearing it up on the basepaths. Elsewhere, the Cardinals opened up a late lead with two homers from a pair of rookies, while the Mets got a big blast from a veteran player making his postseason debut.
Here's a closer look at each of those events, courtesy of Statcast™.
DeShields blazes path to first
For the second time in as many games, Delino DeShields Jr. made a significant impact on the ALDS with his speed. One day after reaching 21 mph while racing around to score a run in Game 1, DeShields found another gear as he reached 21.9 mph on his way to beating out a run-scoring, infield single in the top of the 14th inning of Friday's 6-4, 14-inning Game 2 win over the Blue Jays. This marked the 123rd time this year that Statcast™ tracked DeShields topping 21 mph, easily the most such occurrences in the Majors. Marlins speedster Dee Gordon is a distant second, having reached 21 mph on 91 occasions.
Odor wreaks havoc on basepaths
Rangers second baseman Rougned Odor continued his breakout season on the national stage Friday, once again using his speed to manufacture runs in the club's Game 2 victory over the Blue Jays. It started in the top of the second inning when Odor went from first base to third base on a groundout by taking advantage of Toronto's infielders all converging on a high chopper behind the mound. Odor initially reached a max speed of 17.8 mph as he approached second base, but then ramped it all the way up to 19.7 mph as he beat Josh Donaldson in a race to third base.
Odor then found yet another gear one batter later when he elected to tag up on a fly ball to shallow right-center field. He reached a max speed of 20.4 mph before somehow evading the tag with an elusive headfirst slide. Just for good measure, Odor later kicked off the Rangers' game-winning, 14th-inning rally by beating out a two-out, infield single on which he reached a max speed of 20.6 mph. He was later clocked at 20.3 while going from second to home in just 6.5 seconds to score what proved to be the game-winning run.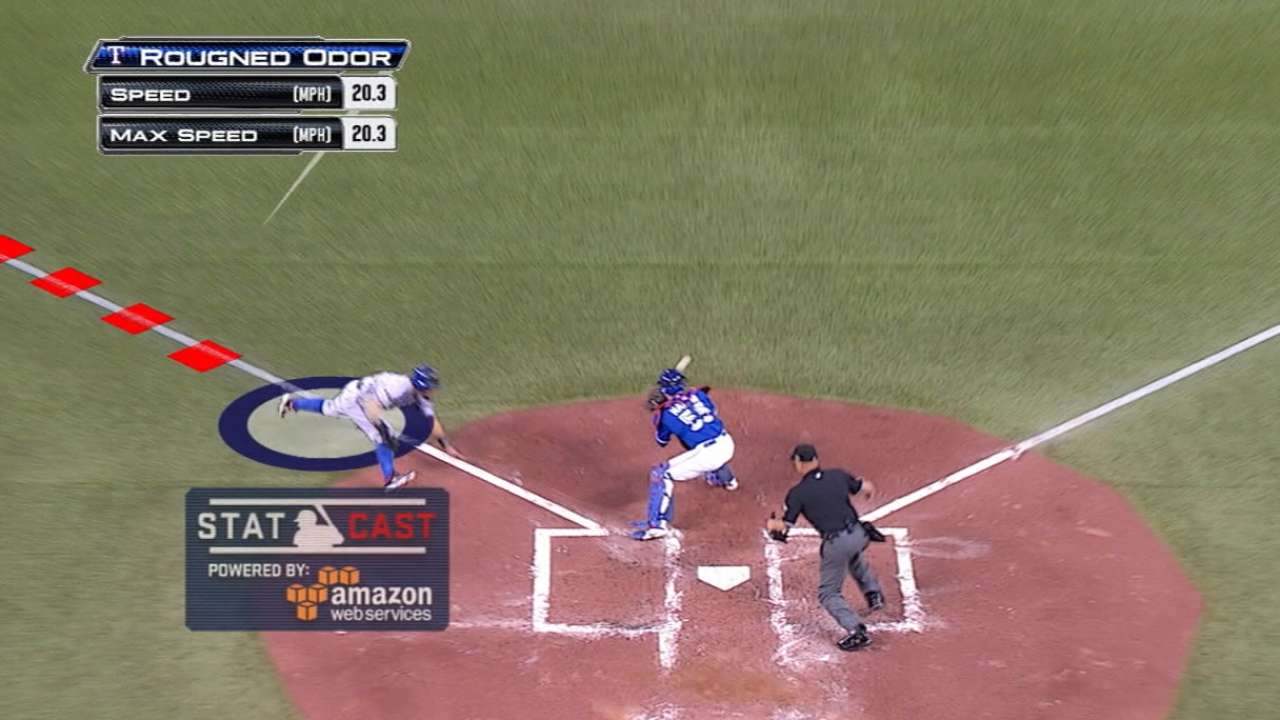 Murphy mashes laser shot off Kershaw
Mets second baseman Daniel Murphy snapped a scoreless tie in Friday's 3-1 Game 1 victory over the Dodgers when he crushed a fourth-inning homer off Clayton Kershaw. Leading off the top of the fourth, Murphy took a 94-mph pitch from Kershaw and sent it a projected 415 feet into the visitor's bullpen in right field. The ball left Murphy's bat at 105 mph, making it his hardest-hit homer of the year.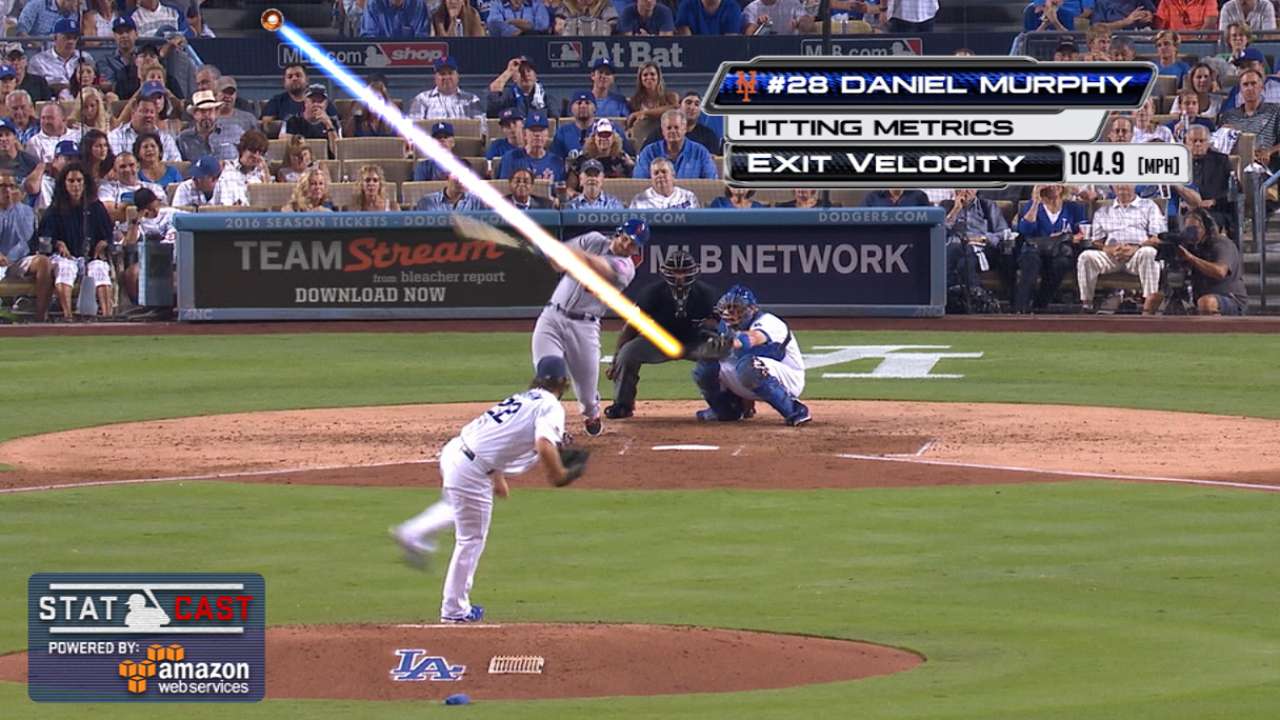 Cardinals rookies crush late homers
A pair of rookies provided the Cardinals with some crucial insurance runs in Friday night's 4-0 Game 1 victory over the Cubs by each teeing off for an eighth-inning homer. The first came courtesy of Tommy Pham, who connected for a pinch-hit, solo home run in his first career postseason at-bat. Pham turned around an 87-mph Jon Lester offering at 109.9 mph, sending it a projected 431 feet to push St. Louis' lead to 2-0. The scorching drive was nothing new for Pham, who recorded an average exit velocity of 94.1 mph during the regular season. That mark was the fourth-highest among all players who put at least 30 balls in play, not including bunts.
Two batters later, fellow rookie Stephen Piscotty followed with a towering two-run shot to double the lead. Piscotty jumped all over an 82-mph pitch from reliever Pedro Strop, registering an exit velocity of 105 mph and sending the ball a projected 406 feet.
Paul Casella is a reporter for MLB.com. This story was not subject to the approval of Major League Baseball or its clubs.