Oct. 9 Jacob Degrom, Daniel Murphy, David Wright postgame interview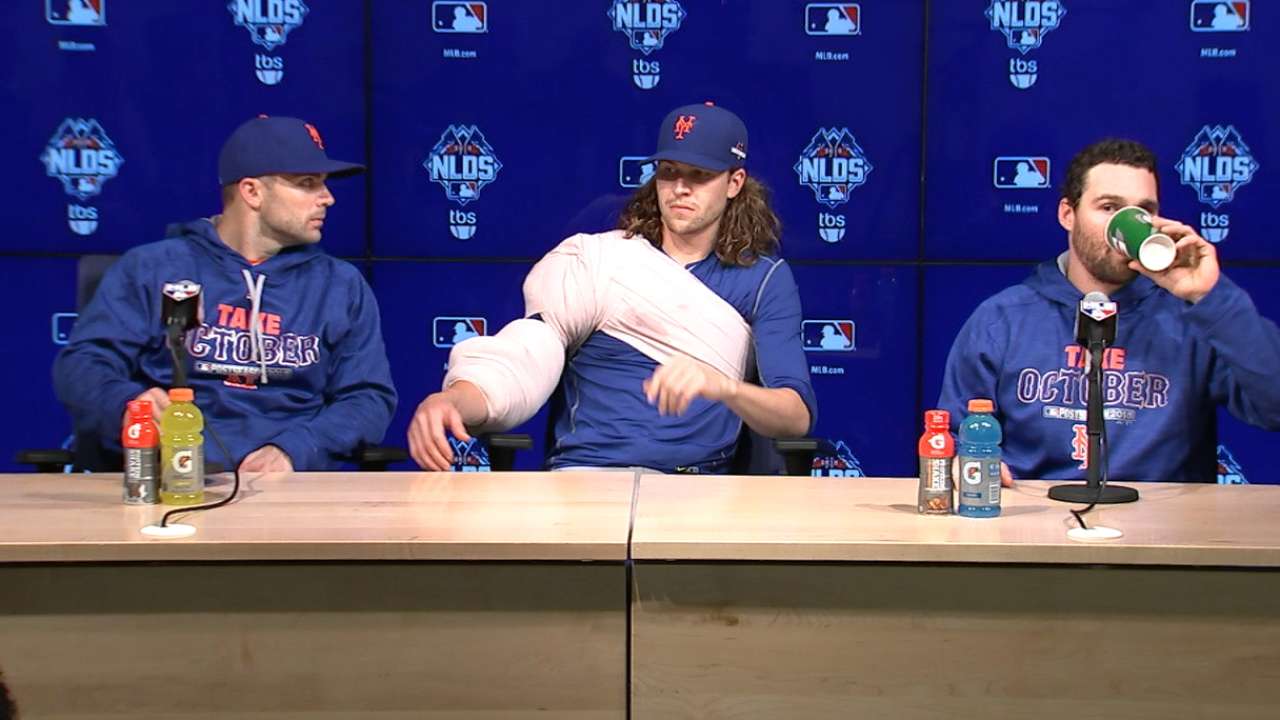 Q. Your last time here you weren't certain about your back and you were still rehabbing here. What are the contrasting emotions of where you were then versus now?
DAVID WRIGHT: Well, I mean, obviously, I'll start out by saying that was fun. You rewind a couple months and obviously I was a spectator out here and wasn't able to participate and join in all the fun. So being able to kind of come full circle and be able to enjoy it as a baseball player now, that meant a lot. There were times where you go out there and you feel the energy and the electricity of this building and you think of kind of the path, the road that I've been on this year, and you're grateful and you try to soak it in as much as you can.

So, yeah, I would say that it was cool. It was fun, and that's what I love to do. That's about as sweet as I thought it was going to be.

Q. Can you go through the home run and what Kershaw had looked to you before that and the way he was pitching?
DANIEL MURPHY: My first at-bat he chewed me up and spit me out. That's kind of what it looked like. I got a lot of sliders that I didn't see well and he put me away with them fairly easy. The next at-bat I was able to get my foot down just a little earlier. Got a 2-0 heater in the middle of the plate, and I was fortunate to put a good swing on it. He doesn't make a lot of mistakes and I felt really fortunate to put a good swing on the ball he threw me.

Q. You've had some fist pumps, I think, through your career, but that one might have been in the Hall of Fame when you went after that base hit that you got, the emotion that you showed after that. What was that like when that happened?
DAVID WRIGHT: Well, I mean, it was a tremendous game. If you love a pitcher's dual, that's about as good as it gets. You've got Jacob deGrom who came in maybe as a little bit of an unknown going up against the great Clayton Kershaw, and he matched him pitch for pitch, put up zeros. His pitch count got a little high early in the game, and to be able to settle down and have a couple quick innings and throw a 7 shutout and get the win against Clayton Kershaw, as an offense, you want to go out there and do something for him so he can scratch out that win.

So when Murph hit the homer, he put up a zero. We got the momentum back, and to be able to tack on runs late in the game, you know, I think that's the key to winning. When you've got deGrom out there throwing the ball as well as he was, I mean, it's just you want to do everything you can to scratch out the win for him.

Q. Couple things, how exciting was it to see Tejada get that walk in the middle of the rally, and also David's first inning at-bat when he had a 12-pitch at-bat and fouled off a bunch of pitches and kind of set the tone?
DANIEL MURPHY: Yeah, I'll start with David. He gets in there and works just Grande put a really good move on that ball, but it was 0-0, so you kind of think, man, is he going to -- is Clayton going to sneak out in this inning and you only have to throw eight to ten pitches and David works that at-bat and he wins it. I think he got done with that, and I think it really paid dividends in that 7th inning when Clayton came back out. The at-bat that Duda had to leave the inning off, great at-bat, then Ruby works the walk. Jake moves him over and Grande goes left, left walk.

So there were some really unbelievable at-bats before David got up there, and then he put a really good at-bat on him, 2-0. David put the move on the ball he started off with. I was really excited because he had gotten two heaters in. I was really excited he took the swing on because I think it gave him a chance to measure him. Takes another one, gets in the 3-1 count, gets his swing off and gets that two-heater away and puts a really good pass on it up the middle. You can't say enough about what Jake did today. He gave us the opportunity to extend the lead late because he was putting up so many zeros.

Q. When you see your name fourth in the lineup against Kershaw, what kind of confidence boost does that give you that your manager is putting you to hit there against a guy like Kershaw.
DANIEL MURPHY: Yeah, you definitely look at the lineup, and it was Curtis and Cuddyer and David and Ces in the four hole, I felt excited about that because of the great at-bats the guys in front of me have been putting on them. And you look at the way Travis and Lucas have been swinging the bat behind me, it's a really nice spot to be in, because usually there is traffic going in front of me and protection behind me. So come to the ballpark, see your name in the four hole, you just try to put a good A-B on them. You know it's going to be a tough at-bat with Clayton, but you just try to put a good at-bat on him as much as you can.

Q. When you're talking about facing Clayton, guys must be pretty hard to hit, especially the left-handers. Did you watch the playoffs at all and see what Carpenter and Adams did as left-handers and have any idea why this might happen in October when it doesn't the rest of the year?
DANIEL MURPHY: No, I don't. He's so good and we faced him earlier in the year. I saw the at-bats. Actually, I watched some film of Clayton's last couple starts and I watched him in the playoffs last year. Matt Adams was swinging the bat really, really well last year too when they had those good ABs off of him. It's just one of those things that he makes, I think for him he makes so few mistakes that when someone capitalizes on him, we're surprised because he's so good. And so I think that's why what Jake was able to do tonight was so special, because he not only matched him pitch for pitch, he was able to go deeper in the game.

Q. Jacob, I know pitchers always say you don't face the other pitcher, you're facing the other team. But the way the game is unfolding early where it feels a little bit like maybe it's sudden death, the first team that scores wins, do you get caught up at all? Is it Kershaw's pitching great? I better not give up anything tonight?
JACOB DEGROM: I wouldn't say I get caught up in it. I know what he's doing, but my game plan stays the same and let's go up and put up zeros and keep us in a position to win. So I try not to get caught up in it too much.

Q. David, when you get the 3-2 there, are you shortening it up at all and trying to stay in the middle? What is your thinking there?
DAVID WRIGHT: Yeah, I was fortunate I got a chance to see a couple of his fastballs early in the count that were balls, so I felt like timing-wise, I was on time. Then you get ahead in the count and the guy that's got a great fastball usually that's his go-to, especially with the bases loaded. So it was just kind of sitting on something hard. I was able to be on time and just try to put a good swing on it. When a guy's going that hard you allow him to provide the power and you just try to go nice and easy and just make sure you just get to it and beat him to the spot. So I'll watch film and he throws extremely hard. So the biggest thing was just try to be on time and hopefully find a hole. I was lucky to do that.

Q. Jacob, you had after the All-Star game you said that was the most nervous you ever were. So where did this compare to that? And overall what did you think of your outing?
JACOB DEGROM: I think before the game I was pretty nervous sitting in the locker room. But once I got out there warming up, I kind of settled down. I think it really went away after the first pitch I threw. So I mean, we had a good game planned. We came up with one before and me, Dan and Travis, and I tried to execute that to the best of my ability tonight.

Q. Jake, lefties tonight were 1 for 17, I think against you, 12 of the 13 strikeouts. How did you do that tonight in particular?
JACOB DEGROM: I think just mixing it up on them. My changeup was good tonight, and I threw a few strikeouts to the lefties, but also was locating my fastball pretty good too. So I think just trying to keep them off balance and get ahead.

Q. David, you've had a lot of signature moments since you've been back, but home run when you came back, home run in Cincinnati, the big hit in Washington, this one tonight. Has that more than made up for the time away?
DAVID WRIGHT: I don't think you can make up for it, but I think when I came back I wanted to do what I can to try to, I guess, make up for some lost time. Have some good times with the guys. So I've been fortunate where I've been in a position to be up there in some big spots with guys in front of me getting on, with plenty of protection behind me. If you look at this lineup top to bottom, it's dangerous. You got guys like Grande at the top of the lineup getting on base. You've got Murph swinging the bat as well as Ces to Duda and Trav, you've just got dangerous hitters all the way down the lineup.

So it seems like a lot of times you're getting up with runners in scoring position. And pitchers are going to have to come to you because they don't want to face the guy behind you.

Q. I'm curious about your thought process in the on deck circle as they're making the pitching change. As you realize they're going to make a pitching change and they're bringing a guy in. You've already had some at-bats against Kershaw. You've had some good at-bats against him. Now they're bringing in a guy you don't know quite as well. Are you pleased they're making a change? Is it all strategic or tactical at that point? What is that process?
DAVID WRIGHT: I think normally you'd be pleased because you get Kershaw out of the game. Then you look up and you have a guy coming in throwing a hundred, so then you're not too pleased. I think that you just go. I got a good scouting report. Cuddyer ran over. I faced him earlier this year, gave me a good scouting report. Kevin Long, Pat Roessler came over and gave me a quick scouting report, and I think that was true going up there.

Like I said earlier, when you get ahead 2-0 with the bases loaded with a guy that throws extremely hard, you can kind of try to get your timing and get your foot down and get ready for that fastball, I was able to do that.

Q. Jacob, I wonder, say this year from a year ago, do you find yourself a different pitcher or just refining or in some ways are you approaching guys differently?
JACOB DEGROM: I would say it's a little different. I've got a little more confidence out there. There were a couple times tonight 3-2 where I threw a couple changeups. I would say last year I probably wouldn't have done that. So I think just having a little more confidence out there.

Q. David, somewhat along the same lines. Since your injury, do you find -- and I know you're taking in somewhat fewer at-bats before the games -- are you in any way a different kind of a batter in a situation like that than maybe you would have been five years ago?
DAVID WRIGHT: I don't know. I think that you try to come up with a game plan. When you're on the on deck circle, you try to come up with a game plan and stick to it. It sounds simple, but you try to keep it simple when you're a hitter. So I don't know if anything changes. But I think that this postseason compared to nine years ago, I think that I'm a little more methodical with the thought process and going up there with probably a better game plan being a little older, little more experienced, so I think that's a little bit of a difference. Plus we got this guy's a beast. He's a little modest, he won't admit it, but he's a beast.