Oct. 9 Terry Collins postgame interview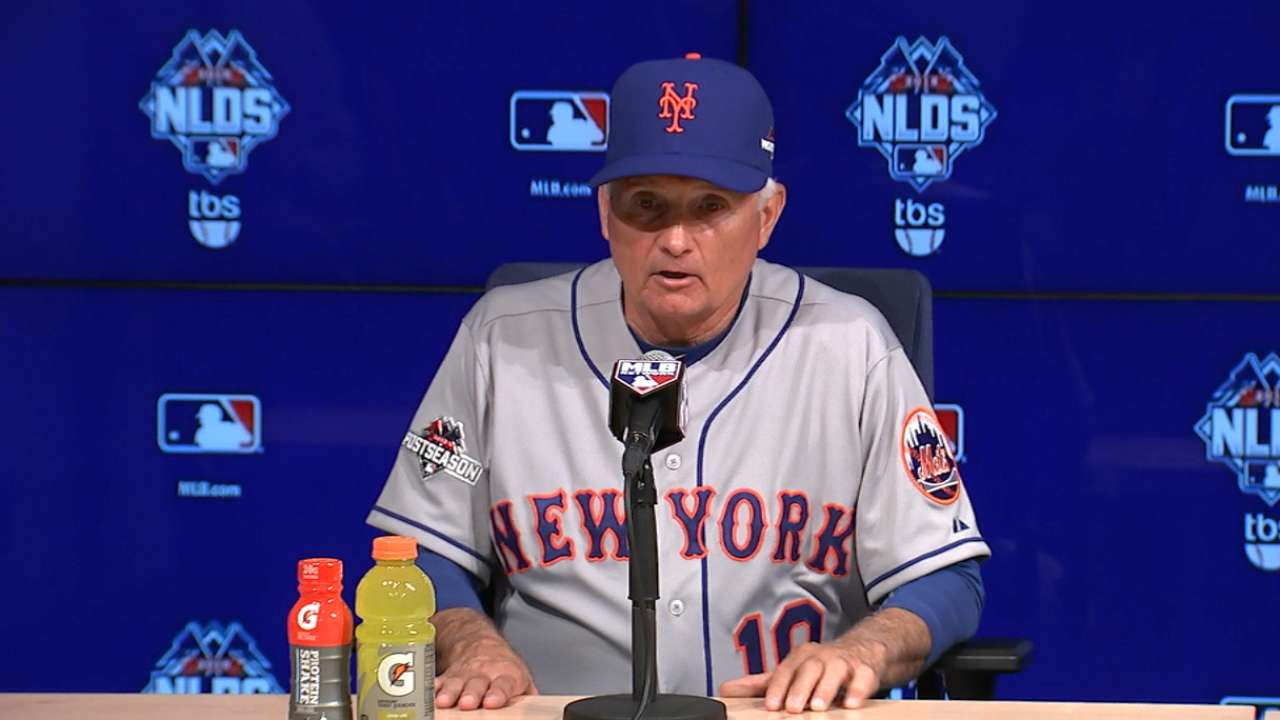 Q. Terry, when did you start to realize that deGrom had sort of a special quality of fastball tonight?
TERRY COLLINS: Well, he's such a good pitcher that you kind of got to let him get a feel for the game a little bit. So I thought about the fourth and fifth inning, I thought he started to settle in a lot better than he started the game. I think he was making better pitches. He was using his breaking ball a lot more effectively.

I thought really that was the part of the game where I just said -- we were concerned about his pitch count, but then he had a couple of easier innings, and I said, I'm going to let him see if he can get us through 7.

Q. In that rally, how key was that walk by Tejada, and what was going on there? Getting a walk against a guy like that?
TERRY COLLINS: We talk about it all the time here. Our theory is to try to get on base as much as possible, and base-on balls were a big part of it. Whoever puts a good at-bat on like that. Just when you need him the most, he seems like he does something that helps you win the game.

Q. For the months since Wright had come back, it seems like we had been asking you all the time what you thought you could get from him. To see him in that spot come through like he did, what was the feeling like for the team and for you to see that?
TERRY COLLINS: We'll go back to the other instances. His first at-bat coming back after being out four and a half months, he hits a homer. It's just a tell-tale sign that he's back. Last at-bat of the season, it's the three-run homer in the day we clinched, and tonight he's up there in a big spot against a guy throwing 9 miles an hour, and gets a base hit up the middle and drives in two big runs. That's just who he is. I have no other way to describe it. He's a big-time player, and when you need him, he seems to get the big hit.

Q. What do you think deGrom's performance does for a team that hasn't been to this postseason in a long time in terms of mentally and everything else?
TERRY COLLINS: You and I have had this discussion privately, this is a game that's all about confidence. It's all about believing in yourself and knowing that even if things aren't good that you can still succeed. To have him go out there against Clayton tonight and win the game is a huge lift for us. I think our guys, hopefully they get ready for tomorrow night. But this is a good start to a team that hadn't been in the postseason for a long time. He needed a confidence boost and Jake gave it to us.

Q. A couple things. One, you mentioned before the game you wanted to see how Jake did before you'd say whether he would still be in the line to start Game 4 if you wanted him to. Is that still an option or did he go too far tonight?
TERRY COLLINS: As I sit here at this moment, I think he went too far tonight. He had to work hard. I mean, he worked really hard early in the game, and even though I don't count when you intentionally walk somebody, I don't count those pitches. But he still threw 117, 118 pitches, that's a lot of work for him.

Q. Given how he lined up with the left-handers, did that go beyond the success you might have anticipated?
TERRY COLLINS: Yeah, they're our best hitters. And you put them in the game against a great pitcher, and tonight they had four hits and they had all four at one time. So I have all the confidence that they can go up there and put a good at-bat on. And that's all you can ask anybody.

Against Clayton Kershaw, I said this before the game, he's so good, it really doesn't matter what side of the plate you're on. But if you have all right-handers against him and he gets into groove, he'll carve you up. So you've got to give him something different to look at in my opinion.

Q. I know there are so many positives, but as far as the 8th inning, and Clippard pitched against Dave toward the end of the season, did you have to rethink that going into it?
TERRY COLLINS: No, you might, but I'm not going to.

Q. I know not much came out of it, but how pleased were you with David's first at-bat there, and just in general preventing Kershaw from going deep for as well as he was pitching?
TERRY COLLINS: Well, we're in the dugout, and you're trying to make sure and trying to enjoy it during the game, and one of the guys brought up the fact that they thought Kevin did a nice job by seeing if we could strikeout enough and bring his pitch count up pretty high to make him work pretty hard, and he came through. So it was a good plan.

Q. What was the mood like in your dugout when Kershaw came out?
TERRY COLLINS: Well, I don't know. Nobody stood up and cheered, but it's nice to see him walk off the field. He's still got the lead. But I know one thing, a lot bigger cheers when David hit that line drive up the middle, that's for sure. But he's a great pitcher. This guy put a great swing on him and gave us the lead, and when you're facing a guy like that, all you're thinking about is how are we going to make this hold up, because I really thought going late in the game it was going -- Dan Murphy's home run goods going to be the difference.