Oct. 9 Don Mattingly postgame interview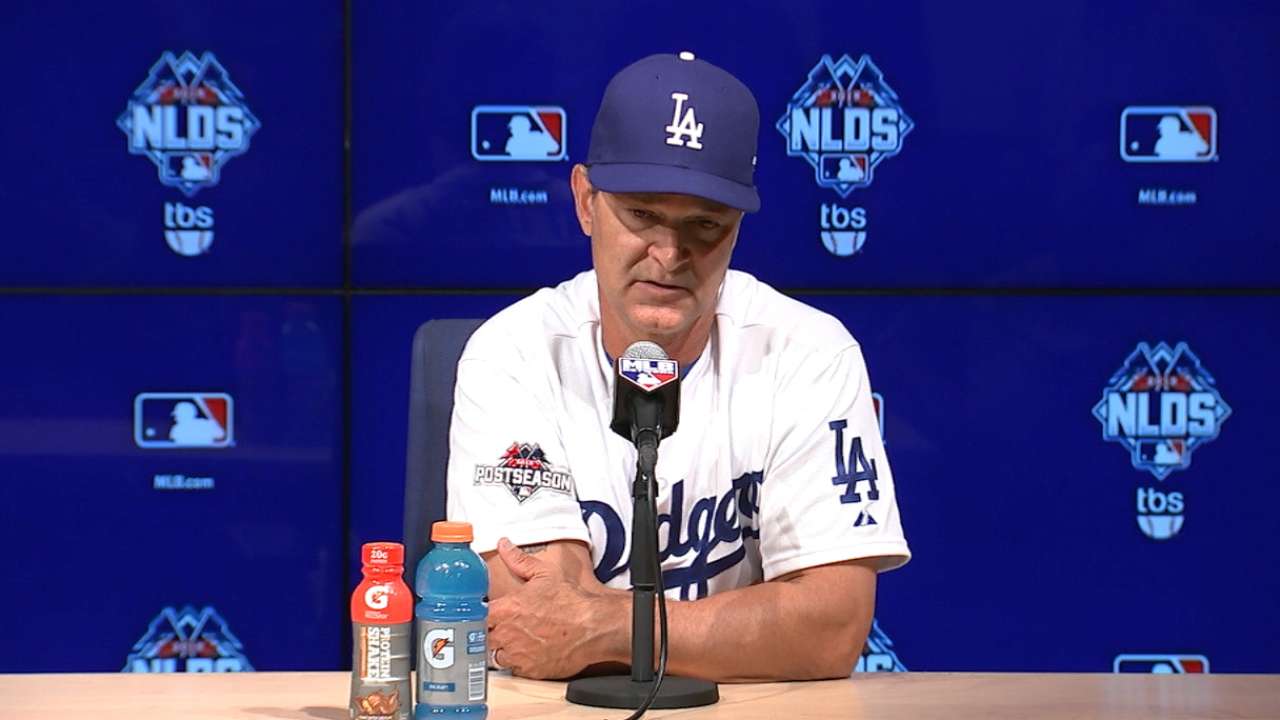 Q. I know this is sort of part of the postseason exercise and everything, but the decision to pull Clayton at that point, what had you seen through that inning, and what was going through your mind as it was unfolding?
DON MATTINGLY: Going into that inning we kind of looked at what his pitch count was, and kind of thought through Granderson, if we got back to Wright, the fourth time through, David pumps on lefties pretty good. Felt like that was going to be a spot if we got to that point, thought we were going to make a move there.

Q. How good was deGrom against you guys?
DON MATTINGLY: Yeah, pretty good. Obviously a lot of just velocity, he beat us with that a lot. I thought we did a pretty good job with him of not chasing the change or the breaking ball down, but with that you end up chasing some elevated fastballs, and I think he beat us with that a little bit. We had a few chances. We got some runners, JT got on a couple times. They had a little rally going. We just weren't able to get that hit early. So I thought he was pretty good.

Q. The early at-bats they had against Clayton early in the game, how much did that help to get him in the situation he ended up in in that inning?
DON MATTINGLY: David's at-bat, second inning of the game, he got an out on the first pitch, and I think we're at 10 or 11 after him, so he kind of pushed it. He gets Cespedes in three, but there were different at-bats that I thought were pretty good. But his pitch count wasn't really that, in general wasn't that bad. I think he was at 50 or 49 after three, which is basically just a few over. If you're looking at 15 an inning. So but I thought they did a good job battling. I think that's what happens in the playoffs. You get more and more battle at-bats, there is no giving at-bats. I think the same really with us with our guys. So I thought we did a pretty good job, we just weren't able to crack it.

Q. Last year similar situations with Clayton. You left him in against Carpenter, and he got beat. You left him in against Adams, and he got beat. Any factor in those performances in your decision to take him out tonight?
DON MATTINGLY: No, it was more of just we felt like David's really good -- his numbers against lefties are really good. Again, kind of getting back to it fourth time. He had walked three guys in an inning. He couldn't put -- Duda was just kind of out of sync a little bit. Then I think we get Cuddyer there. Tejada, he got 0-2, he just couldn't put him away. And then curtis at-bat, he's battling, battling, and ends up walking him. At that point I got to feel like he'll go right-handed there against David.

Q. You had Baez warming, I believe, to start the 7th inning as it developed?
DON MATTINGLY: Say it again, I couldn't hear it.

Q. You had Baez warming I think as it started the 7th inning. As it developed into a high leverage situation, did you consider using another arm or were you committed to him?
DON MATTINGLY: I didn't have him at the beginning of the inning. I didn't have him until he was kind of into that. We counted on David in that spot. He's one of our two righties that we felt the power with David. We weren't really at that point for one out.

Q. Facing another really good pitcher tomorrow, do you feel like you need to change the lineup or is that kind of just moving furniture around?
DON MATTINGLY: Each day is individual. Syndergaard's a little different than deGrom. He just mixes a little bit different. We'll just look at it and put the best lineup out there for tomorrow.