MLB.com Columnist
Phil Rogers
Cards not yet ready to leave perch atop NL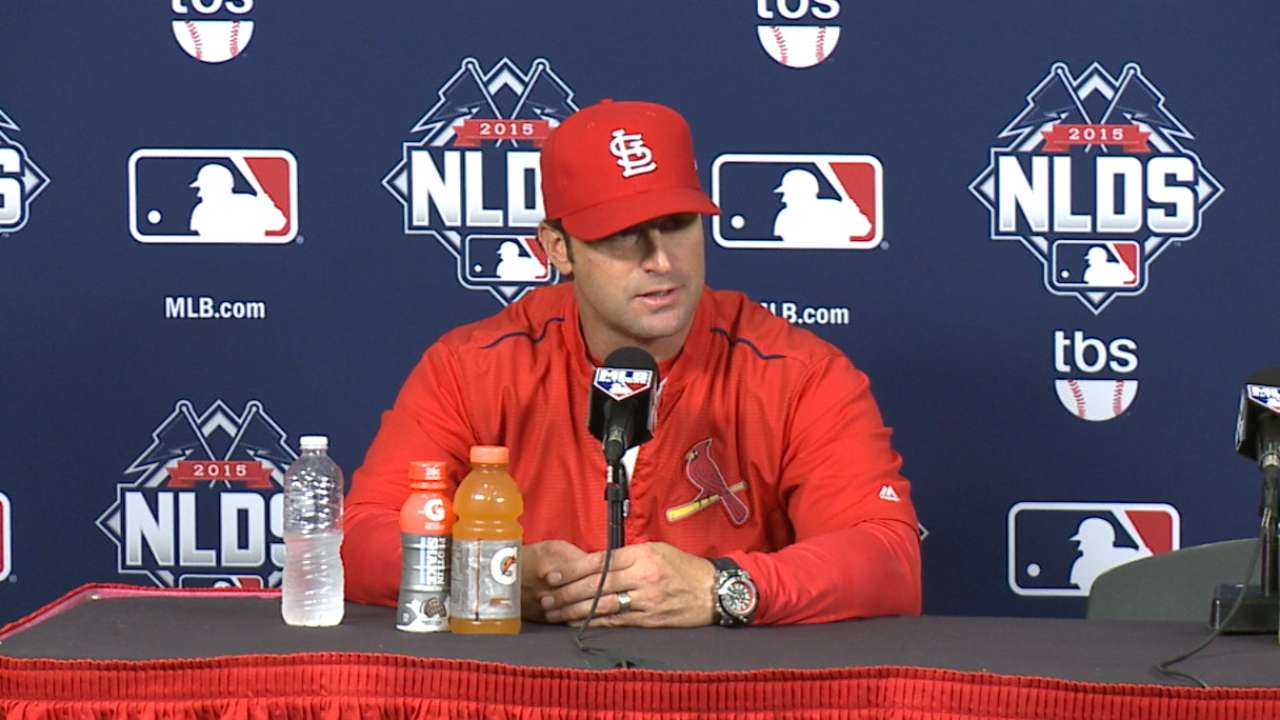 ST. LOUIS -- Score one for the guys who have been there and done that.
Before the Cubs could get any wild ideas about rearranging the balance of power in the Midwest rivalry, John Lackey and the Cardinals have reminded them that it's not going to be easy to get past them, even if this was the summer of peace, love and Joe Maddon.
At the end of the regular season, it was the Cards in their usual spot atop the National League Central, thanks to a 100-win season. For all the excitement created by the Cubs, the franchise with the Clydesdales remains the team to beat.
That was the statement that the Cardinals made with the 4-0 victory in the NL Division Series opener on Friday night at Busch Stadium, even if Lackey insists that the Cards aren't viewing the Cubs as a Cinderella story.
"Not really," Lackey said. "I knew who was pitching for them. It wasn't his first day. He was ready to go. I knew it was going to be a challenge, and they're young, but they're talented. Talent can take you a lot of places. I don't care how old you are."
The opposing pitcher Lackey referred to was his old Red Sox teammate, Jon Lester. He was sharp in the first of what he hopes will be many postseason starts for the Cubs, but not sharp enough to match Lackey, who allowed only two hits in 7 1/3 innings. Lackey used well-located fastballs to leave the visitors complaining about umpire Phil Cuzzi's strike zone, to the delight of a towel-waving crowd of 47,830 at Busch Stadium.
This was a vintage victory for the Cardinals, who are looking to ride their pitching to a fifth straight trip to the NL Championship Series. They battled injuries and a sputtering lineup all season, but kept winning, piling up low-scoring victories while allowing only 525 runs. That was 71 fewer than the Pirates, who were the next stingiest team.
Cardinals manager Mike Matheny had a familiar feeling watching his team score once off Lester in the first inning and then string up zeros. The one-run lead lasted into the eighth inning, when homers by pinch-hitter Tommy Pham and rookie Stephen Piscotty created some wiggle room.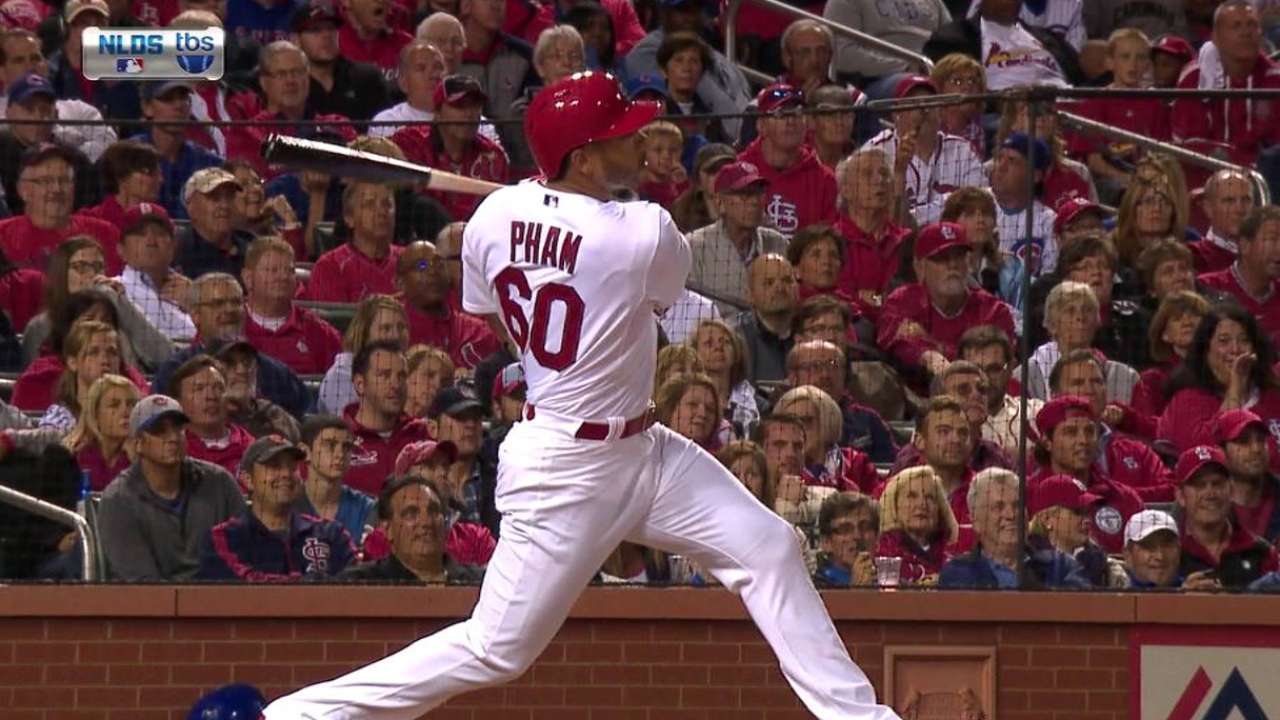 "That's kind of how we have been all season long," Matheny said. "I don't know why we would be surprised that it happened again right now, and it's probably going to continue to be that way, but this team's comfortable in that spot. If we've got to just grind and fight and hold on to a small lead, we trust our guys to get it done."
For the 36-year-old Lackey, this was his 19th postseason start and eighth victory. He served notice that he was capable of doing big things 13 years ago, when he won Game 7 of the 2002 World Series for an Angels team that had Maddon as a bench coach to Mike Scioscia.
Talking about Lackey last month, Maddon remarked that the righty had undergone a late-career renaissance and was once again pitching like he did when he was "a baby." He made the point again after Friday's game, pointing to how Lackey's swagger has returned along with extra velocity on his fastball.
"He was always kind of fearless," Maddon said. "He comes from Texas, kind of does the John Wayne strut out there."
With ace Adam Wainwright essentially missing the season and the electrifying right-hander Carlos Martinez sustaining a shoulder injury in September, the Cardinals somehow still have a deep rotation that could take them a long way. Jaime Garcia, who has the blessing/curse of eye-popping movement on his pitches, will start Game 2 against the Cubs' Kyle Hendricks, with Michael Wacha (Game 3) and Lance Lynn (Game 4, if necessary) set to follow.
This is an organization that makes adjustments, not excuses, and general manager John Mozeliak made one of his best at the non-waiver Trade Deadline in 2014. There was a lot of head scratching around St. Louis when he traded two popular players, Allen Craig and Joe Kelly, for Lackey, but somehow the tenured executive knew more than talk-show callers.
Mozeliak felt Lackey would provide invaluable depth, and he knew that the unusual contract that former Red Sox GM Theo Epstein had negotiated with him meant Lackey would play at minimum salary in 2015. He had missed the '12 season because of Tommy John surgery, triggering a clause that gave his team control for an extra year, and the Cardinals have benefited greatly from getting him.
At some point, the Cards added contract initiatives that earned Lackey another $2 million this season, but his primary motivation isn't financial. He knew he'd have a great shot to play in October in St. Louis.
"Playoffs, man, this is what you play for," Lackey said. "I've been playing a while, and this is pretty much the only reason I'm still going. I'm trying to win rings and trying to be a part of something special as a team."
As was true for the Cubs in Wednesday night's Wild Card Game presented by Budweiser, just about everything went right for the Cardinals in this game.
Piscotty, who sustained what could have been a season-ending concussion only two weeks ago, was a key component to the run scoring. Pham arrived with a 431-foot blast into the left-field bleachers, proving that the Cubs aren't the only team with talented young hitters.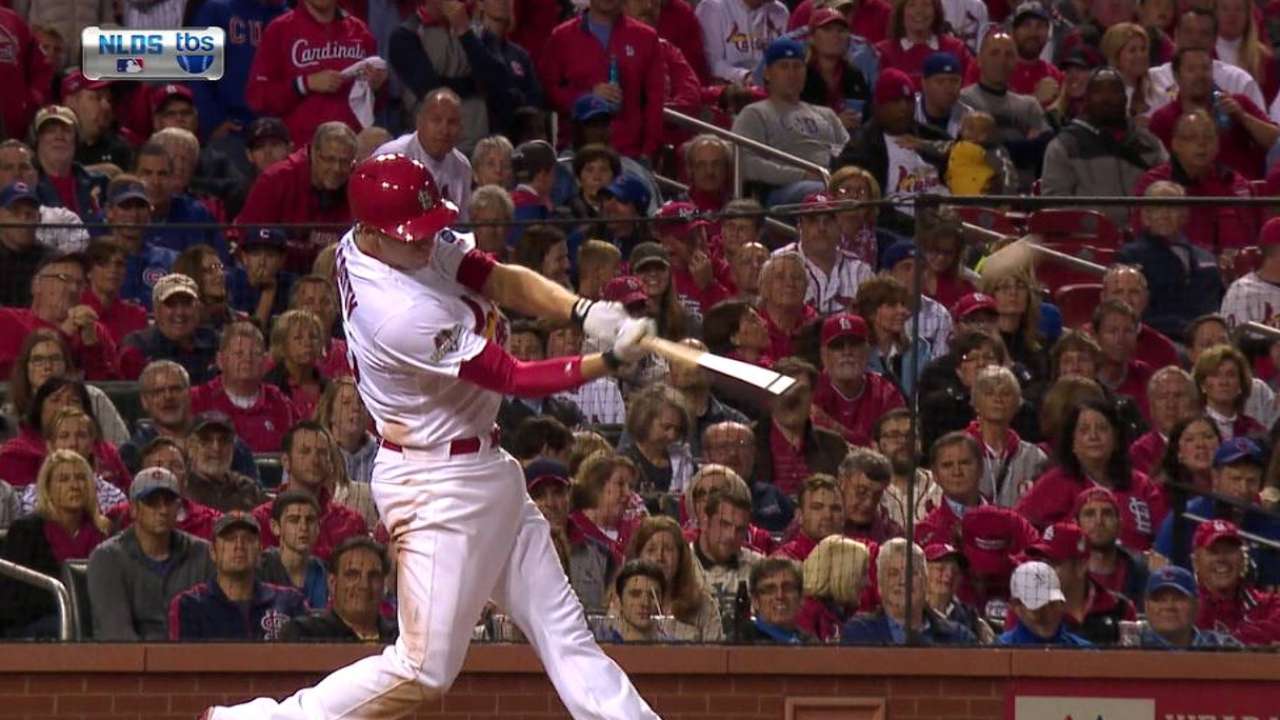 "That was fun," Lackey said about the eighth-inning homers from Piscotty and Pham. "The place was going nuts. Those guys can hit. It's kind of been our whole season. We've had to have contributions from young guys, because we have had some of our veteran guys hurt."
Perhaps the best sign for the Cardinals was the verve, not just the presence, of a No. 7 hitter who went 0-for-3. Yadier Molina, sidelined since hurting his thumb on Sept. 20, was back behind the plate, as wide-eyed as when he was a kid playing alongside Albert Pujols, Jim Edmonds and Scott Rolen.
"When he's got that kind of energy and life, you can see it's infectious when he gets behind the plate," Matheny said. "He just about knocked Matt Carpenter over, I think, on the first strikeout. [His throw starting the around-the-horn routine] had to be 96 [mph] that he threw down to third base. You could tell he's just been anxious to get in there."
Molina's 87th postseason game was the second for Anthony Rizzo, Kris Bryant, Kyle Schwarber and many others on the Cubs.
Been there, done that. And it never gets old.
Phil Rogers is a columnist for MLB.com. This story was not subject to the approval of Major League Baseball or its clubs.