Why did Cubs stick with Coghlan vs. lefty?
Left-handed hitter strikes out against Cardinals reliever Siegrist in eighth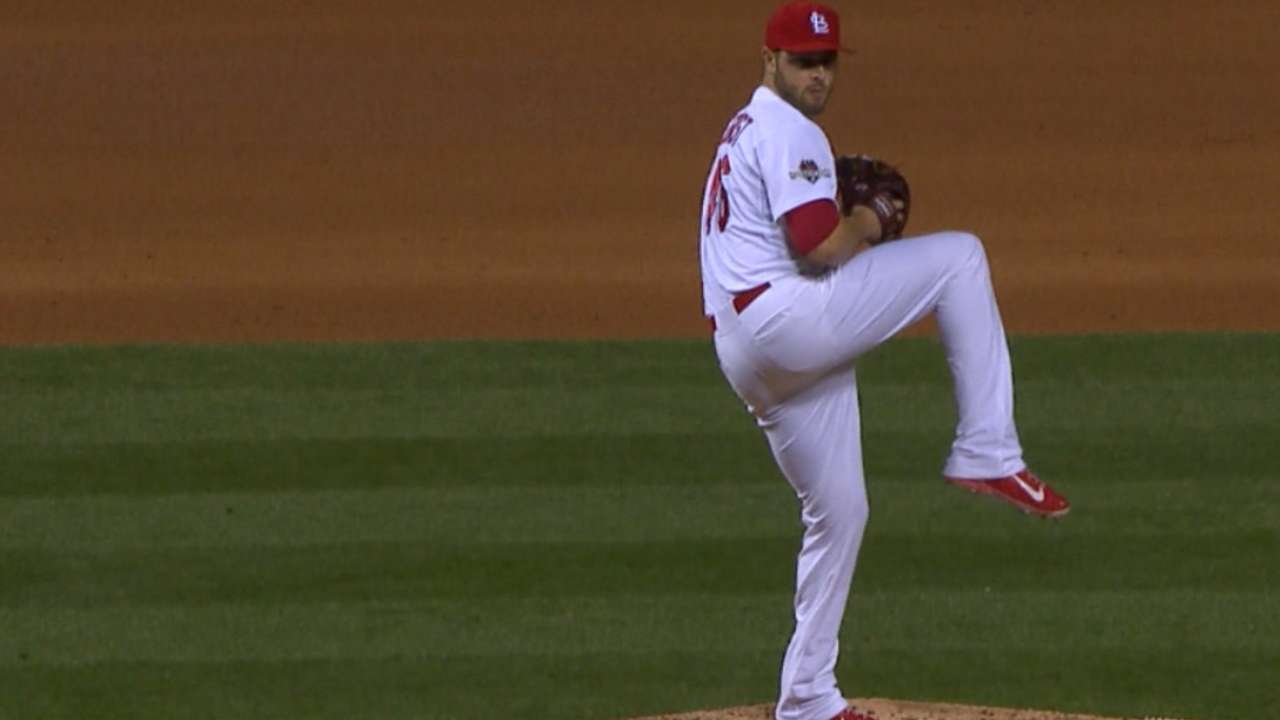 ST. LOUIS -- Chris Coghlan started Game 1 of the National League Division Series for the Cubs during their 4-0 loss to the Cardinals on Friday because of his track record against starter John Lackey. But in the eighth, St. Louis manager Mike Matheny pulled Lackey with one out so he wouldn't face Coghlan and called on lefty Kevin Siegrist.
Cubs manager Joe Maddon often has pulled Coghlan for a right-handed hitter in those situations, but not this time, even though Chicago trailed, 1-0. And Coghlan struck out. Why did Maddon stick with Coghlan?
Maddon studies the numbers, and he knew that left-handed hitters actually have fared better against Siegrist, batting .278, while right-handers were hitting .164. Maddon also remembered an at-bat Coghlan had on Sept. 20 at Wrigley Field against Siegrist, when he singled off the Cardinals' lefty. Coghlan was 8-for-17 against Lackey, which is why he got the start. He was 1-for-3 versus Siegrist.
"Normally, he pinch-hits for me against a lefty late in the game," Coghlan said. "It surprised me the first time when we were playing them. [Maddon] left me in and I got a hit. I knew [Siegrist] had reverse splits, so when he came in again, I knew [Maddon] remembered the last time I faced him, so he gave me a shot."
But Coghlan hit .116 against left-handed pitchers during the regular season. Is it tough when he doesn't see lefties very often?
"It's tough for me when you get a ton of balls called strikes," Coghlan said. "That's tough."
Coghlan didn't want to discuss home-plate umpire Phil Cuzzi's strike zone.
"I'll leave it up to you guys to debate the strike zone," Coghlan said. "[Lackey] executed, he was ahead all night and didn't throw many pitches."
Maddon defended his non-move.
"[Siegrist] is just good, but he's better against righties than lefties," Maddon said. "[Cardinals closer Trevor] Rosenthal is better against lefties than righties. They have a lot of reverse splits within their team. ... So you have to balance out what you had available to you based on their pitching, but Siegrist is really good against righties."
The Cubs have been on a roll, winning their last eight regular-season games and then beating the Pirates in the NL Wild Card Game on Wednesday to advance to the NLDS. Coghlan wasn't panicking about being down one game in the best-of-five series.
"It's one game," Coghlan said. "Hopefully, we've got four more. They beat us tonight. Lackey executed his pitches and we didn't execute enough offensively. I thought [Cubs starter Jon] Lester threw a great game -- well enough to win. We just didn't do our job offensively."
Carrie Muskat is a reporter for MLB.com. She writes a blog, Muskat Ramblings. You can follow her on Twitter @CarrieMuskat and listen to her podcast. This story was not subject to the approval of Major League Baseball or its clubs.