Matheny's unpopular move to bullpen pays off
Cardinals manager pulls cruising Lackey in eighth, but Siegrist, Rosenthal get 5 K's to preserve shutout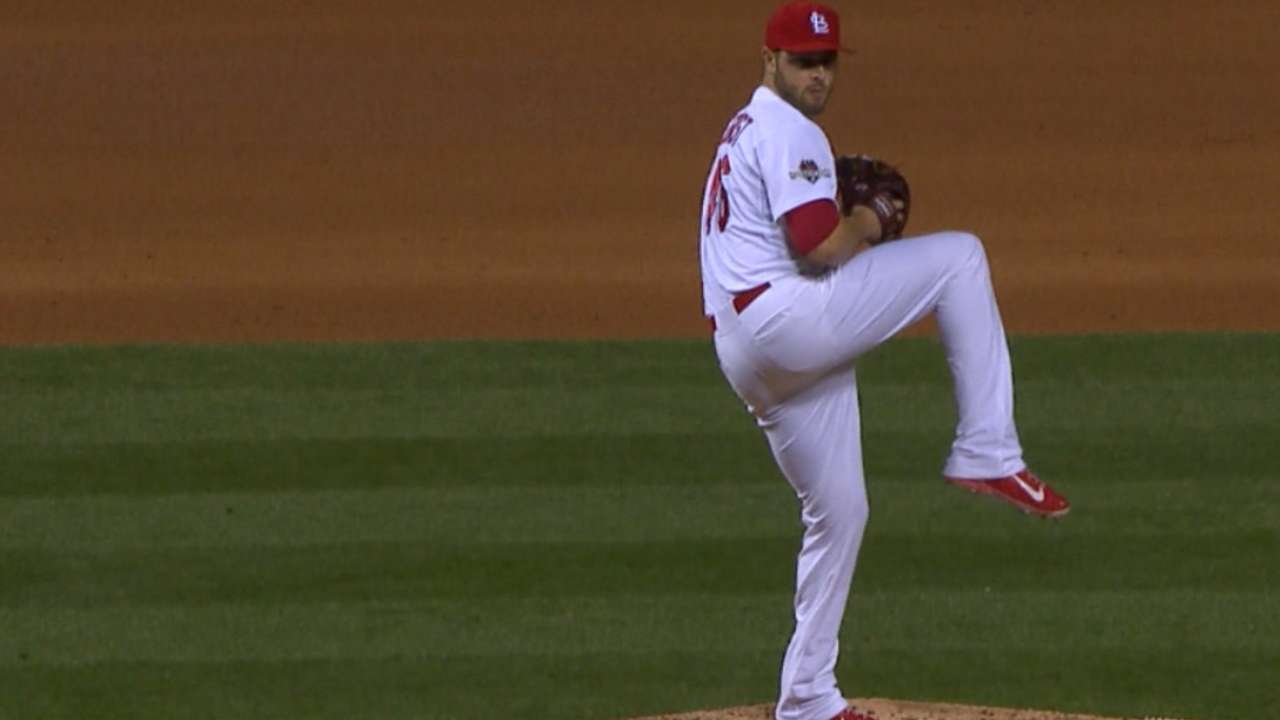 ST. LOUIS -- Fans booed with disapproval Friday when Cardinals manager Mike Matheny emerged from the dugout to visit John Lackey on the mound. And they booed a little louder when Matheny took the ball from Lackey and called for reliever Kevin Siegrist.
But the crowd of 40,830 broke into applause as Lackey departed the mound, congratulating him on a job well done, an act they would repeat a short while later when the bullpen closed out a 4-0 victory in Game 1 of this National League Division Series.
• Shop for Cardinals postseason gear
At the end of the night, it wasn't just the bullpen that deserved a standing ovation; Matheny did, as well.
Lackey had only 86 pitches through 7 1/3 scoreless innings and two hits allowed -- including a bunt single. With a one-run lead, he had retired the leadoff batter in the eighth, Starlin Castro, on a routine grounder to the shortstop. Lefty hitter Chris Coghlan was next up, and so Matheny called on Siegrist to finish the inning. Even Siegrist was a little surprised to be called on despite being warmed up and ready.
"Uh yeah," Siegrist said. "I don't like to think too much about that. I let Mike do all that."
It proved to be just one of several perfect moves for a manager who has been maligned in the past for his postseason game management.
"You know, we have a lot of faith in our bullpen to come in and do their thing on the backside, and Kevin Siegrist certainly didn't disappoint," Matheny said. "He did a terrific job."
In the seventh inning, Matheny made a switch when he summoned Mark Reynolds off the bench to play first base, and moved Stephen Piscotty from first base to right field. It paid off when Reynolds made a nice pick on Anthony Rizzo's grounder and turned an inning-ending double play.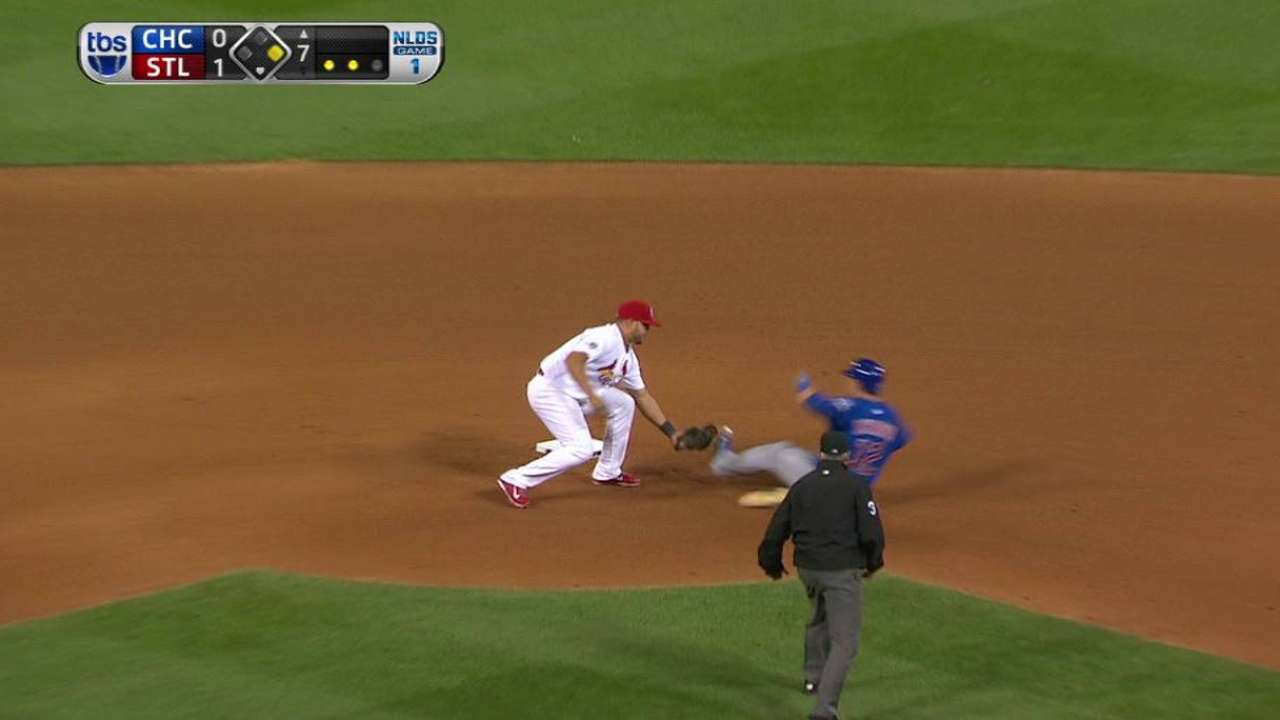 In the bottom of the eighth, Tommy Pham came in as a pinch-hitter for Siegrist and led off the inning with a big solo homer to left field -- the first of two long balls in the three-run frame.
"You just put them in situations where you hope that they can thrive, and boy, watching them do what they do, it's been fun all season," Matheny said.
Siegrist and Trevor Rosenthal notched the final five outs -- all with strikeouts. Siegrist, who had a 2.17 ERA in a team-high 81 appearances, continued his strong year by striking out both Coghlan on a called strike-three fastball and Addison Russell, who swung and missed at a changeup to end the inning.
"Whenever someone is rolling like that, you just want to take what he's done through the game and carry it over and try to get the ball over to Rosenthal," Siegrist said.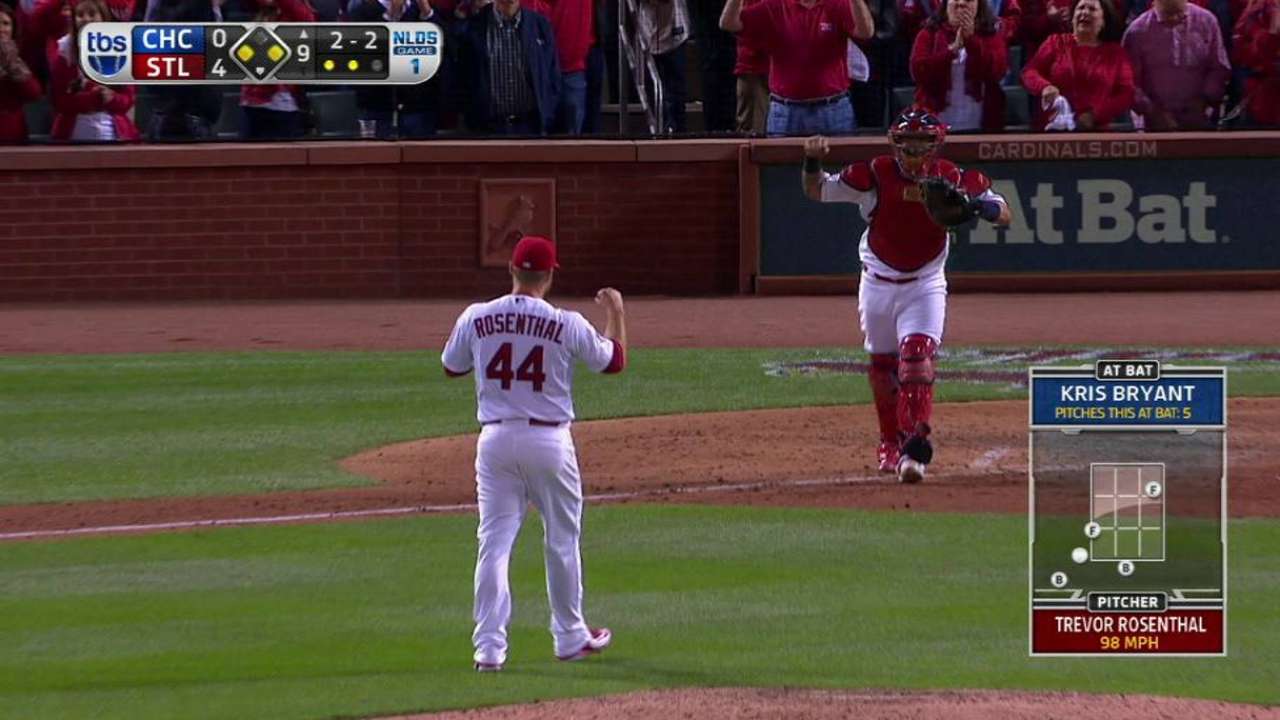 Rosenthal, who set the Cardinals single-season record of 48 saves this year, had a non-save situation. He issued a one-out walk to pinch-hitter Jorge Soler and a two-out single by Kyle Schwarber. The closer went to a 2-0 count against Kris Bryant before being visited by Matheny. Rosenthal then pumped three straight fastballs for strikeouts, including a 98-mph heater for a called strike three to end the game.
"I definitely think Lackey could have finished it off. He was pitching well," Rosenthal said. "I was just happy Siegrist could come in and get two big strikeouts like he's done all year, and I was able to get three outs in the ninth without them putting up any runs and finish it off for Lackey."
Mark Sheldon is a reporter for MLB.com. Read his blog, Mark My Word, follow him on Twitter @m_sheldon and Facebook and listen to his podcast. This story was not subject to the approval of Major League Baseball or its clubs.