Cubs can't capitalize on rare scoring chances
ST. LOUIS -- When Dexter Fowler launched a fly ball to right field in the sixth inning Friday night, rookie Kyle Schwarber started jumping up and down. The Cubs trailed the Cardinals, 1-0, at that point, and had a runner at third. If Fowler's ball cleared the wall, the Cubs would be ahead in the first game of the National League Division Series.
"I was going nuts -- I thought it was a homer," Schwarber said. "It could've been a key moment in the game and momentum could've shifted. You've got to move past it. This day is over with."
St. Louis' Randal Grichuk caught Fowler's ball on the warning track to end the inning. The Cardinals added on, and finished with a 4-0 victory on a day that was offensively challenging for the Cubs, thanks to John Lackey.
"They're an aggressive team, and I knew they would be swinging," Lackey said. "I don't have a whole lot of tricks for them. We're in the same division, and I've been doing this a long time, so you just got to try to locate and try to execute."
He did just that. In the sixth, Addison Russell singled to lead off for the first hit off Lackey, who had faced the minimum through five frames. Russell stole second and reached third when Jon Lester grounded out, but was stranded after Fowler's flyout.
In the Cubs' seventh, Schwarber took advantage of the Cardinals' defensive shift and reached on a bunt single. After Kris Bryant struck out, Lackey got Anthony Rizzo to hit into a 3-6 double play.
"He didn't give me one pitch to really drive," Rizzo said. "Sometimes that happens, those days happen, and you have to grind those at-bats out. I think we did a good job of grinding at-bats out. At the end of the day, he beat us."
Lackey gave up two hits over 7 1/3 innings for the win.
"He was nibbling," Rizzo said. "That's what he does. He's a veteran and he knows how to pitch. Tip your hat to him. There's no hard contact off him. He was nibbling on the corners. There's not much we can do there."
Russell also thought Fowler's ball was gone.
"We created some momentum right there and it felt good to get on [base]," said Russell. "Dexter saw the ball good, he hit the ball good. My first thought was, 'That ball's gone.' I think that's a home run in every other park. To see it get flagged down and that he caught it, it was heartbreaking."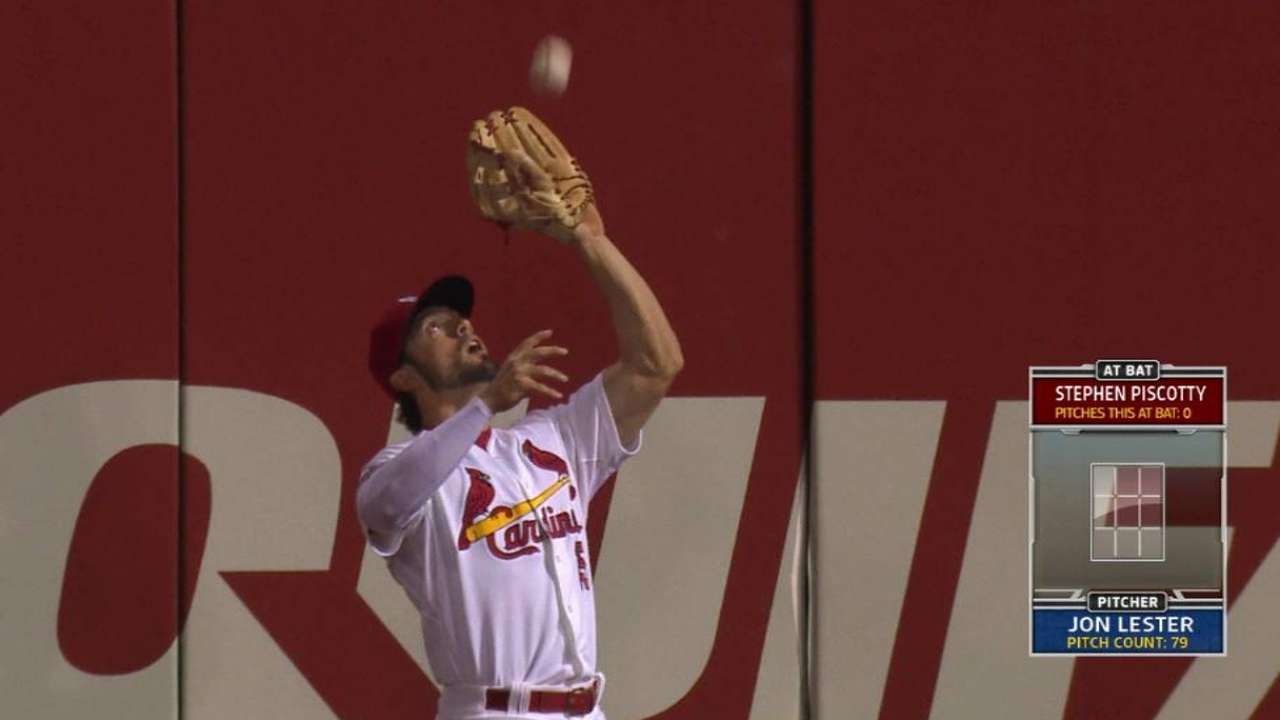 Russell wasn't discouraged.
"We've been that ballclub that when someone gets on base, there's no doubt in my mind we can get that run across," the rookie said.
Just not this time.
"We could not get anything generated," Cubs manager Joe Maddon said. "We had maybe one opportunity when eventually Addison advanced to third base, but they did, they pitched really well all season. That's a big reason they won 100 games is that they've pitched really well."
Fowler said the Cubs' approach was good.
"I think we did our job," Fowler said. "We battled. We took some close pitches. Things just went the wrong way."
Carrie Muskat is a reporter for MLB.com. She writes a blog, Muskat Ramblings. You can follow her on Twitter @CarrieMuskat and listen to her podcast. This story was not subject to the approval of Major League Baseball or its clubs.