10 cool facts from Cards' NLDS Game 1 win vs. Cubs
Cardinals starter John Lackey managed to outlast Cubs counterpart Jon Lester in a Friday night pitchers' duel in the first postseason meeting between the rivals.
Lackey made some franchise history in Game 1 of the National League Division Series, while Tommy Pham also penciled his name into the record books with a rare rookie accomplishment. On a more general note, history certainly favors the Cardinals following their 4-0 Game 1 victory, while the Cubs will need to do something they've never done before in order to advance.
Here's a closer look at 10 of the most interesting facts and figures to come out of Friday's series opener.
• Lackey became the first pitcher in franchise history to throw at least 7 1/3 scoreless innings while allowing no more than two hits.
• He's also the first pitcher to do so overall since Justin Verlander accomplished the feat for the Tigers in Game 5 of the 2013 ALDS. Verlander limited the A's to just two hits over eight shutout frames, all while striking out 10, en route to a 3-0 victory.
• Lackey, however, is no stranger to being removed from a postseason game while spinning a shutout. In fact, prior to Friday night, the last starter to be removed from a postseason game after exactly 7 1/3 innings with a shutout intact was also Lackey, back in Game 1 of the 2009 ALDS as a member of the Angels.
• As for doing it against Chicago, Lackey became just the fourth pitcher in postseason history to pitch at least seven innings against the Cubs. The only other starters to hold the Cubs scoreless for at least seven frames are Josh Beckett (2003 NLCS), Babe Ruth (1918 World Series) and Ed Walsh (1906 World Series).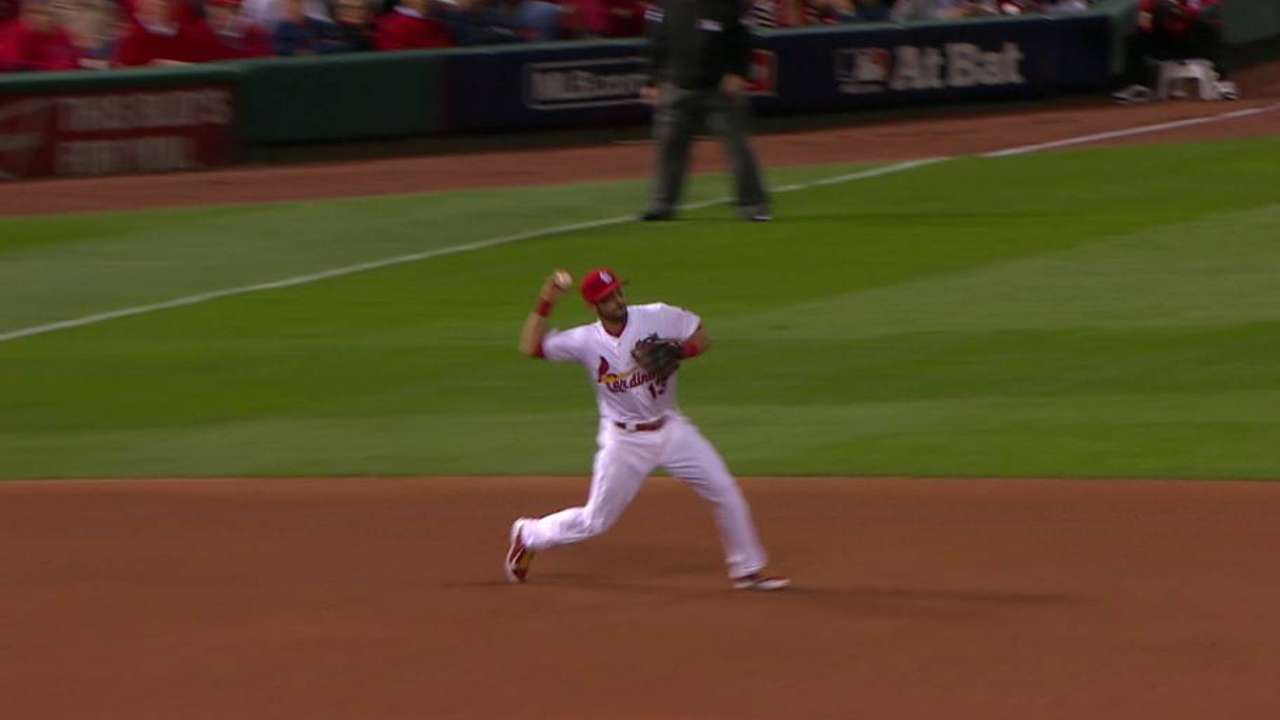 • The stellar outing simply continued a recent stretch of dominance from Lackey, who racked up a 1.78 ERA in September. Only two NL pitchers -- Jake Arrieta (0.45 ERA) and Stephen Strasburg (1.48 ERA) -- posted lower ERAs for the month.
• Pham joined an exclusive group by crushing a pinch-hit home run in the eighth inning. By doing so, he became just the third player all time -- and the first since John Lowenstein in the 1979 ALCS -- to hit a pinch-hit homer in his first career postseason game. The only other player to do so was Dusty Rhodes in the 1954 World Series.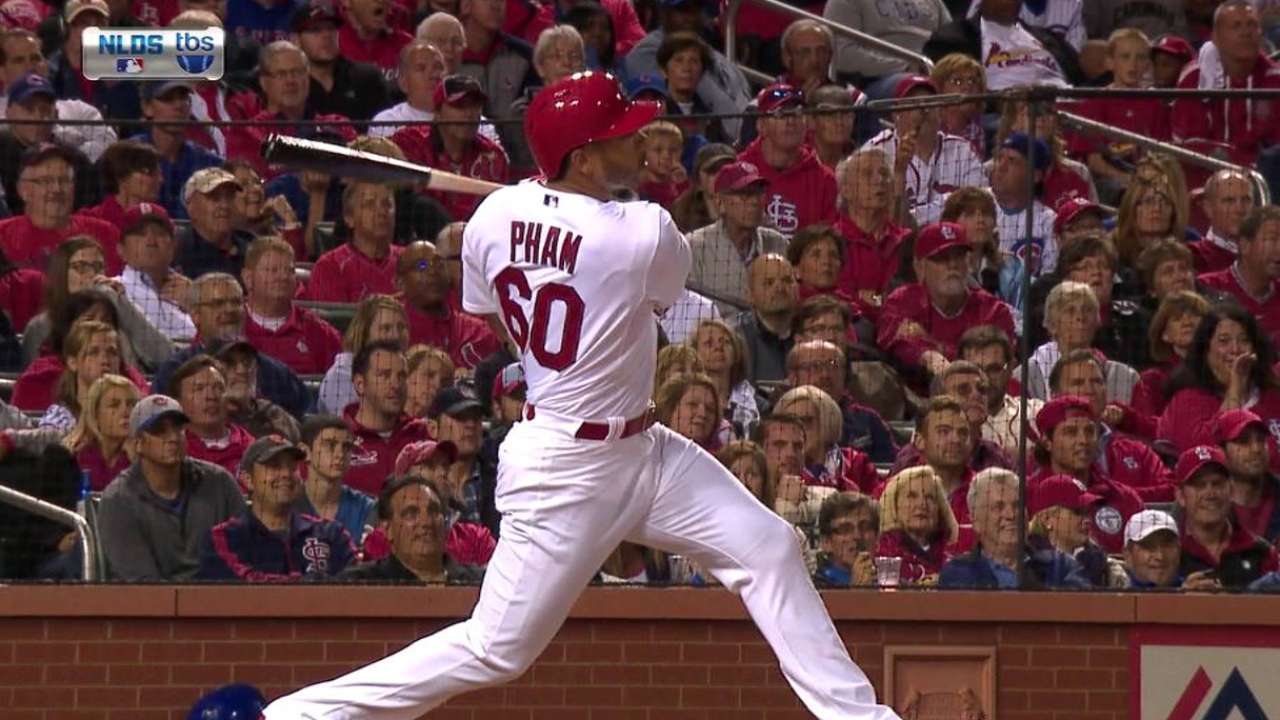 • With Pham's homer, the Cardinals are now responsible for three of the four postseason pinch-hit homers since 2013. Along with Pham's eighth-inning blast on Friday, Shane Robinson hit a pinch-hit homer in Game 4 of the 2013 NLCS, and Oscar Taveras added one in Game 2 of the 2014 NLCS. The only other postseason pinch-hit home run across the Majors in that span came from Michael Morse, who hit it for the Giants -- against the Cardinals -- in Game 5 of last year's NLCS.
• Just two nights after Arrieta tossed a shutout with 11 strikeouts, Lester followed it up by striking out nine over 7 1/3 innings, while allowing only three runs. Prior to Arrieta, only three Cubs pitchers -- Kerry Wood (2003 NLDS), Orval Overall (1908 World Series) and Jack Pfiester (1906 World Series) -- had ever pitched at least seven innings with nine or more strikeouts and allowed no more than one run in a postseason game.
• With the win, the Cardinals improved to 9-4 in NLDS openers all-time. Each of those previous eight times they won Game 1, they went on to win the series.
• As for the Cubs, they dropped to just 1-4 all-time in NLDS openers. Chicago has lost each of the previous three NLDS in which it lost Game 1, including being swept out of each of the last two. The Cubs have lost seven consecutive NLDS ballgames overall, all while being outscored 40-12 in the process.
Paul Casella is a reporter for MLB.com. This story was not subject to the approval of Major League Baseball or its clubs.