Tale of the Tape: Hendricks vs. Garcia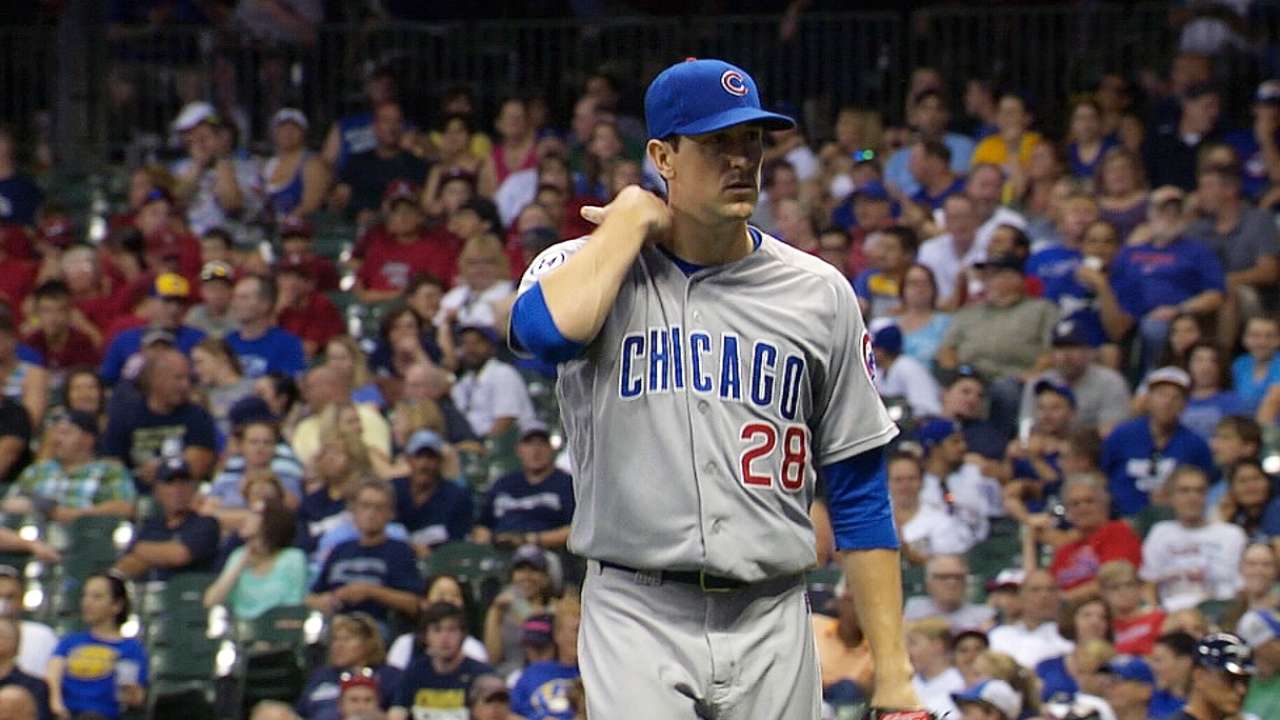 The Cubs and Cardinals will test the depth of their rotations as the National League Division Series continues with Game 2 at Busch Stadium on Saturday at 5:30 p.m. ET/4:30 CT (TBS). St. Louis has a 1-0 lead in the best-of-five series.
Second-year right-hander Kyle Hendricks takes the mound for the Cubs in his first postseason appearance, while lefty Jaime Garcia heads out for the Cardinals in his seventh career postseason start. Both have served as strong middle-of-the-rotation starters, but both have varying levels of experience in the Majors.
We take a look at how that experience stacks up for Game 2.
Kyle Hendricks, Cubs
Against the Opponent
2015: 1 GS, 0-0, 7.20 ERA
Career: 4 GS, 0-1, 3.97 ERA
Loves to face: Yadier Molina, .167 (1-for-6); Kolten Wong, .222 (2-for-9)
Hates to face: Matt Carpenter, .600 (6-for-10), 1 HR; Matt Holliday, .500 (6-for-12) 2 HRs
Game breakdown
Why he'll win: Hendricks broke out of his funk and found his rhythm to close the regular season. He tossed three consecutive quality starts and back-to-back scoreless outings while striking out 25 in that span. The Cardinals haven't seen him since May 5, which should benefit a pitcher who holds opponents to an average below .230 the first two times through the order.
Pitcher beware: The 25-year-old has never made an appearance in the postseason and he has not been as successful against the Cardinals. He's in a better rhythm, but he has gone more than six innings in an outing just twice since the All-Star break as he has struggled with his fastball command.
Bottom line: If he continues his strong run to end the regular season, watch out. But remember, he's never been here before.
Jaime Garcia, Cardinals
Against the Opponent
2015: 0 GS
Career: 5 GS, 2-1, 2.06 ERA
Loves to face: Dexter Fowler, .000 (0-for-9), 3 K's
Hates to face: Starlin Castro, .308 (4-for-13)
Game breakdown
Why he'll win: Garcia has started six games in the postseason during his career, including twice during the 2011 World Series. He has not faced the Cubs since April 2012, so a young lineup has little experience against someone who's handled the postseason pressure. And he's in the best season of his career statistically, with a career-best 2.43 ERA while limiting opponents to a .274 on-base percentage.
Pitcher beware: Garcia has struggled with his command in the second half of the season as well. After he allowed nine walks through July 28, the 29-year-old walked 21 in his final 12 starts of the season. He hopes to stop that funk while lowering his 4.23 career postseason ERA.
Bottom line: In one of his best seasons, Garcia excels at putting his team in a position to win.
Greg Garno is an associate reporter for MLB.com. This story was not subject to the approval of Major League Baseball or its clubs.