Mets' lefties win tug-of-war with Kershaw
Murphy, Granderson and Duda deliver key at-bats against ace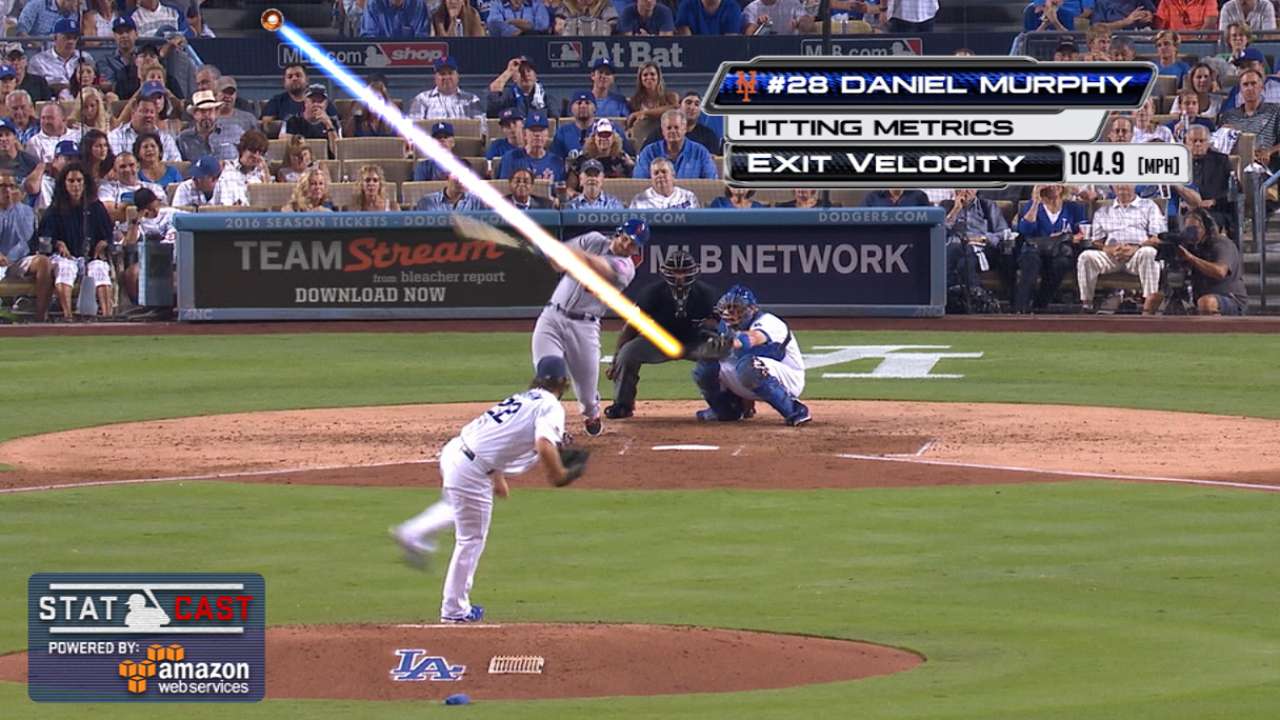 LOS ANGELES -- By now, there's no need to recite the numbers. Clayton Kershaw is probably the best left-hander of his generation, and he's etching himself a place among the best southpaws in MLB history. And yet, when Mets manager Terry Collins unveiled his starting lineup for the club's biggest game in nearly a decade, three left-handed bats were penciled into the top six slots against Kershaw.
That gamble paid major dividends Friday night, as the Mets beat the Dodgers, 3-1 , in Game 1 of the National League Division Series. Those three lefty hitters -- Curtis Granderson, Daniel Murphy and Lucas Duda -- combined for all four hits against Kershaw, including a majestic solo homer by Murphy in the fourth inning.
"He's so good," Collins said of Kershaw. "But if you have all right-handers against him and he gets into groove, he'll carve you up. So you've got to give him something different to look at."
• Shop for Mets postseason gear
Collins has a point. During the regular season, Kershaw's left-right splits were practically even. In fact, left-handed batters (.203/.231/.323) were actually slightly better against him than right-handed batters (.192/.239/.272).
Murphy, who had just one home run in 126 at-bats against left-handed pitching during the regular season, went down chasing an 0-2 slider in the first inning. Then, the tables turned.
"He chewed me up and spit me out," said Murphy. "I got a lot of sliders that I didn't see well, and he put me away with them fairly easy. The next at-bat I was able to get my foot down a little earlier. I got a 2-0 heater in the middle of the plate, and I was fortunate to put a good swing on it."
It was a familiar scene for Kershaw -- who allowed the go-ahead home run to the lefty-hitting Matt Adams in Game 4 of the NLDS last season. In Game 1 of that series against the Cardinals, he also coughed up a homer to left-handed-hitting Matt Carpenter, as well as the go-ahead three-run double.
"I watched some film of Clayton's last couple starts, and I watched him in the playoffs last year," Murphy said. "Carpenter and Adams were swinging the bat really, really well last year, too, when they had those good ABs off of him. It's just one of those things that, I think for him, he makes so few mistakes that when someone capitalizes on him, we're surprised, because he's so good."
Murphy wasn't the only Mets lefty to have success against Kershaw on Friday night. Duda notched the team's first hit -- a sharp grounder off Kershaw's foot in the second inning. Granderson, meanwhile, set the tone by hitting a missile to the warning track on the first pitch of the game. The ball was hauled in by Dodgers right-fielder Andre Ethier, but Kershaw wouldn't retire Granderson again.
Granderson -- who struggled against lefties during the regular season -- singled twice, before piecing together one of the biggest at-bats of the game in the seventh. He worked a seven-pitch walk that chased Kershaw after 113 pitches, and David Wright promptly followed with a two-run single that proved to be the difference.
"They're our best hitters," Collins said of his difference-making lefties. "And you put them in the game against a great pitcher."
AJ Cassavell is a reporter for MLB.com. Follow him on Twitter @ajcassavell. This story was not subject to the approval of Major League Baseball or its clubs.