Lester shows worth in Cubs playoff debut
Left-hander fans nine over 7 1/3 in Game 1 loss to Cardinals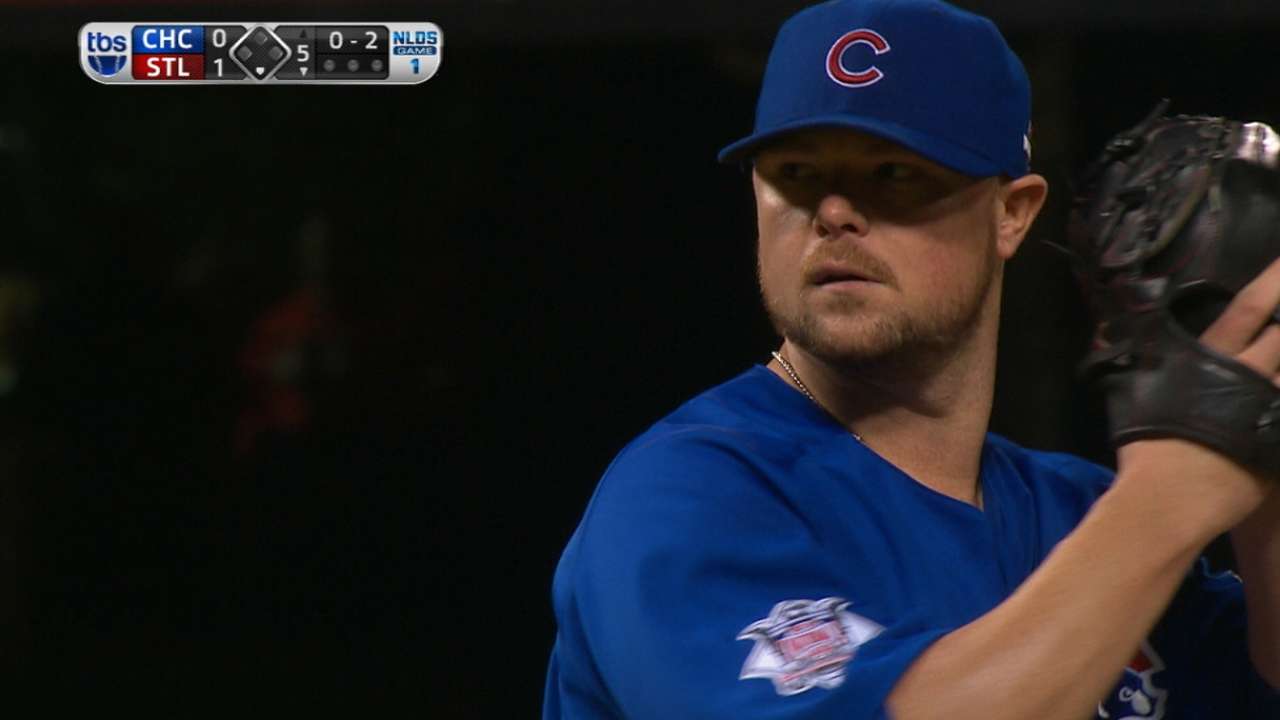 ST. LOUIS -- The Cubs signed Jon Lester to pitch in games like this, to perform the way he did for 7 1/3 innings Friday night at Busch Stadium.
Lester held up his end of the deal against the Cardinals, but his old friend and former teammate John Lackey kept the Cubs off the board in a 4-0 loss in Game 1 of the National League Division Series.
"Lack made, really, one more pitch than I did," Lester said. "Obviously, the grand total doesn't show that, but that's kind of the way I feel."
Lester was untouchable for most of the night. After the Cardinals took a one-run lead in the first, he retired 21 of the next 23 hitters. He struck out nine batters, a postseason career high. His first walk of the night came against the last hitter he faced.
But with Lackey dealing, one run was enough for Lester to take the loss.
"From the beginning I could see that Lackey was on. I could see after that first inning Jon Lester was on," Cubs manager Joe Maddon said. "So you just figured like 1-0, 2-1, 3-2, that kind of a game. That's what I had in my mind's eye the entire night."
And when the Cubs signed Lester for six years and $155 million over the winter, they had nights like Friday in their mind's eye. He came to Chicago with a big-game reputation, 15 appearances in the postseason, two championship rings and a 3-0 World Series record.
Lester pitched 7 1/3 innings, matching Lackey's total, but he was charged with three runs. He gave up one in the first, when Stephen Piscotty doubled and scored on a single up the middle by Matt Holliday.
From that point until the eighth inning, Lester was lights-out. He gave up two hits over the next six innings and retired 13 straight from the fifth until the time rookie pinch-hitter Tommy Pham came to the plate in the eighth.
In the Cardinals dugout, outfielder Randal Grichuk recalled something Pham had mentioned earlier. Grichuk knew Pham would be sitting on Lester's cutter. Lester started the at-bat with a changeup followed by a fastball, a curveball and a sinker.
"I kind of said to myself, 'Don't throw that cutter in over the plate,'" Grichuk said. "He got it and put a great swing on it."
With a 3-1 count, Lester finally threw cutter, and Pham hammered it into the left-field seats for a solo home run. Lester walked the next batter, who scored when reliever Pedro Strop served up a homer to Piscotty.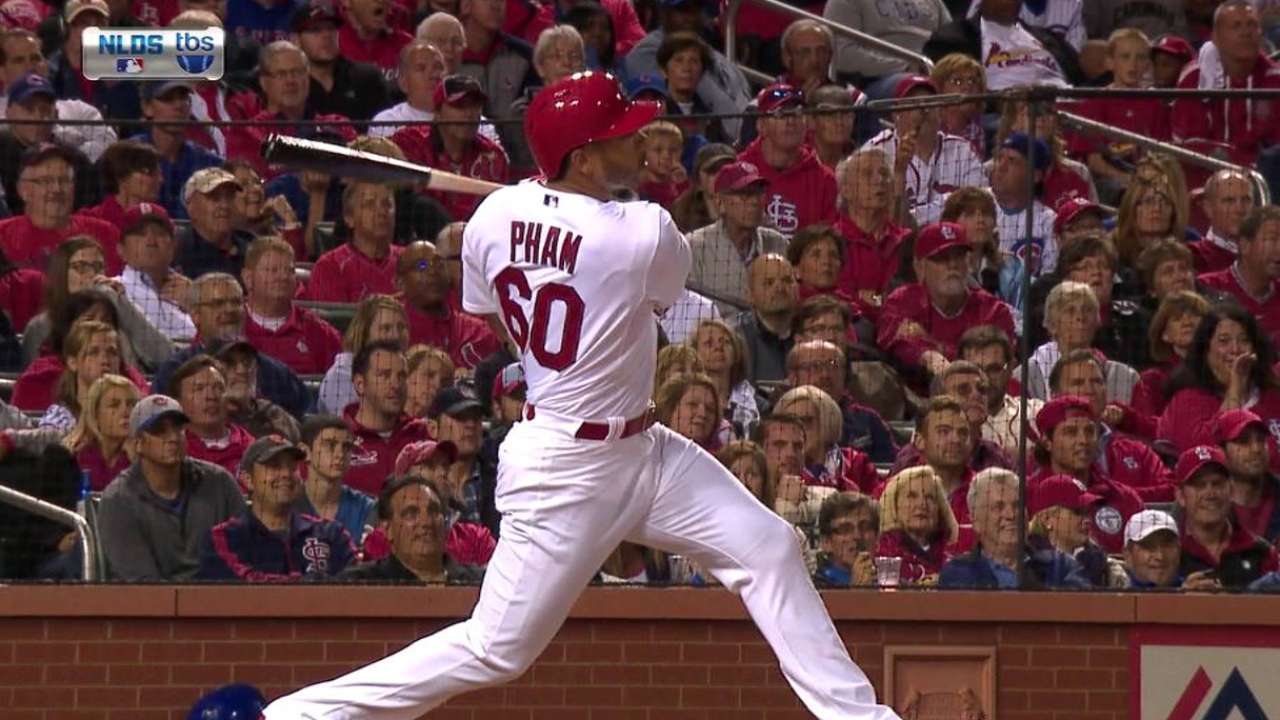 "I guess right pitch, right time for Pham. He didn't miss it," Lester said. "Sometimes that happens."
It's happened often for Lester against the Cardinals this season. He put together a 2.59 ERA in five regular-season starts against St. Louis this year but finished with a 1-3 record. Overall, he posted a 3.34 ERA but finished with a losing record.
Lester gave the Cubs the kind of performance they expected, but they couldn't deliver the outcome they wanted.
"I've given my team a chance. That's all I can do," Lester said. "That's all I try to do, keep my team in the ballgame and hopefully at the end we're up instead of down."
Adam Berry is a reporter for MLB.com. Follow him on Twitter at @adamdberry. This story was not subject to the approval of Major League Baseball or its clubs.