MLB.com Columnist
Tracy Ringolsby
Split in KC has Hinch feeling unsatisfied
Astros' defensive shifts don't work out in Game 2 loss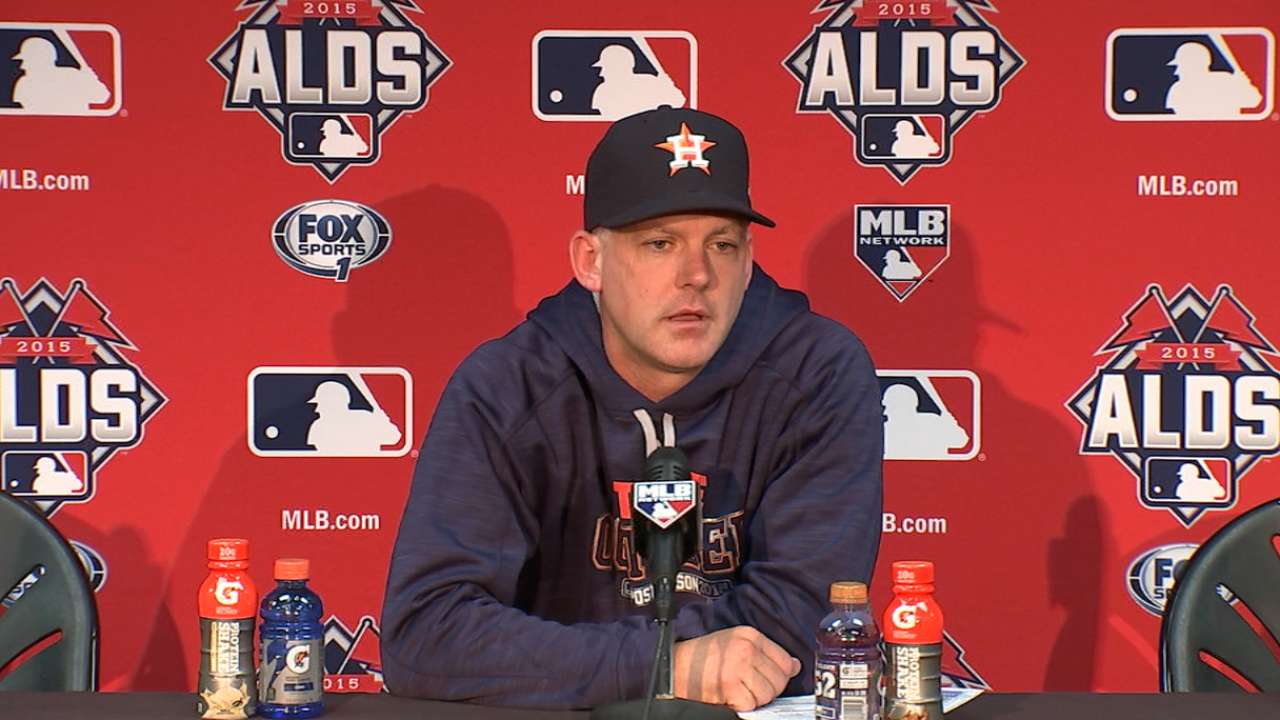 KANSAS CITY -- The Astros are baseball's feel-good story this October. After a combined 416 losses the four previous seasons, they made it into the postseason this year.
Impressive? Darn right. Satisfying? Not a chance.
• Shop for Astros postseason gear
Not to manager A.J. Hinch, who likes what he has seen so far. But there are games to be played, and as long as that's the case, he figures there are games to be won.
So while others may see the Astros as being in good shape after splitting the first two games of the American League Division Series with the Royals at Kauffman Stadium, sending them home to Minute Maid Park for the next two games in the best-of-five series (Game 3 today at 4 p.m. ET on MLB Network), Hinch isn't buying it.
Yes, Houston won the series opener, 5-2, Thursday night. No, that didn't take the edge off a 5-4 loss Friday.
Forget the spin-doctor, feel-good jibberish.
"I don't feel like mission accomplished," said Hinch. "I want to win every game. … We were in position to win that game. They did a good job of getting to us in the sixth and seventh."
The Astros were holding a 4-2 lead with one out in the sixth. They were 11 outs away from taking the first two on the road. But before they got a second out in the sixth, the Royals had tied the game, and then, before there was an out in the seventh, Kansas City had taken the lead.
K.C. took the challenge of Houston's analytical-driven overshifting defense and beat it.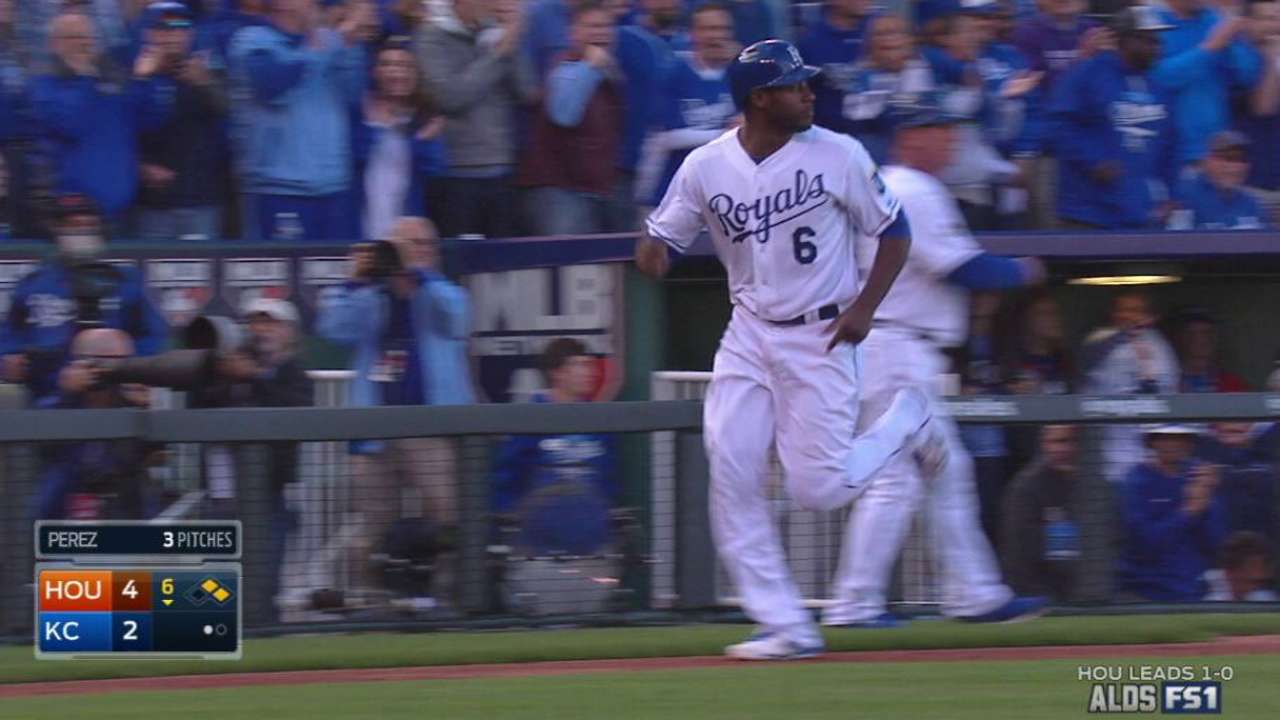 Nine of the Royals' 11 hits went the other way, including when with one out in the sixth, after a Lorenzo Cain double, Hinch opted to bring in lefty reliever Oliver Perez instead of leaving in Scott Kazmir, the left-handed starter, to face left-handed-hitting Eric Hosmer, who popped out and grounded out against Kazmir earlier.
"I've got the choice of leaving [Kazmir] in the game versus getting somebody fresh," said Hinch. "You know the third time through the order, generally speaking, is never good. I wanted to give those guys in the heart of the order a different look."
This time, though, those guys liked what they saw. Hosmer greeted Perez by flipping a two-strike RBI single to left-center, pulling Kansas City within one run at 4-3, and Kendrys Morales followed with a single to right field that left Perez looking around the infield, shrugging his shoulders, and set up a game-tying bases-loaded walk of Salvador Perez from Josh Fields.
Then there was that game-winning run in the seventh when Ben Zobrist singled home Alcides Escobar, who opened the inning against Will Harris by driving a triple over the head of right fielder George Springer.
"I don't think it had anything to do with analytics," Hinch said. "I think it has everything to do with they did a pretty good job at finishing their at-bats. … I mean, they just continued to compete through their at-bats. … They didn't get where they're at without a pretty good offensive club."
Escobar didn't agree, though.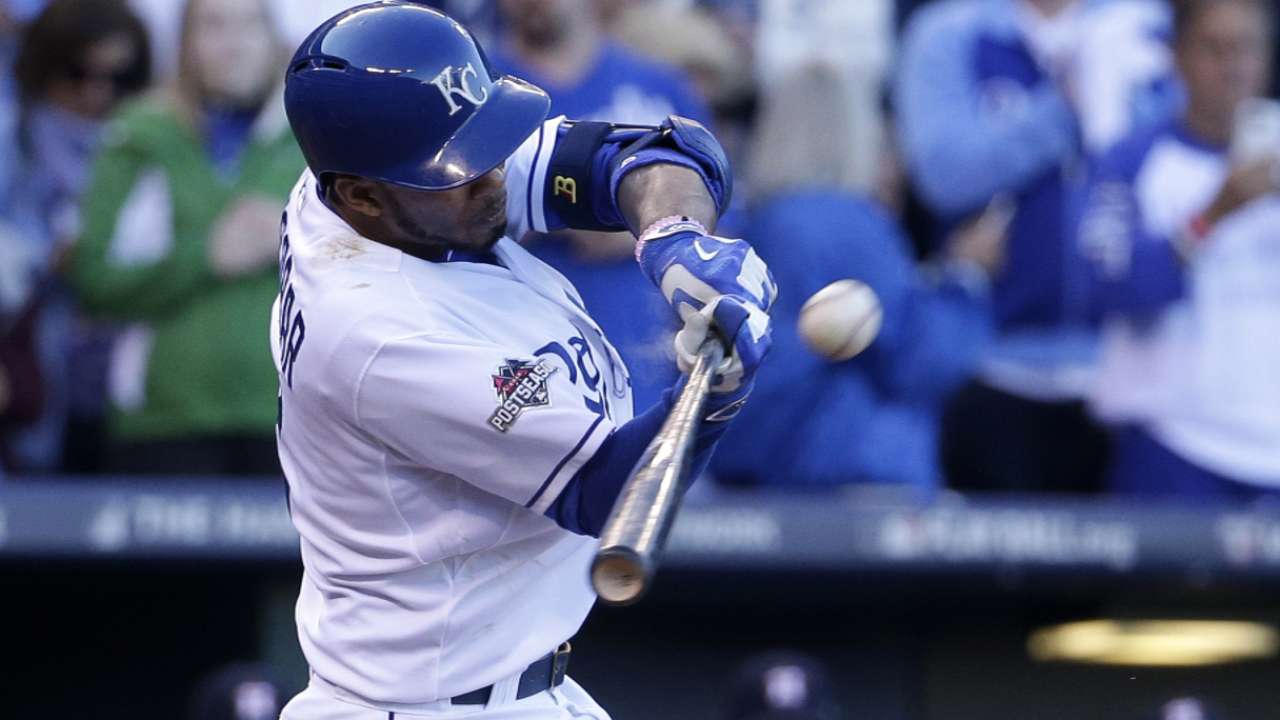 "Those guys, they play always like that in the regular season, play too shallow in the outfield,'' he said. "Everybody's moving. Second base, playing right behind the base. It's crazy. I don't know why those guys do that."
They do it because more times than not, the shifting works in their favor. This time, though, it didn't.
And the end result, Hinch admitted, hurt.
"We were in position early to win that game,'' Hinch said. "Getting out of here with a win feels great. Getting out of here with two would have felt better.''
Tracy Ringolsby is a columnist for MLB.com. This story was not subject to the approval of Major League Baseball or its clubs.