Kazmir puts struggles behind, sets Astros up
After rough stretch to end regular season, lefty exits with lead in sixth inning of Game 2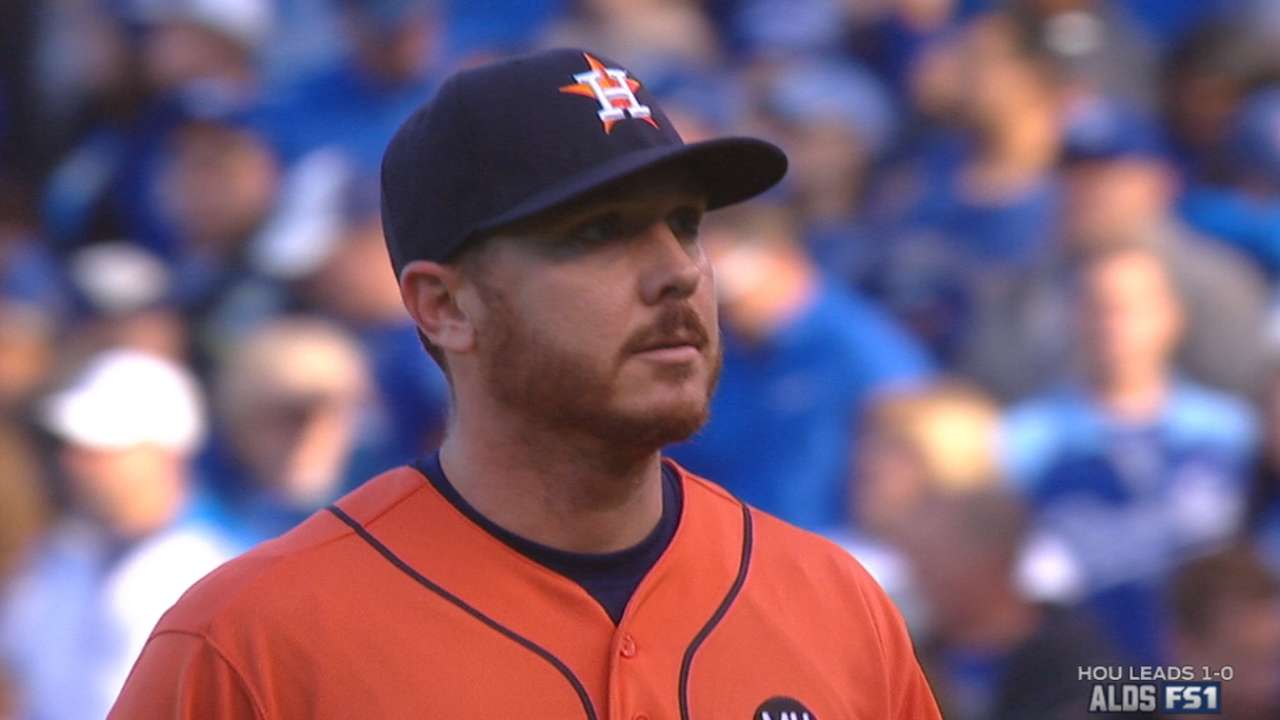 KANSAS CITY -- No short leash was needed for Scott Kazmir on Friday. The veteran left-hander, acquired at the July 31 non-waiver Trade Deadline to help the Astros get into the postseason and beyond, left behind his second-half struggles and pitched into the sixth inning for the first time since Sept. 14.
Kazmir exited with one out in the sixth inning clinging to a two-run lead, having given his club as much as it could've hoped for in Game 2 of the American League Division Series against the Royals, before Kansas City scored twice in the frame en route to a 5-4 comeback victory.
• Shop for Astros postseason gear
"He did everything you would expect Scott Kazmir to do in a game that mattered a lot," Houston manager A.J. Hinch said, "and I was proud of his effort."
Hinch was expected to have a quick hook on Kazmir should things have gone awry again for the southpaw, who allowed 13 earned runs on 22 hits -- five of them home runs -- in 11 2/3 innings in his final three starts of the regular season.
Going back six starts, Kazmir was winless with a 6.52 ERA. The 31-year-old was faltering at the wrong time for an Astros team that badly needed him to keep them afloat the AL West race, having tallied only two wins in 13 starts following his acquisition from Oakland.
None of that mattered Friday. Kazmir was on his game from the get-go, flashing improved velocity along the way -- particularly with his slider and cutter.
In September, Kazmir's slider averaged 80.7 mph, a season low. On Friday, he threw it 14 times at an average of 83.2 mph, with his cutter coming in at 88.1 mph, after averaging 84.3 mph in September.
"I felt it a little bit," Kazmir said. "It could just be adrenaline, you know. Kauffman Stadium was rocking pretty much the entire day."
In addition to the atmosphere element, and improved consistency with his delivery, Kazmir said he made a necessary wardrobe change ahead of the outing.
"Having the pants up really helped with my slider," said a smiling Kazmir, who sported high socks for the first time with Houston. "I've been told by a couple players before that my slider is better with my pants up."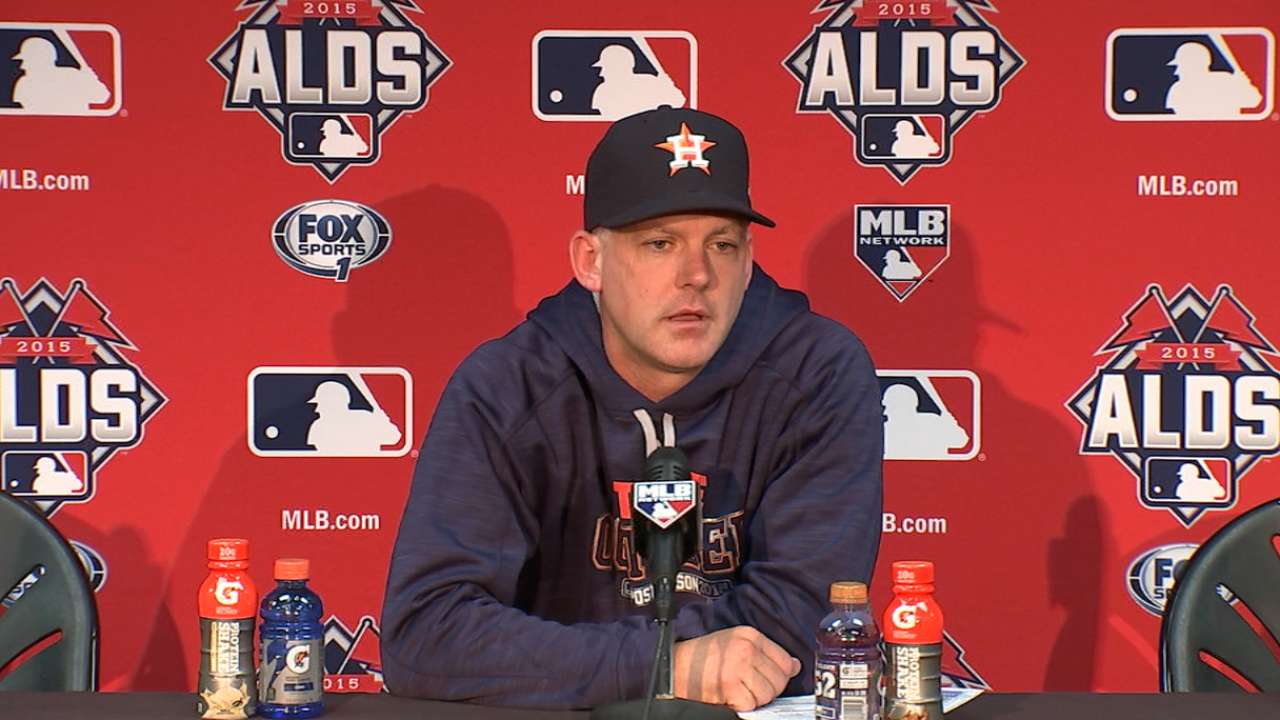 Kazmir finished with 97 pitches, the last hit by Lorenzo Cain for a one-out double that brought Hinch from the dugout. Wanting to give Eric Hosmer a different look, Hinch went with the fresh arm and called for left-hander Oliver Perez, who allowed Kazmir's final run to score by yielding a single to Hosmer.
Kazmir was charged with three runs, having allowed five hits with one walk and four strikeouts in his ninth postseason appearance (eighth start) but first since 2009 with the Angels.
"I wanted to tell him how much I thought he battled today and did his job," Hinch said. "This guy hadn't pitched this deep into a game in a while, and getting his pitches up to close to 100, he had battled through a little bit of adversity earlier in the game, but he hadn't given up a ton. The fresh look for Hosmer was the motivation there when I took him out, and I wanted him to know he had put us in a good position to start that game."
Jane Lee is a reporter for MLB.com. This story was not subject to the approval of Major League Baseball or its clubs.