MLB.com Columnist
Alyson Footer
Cueto gets stronger later, keeps KC in it
Royals righty doesn't dominate, but gives club chance to rally in Game 2 win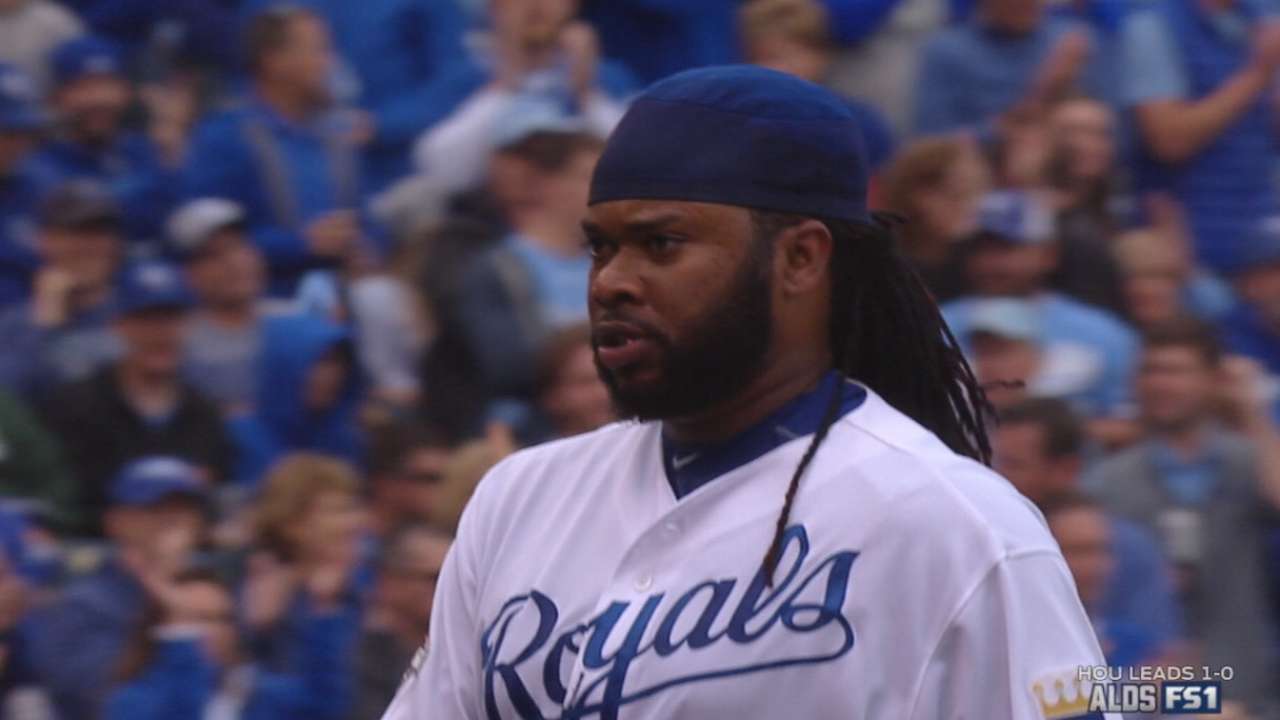 KANSAS CITY -- Of all of the baseball clichés we may hear thrown around during this round of the postseason, the granddaddy of all of them may just be, "That's why they traded for him."
"Him" is, of course, Johnny Cueto, the Royals' big acquisition at the non-waiver Trade Deadline. Armed with a terrific track record -- not only in terms of wins, but also durability -- Cueto seemingly gave Kansas City exactly what it needed -- a horse at the top of the rotation who could not only carry the team to the regular-season finish line, but also pick it up in big games in October. Like, for example, its 5-4 win over the Astros in Game 2 of the American League Division Series on Friday night at Kauffman Stadium.
• Shop for Royals postseason gear
This was one the Royals needed to win in order to not head to Houston on the brink of elimination. It also happened to be a game Cueto started, because ... all together now …
"That's why they traded for him."
But like many of his starts since he joined the Royals, Cueto's outing against the Astros wasn't dominant. It was decent, falling into the category of "good enough," and Kansas City won it. But Cueto's longest career postseason start was far from his best. He allowed four runs over six frames, including two key hits to Colby Rasmus -- an RBI double in the first and a leadoff homer in the third.
"At the beginning, I didn't feel as strong," Cueto said through interpreter Pedro Grifol. "Then I was able to settle down and locate. Some of the balls they hit fell, but I battled through it, and I felt strong."
Despite the shaky beginning, Royals manager Ned Yost said he never considered an early hook.
"If you're a manager, you say [he made] two mistakes, really, to Rasmus," Yost said. "They're only mistakes if they get hit. They're probably two pitches he would like back to Rasmus. But the second inning, it was an array of broken bats and jammed shots and a bunt that, you know, we couldn't make a play on and a walk. So I thought he was throwing the ball fine."
Cueto rewarded Yost's decision to stick with him by yielding two baserunners over the next three innings.
"He finally really got dialed in after the third inning and kept us right there through six," Yost said. "I looked at [pitching coach] Dave [Eiland] and said, 'What do you think of his outing?' Dave said he pitched good enough to win. I said I agree."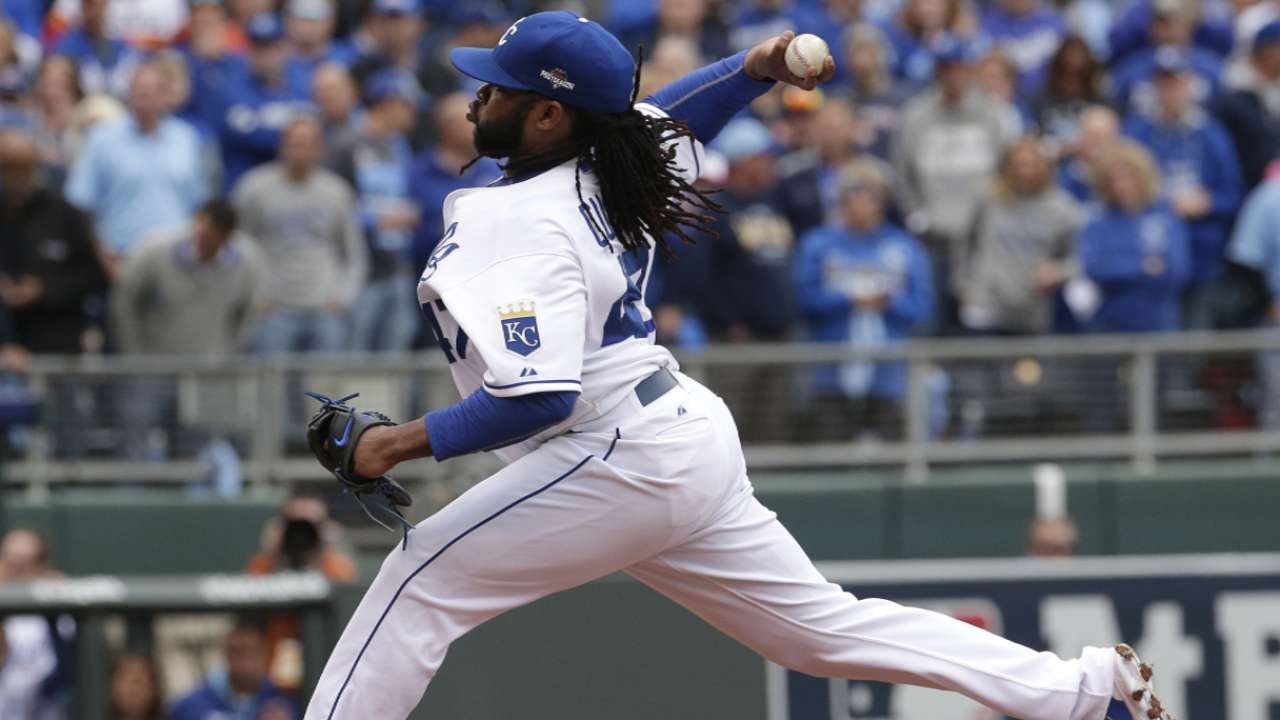 The outing was, for the most part, in line with Cueto's starts down the stretch in September. Prior to a solid final start in Minnesota in which he allowed one run over five innings, Cueto shuffled through a rather pedestrian September, going 1-4 with a 6.11 ERA in six starts.
Is he feeling the pressure of such high expectations after the trade?
"I don't feel any pressure at all," Cueto said. "I know the magnitude of the trade. I know why I was brought here. I take a lot of pride in my stuff and a lot of pride in helping the club win."
Catcher Salvador Perez hasn't noticed any extra tension from Cueto, either.
"I don't think he feels any pressure," Perez said. "He knows what he has to do, to come in here and pitch like the way he pitched today. And we won the game. He's always playing hard, pitching hard for the team."
Cueto will have to continue that, and perhaps improve in some areas along the way if the Royals are going to make it as deep in October as they did last year. Winning on Friday made that path a little clearer.
"It was a huge game," Cueto said. "Obviously, you don't want go down 0-2 heading to Houston, but thank God we were able to pull this one out, and we can go to Houston and just play baseball."
Alyson Footer is a national correspondent for MLB.com. Follow her on Twitter @alysonfooter. This story was not subject to the approval of Major League Baseball or its clubs.