Oct. 9 Mike Matheny postgame interview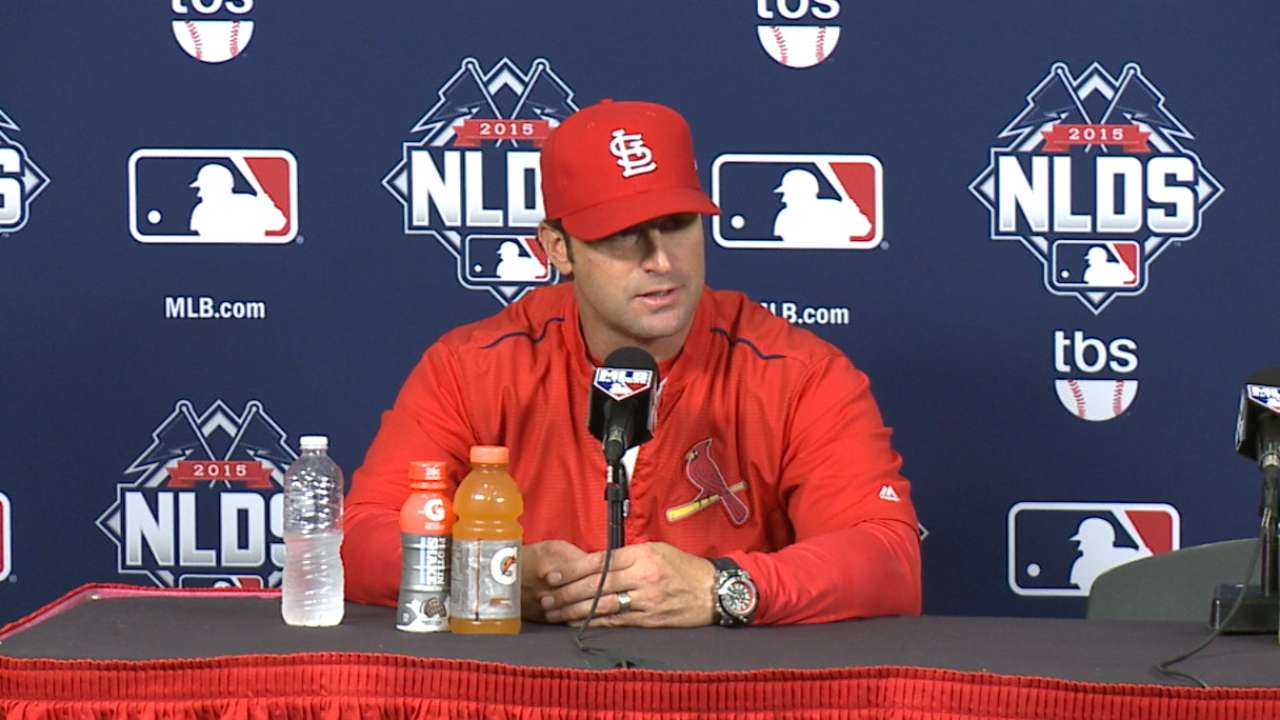 Q. Mike, your reflections on John and how well he pitched tonight.
MIKE MATHENY: Incredible. You know, you put a guy in a situation like this, and we talk a lot about him being a big-game pitcher, about the experience he's had, how he thrives in these situations, and then he just takes it there and goes a step further with just the way he competed today. I thought his fastball was as good as we've seen, period.

He had good movement when he wanted it; he got the ground balls when he needed them. I thought the slider was very sharp. He used the top of the zone; he used the bottom of the zone. I think anything he wanted to do he pretty much had, and he controlled the counts and trusted the defense behind him. It was exactly what we needed, and I don't know if you could ask him to do any more than what he did.

Q. Mike, you've seen John from the other side of the field before last year, when he came here, did he match up to who you thought he was going to be or has he been even better on the field than you anticipated?
MIKE MATHENY: Yeah, when we brought him in last year, he was a great shot in the arm for our club; and when he showed up in Spring Training, there was something more. Not that he was holding back last season, but I think he just -- he found something that felt right. And since the beginning, since Spring Training, there has been just a different level, and it's been impressive to watch and something that, once again, you start looking at how our season played out, and early on with Adam Wainwright going down, we needed his presence. We needed his experience; we needed so many things that he brings to the table naturally, and it's just been exactly what our club was looking for, especially for our young pitchers and their development and for big situations like this for him to lead the way.

Q. Mike, you called John a big-game pitcher. What is it about him that allows him to rise to these moments? Where does that come from?
MIKE MATHENY: I don't think you ever want to discount experience, being in these situations before, and a lot of players are just waiting for the first time to prove it to themselves, not just to the rest of the world; and John Lackey has been there.

I think there is just something inside of him, a lot like what we've seen in the past in our staff from an Adam Wainwright and from a Chris Carpenter and on down the line, these guys who want that role as being the one that sets the tone. And that's something that John Lackey has done very well; and we've seen it from the other side. When you get him into a big situation, he's not going to scare, and he's going to come out with better stuff when you are turn up the heat, and that says a lot. You mix that with the kind of stuff he has right now, and he's a top-tier pitcher.

Q. What was the discussion like there before the 8th? Was that one batter kind of a negotiation or how did that play out there in the dugout?
MIKE MATHENY: The discussion with?

Q. With John.
MIKE MATHENY: No. I mean, I was pretty much leaving him alone and letting him do his thing, knowing that Castro is a guy that's given us a lot of trouble in the past, and I liked the way that he was going about trying to get him out.

You know, we have a lot of faith in our bullpen to come in and do their thing on the backside, and Kevin Siegrist certainly didn't disappoint. He did a terrific job.

Q. Your kids gave you some breathing room there at the end. Can you talk a little about what Tommy has done for you and Stephen's contributions all through the year?
MIKE MATHENY: Well, Stephen has been as consistent as any young player you could ever bring into a situation where we throw him in -- not just into the big leagues, but we throw him in a position where he hasn't had a lot of reputation and he does a great job and just the consistency and the way he goes about his business. He's got great baseball IQ. He makes incredible adjustments for a young player. He knows he has a lot to learn, and he's wanting to learn, and he has the aptitude to make it all happen. It's just been fun to watch him. And Tommy Pham we brought in out of necessity; we needed a spark. And I think tonight kind of shows that he has potential. He's just been a guy that once he gets going, it's another skill set, with the speed, with the defense and then the power.

And, you know, you talk about young players that sometimes you wonder how they're going to respond when you put 'em on a stage like this, but not with Tommy. You know he's going to be there. He's been looking forward to this for a long time, and tonight he did a great job with it.

Q. Mike, seems like we always talk about manager's moves when they don't work out, but you put Reynolds in for defense, he makes a great play, and you pull Lackey at the right time, and then Pham pinch hits. How is it when all three of those things kind of work out exactly as you would have loved?
MIKE MATHENY: Lackey just walked in, and he didn't think that he was pulled at the right time. But as far as getting Mark Reynolds, that's something we have been able to do most of the year, and Mark is a great defender. We've put him all over the field, whether it's in the outfield, third base. We've even featured him in the middle of the infield, and at first base he's done a real nice job. So we're trying to get Stephen some exposure over there, but we get late into the game, we have no problem bringing Mark in and then getting Stephen to a more comfortable position in the outfield. And fortunately the ball made its way to him, and Mark made a very, very tough play. That play is much tougher than maybe what it looked like at face value, but the guys came in. And you just put them in situations where you hope that they can thrive, and, boy, watching them do what they do, it's been fun all season, and you just try and get 'em in those spots where they can do it.

Q. How did Yadi come through the game physically?
MIKE MATHENY: You know, I'm so impressed with him today. I told him this after the game. When he's got that kind of energy and life and you can see it's infectious when he gets behind the plate. He just about knocked Matt Carpenter over, I think, on the first strikeout, and it had to be 96 that he threw down to third base. You could tell he's just been anxious to get in there. He's been on the shelf here for a while trying to get that thumb right. I thought his swings looked good. The way he moved behind the plate today, the way he and John were just kind of working back and forth. And Yadi always has his eye on the field and I enjoy talking to him because he's got a great baseball mind as well, but he is so valuable to our club in so many different ways, ways that you can't put numbers to, but today was an example of one of those days.

Q. After four days off since the end of the season, any extra weight or significance to coming out with two big hits in the first inning?
MIKE MATHENY: Yeah, I think it's important for us to give John a little breathing room. We haven't given him a whole lot of space this year where seems like every game he's pitching in, he's going to have to hold on tight, and I know it doesn't bother him. We would much rather give him a little more cushion. But Stephen getting us going with that double and Matt Holliday doing what he does, which he gets big hits, did give at least a little bit of room to breathe until the young guys made something happen late. But that's kind of how we have been all season long. I don't know why we would be surprised that it happened again right now, and it's probably going to continue to be that way, but this team's comfortable in that spot. If we gotta just grind and fight and hold on to a small lead, we trust our guys to get it done.