Maturing at right time, Syndergaard starts Game 2
Mets' rookie righty has evolved from thrower to pitcher, set to face Greinke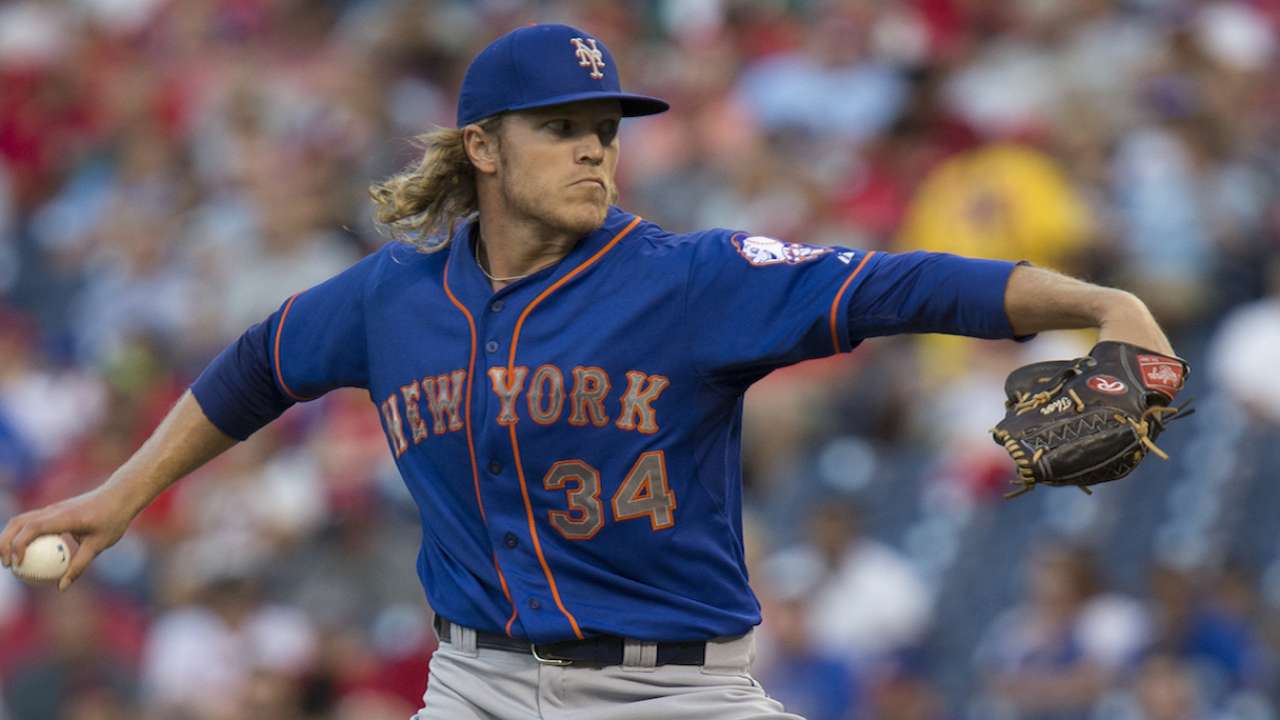 LOS ANGELES -- Though his reserved personality might be more fitting of a gentle giant, Noah Syndergaard has spent the first five months of his Major League career showing why he is nicknamed Thor. The Mets right-hander possesses a physical appearance and mound presence that draw comparisons to the Norse god.
Since making his much-anticipated Major League debut in May, Syndergaard has made the successful transition from thrower to pitcher and overcome some normal initiation issues, like proving successful on the road. The rookie will have a chance to make another significant step in his development on Saturday night, when he takes the mound at Dodger Stadium to start Game 2 of the National League Division Series at 9 p.m. ET on TBS.
• Shop for Mets postseason gear
"To me, it's just all about getting comfortable out there on the mound on the road," Syndergaard said. "I feel like in the last couple starts I had on the road I had a lot of success, lot of comfort. The big thing for me was being able to execute my pitches and become more of a pitcher, not a thrower. And I feel like that's going to play a huge role [on Saturday]."
Syndergaard has produced a 3.24 ERA and limited opponents to a .225 batting average through the first 24 starts of his career. His road struggles might have been somewhat overblown as they essentially focused on a pair of outings in June and another that he made in St. Petersburg against the Rays in early August. The 23-year-old hurler allowed two earned runs or fewer in seven of the 12 starts he made away from Citi Field.
One of those seven starts was on July 3, when he opposed Clayton Kershaw at Dodger Stadium and allowed just two hits over six innings while helping the Mets claim a 2-1 victory. With memories of that outing fresh in his memory, he will attempt to produce a similar outing during Saturday night's matchup against Zack Greinke.
"The atmosphere here was electric," Syndergaard said. "I can't imagine what it's going to be tonight. We've all been looking forward to it, and it's going to be a lot of fun."
Though Syndergaard has possessed a wow factor dating back to when he began pitching Grapefruit League games in 2014, the Mets patiently allowed him to extend his development and prove that he had more than just a 98-mph four-seam fastball. In the process, the young hurler developed a two-seam fastball that he throws nearly as hard with sinking action.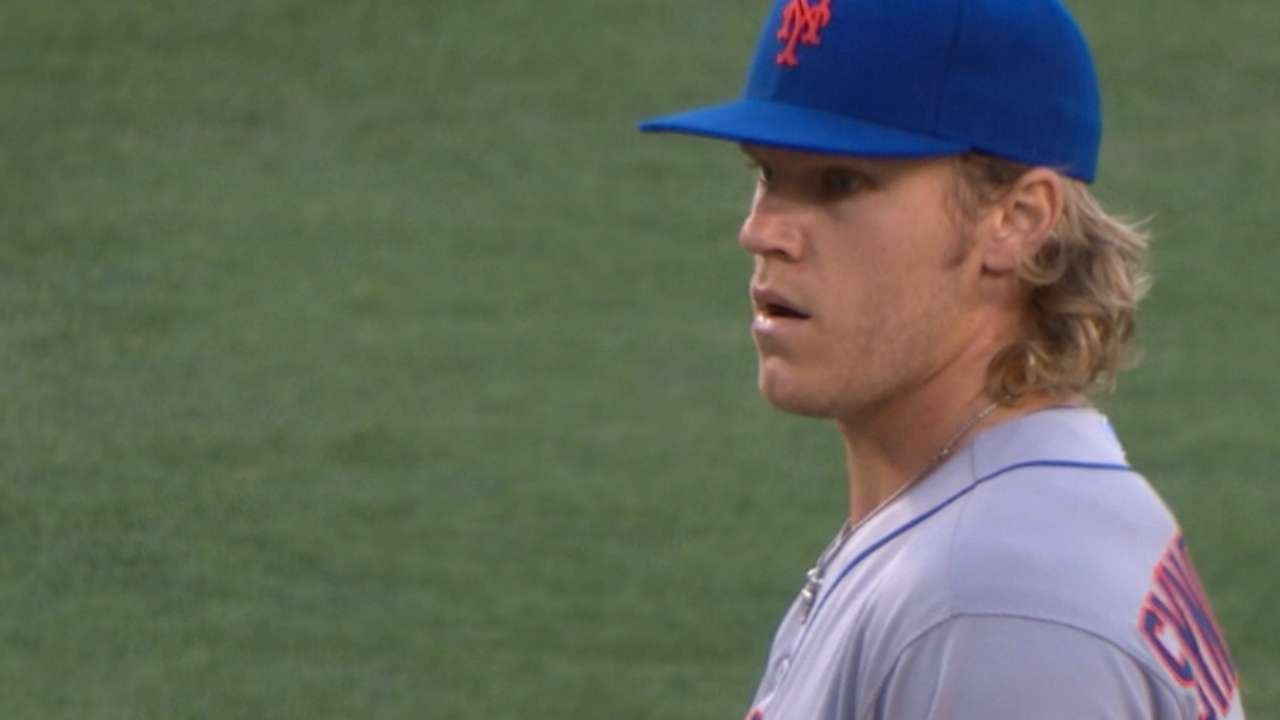 "One of the things you try to do at this level is try to get easy outs," Mets manager Terry Collins said. "Try to get outs early in the count. The two-seamer has allowed him to do that. Now he has a lot more confidence to pitch to contact early in the count where he doesn't have to worry about trying to strike somebody out, so I think it's been a big help to him."
Though he is still in the very early stages of a highly promising career, Syndergaard has already shown he has a good feel for the art of pitching. More importantly, he has gained an enhanced sense of confidence while producing a 3.22 ERA in the six starts he has made against this year's playoff teams.
"It's just going out there and being able to execute my pitches and throw my fastball to both sides of the plate," Syndergaard said. "I mean, big league hitters can catch up to the fastball no matter how hard it is. So as long as you're able to change speeds, I feel like I'm going to have success tomorrow night."
Mark Bowman is a reporter for MLB.com. This story was not subject to the approval of Major League Baseball or its clubs.