MLB.com Columnist
Mike Bauman
In tough spot, KC shows playoff mettle
Royals avoid 2-0 ALDS deficit with comeback victory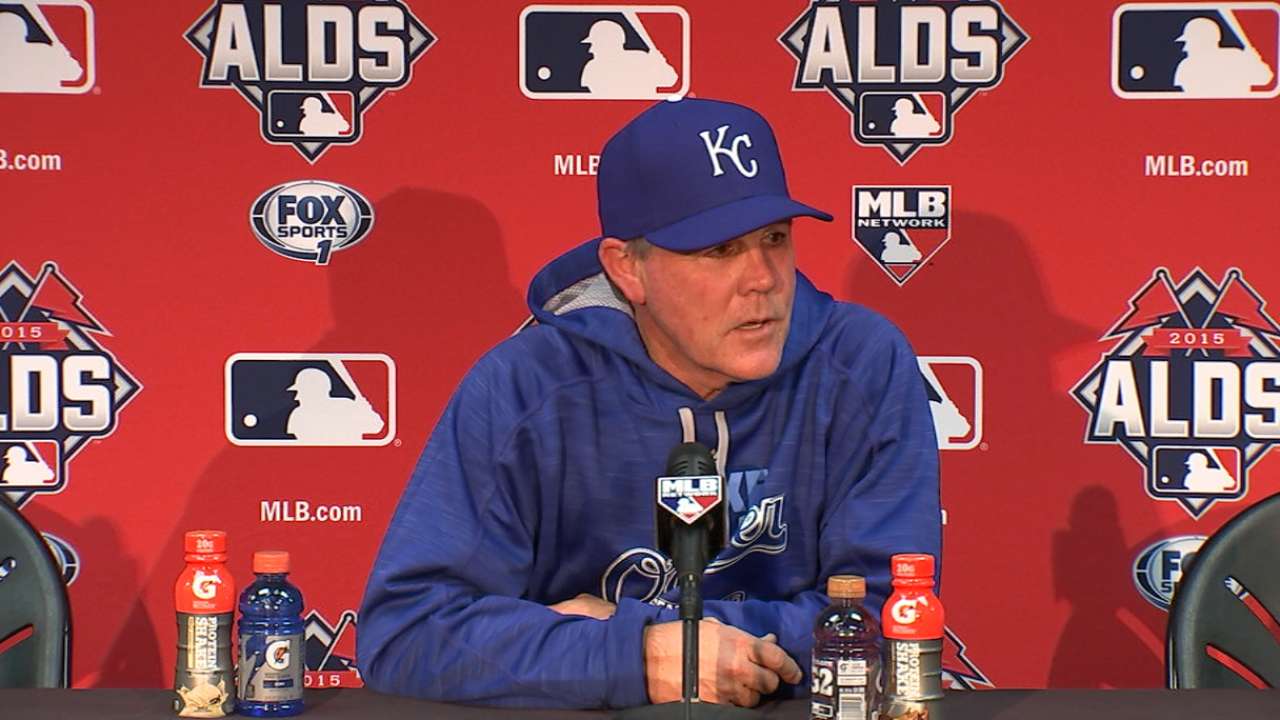 KANSAS CITY -- It turns out that the Royals have not run out of postseason mojo, after all.
Postseason play has a way of turning around within minutes, if not seconds. Welcome to Game 2 of the American League Division Series between the Royals and the Astros.
• Shop for Royals postseason gear
The outlook for advancement was grim for the Royals on Friday for a considerable length of time. They trailed from the first inning and they were still down by two going into the bottom of the sixth. Worse than that, if they went down 2-0 in the series, they were faced with the prospect of facing Houston ace Dallas Keuchel in Game 3 today (4 p.m. ET, MLB Network) at Minute Maid Park. At home this season, Keuchel is 15-0 with a 1.46 ERA.
This was not the end of the road, but you could see the end of the road from here. But Kansas City did not waver in its belief as a team. The sold-out Kauffman Stadium crowd of 40,008 did not slack off in its support of the home team, either.
The Royals got a solid double from Lorenzo Cain in the bottom of the sixth. Then they went to work with an opposite-field flare, a ground ball through the right side that defeated a shift, and two walks. Presto, a 4-4 tie.
In the next inning, Alcides Escobar led off with a triple the opposite way, and Ben Zobrist followed with a solid opposite-field single. That made it 5-4, which is the way the game ended, because Kansas City's bullpen is still ferociously effective, even in the absence of All-Star closer Greg Holland.
"Once we tied that ballgame up in the sixth inning there, you know that you got [Kelvin] Herrera, [Ryan] Madson," said Royals manager Ned Yost. "You've got [closer Wade] Davis. You've got [Danny] Duffy still available down there, Hoch [Luke Hochevar] and [Franklin] Morales. You feel really good about your chances of holding the score right there until you can score. Thankfully, we scored in the seventh, got it done there.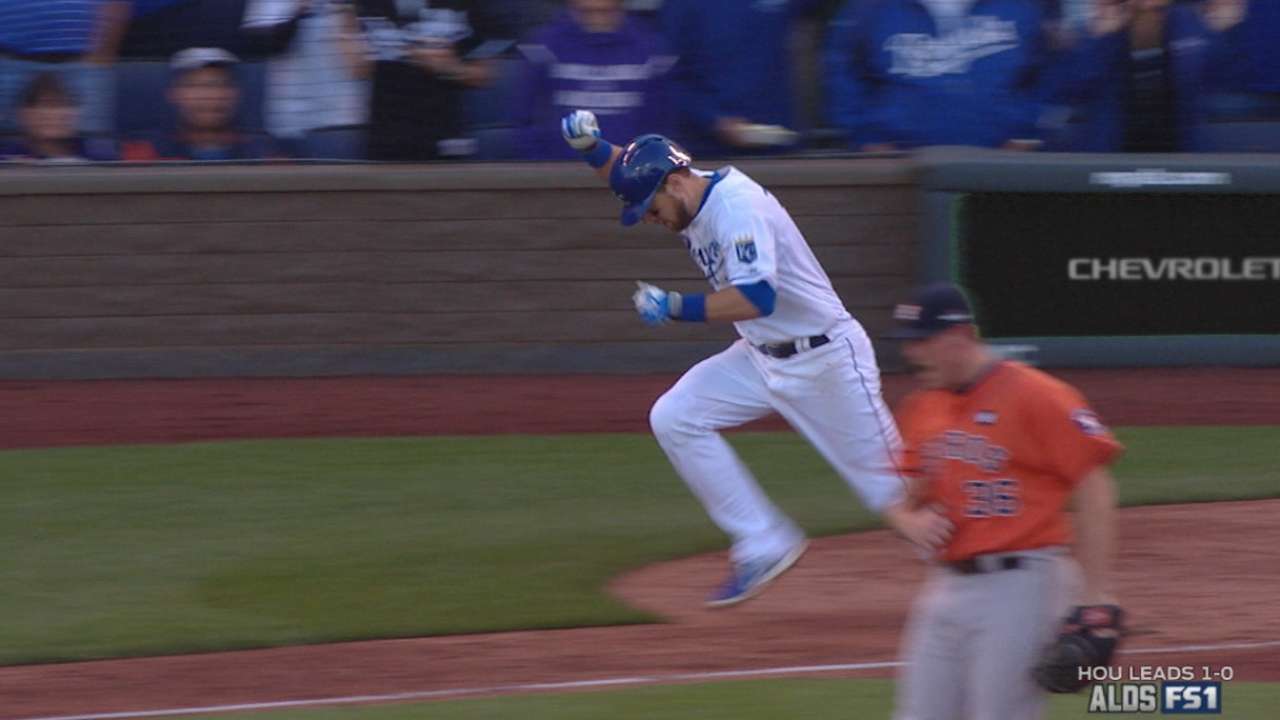 "Then Madson came in and was tremendous, and Wade Davis was unbelievable."
The trio of Herrera -- who was the winning pitcher -- Madson and Davis gave up one hit and one walk while striking out four. On one of those rare occasions when a Houston batter reached base, that wasn't a problem, either. Davis gave up a one-out walk in the ninth. Speedy pinch-runner Carlos Gomez was at first with the tying run, but Davis picked him off on a play in which first baseman Eric Hosmer made a fine catch and tag.
"That play that Hoz made on the pickoff was -- I don't know if there's a lot of first basemen that can make that play," Yost said. "It was tremendous."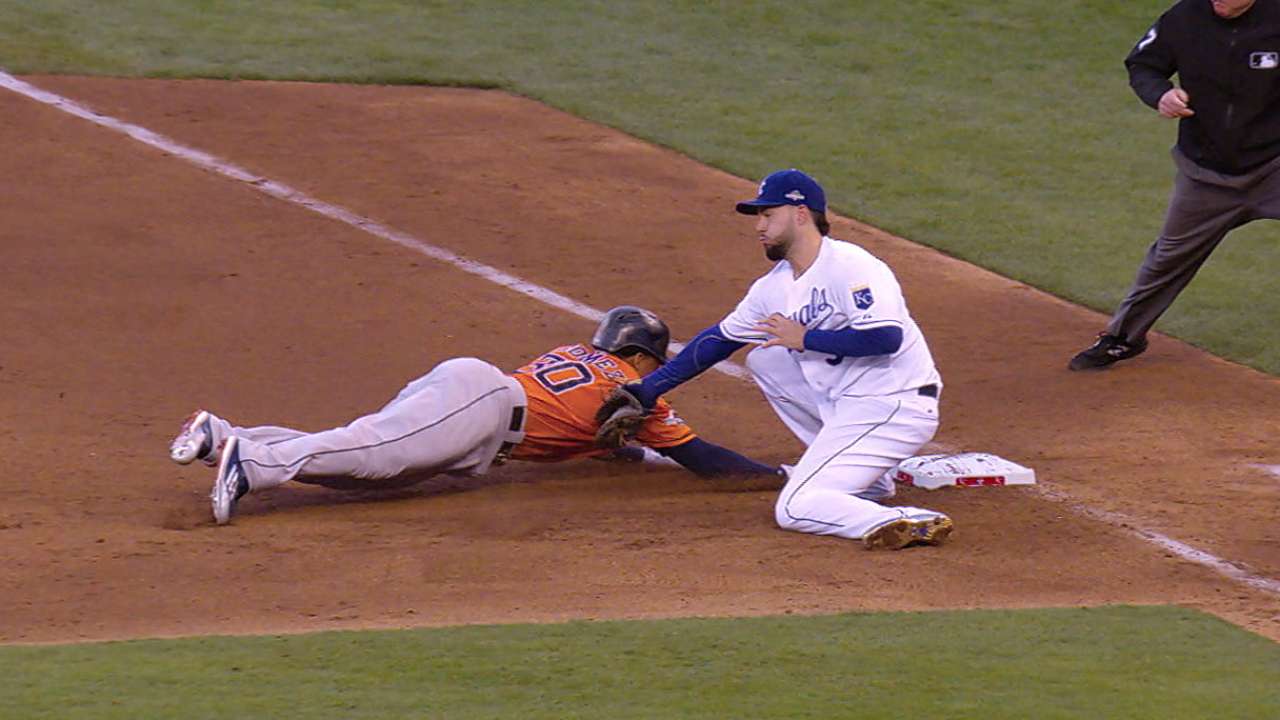 "Obviously, a great pick by Hosmer," said Astros manager A.J. Hinch. "A very fortunate throw by Davis."
Offensively, Kansas City, in the parlance of the game, "did not try to do too much." Nine of the Royals' 11 hits went to the opposite field. This was not about individual heroics. This was about a group effort that needed a series of small victories to get the big victory.
"I kept telling the boys: 'We've got a long way to go. Just keep plugging away,'" Yost said. "'Just keep plugging away. Let it happen. Don't try to make it happen. Just let it happen.' And it did."
They battled, they persevered, they found a way.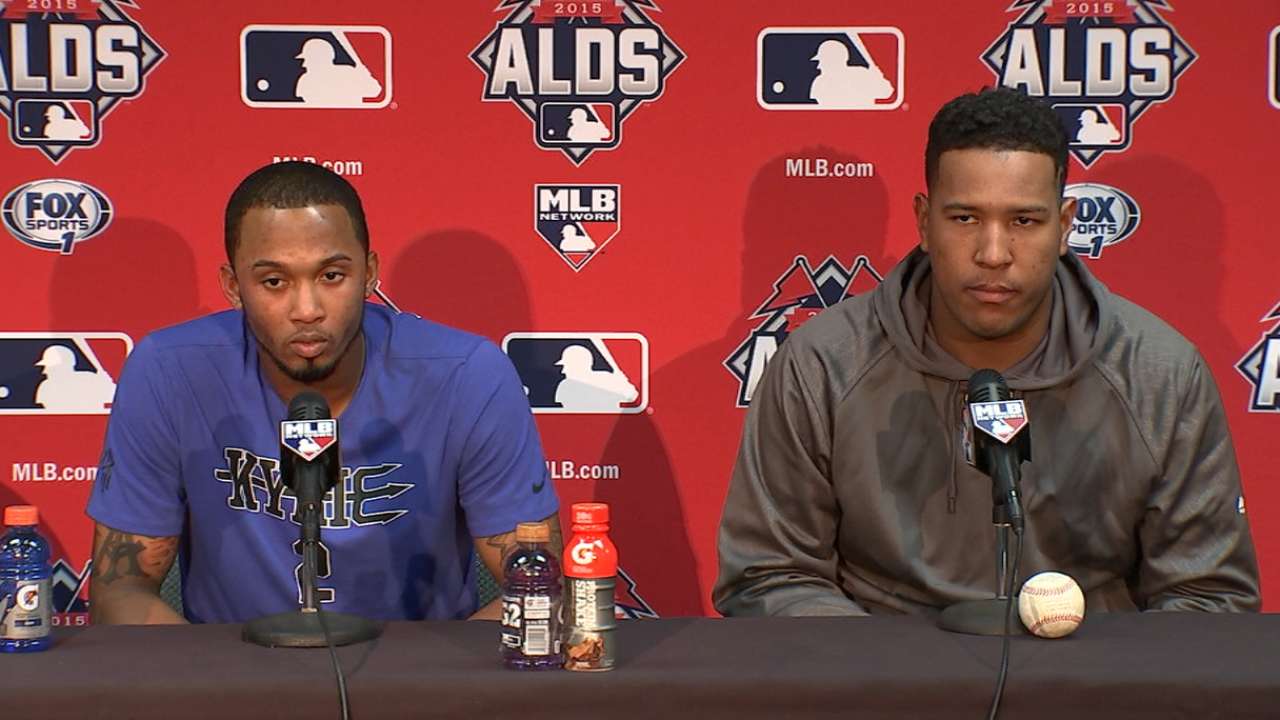 "I think it has everything to do with they did a pretty good job at finishing their at-bats," Hinch said. "I mean, they still continued to compete through their at-bats. They didn't get to where they're at without a pretty good offensive club."
Exactly. Friday, when defeat would have been largely unthinkable, starting pitcher Johnny Cueto was neither terrible nor great. Kansas City found a different route to victory, with an offense that was rarely overpowering but always opportunistic, and a bullpen that remains outstanding.
The Royals did what they had to do. They will go to Houston with the ALDS tied at 1. Even if they can't beat Keuchel, they will still have life in the 2015 postseason.
Mike Bauman is a national columnist for MLB.com. This story was not subject to the approval of Major League Baseball or its clubs.